If you are faced with the fact that the iPhone or iPad suddenly stops charging via USB from a computer or a power bank, then most likely the function is to blame. USB Restricted Mode, which appeared in iOS 12. This innovation is designed to protect the device from hacker techniques used by special services.
♥ BY TOPIC: Widgets on iPhone or iPad: how to add, customize and use.
USB Restricted Mode on iPhone and iPad: what is it and how to set it up correctly?
You can access your iOS device using several methods, including via USB. For example, a cracker can download all the necessary data from the iPhone (or iPad) through the Lightning connector, hack the passcode, and unlock the device.
USB Restricted Mode, introduced in iOS 12, disables charging and data transfer over Lightning if more than an hour has passed since the last time you unlocked your iPhone or iPad. That is, even having obtained a device, an attacker will not be able to retrieve data from it via USB, if enough time has passed since the moment it was last unlocked.
The mode is activated by default, however there may be circumstances in which you would like to disable it. For example, to charge your phone from a friend's computer or while using CarPlay on long journeys when you cannot unlock your iPhone for a long time.
♥ BY TOPIC: How to track someone who was gifted an iPhone.
How to disable / enable USB Restricted Access Mode
1. Open the app "Settings";
2. Select Face ID and Passcode or Touch ID and Passcode depending on the device used;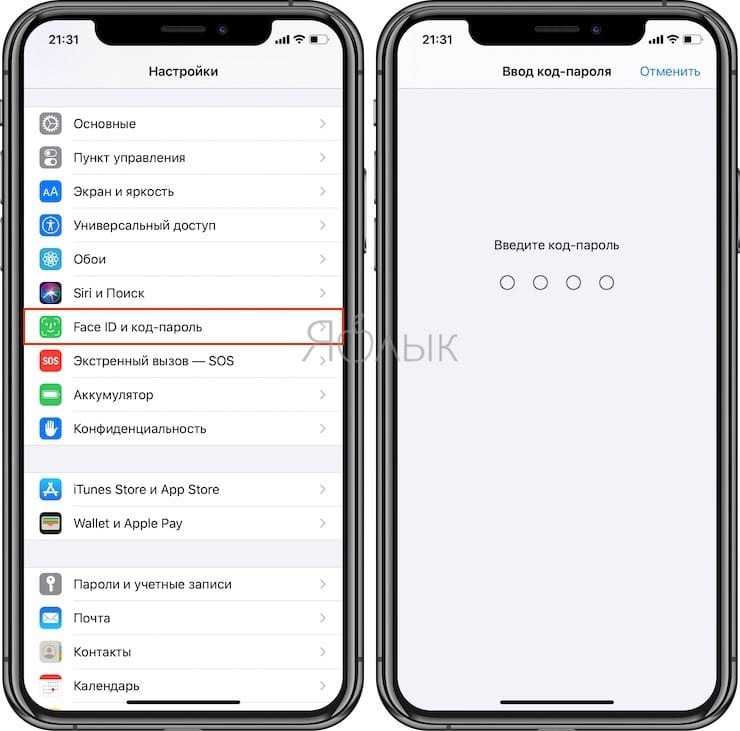 3. Enter your access code;
4. Scroll down to the option "USB accessories";
5. If more than an hour has passed since the last unlocking of the device, and you do not want to allow data transfer via USB, leave the switch in the off position;
6. If you want to enable USB data transfer, slide the switch to the desired position.
Remember, it is best not to touch the switch to protect your device. Typically, users will unlock their iPhones every hour or two. If you need to transfer data from a mobile device to a Mac or Windows computer, simply connect it to your computer and enter your passcode. Data will be transferred even if more than an hour has passed since the last unlock.
USB Restricted Mode only available on iPhones and iPads with iOS 12 or later. The mode disables the device from accessing the CarPlay interface if more than an hour has passed since it was last unlocked, so in this case users will have to deactivate the function. From Apple documentation:
"When connecting an iPod Accessory Protocol (iAP) USB accessory via a Lightning connector (such as CarPlay, accessories and chargers, or removable memory cards) or connecting to a Mac or PC, you may need to unlock your device in order for it to recognize the accessory. ".
See also: