The easiest way to add storage to your Mac is to buy an external USB drive (HDD or SSD) for it. Immediately after that, your task is to format it on the "correct" file system. But which one?
Free of charge Disk utility from Apple makes it easy to format a drive, assign a volume to it, or even split it across multiple drives.
Now let's take a look at the available file system options and choose the best one.
♥ BY TOPIC: How to change the icon of an application, folder or file on Mac (macOS).
Format your disk with Disk Utility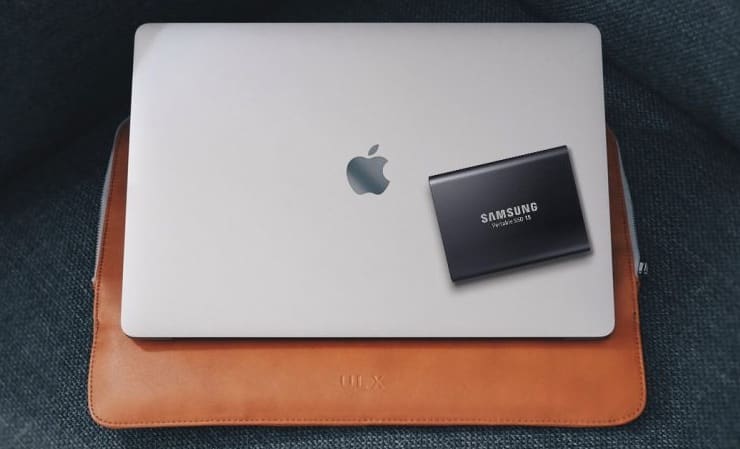 Unzip your drive and connect it to your Mac. Strictly speaking, it is already formatted – for use with Windows (then it would be NTFS) or for the widest possible compatibility (Fat32). But for a Mac user, none of these file systems are suitable.
First, open Disk Utility. The easiest way to do this is through Spotlight (icon with a magnifying glass in the upper right corner of the screen). To find Disk Utility it is possible in Launchpad (in folder Others).
To format a new disk to a different file system:
1. Select it from the menu on the left.
2. Click Erase…
Important: do not forget that you will lose all data that is on this disk.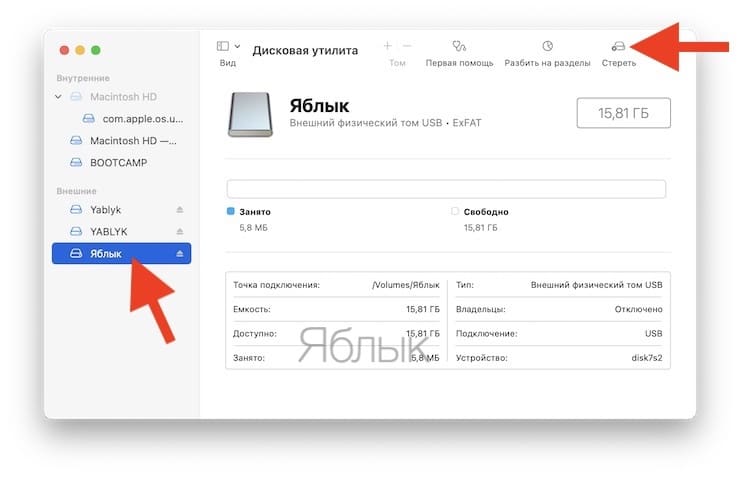 3. In the window that appears, select the file system format (an overview of all formats below) and click Erase…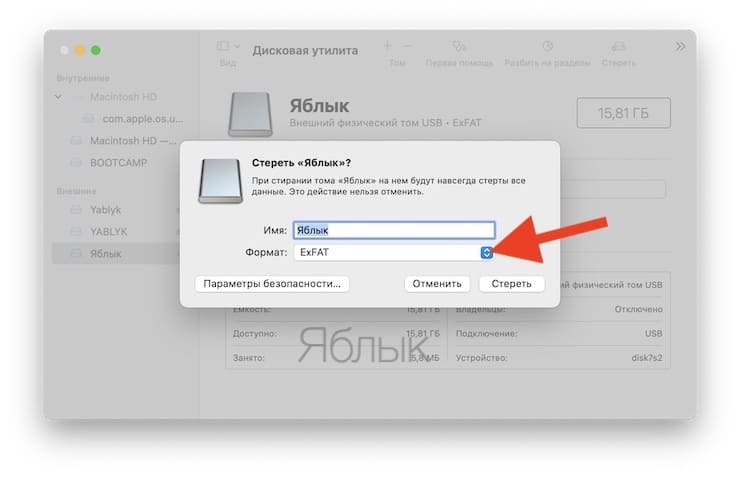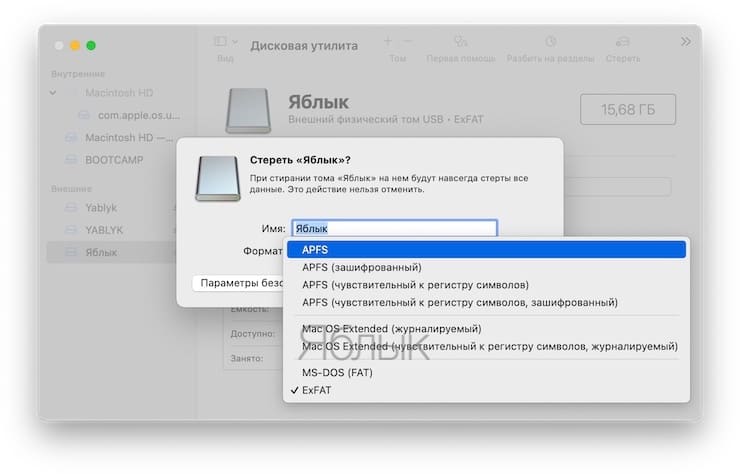 ♥ BY TOPIC: Finder on Mac (macOS): 9 helpful tips.
What to do if Disk Utility only offers APFS format
If Disk Utility offers only APFS as a format, then your drive is already formatted in APFS format.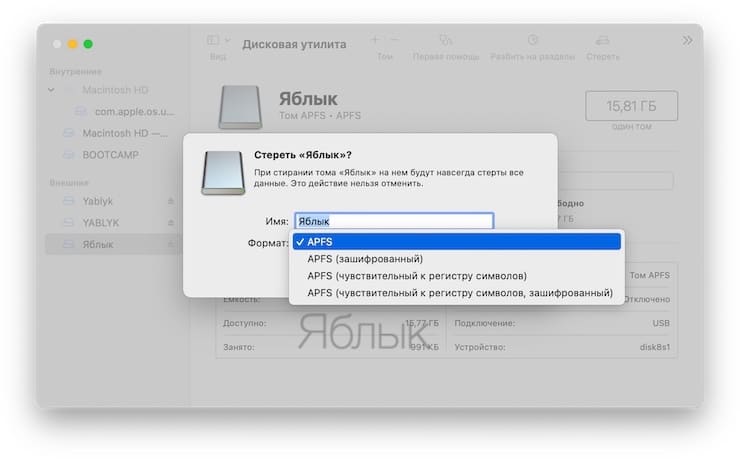 In order to restore the ability to format the drive in any other of the possible formats (list below), you must delete the APFS volume. For this:
1. Right-click on the connected drive in the side menu Disk Utilities…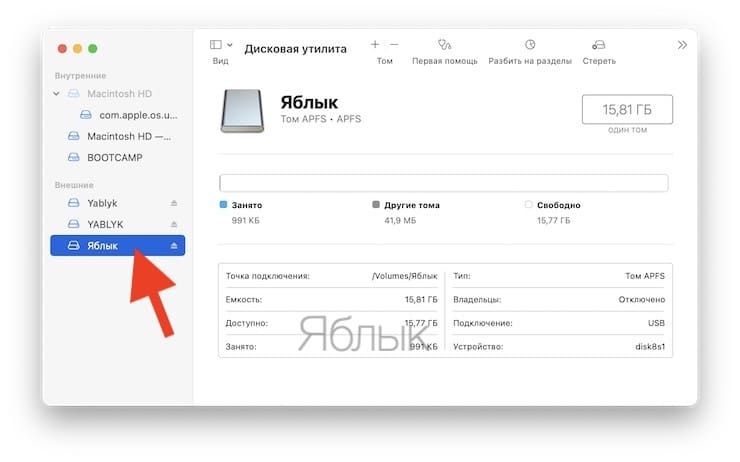 2. Select Delete APFS volume …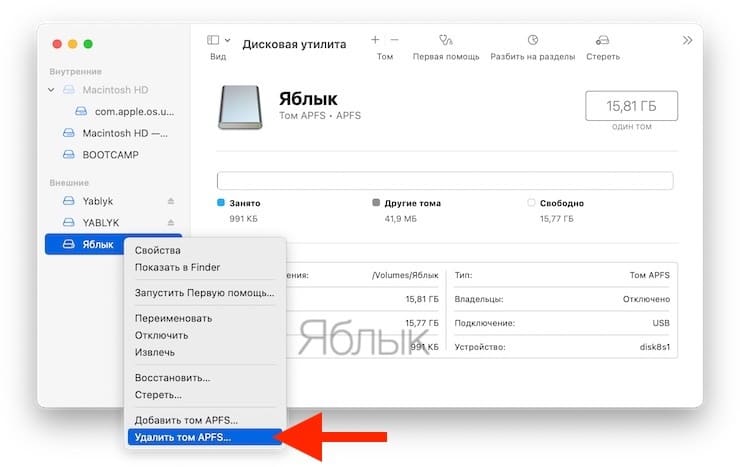 3. Confirm the deletion by pressing the button Delete…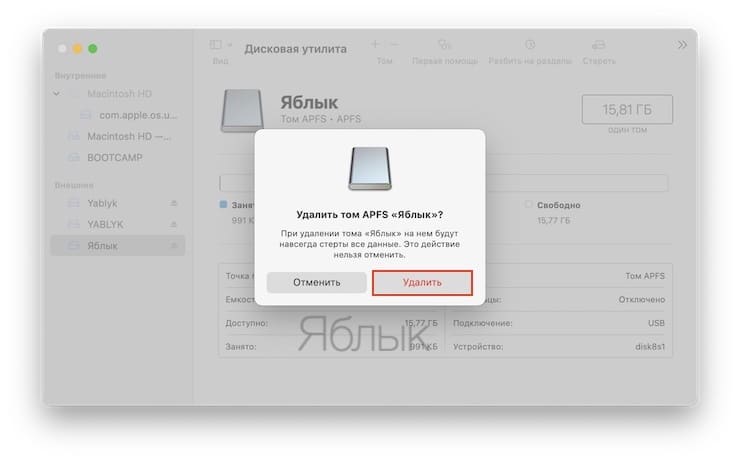 After deleting the APFS volume, the list of available formats will increase.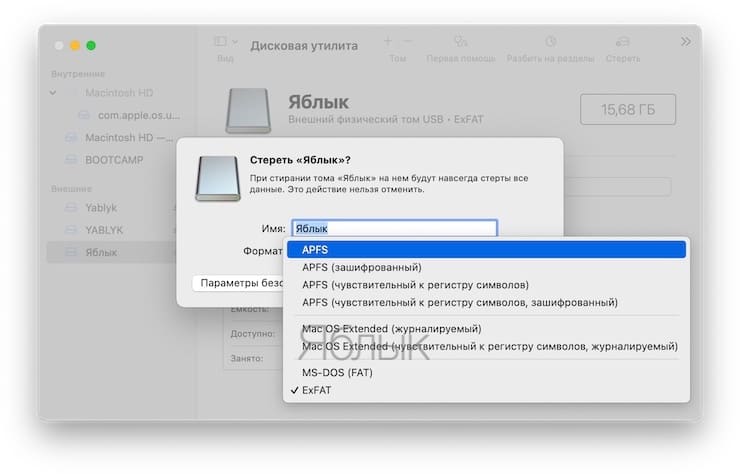 ♥ BY TOPIC: How do I make (cellular) calls from an iMac, Macbook Pro, Air, or Mac mini?
APFS, HFS +, exFAT or FAT? What format to format an external USB drive (flash drive) to work on Mac (macOS)?
Available file systems
Apple File System (APFS)
Mac OS Extended (HFS +)
exFAT (Extended File Allocation Table)
MS-DOS (FAT)
Let's take a closer look at each of them.
♥ BY TOPIC: 10 useful multitouch gestures for your MacBook trackpad.
Apple File System (APFS)
The latest development from Apple. First introduced in early 2017 for iOS devices. APFS replaces the outdated Mac OS Extended file system. All new Macs are already bundled with it.
The Apple File System is optimized for use with solid state drives (SSDs) and flash drives, but traditional mechanical hard drives (HDDs) can be used with it. You should choose this option if you are using an external SSD or new USB stick and will definitely not use them with Windows computers.
The main advantage of APFS over the previous generation Apple file system is speed. Copying and pasting is almost instant thanks to the way the file system organizes your data. APFS also pays great attention to technologies such as encryption and improved work with metadata (since macOS actively works with metadata of files stored in the system).
The disadvantages include the fact that APFS cannot yet be used to back up data using Time Machine. Also APFS does not have native Windows support. To solve this problem, you will have to buy paid software like Paragon APFS for Windows or look for free alternatives.
Suitable: for macOS system drives, hybrid drives, SSDs, and flash drives that are only used on macOS.
Doesn't fit: for drives used with older Macs.
♥ BY TOPIC: How to delete files past the recycle bin on macOS.
Mac OS Extended (HFS +)
This file version, also known as HFS + (Hierarchical File System +)was the mainstay for Mac computers from 1998 until 2017, when Apple introduced APFS… If you bought a Mac between these dates (and haven't updated since 2017), then it probably works on macOS installed on disk HFS +…
This system is still fully functional on Mac with both mechanical hard drives and SSDs – although SSDs will perform better under management APFS… If you have a very old Mac (no longer able to install the latest version of macOS), choosing macOS Extended as the file system will allow you to connect external drives to your computer.
The main disadvantage HFS + the same as APFS – to work with Windows computers you will need additional software like Paragon HFS + for Windows.
♥ BY TOPIC: How to remove a USB flash drive, removable disk (drive), etc. on macOS (7 ways)…
exFAT
This file system was created by Microsoft. exFAT offers similar to FAT32 compatibility without the annoying limitations of the latter (like the maximum file size of 4 GB).
This is a format for those who will definitely use an external drive or flash drive with both Windows and Mac. Both macOS and Windows can both read and write data from exFAT disks. So this format can be called an excellent hybrid for two worlds.
Suitable: for drives that are used on both Mac and Windows.
Doesn't fit: for drives primarily used on Mac (a third-party driver may fix the problem).
♥ BY TOPIC: How to set up Clipboard (text and photo transfer) from Mac to iOS and vice versa.
MS-DOS (FAT)
Apple also supports file system FAT32 – in Disk Utility it is denoted as MS-DOS (FAT)… There is no need to communicate with this system as a whole. The only exception is if you need to connect to a real old computer running Windows (in fairness, government agencies and businesses still have such PCs). If you choose this file system, you can work with disks up to 2 TB and a maximum file size of 4 GB. The first limitation is easy to live with, but the second can cause problems. exFAT is almost always a more convenient solution.
Suitable: for drives that must be used with Windows XP or earlier versions of Windows.
Doesn't fit: for everything else.
Bonus: add NTFS support
NTFS, which replaced FAT32 in Windows XP, remains the dominant file system in the Windows world. Accordingly, in theory, it would make sense to "make friends" macOS with NTFS.
Right now macOS already has partial support for NTFS – the operating system for Mac computers reads flash drives formatted in this format. But she has not yet learned how to write files to them.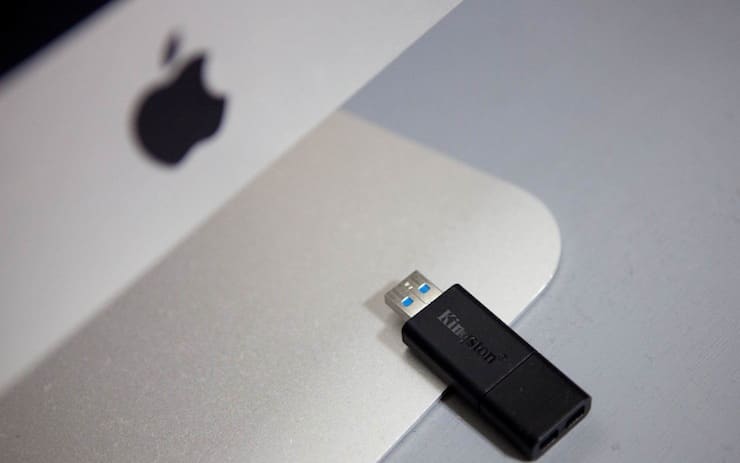 There are several ways to enable native support for reading the NTFS file system on a Mac. The first of these, experimental support or a third-party driver, is only suitable for very experienced users. there is a risk of ruining the entire hard drive and losing all data. The second, much more reliable one is buying a paid driver with NTFS support like Paragon NTFS for Mac (about 1,000 rubles) or Tuxera NTFS for Mac (about 1,500 rubles). Yes, you will have to pay money – but these drivers allow not only writing data to disks in NTFS format, but also formatting external hard drives into this file system for full use both in Windows and on Mac. Use this option if for some reason you are not comfortable formatting a new disk in exFAT format.
See also: