It seems to many users that iOS updates have little effect on the basic logic of the system. But often such functions appear in it that can mislead us, or even scare us.
♥ BY TOPIC: How to check all your hacked passwords right in iOS on iPhone (based on stolen passwords).
For example, many users were surprised to learn that a Wi-Fi network they have used for a long time at work or at home is considered unsafe. This warning started to appear on devices with iOS 14 (and newer). And this notice was noticed by many. What to do in such a situation – hastily change the network settings or just ignore the message? Let's look at this situation.
A message stating that the Wi-Fi connection has a weak security level appeared on devices with iOS updated to version 14. You can see this warning by following the path Settings → Wi–Fi… A threatening phrase may appear below the current connection: "Weak security" or "Weak defense". If you click on the connection itself, then the reason for the warning will be described in detail in the window that opens. Apple no longer considers the encryption protocol you are using to be strong, recommending looking at other more secure options.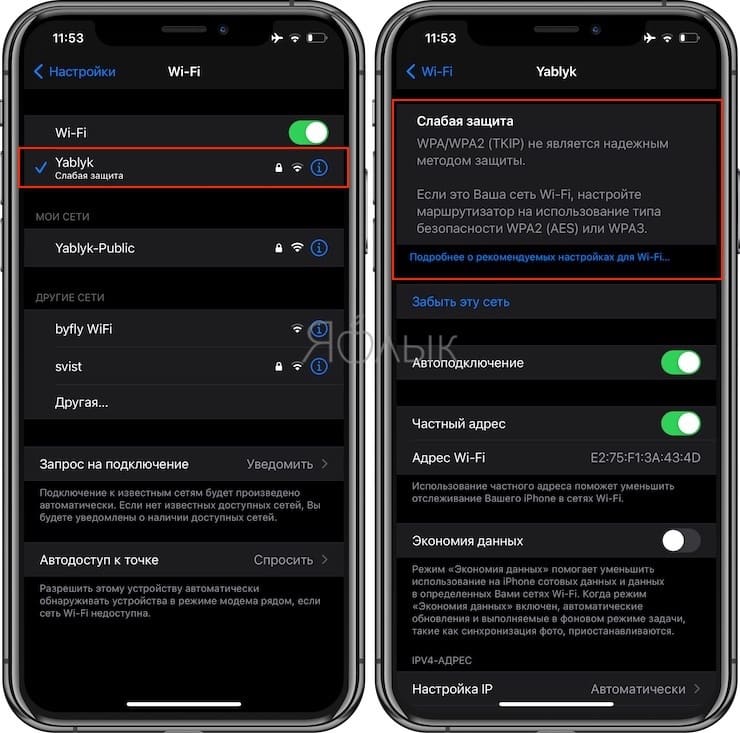 Traffic encryption when working in Wi-Fi networks is a necessary measure – this is how the transmitted information is protected. There is no point in intercepting and storing encrypted data, and it will not work to replace it if some third parties want to do it. If you work in open wireless networks, attackers will be able to view the history of search queries in the browser, the list of browsers you visited, see the applications being launched, and generally get a lot of valuable information, including the geographic position.
This is why special encryption protocols have been developed. The most famous of them are:
WEP
WPA
WPA2 TKIP
WPA2 AES
WPA3
In this list, items are sorted in increasing order of reliability. In other words, you can use WPA at a risk to yourself, but WPA3 guarantees the highest level of protection. WEP encryption is so outdated that it's definitely not worth using. There are other intermediate options, most often these are tradeoffs relative to standard options, for example, WPA2 AES Apple considers it safe enough, while WPA2 TKIP – no.
Sometimes you have to resort just to WPA2 AES, because many old routers simply do not know how to work with modern advanced encryption protocols.
♥ BY TOPIC: IPhone geolocation settings: what do they affect and which can be turned off to save battery power?
How do I change Wi-Fi encryption?
You can simply switch to a more secure encryption standard. This will both help protect information and remove the warning in iOS. Just before making the following settings, make sure that you can definitely return to the previous ones if you suddenly need it. Your devices may not be able to connect to the wireless network with the new settings – can you get to the router? This can be done only by connecting to it with a cable. And here is the procedure for changing the encryption:
1. In your browser, enter the address of your router. Usually this is 192.168.0.1 or 192.168.1.1 (sometimes 192.168.100.1).
2. For authorization, enter your credentials to access the device. Initially, the combination admin / admin (root / admin) is installed on the router from the factory, or the login information is indicated on the label on the back / bottom of the device.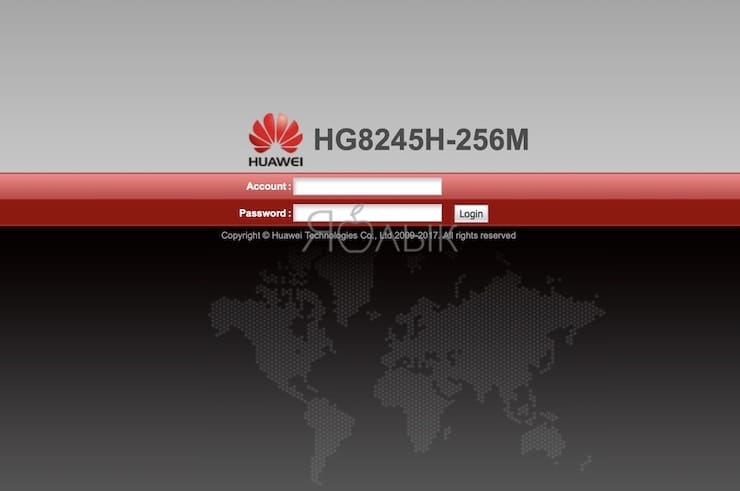 3. Go to the wireless network (WLAN) settings. This is where you switch the encryption type. There may be separate settings for 2.4 and 5 GHz networks, please pay attention to this.
4. On the "Encryption" tab, select the option WPA2 AES or WPA3, these are the most reliable options. But WPA3 is not present on all routers. Save your settings.
Please note that authentication mode WPA2 with encryption mode TKIP or TKIP & AES and authentication mode WPA2 with encryption mode AES these are not identical options. Only WPA2 AES is considered a reliable method of protection.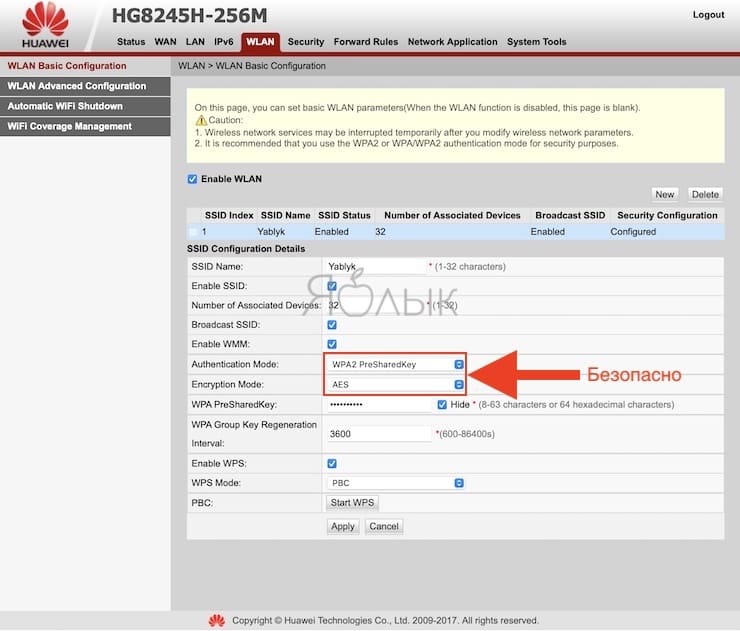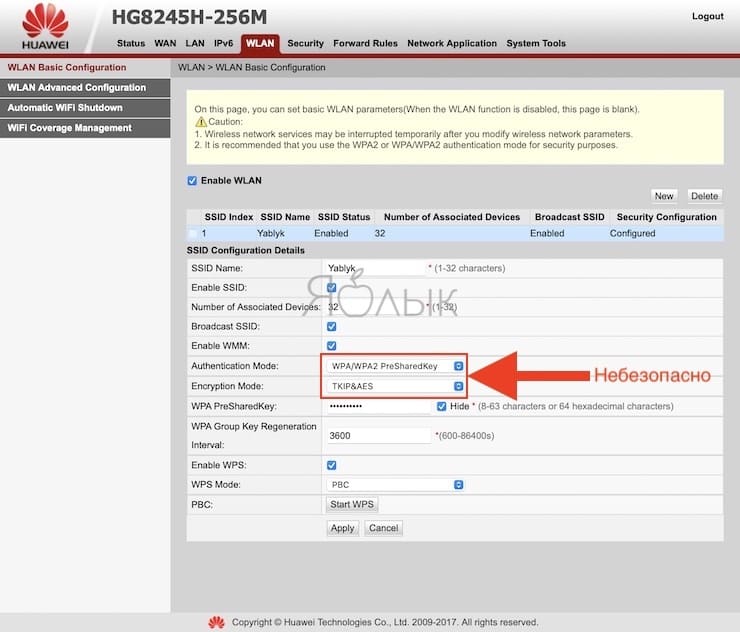 5. Usually, the changes take effect immediately, but for reliability, the router can be overloaded.
After switching the protocol to a more reliable one, iOS notification will disappear.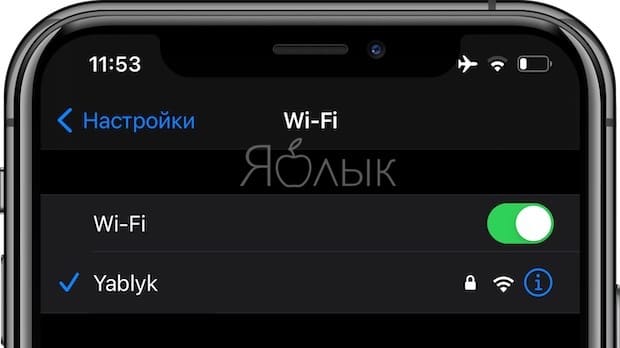 But only if changes in a dual-band router are made only for one of the frequencies (2.4 or 5 GHz), then the warning will remain. So, thinking about your safety, you should not take partial measures.
See also: