Today, each of us probably has several flash drives. If earlier it was a valuable accessory that allows you to transfer data, today such drives have become commonplace. It is already difficult for us to imagine our life without flash drives, some are needed for work, others for entertainment, and others generally perform a decorative function.
There are so many compact drive models on the market that the choice is not easy. And if volume is important for some users, then others focus on speed. It is rare that these parameters can be combined, but the Transcend JetFlash 910 (TS256GJF910) 256 GB tries to prove the opposite. Was this product really successful and, moreover, kept a humane price tag?
Buy USB-stick Transcend JetFlash 910 (128 or 256 GB)
♥ BY TOPIC: Transcend ESD250C review is a fast external SSD, slightly larger than a flash drive.
Transcend JetFlash 910 USB Flash Drive Appearance and Packaging
The factory packaging of the USB stick is a piece of cardboard with a plastic blister. The device is located inside it. On the front side of the box, on a red background, you can see the manufacturer's name and its logo, and below – basic information about this product: model, capacity, operating speed. There is much more information on the back of the packaging. There the warranty conditions are described, a link to the site is given, where you can find detailed information about the product and download the firmware for it.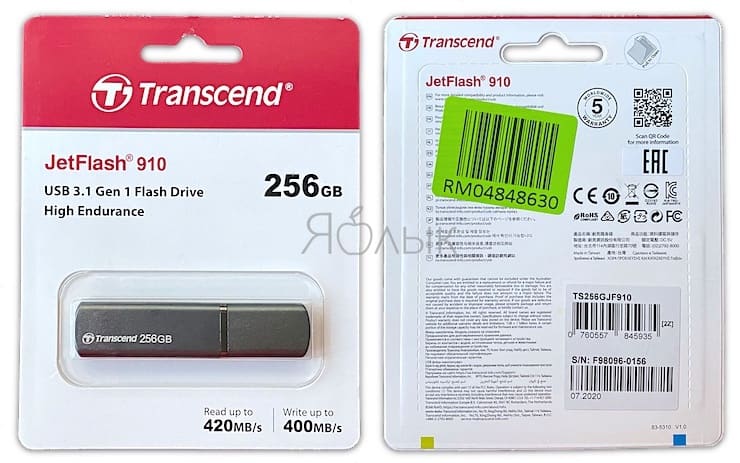 The flash drive itself received the classic shape of an elongated bar almost 7 centimeters long. The width of the device reaches 17 mm and its thickness is 7.4 mm.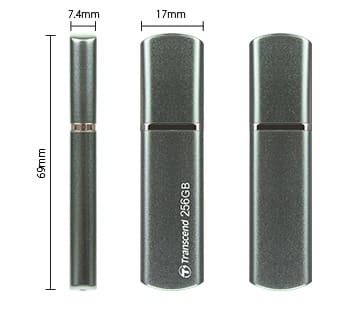 All edges of the flash drive are rounded. The metal case feels good in the hand, but also serves as a passive cooling system for internal components. The device has received an inconspicuous dark gray color, which, depending on the cooling, can give off either green or blue.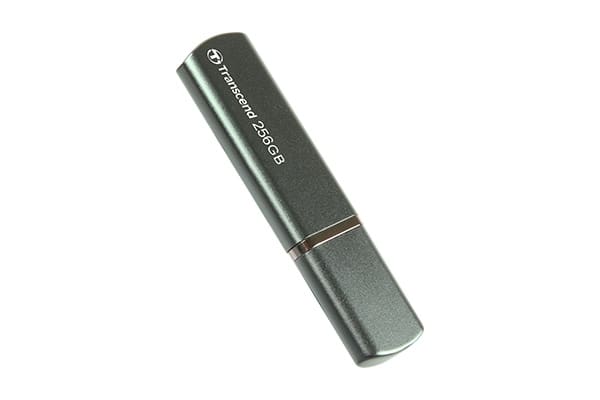 There is only one inscription on the case – the name and logo of the manufacturer and an indication of the capacity. The flash drive has no retractable elements, the design looks monolithic. To access the USB connector, you need to remove the cap, which is not connected to the main body in any way. The form factor of the device is a true classic. Transcend has clearly focused on the internal characteristics of the drive, and not on its appearance.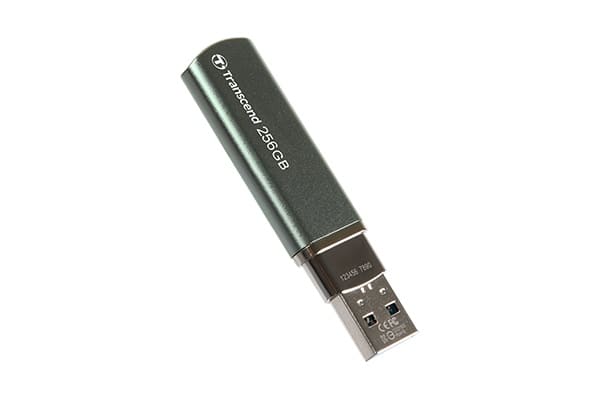 ♥ BY TOPIC: Transcend ESD350C Review: Shockproof External SSD with Impressive Speed.
Main characteristics
Dimensions: 69mm × 17mm × 7.4mm
Weight: 11 g
Colour: dark grey
Connection interface: USB 3.1 Gen 1
USB type: USB Type-A
Capacity: 256 GB (TS256GJF910)
Performance: read speed (max.) up to 420 MB / s, write speed (max.) up to 400 MB / s.
Warranty: five year limited warranty
OS Compatibility: Microsoft Windows 7/8/10, Mac OS 9.0 or later, Linux Kernel 2.4.2 or later.
♥ BY TOPIC: Transcend JetDrive Go 300 – Lightning / USB flash drive for iPhone and iPad, or how to expand the memory of an iOS device.
Software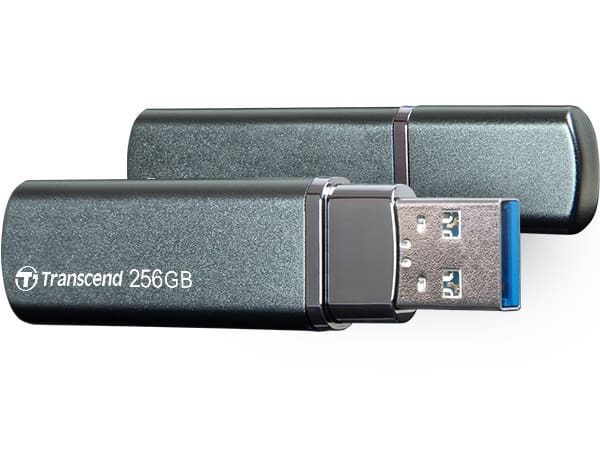 It would seem that using a flash drive is a simple and straightforward task. Meanwhile, the eminent manufacturer has tried to provide it with a number of useful functions. To obtain them, you will have to install the proprietary Transcend Elite software (for Windows and Mac, for Android). After recent updates, it has changed its design and acquired additional features. The application detects the connected storage device, providing the following capabilities (the capabilities of the application for Mac and Windows may differ):
My device… Here you can find basic information about the device, its total capacity and free space.
Backup copy. This section allows you to set up tasks for backing up and restoring valuable information. The user has the ability to control the process parameters.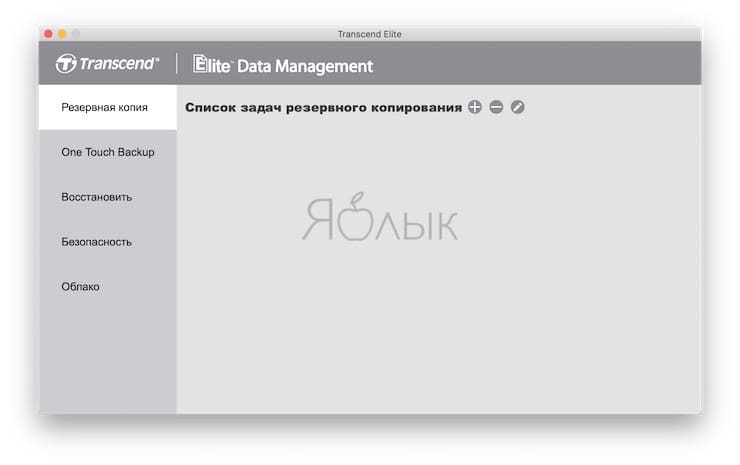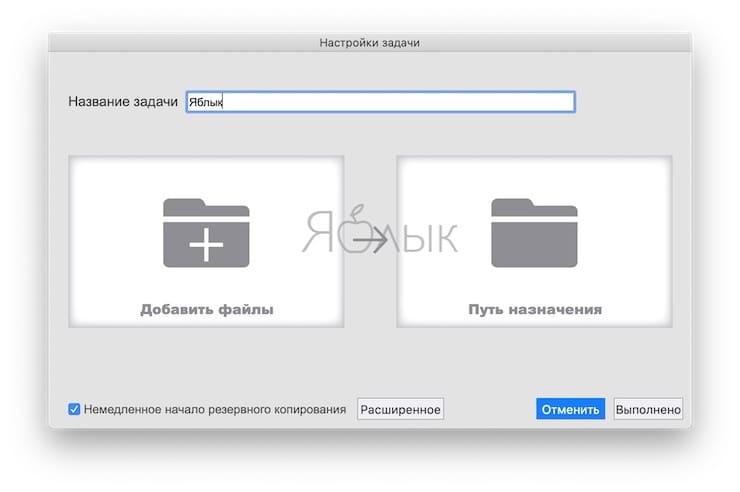 One Touch Backup… One-touch backup function on the device is not applicable to this specific model.
Recovery… The created backups are located here, it is proposed to select one of them to restore.
Safety… The menu enables data encryption and decryption. There are no parameters or choice of algorithms.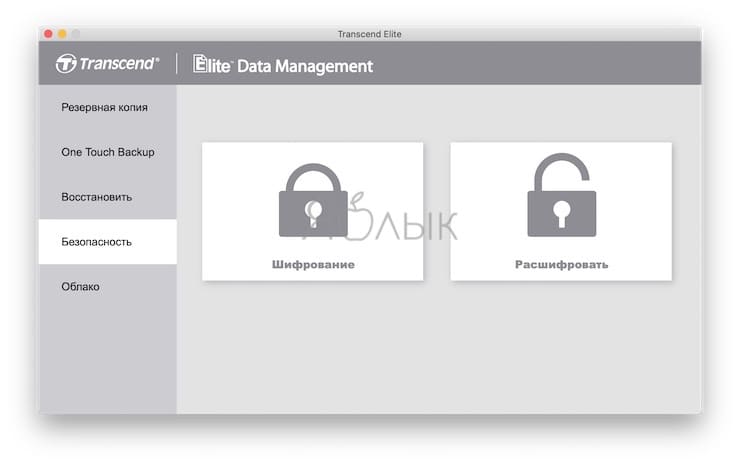 Cloud… It is proposed to use cloud storage Dropbox GoogleDrive for data storage.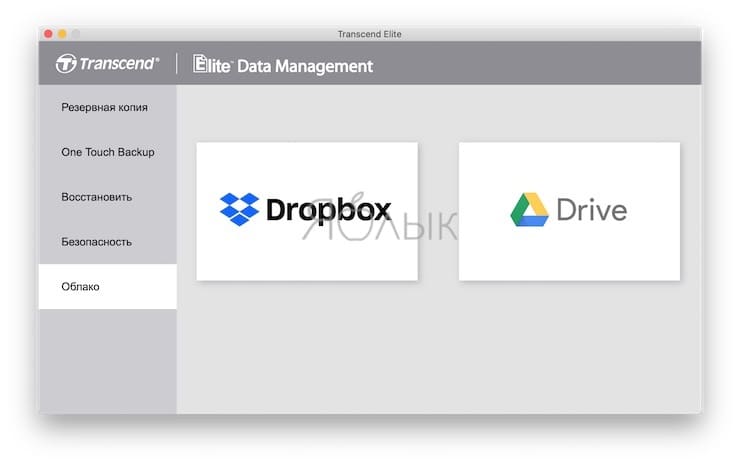 Disk lock… Want to lock your disc so someone can't read it? This can be done in this menu.
Testing and performance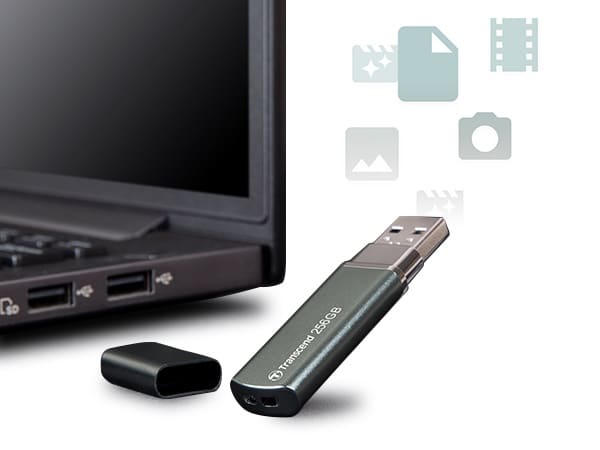 The device owes its speed to the SiliconMotion 3282 controller with a SATA-USB bridge and a voltage regulator. The popular 3D NAND TLC memory and the new QLC NAND are used. The controller supports USB 3.2 Gen 1 interface, which in theory can provide speeds up to 5Gbps. The UASP protocol for receiving SMART data has also been implemented. This set allows you to realize many of the features of solid state drives in a compact package.
The flash drive is initially formatted in FAT32 format for maximum compatibility. To fully test it and work with large files, you will have to reformat it to eFAT or NTFS. It is worth noting that this drive supports TRIM technology, which will delay the degradation of electronic memory. I must say that not all similar drives, including even external ones based on SSD, support this mode.
High linear write speeds are achieved using SLC caching. When writing an entire disk, it is not possible to achieve a flat shelf – at the initial stage, the write speed to the cache really exceeds 400 MB / s, as stated. But the bulk of the data is written to the TLC array at a speed of about 100 Mb / s. And only on the last 20% of the disk, the speed drops to 50 MB / s.
In addition, it should be borne in mind that when using a flash drive on computers with Windows 10 version 1809 and higher, performance may be degraded. To improve performance, you need to follow the path: Device Manager -> Drive Properties -> Policy and enable the mode "Optimal performance" instead "Quick removal"…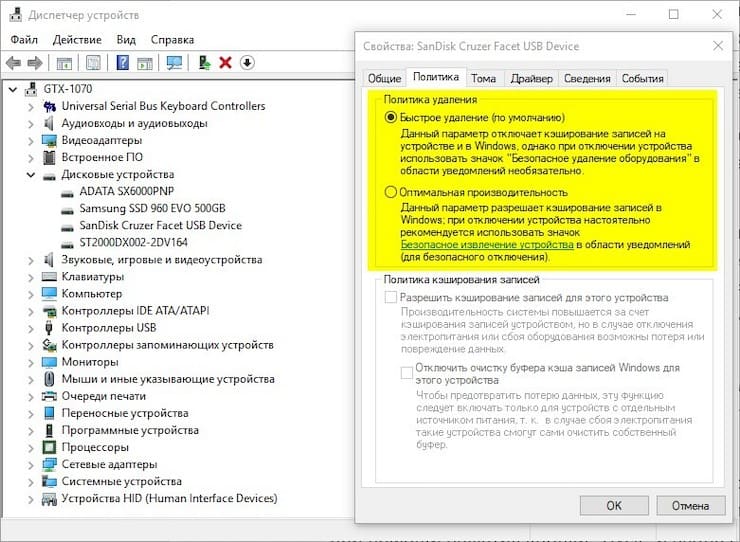 Crystal DiskMark benchmark on 4GB files shows peak read speeds of 450 MB / s and 390-400 MB / s write speeds. In sequential reads, the peak speed reaches 433 MB / s, and the average result is 283 MB / s.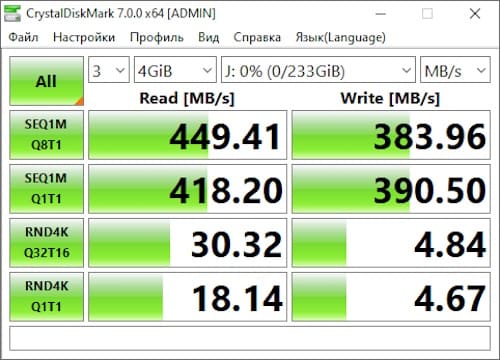 Blackmagic Disk Speed ​​Test confirms the results: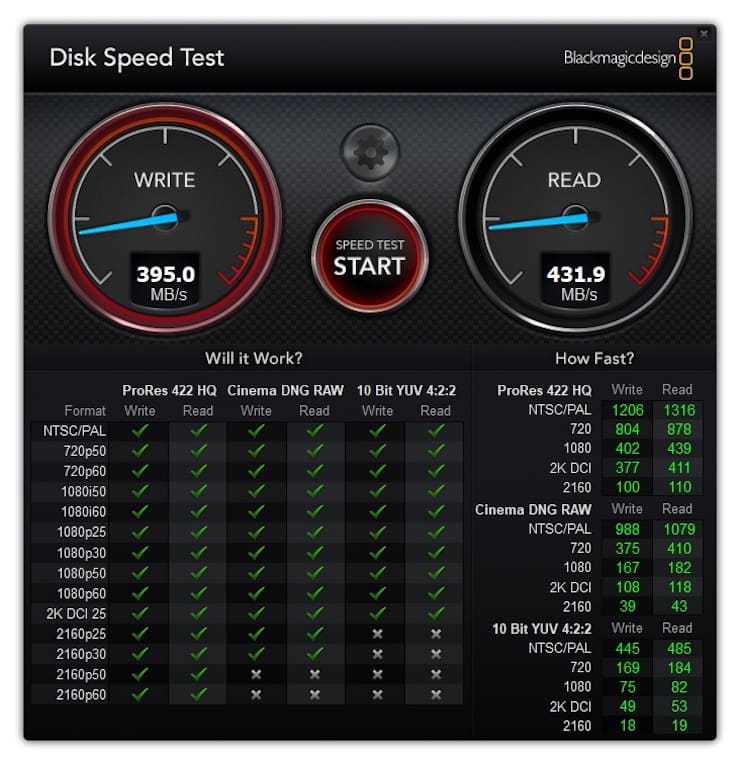 Obviously, the Transcend JetFlash 910 is able to compete in speed with external SSDs, but its advantage lies in its compactness and the absence of an additional cable.
Conclusion
The ideas embedded in the Transcend JetFlash 910 are clear – the creators wanted to make a compact flash drive as fast and reliable as possible, bringing it closer to SSD in parameters. It should be understood that it is impossible to fully realize this idea. Extreme speeds are inherent in devices of a different class. The Transcend JetFlash 910 looks like an excellent compromise, with excellent read speed, proven in real life scenarios, and impressive write performance. The drive is perfect for those users looking for a large, fast and affordable compact flash drive.
Buy USB-stick Transcend JetFlash 910 (128 or 256 GB)