Uninstalling applications on a Mac is not as obvious a process as it seems at first glance. And all because in macOS, unlike iOS, it is possible to install software not only from the virtual App Store, but also programs downloaded from the websites of the developers themselves.
♥ BY TOPIC: The most difficult passwords: how to come up with the right ones and not forget them – 2 tips from a hacker.
How to uninstall Mac (macOS) apps downloaded from the Mac App Store
1. Launch the application Launchpad. Usually its icon is in the Dock-panel.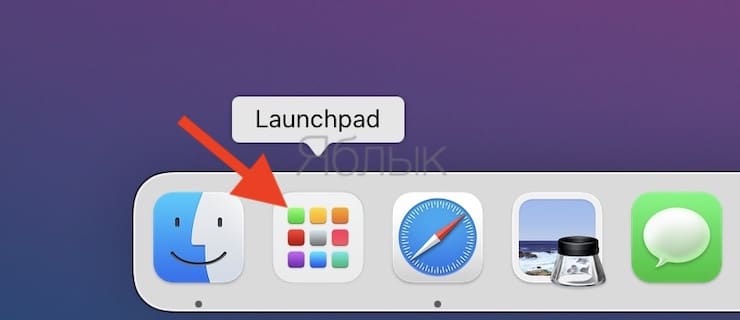 You can also open Launchpad from a folder Programs or using the Spotlight search (to call, press the keyboard shortcut Ctrl + Space or in some cases ⌘Cmd + Space).
2. After launch Launchpad A screen with application icons similar to iOS will appear on the computer monitor.
3. To switch to the application deletion mode, press and hold any icon for 2-3 seconds (as in iOS), after which the icons will begin to wiggle, and a cross will appear in the left corner of some of them.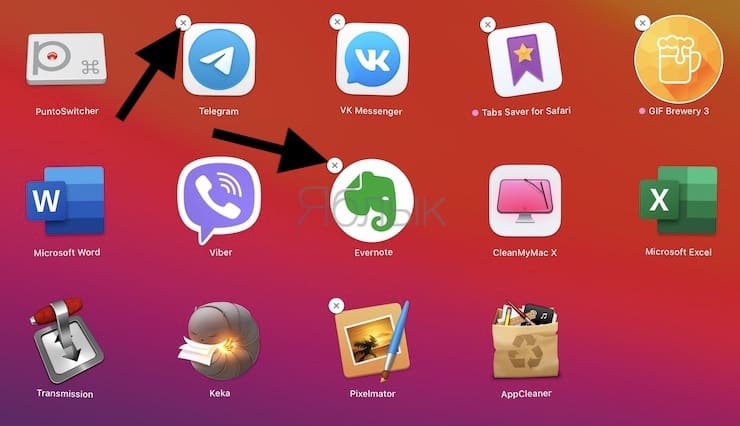 The cross will only appear on apps that have been downloaded from the Mac App Store. On the other hand, some native macOS system applications, as well as programs installed from other sources, will not have a cross. How to uninstall such programs is described below.
4. Click on the cross to remove the application.
In addition, you can also uninstall applications in macOS using the built-in tool "Storage Optimization». This method is described below.
♥ BY TOPIC: 17 terms and basic macOS features that may not be clear to a beginner.
How to remove programs from Mac (macOS) that were downloaded from other sources (developer sites, etc.)
For this purpose, there are several ways – you can remove the application and all files associated with it manually or use special services (recommended). We will cover both methods in the instructions below.
Note. First, use special programs to uninstall applications.
Before manually uninstalling an application, try using the uninstaller if it is included with the program you want to uninstall. For example, the OnyX application downloaded from the developer's site comes with an uninstaller that is launched from the menu Help.

For some applications, the uninstaller can be downloaded from the Internet. Sometimes the uninstaller is in the ".dmg" image along with the application file itself.
♥ BY TOPIC: MacOS: dockable tabs in Safari.
Method 1: How to uninstall programs and related files using third-party applications
AppCleaner – A high-quality free utility for removing applications and all system entries that appear during installation.
Visit this page to download AppCleaner. Select the version of the program that matches your OS (how to find out your macOS version).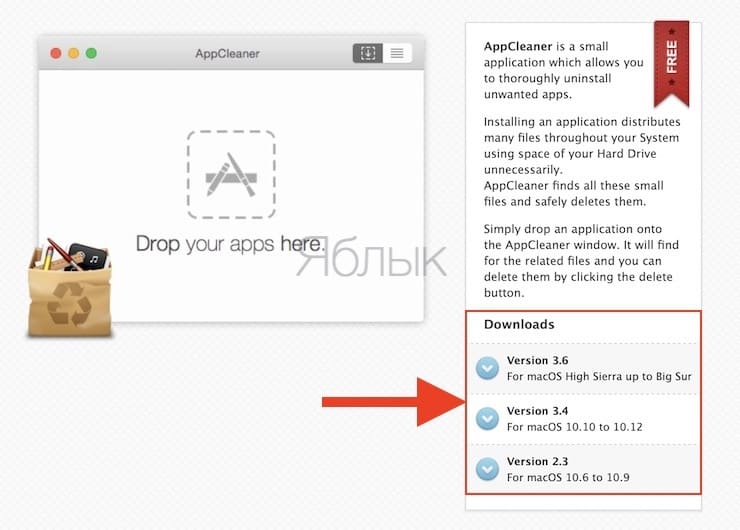 Move the downloaded AppCleaner.app file to your Applications folder on your Mac.
Drag the app icon from the folder Programs out the window AppCleaner.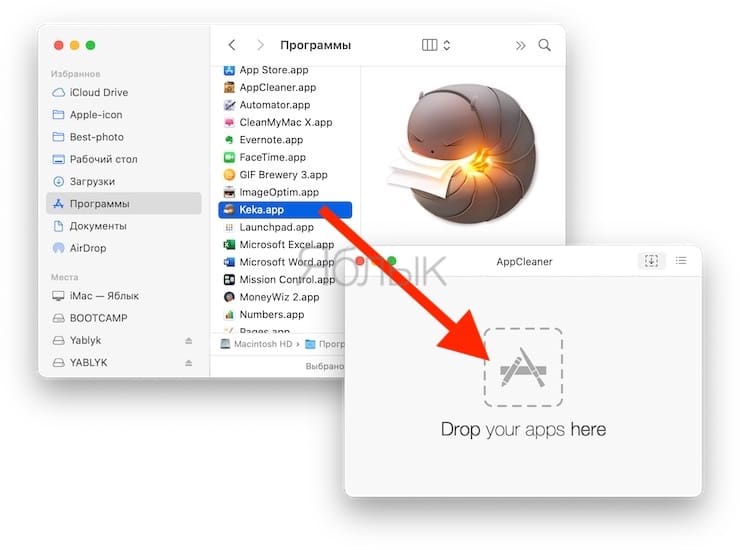 Click Remove.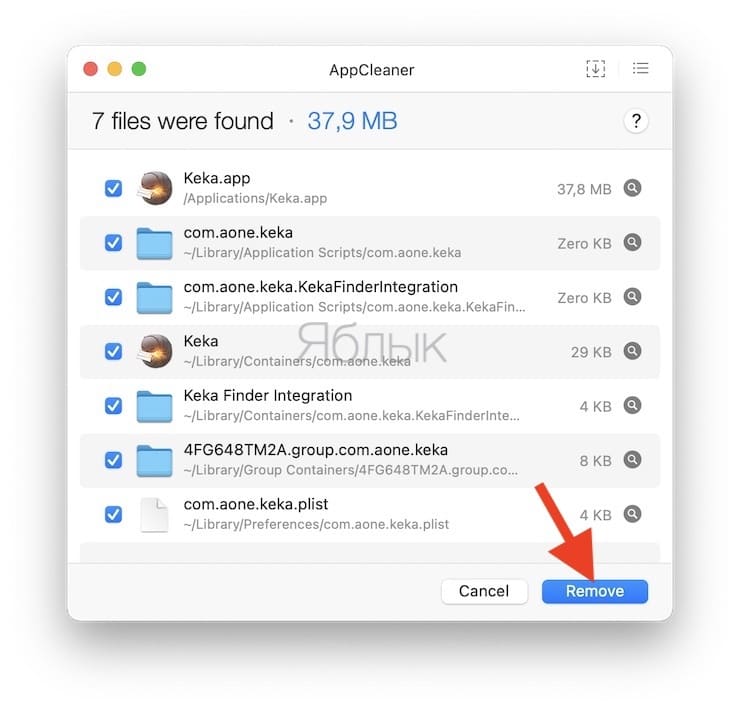 CleanMyMac is a popular powerful paid application that allows you to perform comprehensive cleaning of macOS. With this tool, you can delete caches, find other unnecessary files, such as outdated backups and just large files, as well as correctly uninstall programs with the removal of all system "tails".
To remove applications in macOS, you must select the section Uninstaller, then select the required application and press the button Delete.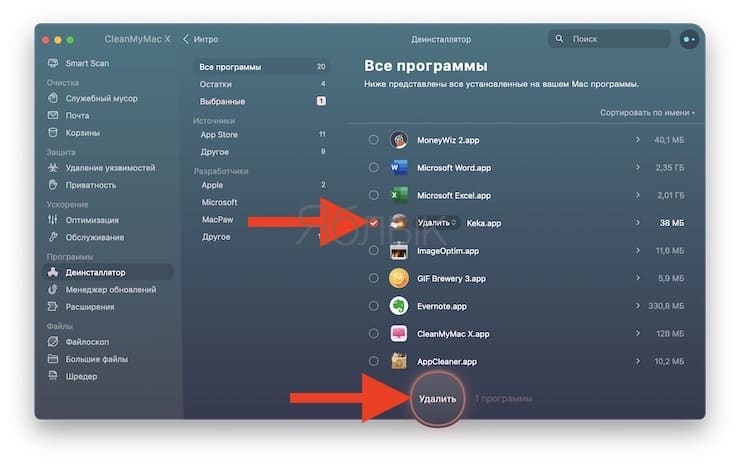 ♥ BY TOPIC: Clean installation of macOS, or how to reinstall (restore factory settings) Mac.
Method 2: How to uninstall programs on Mac (macOS) using the built-in tool (macOS 10.12 and later only)
Starting with macOS Sierra, Apple developers have implemented a utility "Storage Optimization", which allows you to centrally manage information on your Mac.
1. Open menu  → About this Mac.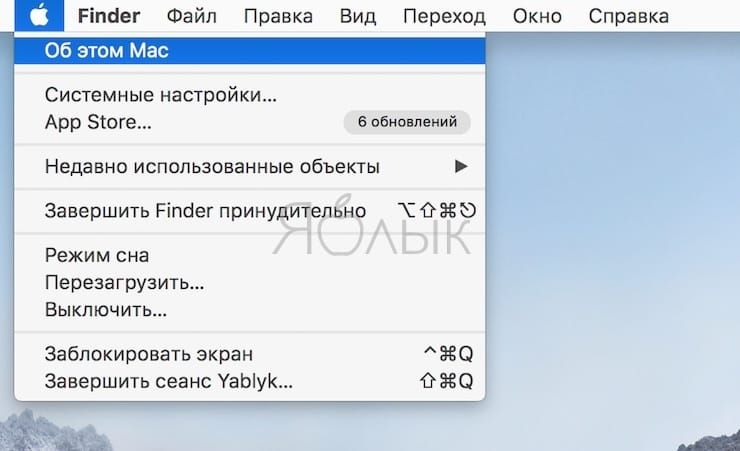 2. Click the tab "Vault".
3. Press the button "To rule…".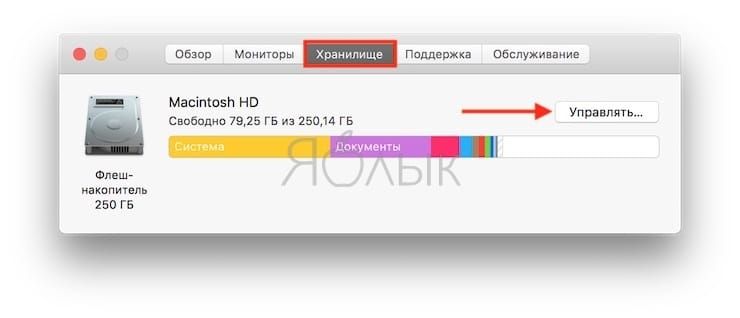 4. In the left side menu, select the section "Programs".
5. To delete a program, move the cursor to its name and a cross will be displayed to the right of it. Click on it. Everything!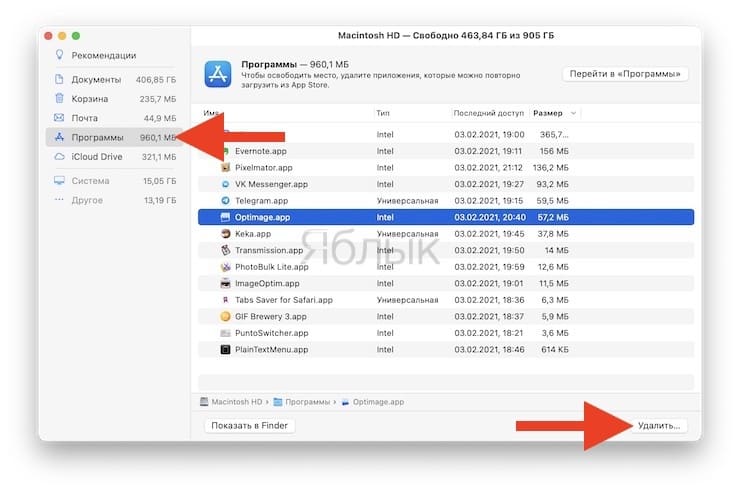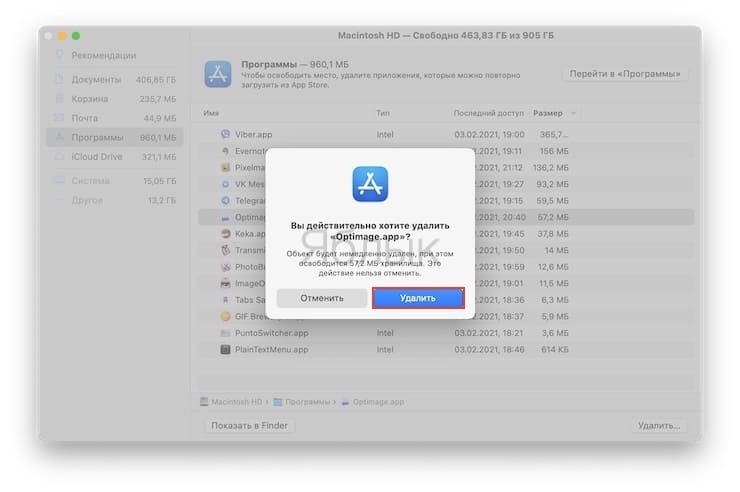 Unfortunately, the standard tool does not remove all the "tails" of applications being removed. To completely remove programs, it is better to use special utilities, for example, those indicated above.
See also: