[ad_1]

Unfortunately, any technology, including those made by Apple, can fail. The reasons can be both hardware and software in nature, and sometimes the problem is caused by user actions. Even a computer as reliable as a Mac may fail to boot one day. It helps that the system communicates the cause of the problem or the expected action by the user using certain symbols on the screen. In this article, we will talk about the possible icons that appear when loading macOS and what they mean.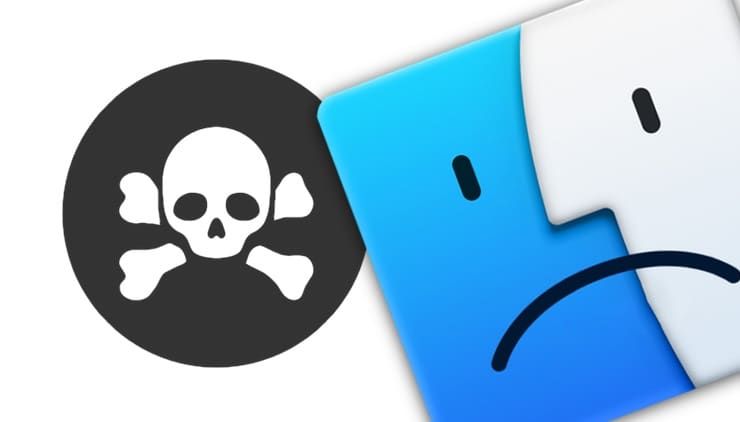 ♥ BY TOPIC: Program stuck on Mac (macOS): How to force close? 5 ways.
crossed out circle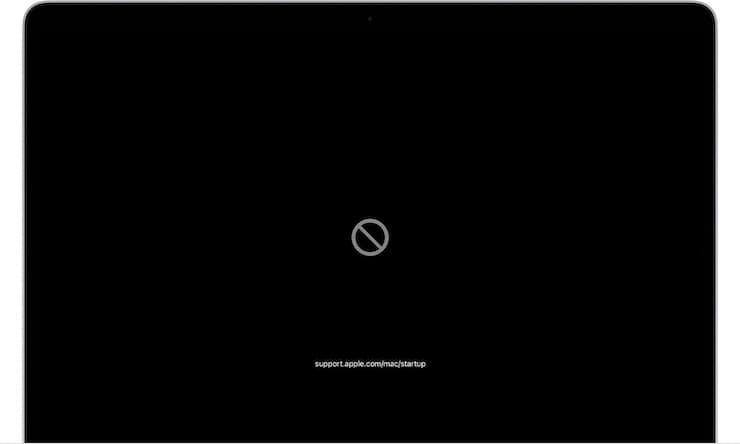 During startup, a crossed-out circle, a kind of prohibition sign, may appear on the Mac screen, and a link to support.apple.com/en-us/mac/startup will be placed below it.
With this alert, the computer informs the user that an operating system has been placed on the Mac boot disk that is not compatible with the existing hardware. This version or build of macOS cannot be used with this computer. Here's what to do in such a situation:
1. Try to change the boot disk (detailed instructions).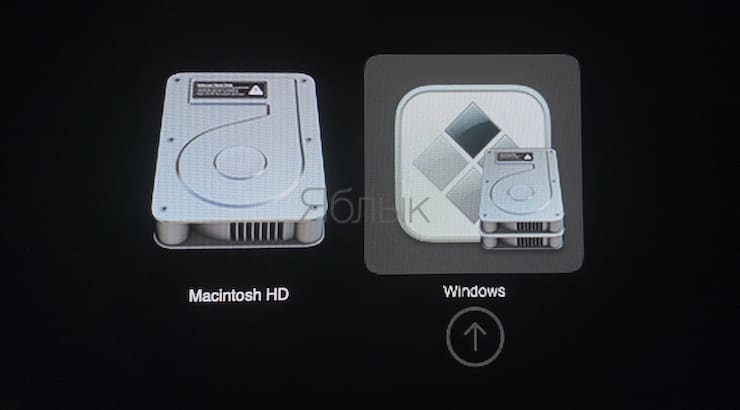 If this does not help, reset the computer to factory settings, for this:
2. Press and hold the power button for 10 seconds. Wait for your Mac to turn off.
3. Immediately after turning on the computer, quickly press the Command(⌘) + R. This will help you launch from the macOS recovery partition.
4. After starting the system from the recovery partition, you can use "Disk Utility" restore your boot disk (detailed instructions).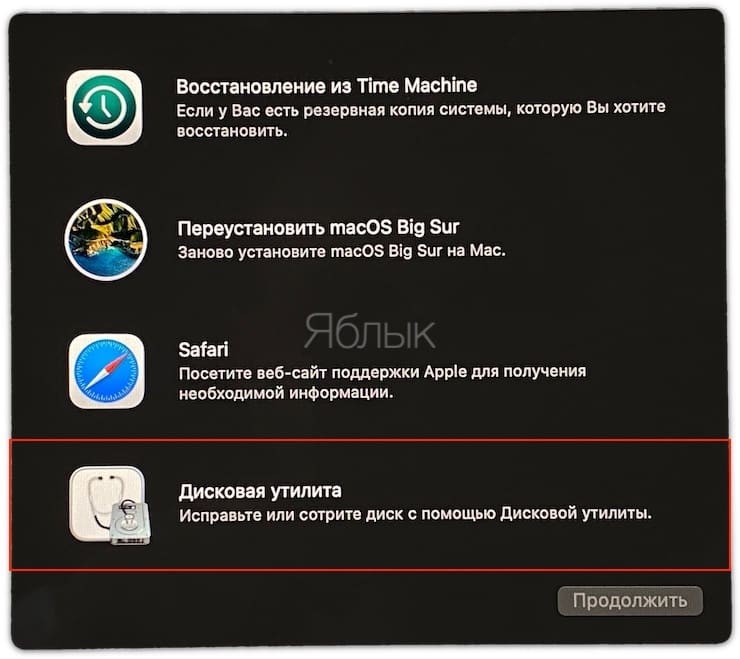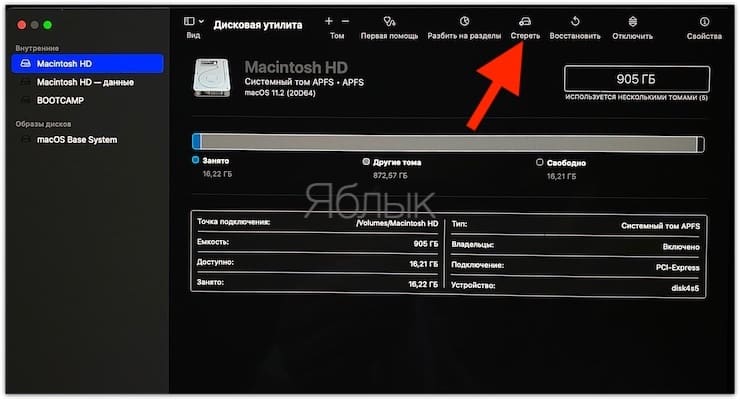 5. If the application runs successfully or if there are no errors, you can reinstall macOS.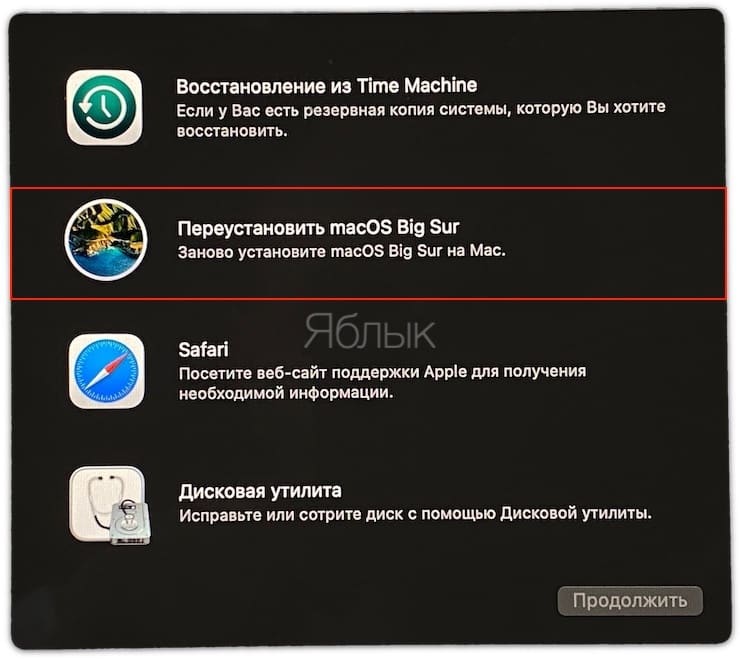 6. If these steps did not lead to the desired result, contact Apple Support.
♥ BY TOPIC: How to clear (delete) the cache on Mac (macOS) manually and using special programs.
Folder with a question mark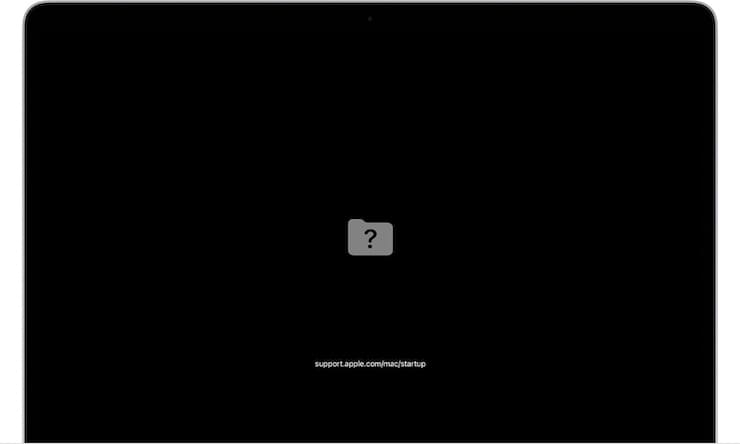 On your computer screen, you will see a folder with a question mark on it.
This behavior of the system indicates the inaccessibility of the boot disk or the absence of an operating system on it. In this situation, there are several options for action, which we have already discussed in this article.
♥ BY TOPIC: How to automatically switch the language (layout) on the keyboard in macOS or Windows.
Options menu (gear icon)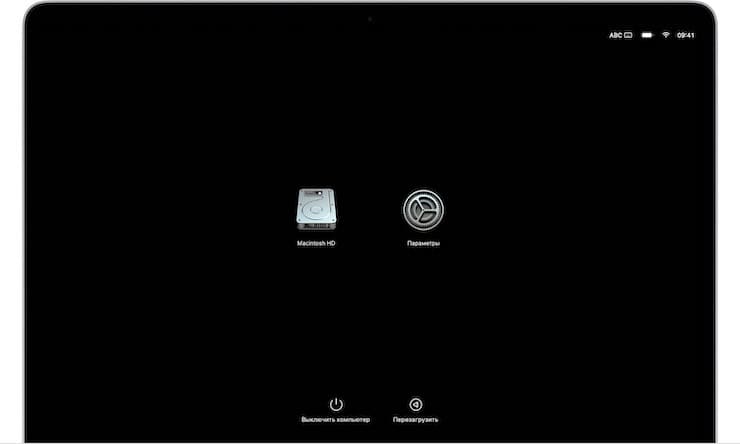 In this case, the screen may next to the icon "Parameters" in the form of a gear, an image of the boot disk will appear, and at the bottom the icons "Turn off computer" and "Reload".
This window may appear if, immediately after turning on your Apple-based Mac, you press and hold the power button for about 10 seconds. The user is prompted to perform a number of actions before the system boots:
Select boot disk. It can be, for example, Macintosh HD. Clicking after selecting "Continue" will start the download from this disk.
Select "Options". Then click "Continue" and you will see a section with macOS recovery utilities. Here you can reinstall macOS, repair the drive, or clean it up using the app "Disk Utility".
You can "Turn off" the computer or "Restart" it.
In this launch options window, you also have access to some hidden features:
When choosing a boot disk, the same Macintosh HD, you can press the key ⇧ Shift and holding it, select the item "Continue in Safe Mode" (detailed), which is a useful option in some cases.
Using a keyboard shortcut Command(⌘) + D you can run the application Apple Diagnosticsby checking the performance of the computer (detailed).
♥ BY TOPIC: Hidden files on Mac: how to hide files and folders in macOS from outsiders: 3 ways.
blank screen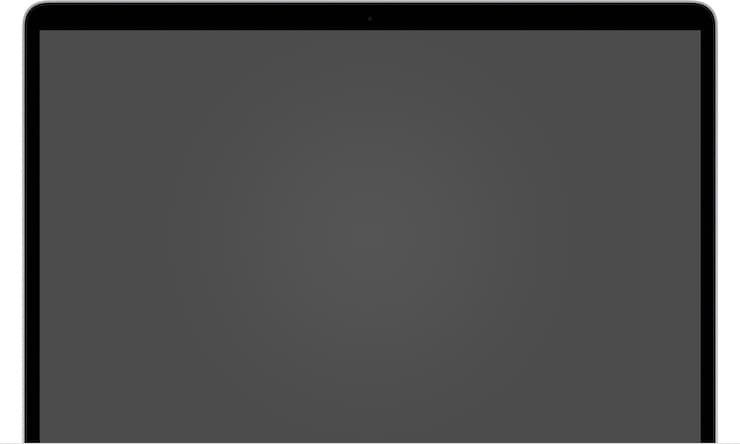 Your Mac screen may appear blank for a long time during the boot process: gray, black, or even blue. In this situation, you will need to start macOS from the recovery partition. But to do this, you first need to determine which processor your computer is based on and act accordingly.
♥ BY TOPIC: Task Manager on Mac: how to open and use.
Intel processor
1. Press and hold the Power key for about 10 seconds.
2. Press and hold this key again, but now quickly press and hold also the keys Command(⌘) + R. Wait for the Apple logo and another picture to appear.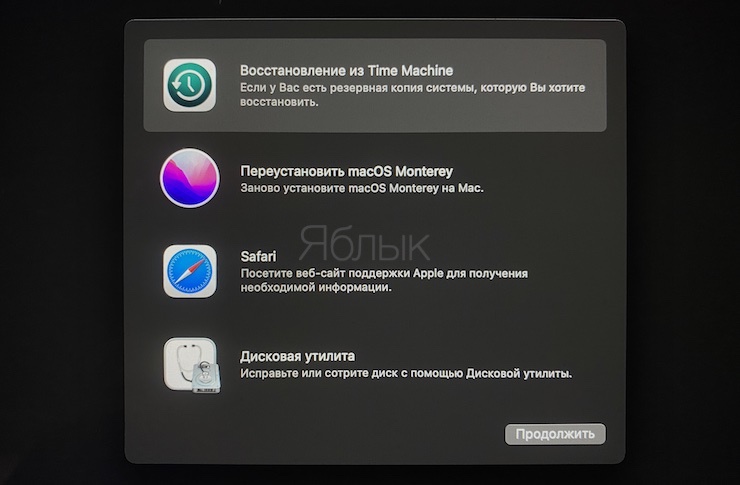 3. If the screen is blank after 20 seconds, then you just have to contact the manufacturer's support service.
♥ BY TOPIC: How to find and remove large unused files and applications on Mac using standard tools.
Apple processor
1. Press and hold the Power key for about 10 seconds.
2. You will see a window with launch options and a gear icon for "Parameters". Select this item, then click "Continue".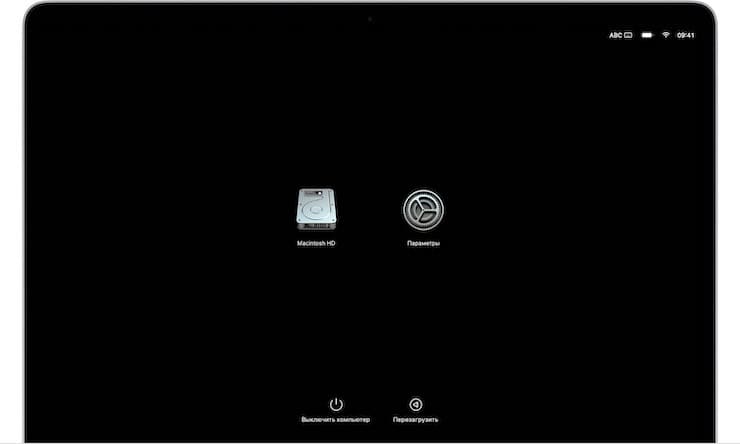 3. If at startup the window with the parameters does not appear, then release the power button, press it again and hold it for 10 seconds.
4. If the problem persists, you should contact Apple Support.
If your computer starts from the system recovery partition, you will see a window with several utilities. We are interested in "Disk Utility". It will help to restore the boot disk if there are no errors on it.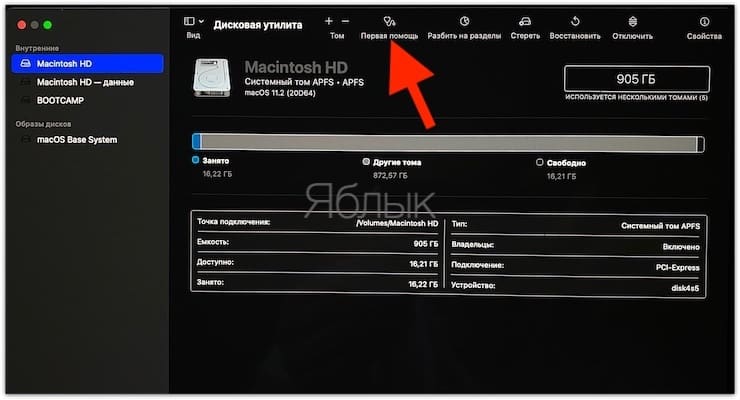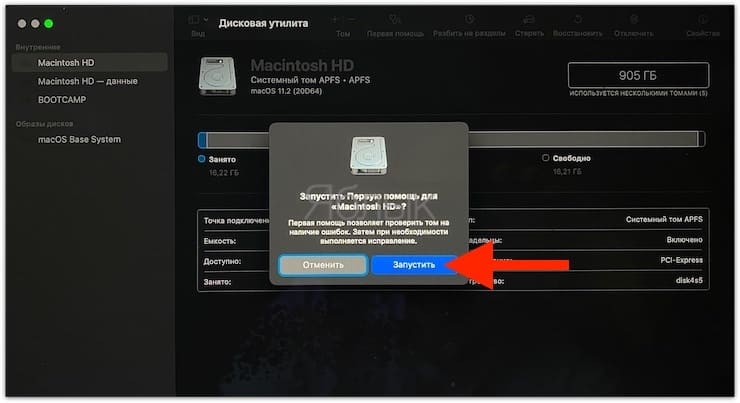 If the errors were found and fixed, then restart your Mac. If the problem still persists, all you have to do is reinstall the system.
♥ BY TOPIC: Launchpad on Mac: what it is and how to set it up so that you want to use it.
Apple logo with progress bar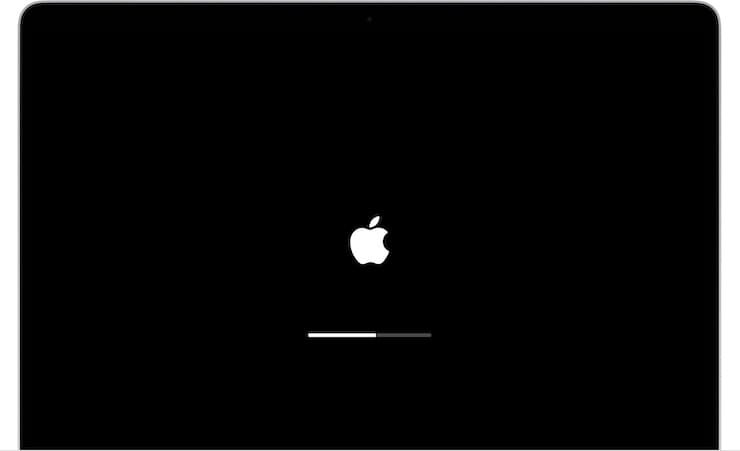 During boot, the system detects the startup disk, and a progress bar is displayed when you start or install macOS. This screen may change to a blank window several times. It should be understood that during the installation of the system, the logo may remain on the screen for quite a long time. The indicator itself will also fill up slowly, sometimes freezing in one place for a long time. That is why it is recommended to start the installation of a new system in the evening, leaving the computer on all night.
If it seems to you that the wait is clearly delayed, and the computer just "freezes", then you need to take the following steps:
1. Press and hold the power button for 10 seconds until the computer turns off. Now you can turn it back on.
2. If the problem persists, then press and hold the power button again while waiting for the Mac to turn off. Now disconnect all accessories from it: external drives, printers, USB hubs and other non-critical devices. It is possible that one of them or the cable is causing the problem. Turn your computer back on.
3. If the problem persists, turn off your Mac again by pressing and holding the power button.
4. Repair your boot disk with Disk Utility (see above). If it does not find errors on the disk, you can proceed to reinstall macOS (detailed). If errors are found and corrected, you can try to start the system again. If the result is unsuccessful, proceed to reinstall macOS.
♥ BY TOPIC: Hotkeys for working with text on macOS.
Globe with alert symbol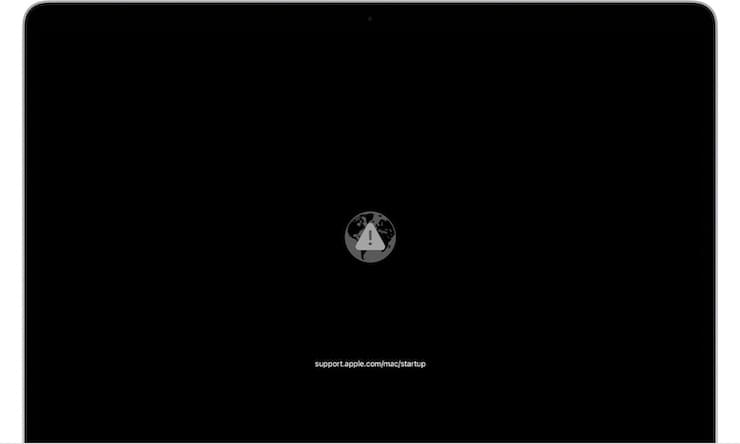 This error clearly indicates an unsuccessful attempt to start the system in Internet Recovery Mode. In this case, you should take the steps that we also already talked about in this article.
♥ BY TOPIC: How to enable power saving mode in macOS?
lock icon
A padlock icon with a data entry field may appear if the computer is using a firmware password and you are trying to boot from a different volume (external drive or system recovery partition). Setting such a password just does not allow using another disk to start the system, except for the boot one. You just have to enter a password. If you forgot it or do not know it, then this problem can only be solved with the help of Apple specialists or an authorized service center.
♥ BY TOPIC: Path string in macOS – hidden features you might not know about.
System Lock PIN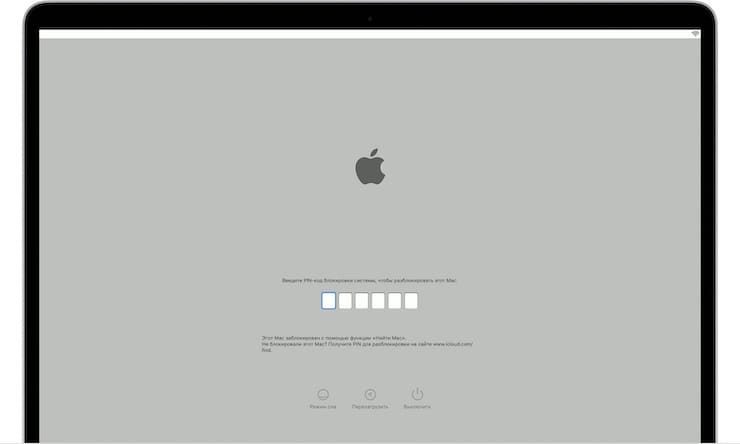 On the macOS startup screen, you may see a box to enter a system lock PIN. This occurs if the computer was remotely locked using Find My Mac (Find My). To continue working with it, you will need to enter a four- or six-digit password. If you do not remember it, but the computer belongs to you, then there are three options:
Sign in to iCloud.com/find, find your Mac in the Devices menu and select the option "Unblock". Next, you will need to take several steps to verify your identity.
Unlock a Mac using your mobile device: iPhone, iPad, iPod Touch or Apple Watch and its passcode.
Take your computer to an authorized Apple service center with proof of the fact that you purchased the equipment.
♥ BY TOPIC: Stacks in macOS, or how to organize files on your desktop into neat groups.
Login window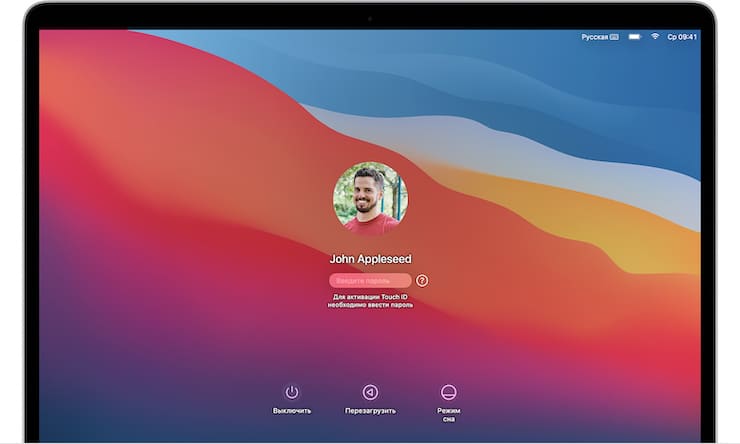 This picture indicates a successful boot of macOS. You need to enter a password for your account and log in. If FileVault is enabled, the drive will be unlocked upon login. The background for the window is set by default, but when the user selects it, it can change to the picture specified by him.
♥ BY TOPIC: How to change default folder icons to emoji emoticons in macOS.
Thunderbolt, USB, or FireWire symbol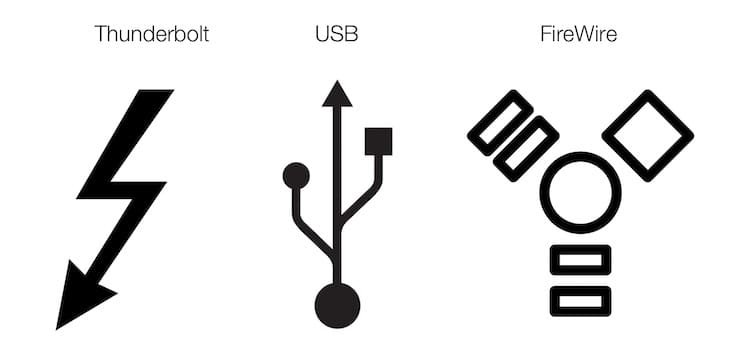 A large Thunderbolt, USB, or FireWire symbol that appears on the screen indicates that your computer is in mass storage mode. In other words, it's connected by cable to another Mac, showing up as an additional external hard drive. This allows you to quickly transfer files between computers. To exit this mode, press the power button on the computer in disk mode and with the symbol on the screen, turn it off, unplug the cable, and turn it on again.
See also:
[ad_2]