When shutting down their Mac, users typically put their computer to sleep or turn it off. But which of these options is better? Let's talk about these modes, finding out their features and benefits.
♥ BY TOPIC: How to clear (delete) the cache on Mac (macOS) manually and using special programs.
Need to shut down or put your Mac to sleep? This question is often asked by Mac users. Usually, people just leave their computer idle or hibernate, leaving the Mac unattended for minutes or hours. But most people do not really know what to do with a computer if they do not plan to work with it for a day or two, or even more.
We will give a simple and clear answer – almost always put your mac to sleep. And there are four main reasons for that.
♥ BY TOPIC: How to Find a Forgotten Wi-Fi Password on a Mac (macOS).
Your Mac is not just sleeping
When the Mac is in sleep mode, the computer automatically uses a feature called Power Nap. Thanks to her, he wakes up from time to time to synchronize with your other devices and updates the Mail, Calendar, Notes, Photos and Contacts applications along with iCloud documents. It also updates your location for Find My Mac (Locator), a useful feature in case your device goes missing.
When connected to a power source, your Mac can do even more with Power Nap, such as updating your computer software and scheduling Time Machine backups.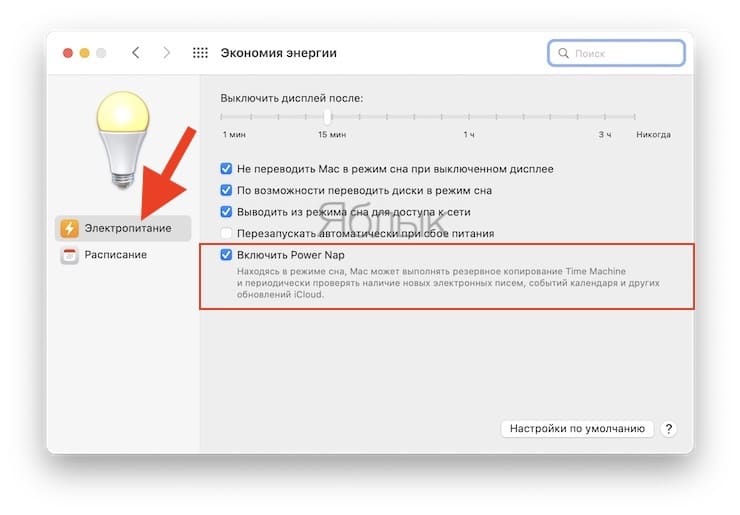 Note that Intel-based Macs allow you to turn off Power Nap, while Macs with M1 chips have the processor always on, which integrates Power Nap functionality into normal system operation. This means that the user no longer has the option to turn off features such as automatic sync.
♥ BY TOPIC: The program on the Mac is frozen, how to force close (end the process): 3 ways.
You can get started instantly
A Mac that has been put to sleep can be instantly woken up and allows you to pick up where you left off. You'll see your Mac's screen light up as soon as you open it or touch the trackpad if you're using a MacBook, or after you touch any key or move the Magic Mouse if you're using an iMac.
But if you turn off your Mac, it will close all running programs and applications. This means that the next time you start your computer, you will need to open all your applications and programs again, one by one.
But this will happen if you did not give the computer permission to reopen all windows that were previously open before shutting down. To do this, simply check the box "Reopen windows when logging back in" at the prompt that appears before shutting down or restarting your Mac. But even if you do, your Mac will still need some time to launch all these applications.
♥ BY TOPIC: How to automatically switch the language (layout) on the keyboard in macOS or Windows.
Energy savings from shutdown are minimal
Many people don't want to put their Macs to sleep for fear of high power consumption. However, Mac computers actually consume little power when they are in sleep mode. For example, the Mac M1 consumes just 0.18 watts per hour in sleep mode, while a 27-inch Mac with a Retina 5K display consumes only about 1.44 watts per hour.
By comparison, your Mac consumes much more power when idle. The Mac M1 draws 3.22 watts per hour in idle mode, while a 27-inch Mac with a Retina 5K display draws 31.1 watts. And this consumption may even increase when you turn your computer off and on again. This is because it takes more power to boot the device.
More importantly, your Mac consumes little to no power as it performs maintenance tasks while it sleeps. Thus, putting the computer to sleep to perform maintenance tasks should not worry about its power consumption.
♥ BY TOPIC: Hidden files on Mac: how to hide files and folders in macOS from outsiders: 3 ways.
Hibernation doesn't wear out your Mac
Not so long ago, many mechanical parts were used in computers, such as hard disk drives (HDDs). This is why many people have chosen to turn off their devices rather than let them run further, subjecting them to physical wear and tear.
However, in Macs and most modern laptops, hard drives have been replaced by solid-state drives (SSDs), which are more like chips than disks. Since SSDs have no physical moving parts, they are less prone to wear and tear. SSDs are also faster and can accommodate more information per unit of physical volume. So from time to time putting the computer into sleep mode will no longer cause problems.
♥ BY TOPIC: How to turn off password every time you boot your Mac.
When is the best time to turn off your Mac instead of putting it to sleep?
Turning off your Mac from time to time can be helpful. A full shutdown allows your computer to detect crashes and problems so that the next time you boot, fix them and make your work more comfortable and stable.
That's why restarting or shutting down your Mac is the first natural thing you should do when your computer is running bad, slowing down, or discovering other problems. Rebooting your Mac once a week or even once a month can help catch these problems early.
It's also best to turn off your Mac if you don't plan on using it for an extended period of time, say more than a week. Shutting down also allows your machine to cool down if it is overheating.
If you plan to turn off your Macbook for an extended period of time, it is very important to pre-charge it to 50% before turning it off to keep the battery healthy. Make sure you keep your computer in a moisture-proof environment below 32°C and don't overcool your equipment. If you plan to keep your Mac like this for longer, top up the battery to 50% every six months.
♥ BY TOPIC: How to add a live Memoji avatar to the macOS lock screen?
Sleep is a better option than turning it off
Shutting down your Mac or putting it to sleep will benefit your Mac anyway. However, if the question is which one is better for everyday use, then there is a clear answer. If you only plan to stop working with your Mac for a few hours or overnight, then putting your computer to sleep is the best option.
This battery-saving mode does more for your Mac than when you turn it off. Sleep mode also saves you time by allowing you to use your Mac again almost instantly by saving the application windows you were working on before shutting down.
We talked about all the ways to put your Mac into Sleep Mode in this article.
See also: