Sooner or later, any person involved in photography will surely hear the advice: you need to shoot in RAW. As soon as you follow it, you will find out over time that files in this format are not like other traditional graphic formats. You will need special programs to open RAW and work with it. One such application is Darktable.
♥ BY THEME: How to take photos correctly: 12 simple tips for those looking to improve the quality of their photos.
It's no secret that the most famous program for working with RAW images is Adobe Lightroom. However, there are many reasons for choosing an alternative. Darktable looks like a good option – a free open source application that can act as a good replacement for Lightroom.
♥ BY THEME: What Photoshop can do for iPhone: the possibilities of free Adobe Photoshop applications (Express, Fix and Mix) for iOS.
What is Darktable?

Darktable (download for Windows, Mac and Linux here) is a program for viewing and editing RAW image files. It, in turn, is designed to store image data that has not undergone any processing. The main difference from JPG is the lack of any data compression. You won't even be able to send this file to someone for later viewing.
RAW files are like a movie that hasn't been edited yet. Darktable is the place to go for digital photography processing. This was the reason for the appearance of such a name. The main reason for using RAW and Darktable instead of the usual JPEG and GIMP is the ability to perform editing without making permanent changes to the original file. This processing of a photo is called non-destructive editing.
Darktable has two main workspaces: Overview and Treatment…
♥ BY THEME: Levitagram, or how to create a photo with the effect of levitation (flight) on the iPhone.
Features of the Overview tab

In the tab Overview you can export images, edit metadata and apply tags. In this space, you can work with the names of your images and organize them.
The panel on the left side of the screen will help you import photos. You just need to take images from your camera and collect them into collections. The program provides an opportunity to view detailed information about each photo.
This is just a short list of the main solutions to be solved in Review tasks.
♥ BY THEME: How to find out the GPS coordinates of a photo (where it was taken) on an iPhone.
How to export snapshots from Darktable
A very important option of the program is its export from RAW format to the format that you can share. To do this, select the dropdown Export images). It contains many additional parameters, including file name, storage location, format, compression ratio, and others.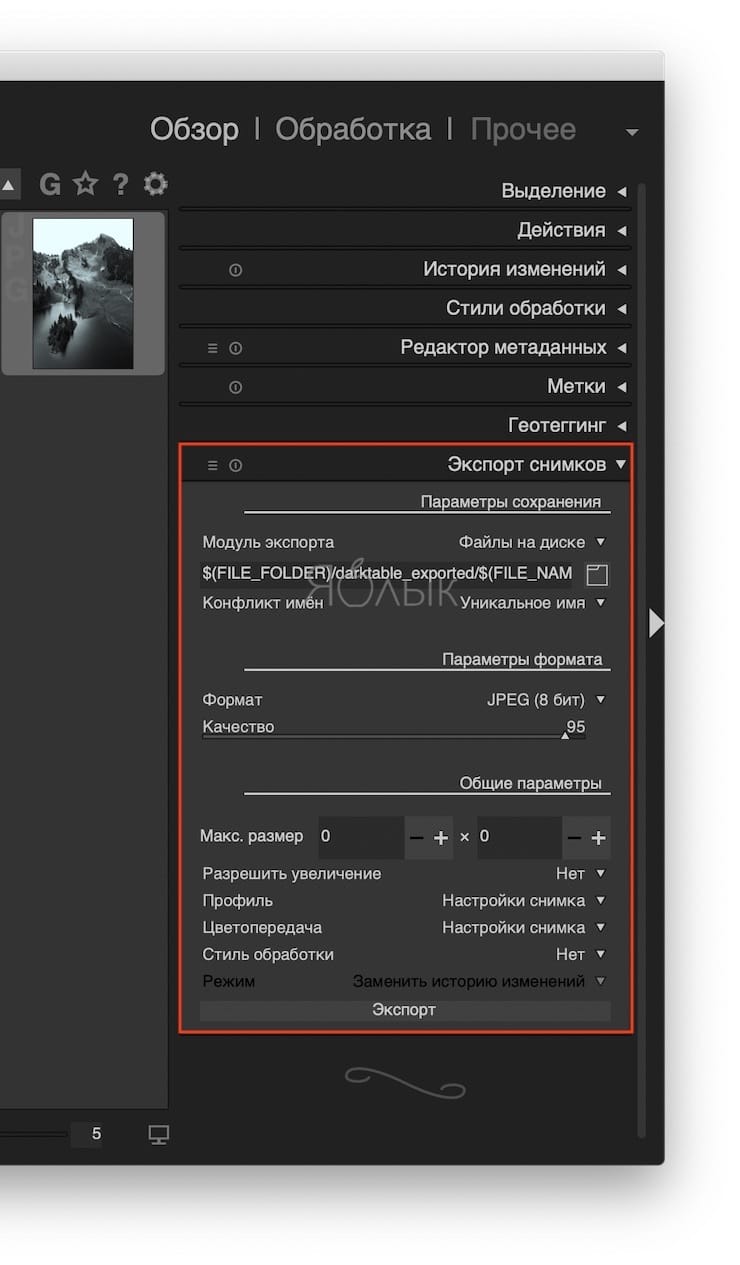 And even without changing the default settings, you can still convert RAW files to JPG, which can then be sent to family members or uploaded to the Internet.
♥ BY THEME: How to change your Snapchat gender with photos and videos. Try it – very funny.
How to edit metadata
If you share your photos with others, it will be useful to indicate the author in each photo. This is especially important if your hobby becomes a job.
IN Metadata editor you can create a title for each photo and put a description of what exactly is shown or is happening in the picture. You can also add who took the photo, who posted it, and under what license the photo is available.
Removing metadata from photos helps protect your privacy, which is why it is so important to do this job before distributing images on the Internet.
♥ BY THEME: Free photo stock: 5 useful sites for the legal download of copyright photos.
How to add tags to your photos
But for the internal organization of files, tags are very useful. They can be used to mark which images have already been edited and which have remained intact. Tags can help separate portrait photos from landscape photos.
To add tags, go to the section Tags… There are already several options available for use. But the program allows you to create your own tags or import those created earlier in another installed copy of Darktable. From this section, tags can be attached to selected photos.
♥ BY THEME: How to create a duplicate in a photo (clone objects) on iPhone.
How to geotag your photos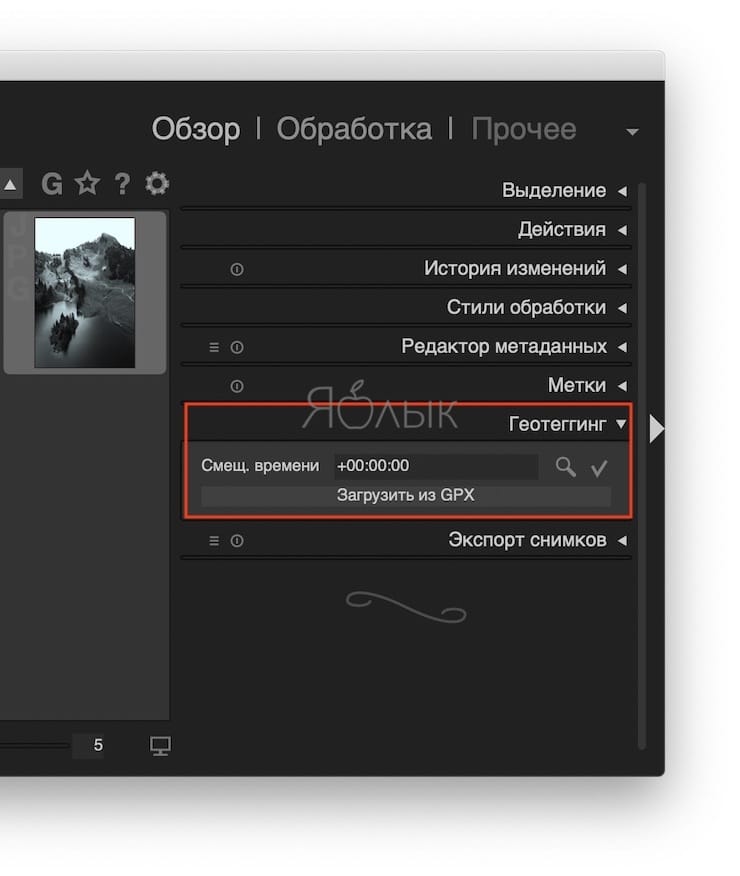 Many places may look the same on your travels. With the help of geotags, you can mark exactly where the photo was taken. You need to go to the section Geotagging and add a GPX track to your shot.
♥ BY THEME: Color Accent: How to change individual colors in a photo to black and white on iPhone and iPad.
How to process (edit) snapshots in Darktable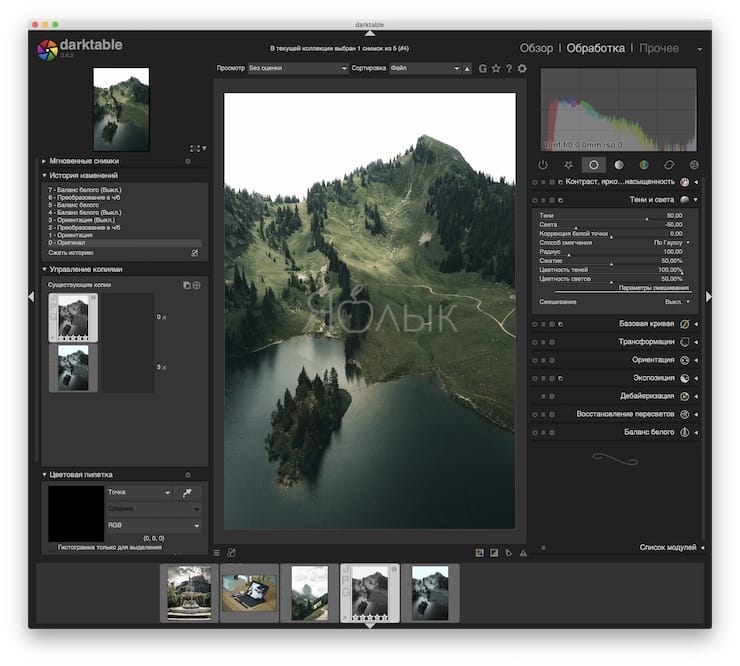 Treatment Is the part of the application that is responsible for changing the image. This is where you can work on your photos, making them match your visions.
On the right side of the window, you can select correction settings to improve imperfect images: sharpening blurry shots, correcting white balance, and cropping elements that may have accidentally entered the frame.
Or you can use your image and breathe new life into the frame. By adjusting the contrast, the subject can be brightened. Panel sliders allow you to experiment with colors, adjust lighting. Effects such as motion blur and vignetting are immediately available.
Darktable groups all of these tasks into modules. Some of them are visible at default settings and are organized into sections: Favorites, Basic Modules, Tone, Color Correction, Correction and Art Modules.

In chapter "List of modules" additional solutions are listed.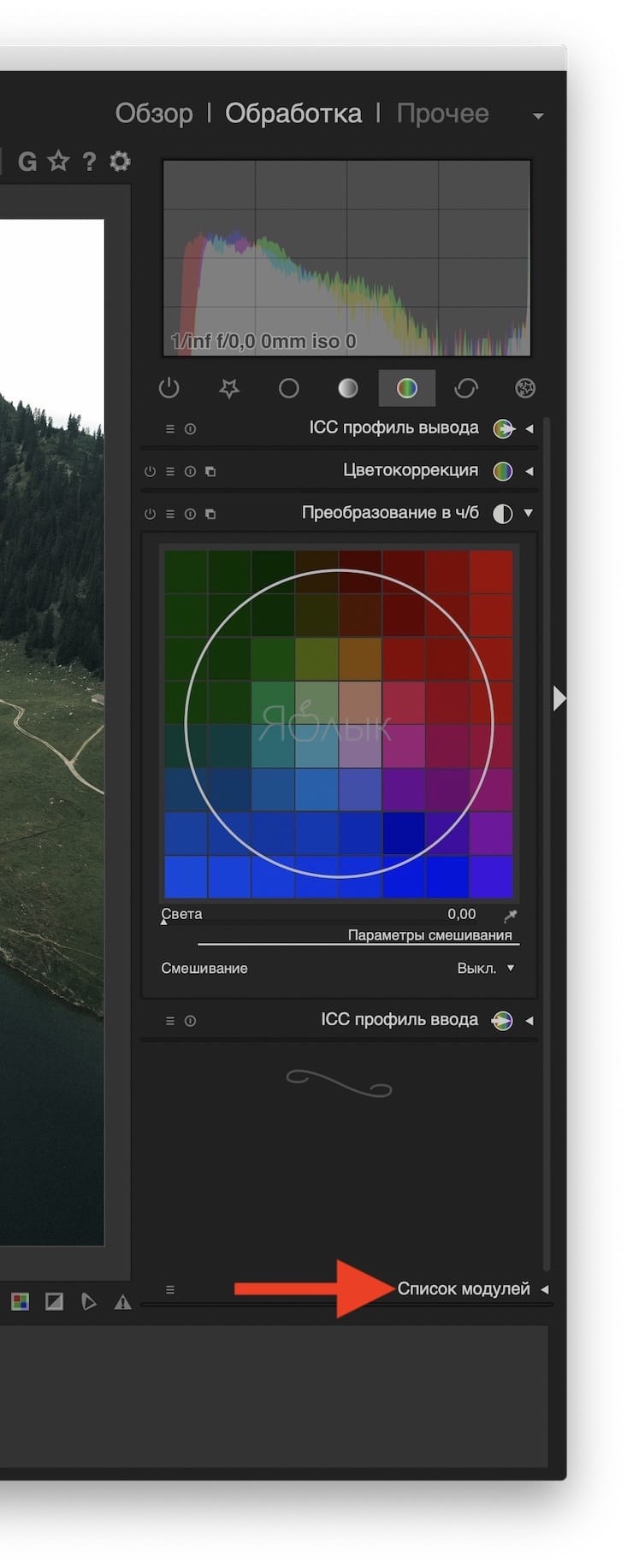 Clicking on one of the options will automatically add it to the above sections. Clicking on the item again will delete it. This will allow you to make the features you use the most easily accessible and hide the ones you don't need. This way, you can customize the application and organize the tools in it, eliminating the need to dig into menus to complete any assigned task.
♥ BY THEME: How to take a photo with a trail effect (long exposure) on an iPhone: 2 ways.
How to track changes
On the left side of the window, you can see a list of changes made to the current image. When you go to the section Change history Surprisingly, Darktable has already automatically applied a few default settings to your photo. But you can also undo them by returning to the original. And while working, it is possible to create your own intermediate copies of the picture, snapshots.
♥ BY THEME: 30 most famous fake photos you could believe in
Other Darktable features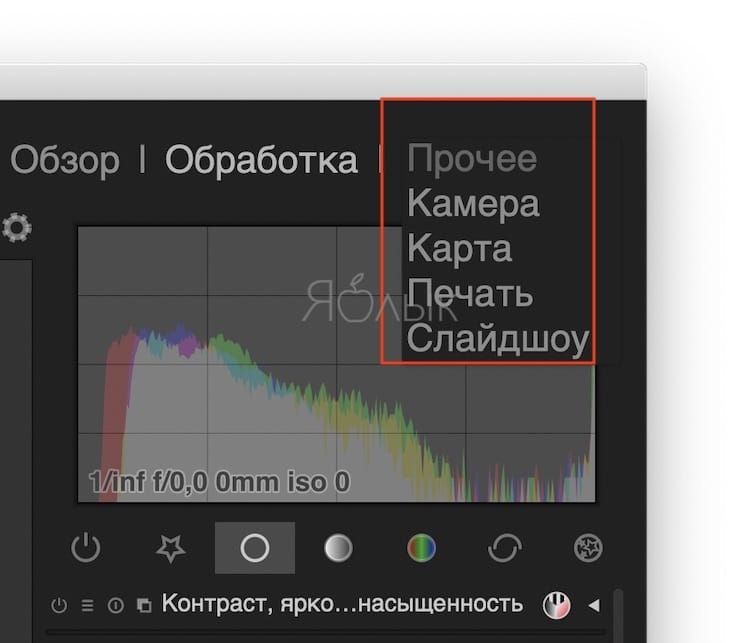 Now that you have edited your photo and exported the file, you can select the mode Other, where a few more photo tools will appear.
♥ BY THEME: Online photo editor for free: 5 services for fast online photo editing.
Using the Map function in Darktable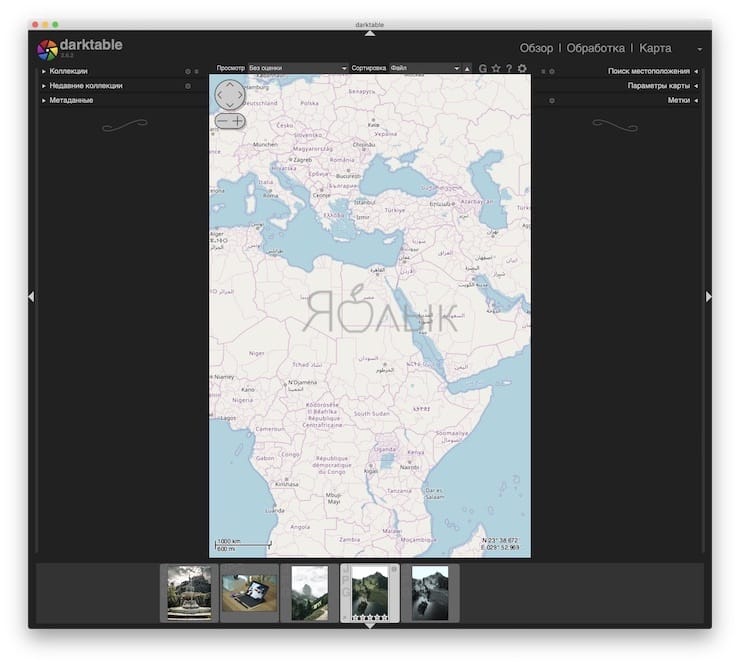 In this section, you can use geotags to place photos on the map, taking into account the location of their shooting. The map can be provided by various services. By default, this is OpenStreetMap, but it is optionally possible to use Google Maps as well.
♥ BY THEME: Where and how to sell photos, or how to make money on mobile photography? 5 best photo stocks.
Using Print Functions in Darktable
This feature enables you to print your image. Choose your printer, set the paper size, adjust the color profile, and more. Darktable provides a preview of the picture so you can see where it is on the sheet of paper.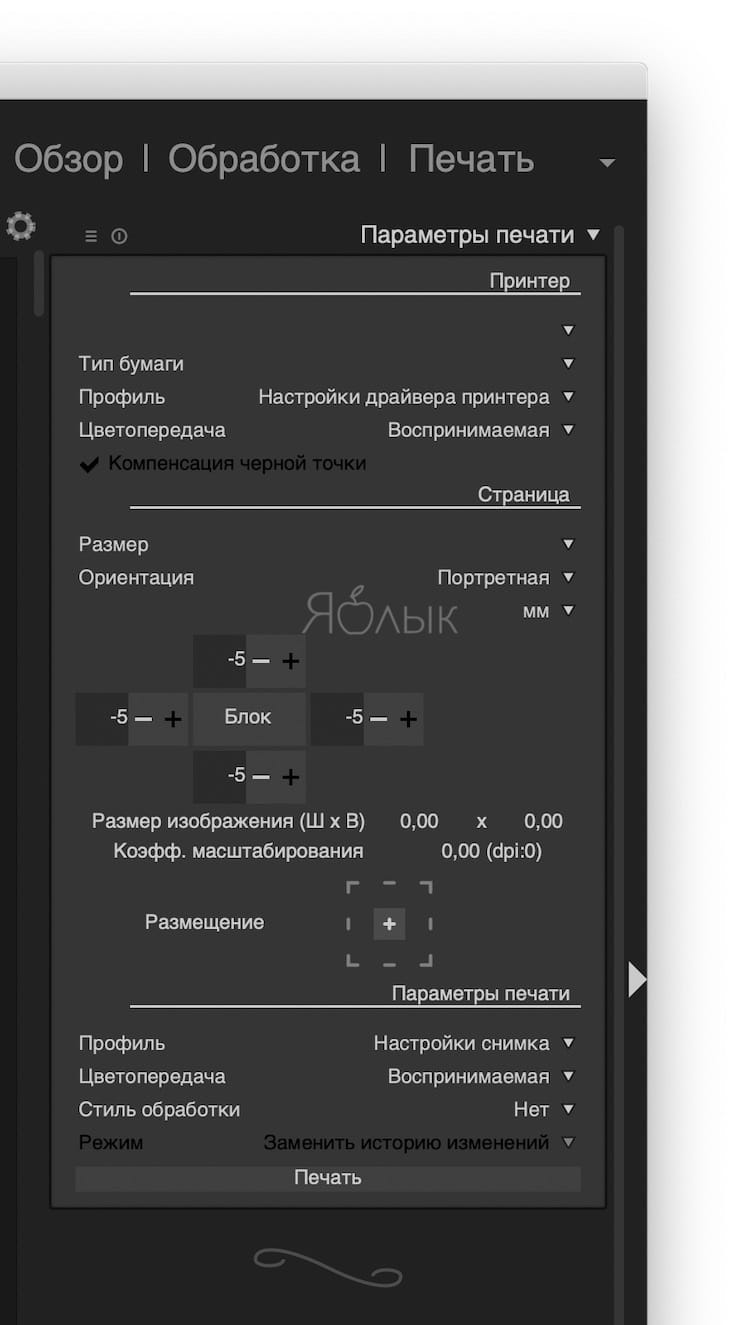 ♥ BY THEME: How to remove red eyes from photos on iPhone or iPad without additional applications.
Using the Slideshow feature in Darktable
In order to present your collection of photos as a slideshow, you do not need to download other applications. Darktable does an excellent job of this. But don't expect a lot of customization from this simple feature.
♥ BY THEME: IPhone Retouching: The Best iOS Photo Retouching Apps.
Using the binding function in Darktable
Binding devices in Dakrtable allows the program to connect directly to the camera. The application itself acts as a viewfinder for capturing images. Darktable uses the gphoto2 library to bind and control devices. Keep this in mind if you have any problems or need to check the library for compatibility with your camera.
♥ BY THEME: Bring photos to life on iPhone: Pixaloop app animates any photo.
Should I use Darktable?
Darktable isn't just a great app because it's free. Many other similar open source programs provide similar functionality, but do not have the same clear and simple interface.
Unlike some other apps, Darktable is a tool made by photographers for photographers. It allows you to adapt the interface to your workflow and do it in a new way every time.
It is not the only free open source tool for photographers. And while Darktable is one of the best free RAW editors, there are many other free apps for editing your photos.
See also: