At one time, Rudyard Kipling told the whole world a story that has become a literary classic. The adventures and fate of Mowgli did not leave anyone indifferent. This story continues to excite, based on its motives, films have been made, performances have been staged. But this legend is not invented at all, it is based on real events. But the story of the Indian runaway boy Dina Sanichar is not at all as beautiful as Kipling presented it.
♥ BY THEME: Talking parrot: which birds speak, learn the easiest and how to teach to speak.
The real story of Mowgli
In 1867, hunters in India encountered an unusual phenomenon. It took place in the depths of the Bulandshahr forests in northern India. There was a pack of wolves, in the middle of which a human child appeared, walking on all fours. This group soon disappeared into the caves. The hunters were very surprised, but decided to get to the bottom of the truth. They tried to lure the animals out of the cave by building a fire at the entrance. And when the wolves appeared outside again, the people killed the animals, and the child was captured. He was sent to an orphanage, where he was given the name Dina Sanichar. The word "sanichar" in Urdu means "Saturday", and it was on this day that the child entered the institution.
Dina Sanichar went down in history as a six-year-old boy raised by wolves in the Indian forests of Bulandshahr. In fact, this is far from the only case of this kind. There are many stories of wild children in India, including wolf children, panther children, chicken children, dog children, and even gazelle children. In folklore and novels that have spread throughout the world, a feral child is portrayed as a real miracle and an amazing character, but in fact the life of such a person turns out to be tragic due to long isolation from human society. The return to civilized life becomes big news, but then wild children are forgotten. But this is an important question: what exactly makes us human?
The head of the orphanage administration, Father Erhard, noted the boy's extremely low intelligence, he frankly seemed feeble-minded or an idiot, while signs of reason were still present, and sometimes Sanichar even showed some kind of logic.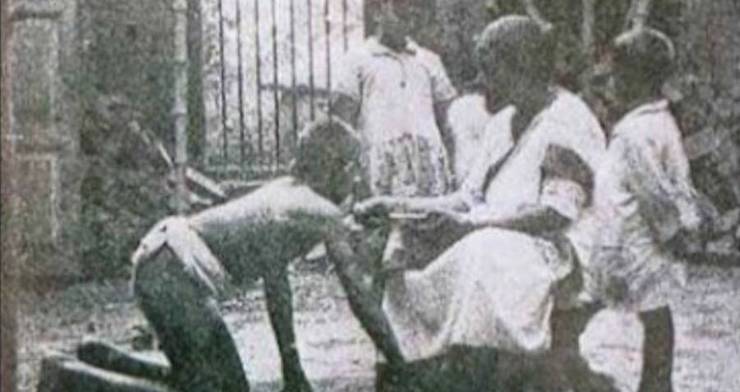 Well-known child psychologist Wayne Dennis cited this story in his 1941 article "The Fate of a Wild Man" in the American Journal of Psychology. The scientist said that Sanichar looked untidy and ate what a civilized person would find disgusting. According to Dennis, the foundling refused regular food and ate only raw meat from the ground, he despised clothes and sharpened his teeth on bones. At first it seemed that he did not have the ability to speak, but Sanichar was not dumb, he just made animal sounds. According to Dennis, the wild children were insensitive to heat or cold and had little or no attachment to humans.
Nevertheless, Sanichar managed, if not to make friends, then to become closer to one person. This too was a wild child found by the Manipuri people in Uttar Pradesh and also brought to an orphanage. These boys were bound by a strange sympathy for each other. The elder taught the younger to drink from a cup. Perhaps their similar past made them able to better understand each other and somehow sense mutual needs.
♥ BY THEME: How do the birds know where the south is?
Feral children in India
It must be said that for centuries the Indians have cultivated the myth of the wild child. Legends about wolf children who grew up in a deep forest were constantly heard. But this is not just fiction. In India, indeed, this happened often. Around the same time that the feral child Sanichar was found in the forests of northern India, four more wolf children were recorded in that country, and more such stories will emerge over time. In total, from 1843 to 1933 in India, at least 16 cases of children of both sexes were found raised by various animals. The most famous was the case of two girls, Kamala and Amala. They were taken from a pack of wolves in 1920. The girls howled at the moon, walked on all fours and ate only raw meat.
These stories and legends influenced many writers and poets, in whose work there was a place for wild children. Rudyard Kipling, a British writer who lived in India for many years, was also fascinated by the stories of the miracle of a child running wild. Soon after the news of the found Sanichara Kipling created a collection of stories, beloved by many children, The Jungle Book. It was there that Mowgli's little human cub appeared, lost in the forest and adopted by animals. And Dina Sanichar became known as "the real Indian Mowgli". True, Kipling himself never mentioned that it was Dina Sanichar who inspired him to create the famous story. Yes, and between Mowgli and Dina there are obvious similarities and obvious differences. For example, a real character never left the jungle voluntarily, unlike a literary hero.
♥ BY THEME: Where did the Titanic sink: coordinates on Yandex and Google maps?
The further fate of Dina Sanichar
Sanichar's teacher, Erhardt's father, placed Sanichar in a special educational camp, carefully planning its further development. The foundling lived the rest of his short life under the care of an orphanage. Even after 20 years of communication with people, Sanichar practically did not demonstrate the skills of an intelligent person.
The story of Romulus and Remus, twin boys who were abandoned on the banks of the Tiber River, fed on the breast of a she-wolf, and then returned to people to create Rome, the center of civilization, is perhaps the most famous story in the West about animal children.
But Sanichar's story is the exact opposite of this noble legend. The life of a Hindu has shown that it is possible to take a boy out of the forest, but not the forest out of a boy. Sanichar, like almost all wild children, has never been able to fully assimilate in society, preferring to remain in some kind of unhappy semi-state for himself. Although he had acquired the ability to walk upright on two legs, he had difficulty dressing. Sanichar learned to handle the cup and plate, but he still continued to sniff all the food before eating it. And in the end, he never ate anything but raw meat. At the same time, Sanichar had a rather strong physique. But his height was only 150 centimeters, his teeth were large, and his forehead was low.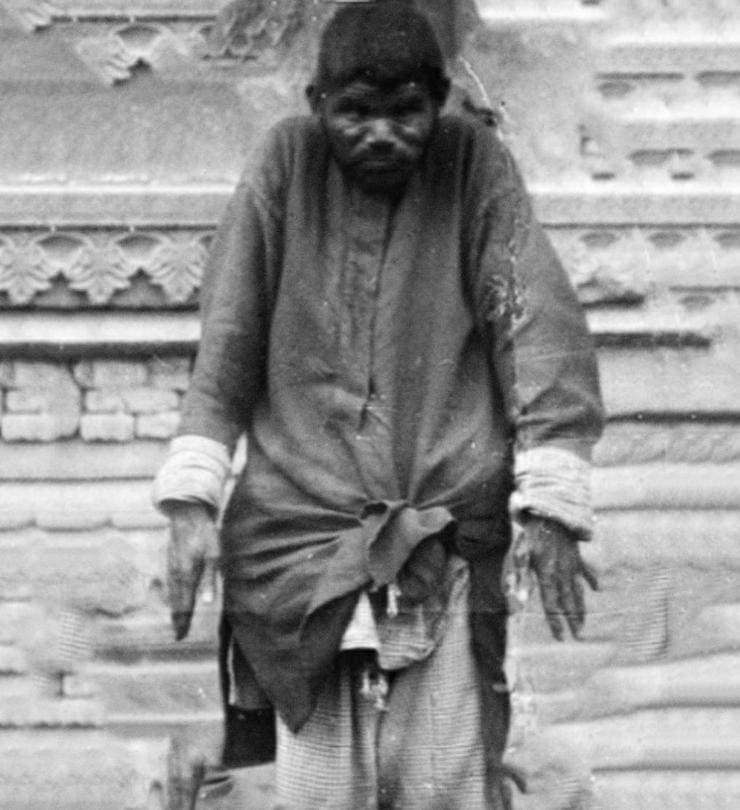 He never learned to speak, read or write. He tried to communicate with the help of throat sounds. Despite constantly being among people, Sanichar remained nervous and constantly agitated.
Another strange thing that happened to Sanichar was his addiction to tobacco. He himself adopted this bad habit from people, becoming a heavy smoker. Sanichar's life ended in 1895. He died presumably of tuberculosis, possibly due to smoking. After 6 years spent in the jungle, Dina was never able to socialize, in his mind he remained an animal, unable to become a human. Perhaps it would have been better for him to continue living among the animals.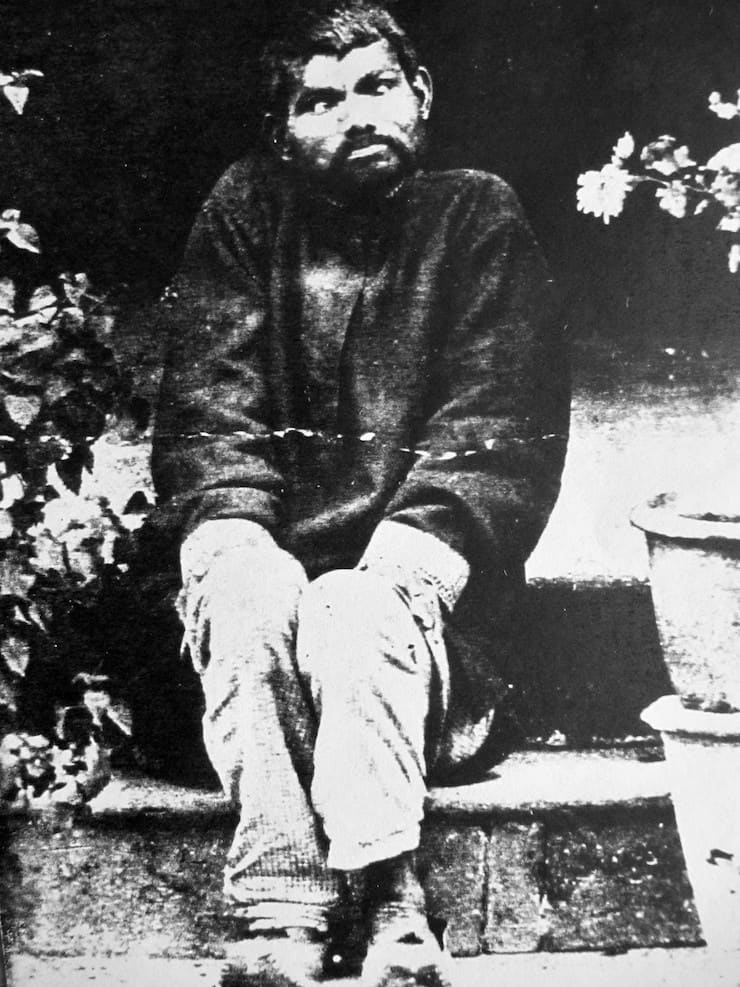 ♥ BY THEME: Famous artists of the "freak circus": people with amazing anatomical abnormalities.
Wild child of South Africa
Dina Sanichar's story is reminiscent of Saturday Mthiyane, a feral child. It was found in 1987 in Africa. A five-year-old boy lived among monkeys near the Tugela River in the wilds of KwaZulu-Natal in the south of the continent. The name was given in honor of the day of the discovery, and the director of the shelter gave his last name. The boy behaved like an animal. He could not talk, walked on all fours, loved to climb trees and ate mainly fruits, especially bananas. The child died tragically in a fire in 2005.
See also: