Trying to video chat with family or friends when you are outdoors or in a noisy environment is a big challenge. Your conversation partner will hear all this background noise, but not your voice. Apple has fixed this by allowing for background noise reduction for video calls on iPhones. You can eliminate any annoying background sounds and let the other person hear only your voice. In this tutorial, we'll show you how to reduce background noise when making video calls from your iPhone.
♥ BY THEME: On the iOS 15 home screen, you can host the same app multiple times.
How to reduce background noise when making a video call from iPhone?
Before trying the options below, make sure your iPhone has the latest iOS update (installation guide). To reduce background noise during video calls, your iPhone must be running iOS 15 or later.
First, open any application with which you want to call. As an example, let's make a video call to someone on Telegram.
Once the call starts, open Control Center on iPhone. There you will see two options for camera and microphone modes. Of these, you will need to select the option Microphone mode…
On the screen that opens, select "Isolating the voice" and go back to save the settings.
Own, that's all. You can now close Control Center and return to your video meeting. Ask the other person if he hears any background noise or is your voice loud and clear?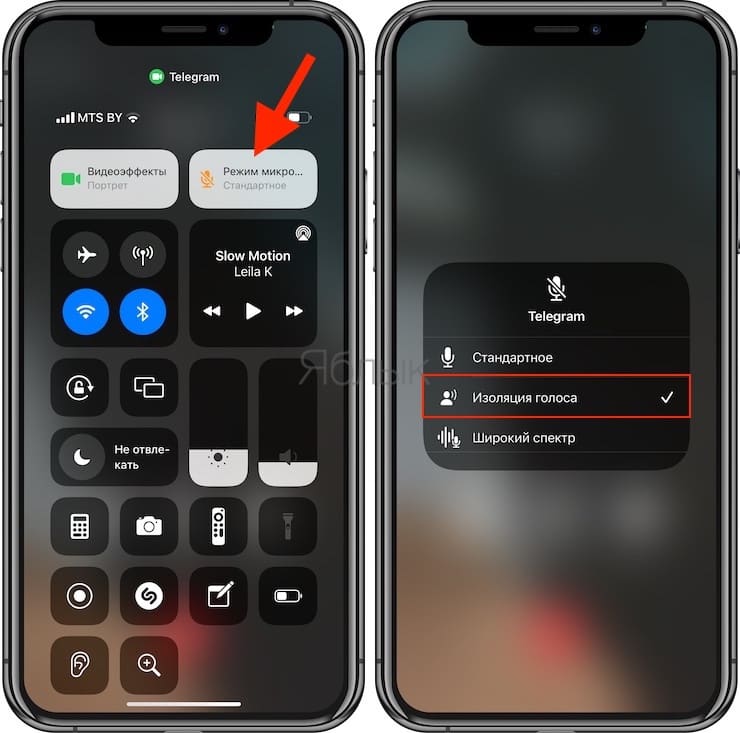 Background noise reduction for video chats is hardly a new technology. Google Meet, Google Duo, and many other apps already have noise canceling to keep you out of the trouble during outdoor video calls. But the similar feature on the iPhone is special. The point is that you can turn on noise canceling for any application at any time.
Once you turn on Voice Isolation on iPhone, you can easily make video calls without disturbing the other person with noise around you. The first tests showed that even breathing sounds were cut off if the microphone was placed very close to the mouth. So this feature, soon to be available to iPhone owners, will really help combat background noise during video calls.
See also: