[ad_1]

When starting the Mac, even in recovery mode, a problem may occur – the screen will display gray globe with special exclamation mark alert symbol. Moreover, this icon appears even after a second attempt to recover via the Internet. This situation is rare, but it does happen. There is no need to be afraid that your Mac is irrevocably broken. You can fix the damage yourself.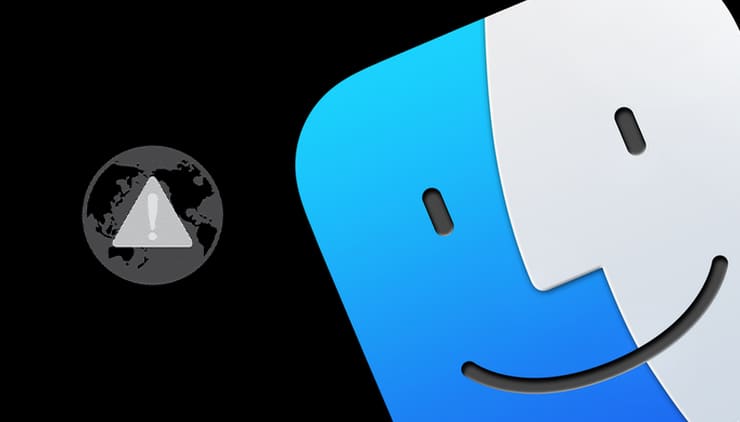 ♥ BY TOPIC: Program stuck on Mac (macOS): How to force close? 5 ways.
Why does a globe icon appear with a warning symbol on a Mac?
When the Mac fails to successfully launch an online recovery, a globe icon with an exclamation mark inside a triangle is displayed on the screen on a black background.
When serious problems occur on a Mac, one solution is to reinstall macOS (which will keep your files safe) or wipe and reinstall macOS (which will remove all data). In any case, the user will need to enter recovery mode.
Your Mac has a built-in recovery mode that stores data on a separate disk partition (internal SSD or hard drive). When you press during download ⌘ Command + R on a Mac with an Intel processor, you will enter the built-in recovery mode of macOS. In it, you can reinstall macOS, use Disk Utility to repair or clean up disks, and much more.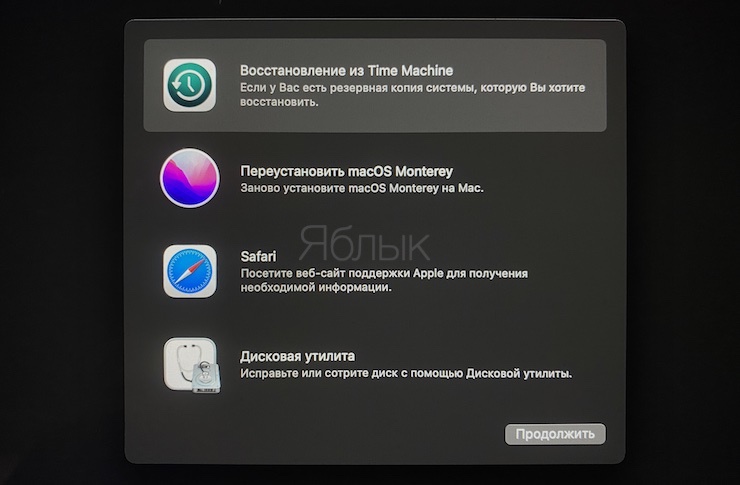 Note. On a Mac with Apple Silicon, the steps to enter recovery mode are different.
But if the Mac cannot successfully start in the built-in recovery mode, then the computer will automatically try to start in the Internet recovery mode.
To manually enter macOS Online Recovery Mode, click ⌘ Command + ⌥ Option + R or ⌘ Command + ⌥ Option + ⇧ Shift + R while the Mac is booting up. A spinning globe will appear on the screen.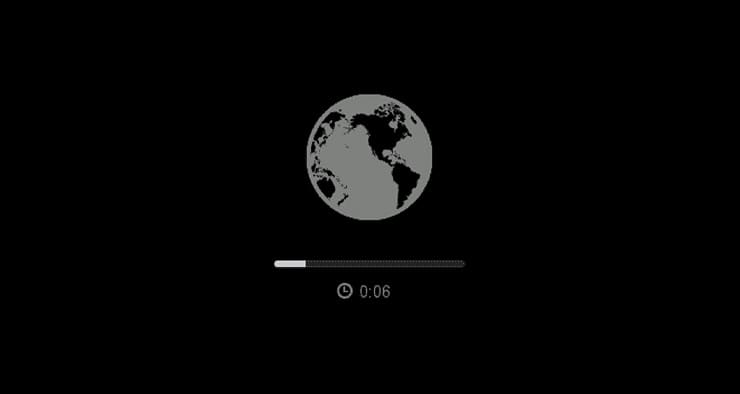 If all goes well, your Mac will download the data it needs to recover from Apple servers over Wi-Fi or Ethernet. The computer will then show you options to reinstall macOS, use Disk Utility, and more.
However, if your Mac won't start from Internet Recovery Mode, then you're just going to see that annoying gray globe icon with an exclamation point. Internet recovery can fail due to network (Wi-Fi, Ethernet) problems, a failed internal drive, a crash on Apple servers, and other reasons. ♥ BY TOPIC: Shut down or put your Mac to sleep?
What to do when a globe icon with an exclamation mark appears on Mac?
This problem is not unique at all, it appears on iMac, MacBook Pro, MacBook Air of various generations. But in general, users can deal with it themselves without resorting to the help of Apple service or technical support. True, sometimes this takes a lot of time, but knowing the procedure, a positive result is almost always achievable.
Taking into account the Apple support articles that you always want to refer to when an unexpected problem appears, as well as the personal experience of users, we will give you some tips on how to fix this problem. Again, note that these actions applicable to Intel-based Macs.
♥ BY TOPIC: How to clear (delete) the cache on Mac (macOS) manually and using special programs.
Use built-in recovery instead of online recovery
If you see that your Mac cannot download the resources it needs from the Internet, then turn it off. Then press the power button, and immediately press and hold the keys ⌘ Command + Rto enter the built-in recovery mode.
If everything worked out, then great! Otherwise, your Mac may automatically enter Internet recovery mode, where you will need to select a Wi-Fi network (if Ethernet is not connected) and continue.
♥ BY TOPIC: How to automatically switch the language (layout) on the keyboard in macOS or Windows.
Try online recovery several times
It is possible that recovering via the Internet will not work the first time. Then repeat these steps several times, maybe even the next day. Sometimes perseverance helps, choosing this recovery over and over again can make it work. But at the same time, you should not refuse to use the methods below.
To try again, press the power button to turn off your Mac. After waiting a minute or the final shutdown of the computer, press the power button and immediately press together ⌘ Command + ⌥ Option + R or ⌘ Command + ⌥ Option + ⇧ Shift + Rto enter online recovery mode.
♥ BY TOPIC: Hidden files on Mac: how to hide files and folders in macOS from outsiders: 3 ways.
Try two keyboard shortcuts
You have two keyboard shortcuts to manually enter macOS Recovery Mode over the Internet:
⌘ Command + ⌥ Option + R: The computer will try to reinstall the latest version of macOS that is compatible with your Mac. Failing that, it installs the version of macOS that originally came with your Mac when you bought it. If this version is not available, the next available version is installed.
⌘ Command + ⌥ Option + ⇧ Shift + R: Installs the version of macOS that originally came with your Mac when you purchased it. If this version is not available, the next available version is installed.
When one key combination doesn't work, use another and vice versa.
♥ BY TOPIC: Launchpad on Mac: what it is and how to set it up so that you want to use it.
Provide Stable Wi-Fi
It is extremely important to make sure your Mac is connected to a working Wi-Fi network. To check, connect your iPhone or other device to the same Wi-Fi and see if that network has Internet access.
Second, make sure your internet connection is fast. On a slow network, Internet recovery may fail. Third, make sure you're not using a VPN at the router level.
♥ BY TOPIC: Task Manager on Mac: how to open and use.
Switch to another Wi-Fi
When Internet Recovery does not work over a specific Wi-Fi network, then try switching to a different one. If you are trying at home, then most likely you have only one wireless Wi-Fi network. In this case, restart the router and try Internet recovery again.
If the computer continues to show the globe icon with an exclamation mark, then go to a friend's house or office and connect your Mac there via Wi-Fi. If you are not prompted to select a Wi-Fi network when you start recovery, select it from the Wi-Fi menu, if possible.
ImportantA: You will most likely not be able to successfully log in and use Wi-Fi in cafes, libraries, airports, etc. This is because accessing Wi-Fi in these locations is accompanied by a browser screen displaying a connection page before you can use that network. But you will not be able to pass such authorization on the recovery screen. Also, even if you think you're connected to Wi-Fi, you may not actually be. So it's better to use home or office Wi-Fi, where access is easier.
♥ BY TOPIC: How to add a live Memoji avatar to the macOS lock screen?
Use Ethernet instead of Wi-Fi
Consider switching from Wi-Fi to wired Ethernet if you keep seeing the globe icon with an exclamation point.
An Ethernet port is built right into the computer on older Macs. On some Apple laptop models, you will need to use a USB-C hub or a special adapter.
When your Mac is connected to the Internet using a wired connection, you won't see the Wi-Fi selection screen when you start an online recovery. macOS will automatically begin downloading system recovery data.
This method is quite efficient. Yes, and wired Internet is usually faster than Wi-Fi, the work will obviously speed up. During recovery, keep your Mac on the table, making sure that even for a second, the wired connection will not be disconnected.
Note. If you've already used Ethernet, but recovery doesn't work, consider using Wi-Fi.
♥ BY TOPIC: Path string in macOS – hidden features you might not know about.
Check Apple Server Status
Go to this official system status page and make sure items like the Mac App Store and macOS Software Update are marked with a green dot. If there is a problem with the servers, then a dot of a different color (yellow or red) will be displayed next to them. In this case, please wait until Apple fixes the issue.
Sometimes, even if there is a positive indication on the page, consider using online recovery later. Just turn off your Mac and try again in a few hours.
♥ BY TOPIC: Stacks in macOS, or how to organize files on your desktop into neat groups.
Start your Mac from a different drive
If you have more than one drive or volume, change your Mac's startup drive. This can also help and Mac will recover via the Internet. Typically, the system drive is named Macintosh HD.
♥ BY TOPIC: How to remove a person or object from a photo in the Photos app on Mac.
Run the downloadable macOS installer from a USB drive
In this case, you will have to use another computer to create a downloadable installer and continue working with it. Apple provides guidance on how to create it.
♥ BY TOPIC: How to boot a Mac in safe mode?
The globe icon with an exclamation mark will definitely disappear when you restore macOS!
By following the steps above, you will be able to successfully start your Mac in Internet Recovery Mode.
Switching to another network, trying after a while, or just trying again usually helps. If none of the methods helped you, then you can contact Apple Support.
Finally, one more thing to always keep in mind is erasing the internal drive using Disk Utility (detailed). After doing this, online recovery may be successful, you will reinstall a fresh copy of macOS on your Mac. After starting the process of erasing the entire contents of the disk by pressing the "Erase" button, a folder icon with a question mark may appear. In this case, the only recovery option is to use the Internet.
See also:
[ad_2]