The best camera is the one you have with you. Most often it is a smartphone, and if you are reading these lines, your smartphone is an iPhone. The "Apple" gadget takes amateur photography to a new level … if, of course, you know how to use all its photographic capabilities.
♥ ON TOPIC: How to automatically change wallpaper on iPhone or iPad based on time, place, etc.
A prime example in this regard is taking pictures with high exposure. If iPhone owners see one such picture somewhere on the web, they immediately rush to look for the corresponding application in the App Store. But this is not at all necessary – after all, the corresponding option is in the Camera system application.
Thanks to the slow shutter speed, you can capture hitchhiking lights describing the trajectory of traffic, emphasize the movement in the frame and create cool photos in low light conditions. "But this is the lot of SLR cameras!" – you say.
Modern smartphones are trying with all their might to drag and drop some of the functionality of expensive professional cameras. Slow shutter speeds associated with slow shutter speeds have always been considered one of their advantages. But now you can take photos in this way even on your usual smartphone, which is always at hand.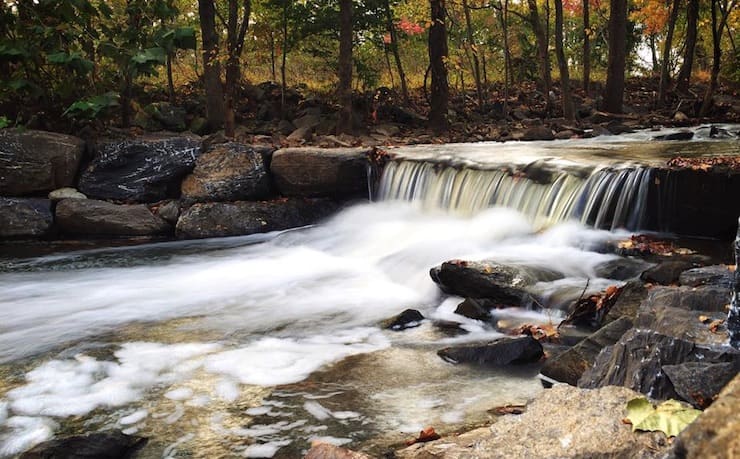 Apple does not provide direct access to iPhone hardware in order to protect the device. So the camera shutter speed of this device cannot be changed directly. However, the iPhone can still capture images with a "trail effect". There are several ways to implement this scenario: using built-in iOS functions or third-party applications that provide long exposure. We will detail all of these options.
♥ ON TOPIC: IPhone Retouching: The Best iOS Photo Retouching Apps.
What does it take to take a great long exposure photo on iPhone?
Ideally, you need a tripod, stand, or just a flat place on which you can place your smartphone, because the absence of shaking is a key prerequisite for creating high-quality long exposure photography.
It is not necessary to purchase a full-length one and a half meter tripod. Sometimes a small tripod, worth a couple of bucks, is enough, which you can buy from our Chinese comrades.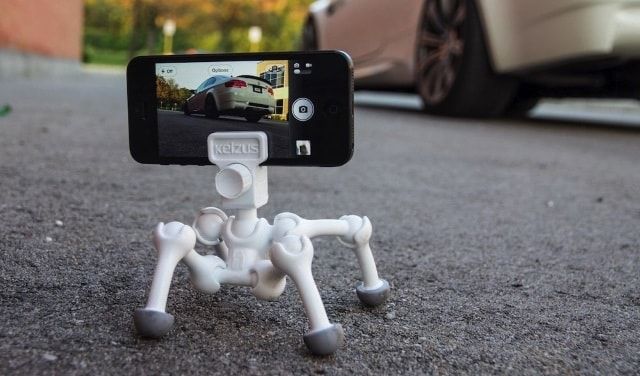 The simplest (but not the best) option for shooting with the "Long exposure" effect can be using the standard function of the iPhone camera (requires iOS 11 and newer) – Live Photos, which also has the option of the same name.
An alternative (and better) option is to use a special application that allows you to take pictures at a long exposure. There is plenty of such goodness in the App Store, but still, we stopped our choice on programs Slow Shutter Cam and Specter Camera…
So let's talk about everything in order.
♥ ON TOPIC: Photoshop online with effects in Russian: 3 best free alternatives to Adobe Photoshop for editing photos on the Internet.
How to take a long exposure photo with a trail effect on iPhone using Live Photos
Apple's Live Photos are a great feature that captures three full seconds of movement the moment you press the shutter button. We have already described how to take Live Photos on iPhone. But with the release of iOS 11, Apple has improved this capability. Few people know about the possibility of converting live photos into a long exposure shot. This can be done simply with the help of swipes and taps on the screen. Even a beginner amateur photographer who is not familiar with the details of the terms "shutter speed" and "shutter speed" can still take an impressive picture.
To create a long exposure photo, make sure there is at least one moving element in the frame at the right time. It can be a passing car, a train arriving at a station, or falling water. The background should be clean and static. So, a Live photo in which there are too many people running can turn into a blurry mess.
1. Run the standard application Camera on iPhone.
2. Make sure Live Photos is active in the settings.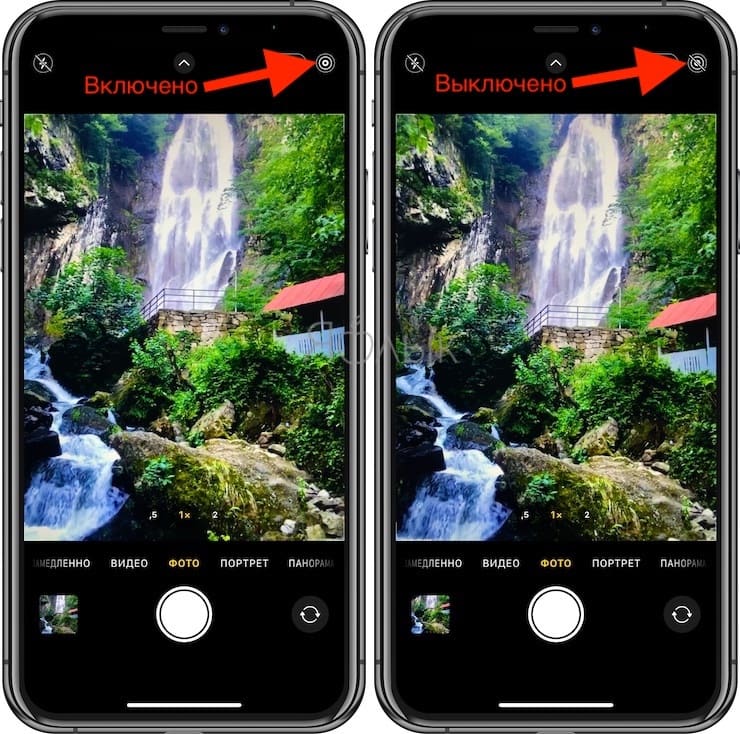 3. Select a subject to capture. A good option is cars, lights, a working fountain, a waterfall. In general, anything that moves will do.
4. Take a photo of the moving subject. At this step, all that remains is to hold the smartphone steadily in your hand (or using a tripod) and press the shutter button. iPhone needs to be held still for two seconds. Live photos include one and a half seconds before pressing the shutter button and one and a half seconds after that.
5. After the frame is captured, open it in the standard application Photo (tab Albums → section Photo Live Photos).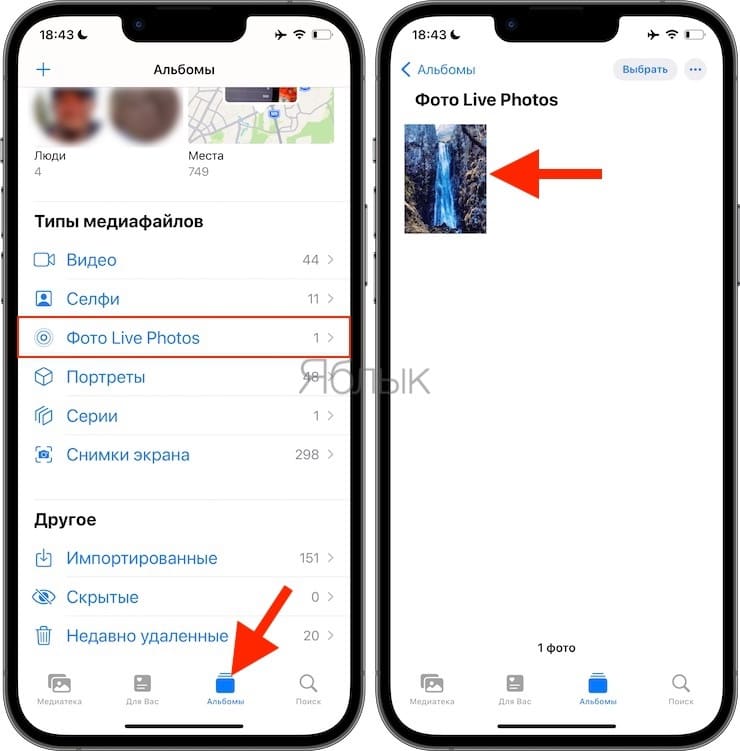 Next, if you have an iPhone running iOS 15 or later, click on the LIVE button in the upper left corner. In the list that appears, select Long exposure…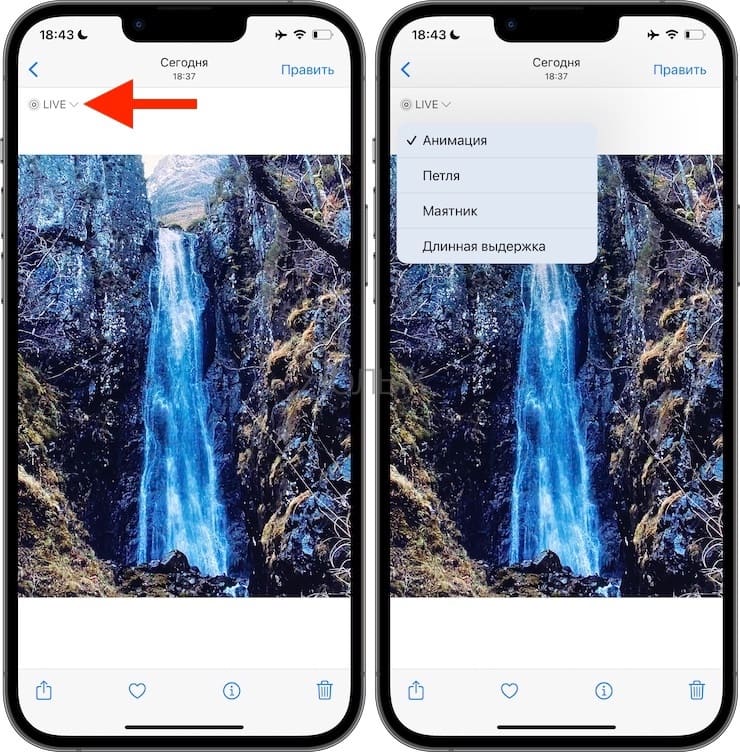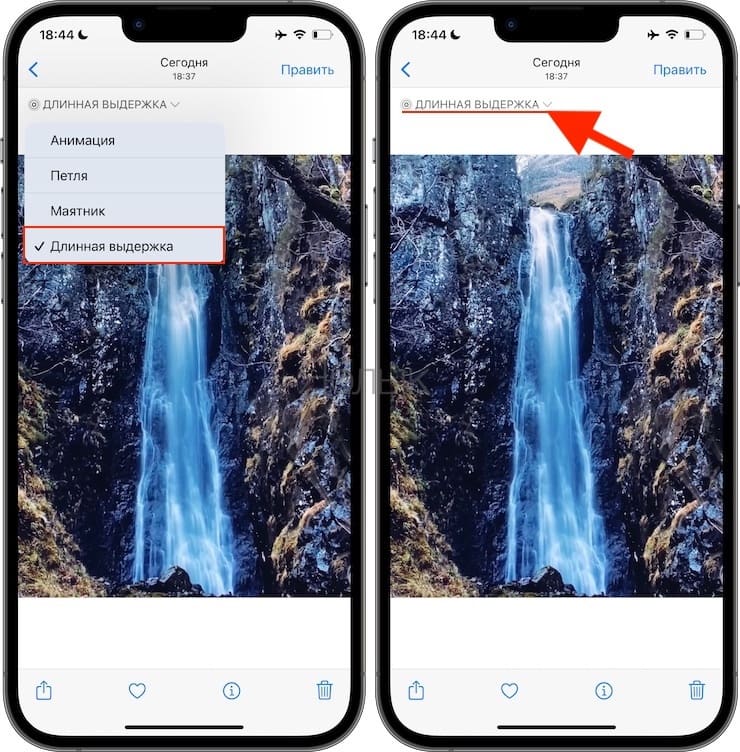 If you have an iPhone with iOS 14 or older, slide the screen up to open the effects Live Photos… The last on the list will be Long exposure…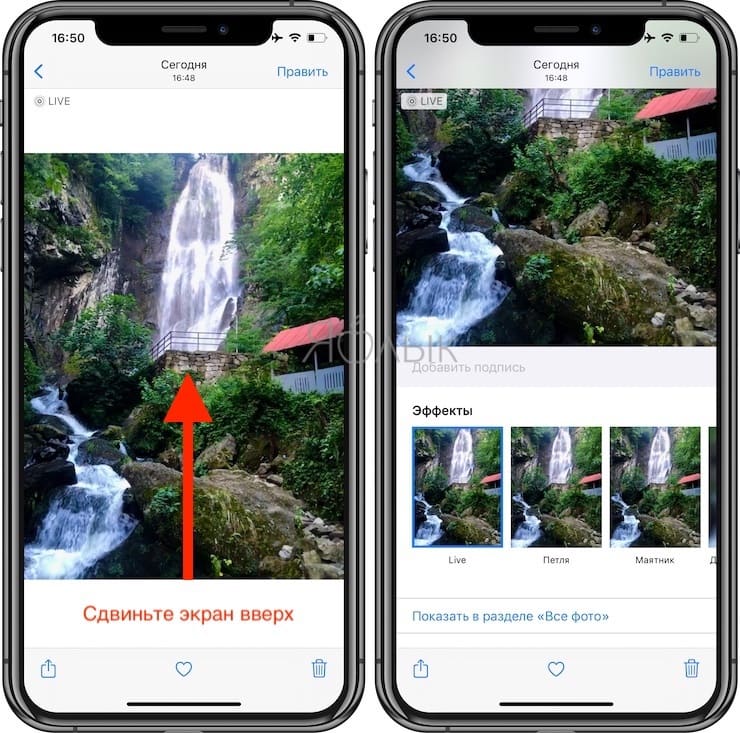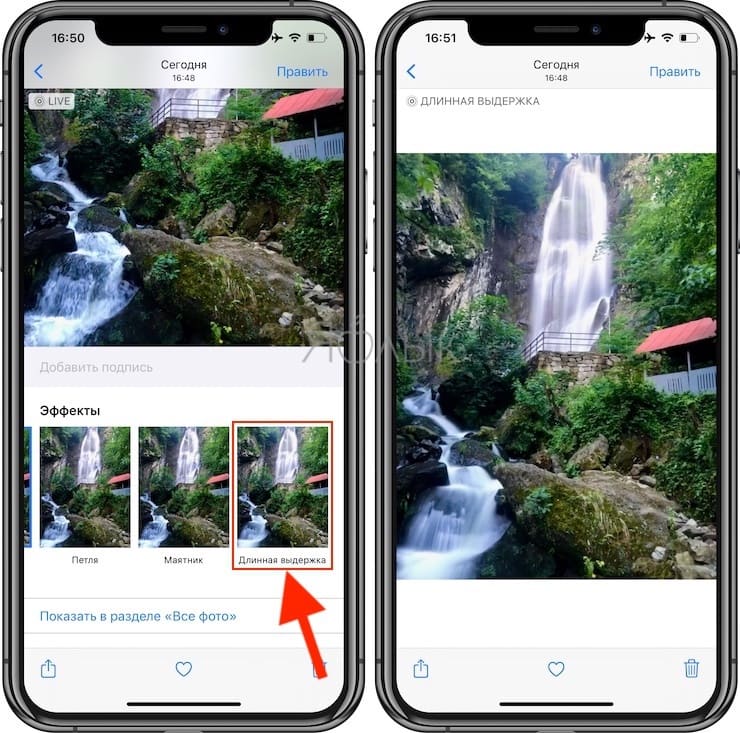 The system will put together all the frames of your live photo, and the output will be a great photo with the desired level of blur. It can then be edited as usual using the built-in Photo tools or third-party photo editors for iOS.
Here's another example of "was" and "is":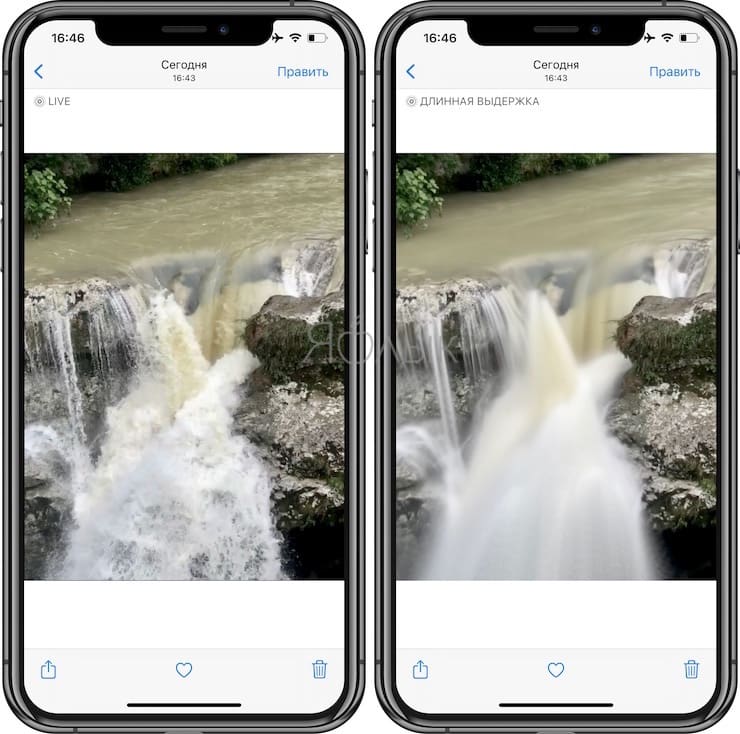 And the picture itself can be easily found along the way. Photo → Albums tab → Media types → Long exposure…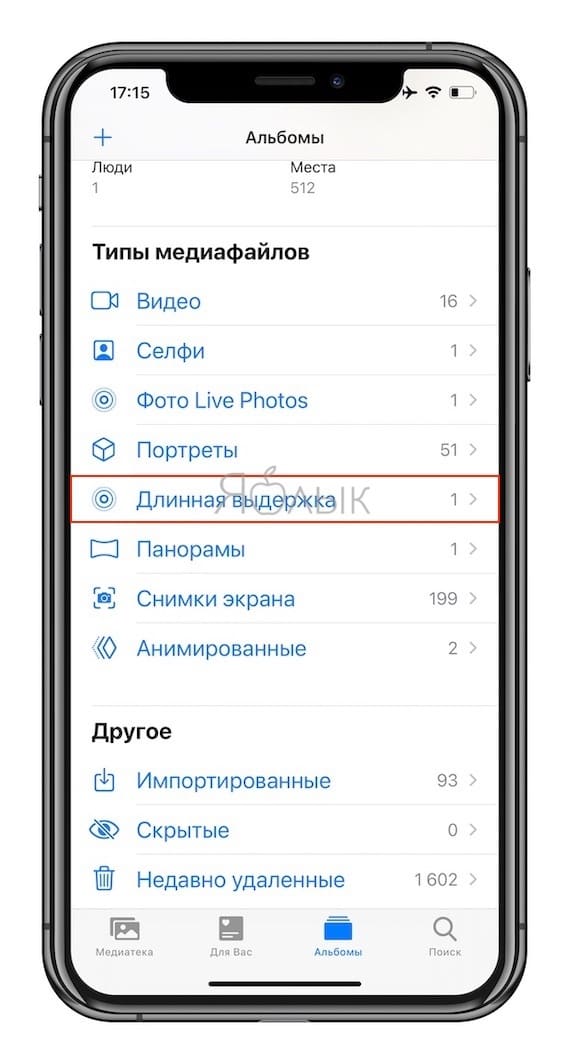 The photo can be easily found in the Camera Roll by the icon Long exposure (in the upper left corner).
If you need to return the picture to the previous Live Photo view, it is possible to do so.
1. Open in the app Photo the resulting picture with a long exposure.
2. Swipe up from the bottom to go to the effects.
3. Select an effect Animation (first on the list).
This will allow you to get the original Live Photo…
Of course, this is not a "real" long exposure, but a software simulation. But the visual effect is still very impressive. Here are some examples:
♥ ON TOPIC: How to create a duplicate in a photo (clone objects) on iPhone.
How to Take Long Exposure Trail Effect Photo on iPhone with Slow Shutter Cam App
This program strikes the perfect balance between ease of use and functionality. It offers three main modes, one of which is specially designed for light trail shots. It is convenient that the application is not overloaded with unnecessary complex functions, learning how to work will take much less time than with a professional camera.
What is important to us is the ability of Slow Shutter Cam to adjust the shutter speed depending on what is being filmed. The app lets you use your smartphone's volume button as a shutter and set a self-timer to minimize camera shake.
Consider using the application on one of the three profiles – Light Tail, which is designed to create a light trail in low light conditions (you will find a description of other application modes below in this article).
one. Download Slow Shutter Cam App from App Store (link)…
2. Run the program and click on the gear icon.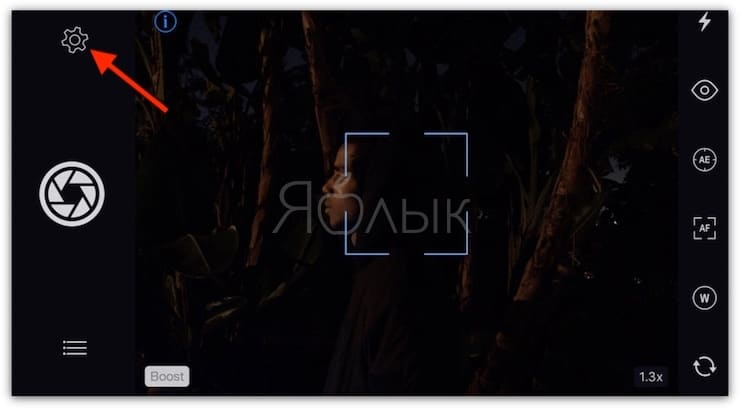 3. Select a profile Light trail and move the slider Shutter speed (holding time in seconds) to the value Bulb, thereby you set the manual mode of the application and you will be able to decide for yourself at what moment to take a picture.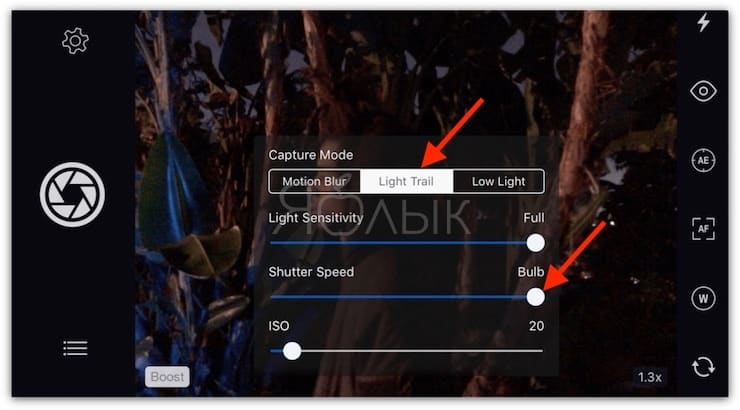 4. Press the shutter button to take a photo.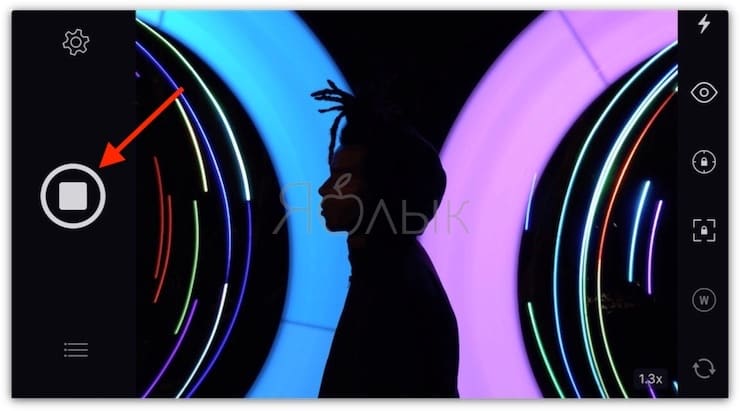 5. Watch what is happening on the iPhone display. The boundaries of moving objects will begin to blur in real time. For example, the surface of the waterfall will become smooth, the flame of the fire will lose its sharpness, etc. When you are satisfied with the effect, press the shutter button again.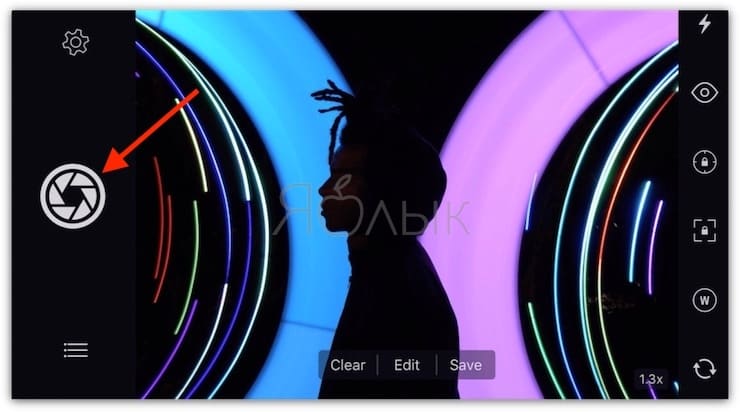 6. Press the button to save the snapshot. Save…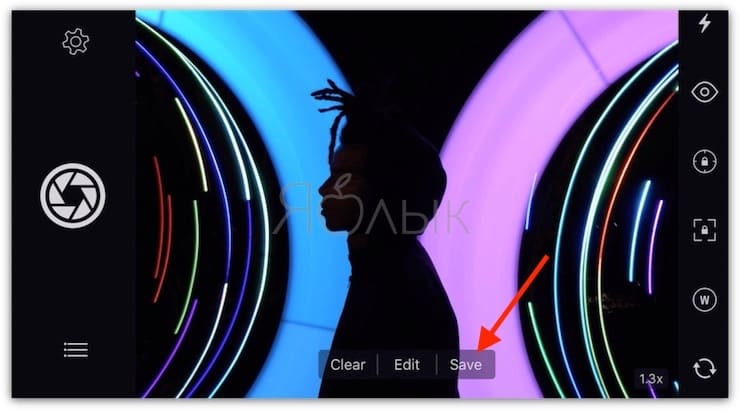 Be sure to try again shooting your composition from a different angle, as well as with changed program settings.
Slow Shutter Cam App Profiles Description
Almost all applications of this kind have three main profiles for shooting light trails, moving objects (Light Tail, Motion Blur and Low Light).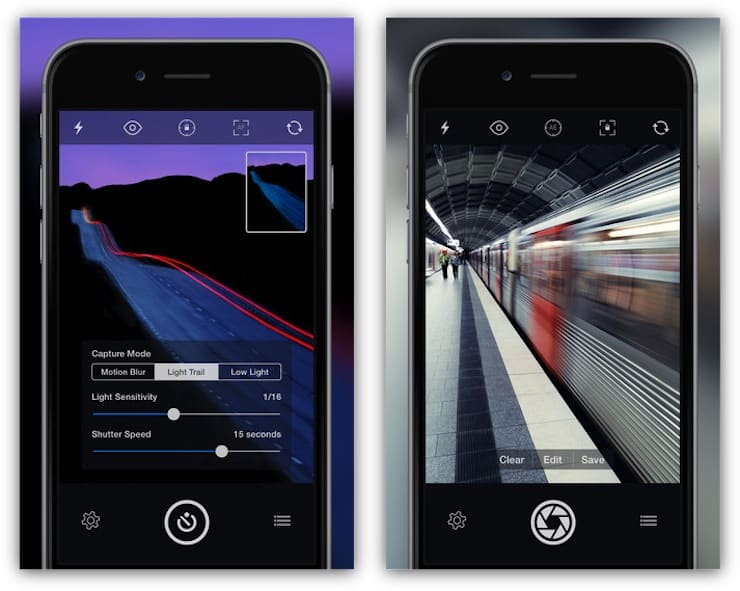 Below you will find some tips for getting a good long exposure photo, as there are some nuances here.
♥ ON TOPIC: Color Accent: How to change individual colors in a photo to black and white on iPhone and iPad.
Light Tail mode produces a dramatic light trail
A high-quality light trail can be found on a busy autobahn, in an amusement park, in the starry sky, or during the launch of fireworks.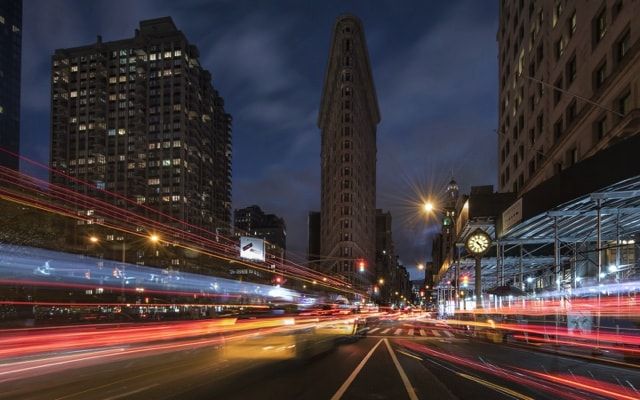 The most "convenient" time of day for a beginner photographer will be early twilight. The thing is that at this time the vehicles are already driving with the headlights on, and the street lighting, which could distract from the main plot, is not yet on. In the deep night, and lanterns, and signs, and other burning static objects will give overexposure, and there will be more noise.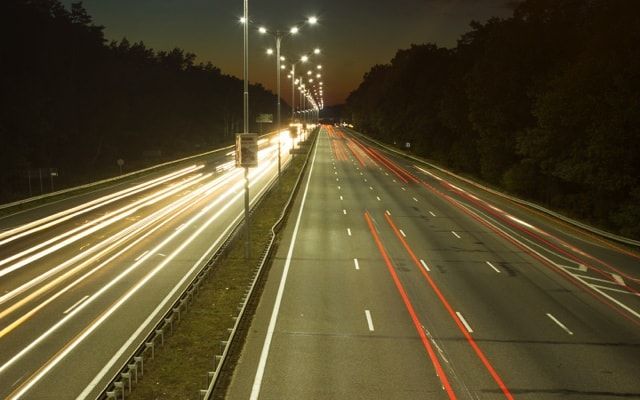 More or less average values ​​for shooting will be the following settings: light sensitivity 1/4 and shutter speed 15 seconds. But here you must definitely work with exposure and contrast in order to get the best effect.
♥ ON TOPIC: What is the "golden hour" when taking a photo, or what time of day is it better to take pictures on the street.
Motion Blur mode is for capturing moving subjects at slow shutter speeds under normal lighting conditions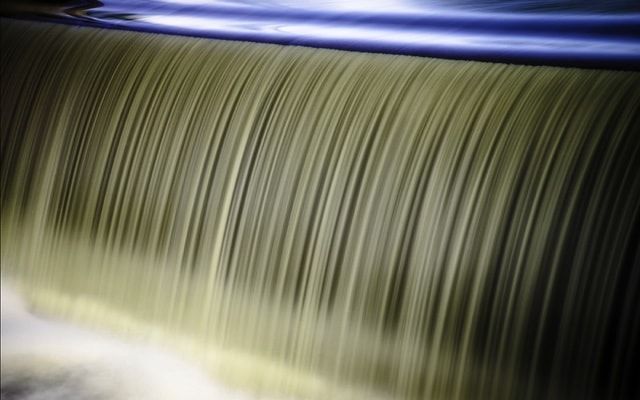 The subject for the next mode can be water (fountains, waterfalls, surf), a moving cyclist, a busy intersection, a passing train, and so on. Additional options in iPhone applications usually include blur intensity and various effects.
♥ ON TOPIC: Replace faces with photos and videos for iPhone (effects and masks) – 20 best apps.
Low Light mode – for shooting in low light conditions with long exposure
Taking a long exposure photo at dusk, even on a DSLR camera, is a rather difficult task, not to mention the iPhone, because the light sensitivity of the matrix is ​​important in this matter, that is, the maximum amount of light that the device can capture.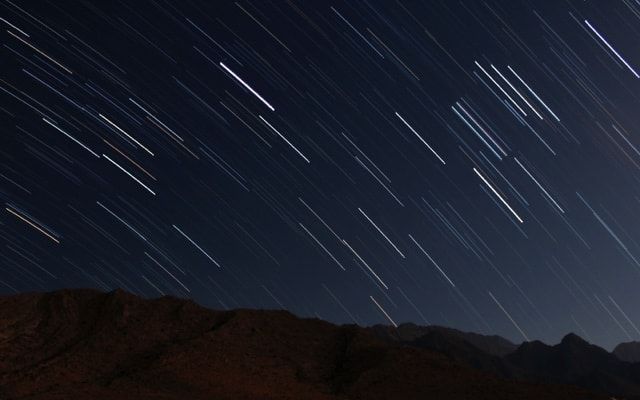 But there are two nuances here:
you can capture more light with a slower shutter speed (keep the aperture open longer), but there is a risk of getting a blurry image;
a gradual increase in light sensitivity leads to the appearance of noise.
This is why you need a tripod. Be sure to take into account the overall level of illumination, because a bright lantern or an advertising sign caught in the frame can ruin everything. There is a small rule – the more intense the light source, the faster the shutter speed should be.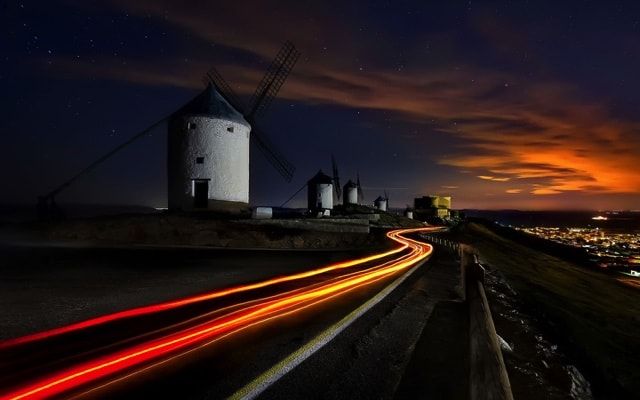 ♥ ON TOPIC: What is HDR, Auto HDR and Smart HDR in an iPhone camera, whether to enable it, and how it affects photo quality.
How to take a long exposure photo with a trail effect on iPhone using the Specter Camera app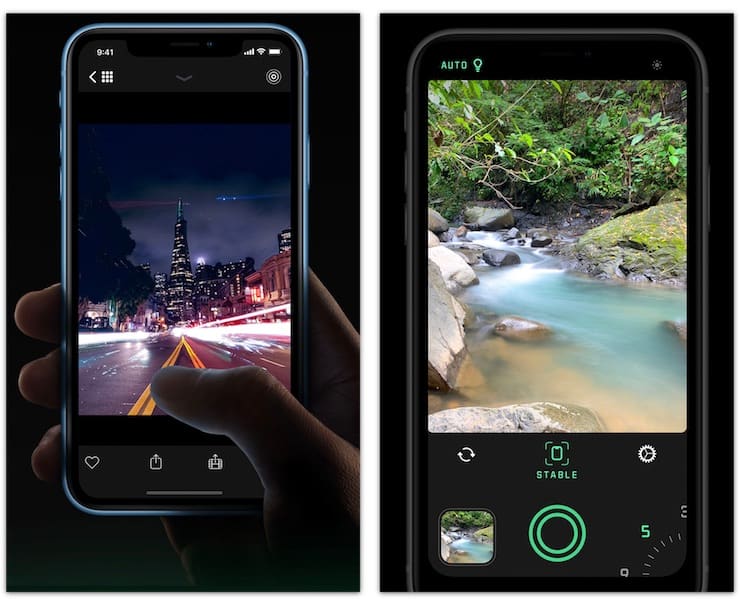 The benefits of this alternative long exposure photo app are machine learning coupled with hardware acceleration. Artificial intelligence allows you to automatically detect scenes, set stabilization. The Specter Camera uses a neural network to replace the tripod, removing the shake. Any frame can be used as live wallpaper on a smartphone.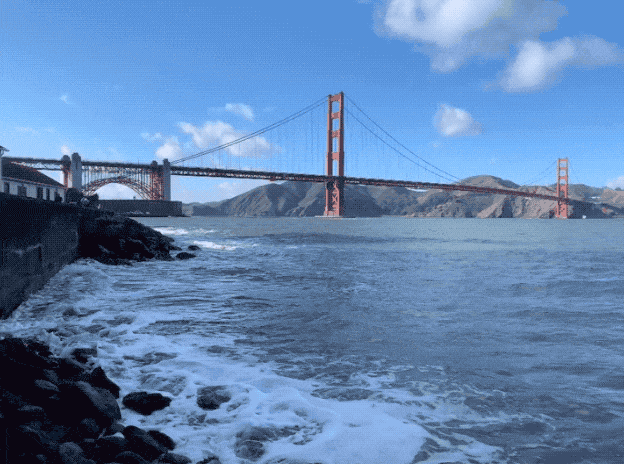 The application can remove cars or people from photos. It helps you create beautiful shots with long streaks of light or blurry streams of water. Specter Camera also saves images in the new HEIC format.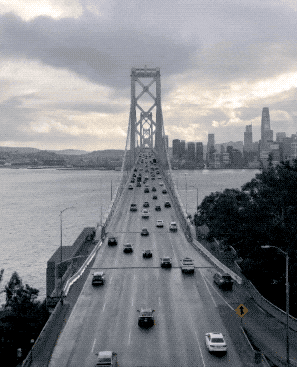 The application does not know how to open the shutter for a long time, but it quickly takes many frames. The exposure is optimized by artificial intelligence to make the shots bright enough. The shots are then combined into one using a slow shutter speed simulation. You can view the entire exposure in its original frame-by-frame form, or you can save it as a single processed frame or as a live photograph.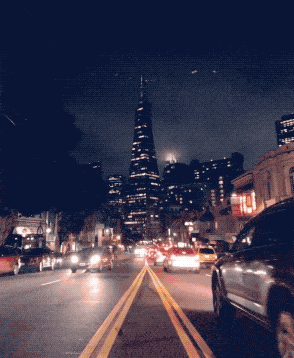 Download Specter Camera for iPhone (App Store)
Finally
Whether you're just getting started with iPhone photography or are already good enough to post to Apple's Instagram with the hashtag #shotoniphone, there are a few options for long exposure photography worth exploring. To completely immobilize your smartphone while taking a photo, you need a good tripod. This allows the iPhone to capture beautifully blurred objects and avoid unwanted blur in the rest of the frame.
Taking long exposure photos is a great skill. But it is not worth dwelling on this. To learn how to take better photos with your iPhone, take one of the popular courses on the subject. Thus, you can avoid the classic mistakes when taking pictures using a smartphone.
Yes – ideally, you can play around with apps from the App Store and get more interesting results than in the case of the Camera. But for most users, the capabilities of the system application will be quite enough.
In this article, we briefly tried to give the basic skills of shooting on the iPhone at long exposure and talk about the conditions that will be needed for this. In general, professional photographers have been learning this for years, and to achieve the best effect, of course, you need a DSLR camera. It's another matter if you just decided to pamper or experiment, in which case the iPhone will be enough.
See also: