You may have come across the fact that a photo of a beautiful sunset captured on your iPhone suddenly turns out to be spoiled by a noticeable green or yellow dot. It spoils the whole impression of the landscape.
♥ BY THEME: How to take RAW photos on iPhone and iPad (without losing quality).
This is a fairly common problem that many iPhone users face from time to time. Believe it or not, the appearance of a green or yellow dot in your photos is not at all indicative of hardware problems with your smartphone.
In this article, we will try to explain what this artifact is, how to prevent its appearance and how to remove it from the photographs already taken.
♥ BY THEME: Continuous shooting on iPhone and iPad: how to shoot 10 frames per second and choose the best image.
What is the green or yellow dot in iPhone photos?
As we mentioned, you may sometimes see a green dot in your iPhone photos. But in the pictures there are other similar troubles in the form of light or clouding. In fact, they all refer to the same problem.
In most cases, a green or yellow spot, haze, or glare occurs when taking a photograph with a strong light source in the background. For example, if you are photographing a sunrise, sunset or something else with the sun or bright light somewhere in your field of view, or even out of your field of view, you will most likely end up with this nasty green or yellow spot, glare. in the frame or haze.
The problem is that the rays of light travel at a specific angle and are reflected off the surface inside the camera or lens cover. Regardless of the iPhone model that the user has (iPhone 6, iPhone 6s, iPhone 7, etc.), sooner or later he will still face this problem.
And this is not at all a defect in your smartphone. It's just physics that makes fun of a person with its effects. In all fairness, just about any camera, big or small, can be affected by the same problem. But on full-fledged DSLRs with a UV filter or a rotating polarizer, it is at least easier to eliminate.
♥ BY THEME: Old Face in FaceApp is an iPhone and Android application that will age a person in a photo.
How to prevent a green or yellow dot from appearing in your photos
Once you understand the natural reasons for the appearance of the green point in photographs, it becomes much easier to get rid of it even at the stage of the formation of the image itself. There are several things you can do to lessen or prevent the blemish from occurring.
This seems to be the preferred method. You need to move the iPhone a little so that the green dot hits directly into the light source. Then she will disappear. For example, when shooting a sunset, you need to position your phone so that the green dot is right in the middle of the sun. This will cause the artifact to disappear without changing the tilt angle of the photo too much.
Another workaround requires that you cover the iPhone lens with an external lens or your sunglasses. This method can be used from time to time, it does not always help, but it is quite a working option.
♥ BY THEME: How to take photos correctly: 12 simple tips for those looking to improve the quality of their photos.
How to remove green stain from your iPhone photos?
If you have multiple Camera Roll shots affected by this issue, you can remove the green dot from those photos quite easily.
There are many apps in the App Store that allow you to do this, but there is one that we think is the best, and it's also free. It's about Google's Snapseed. This program offers many photo editing tools, but it has one feature called Healing. This is exactly what will allow you to remove the green dot in a non-destructive way.
1. Download Snapseed for free from the App Store.
2. Launch the application and load the photo to be retouched into it. Click the tab Instruments…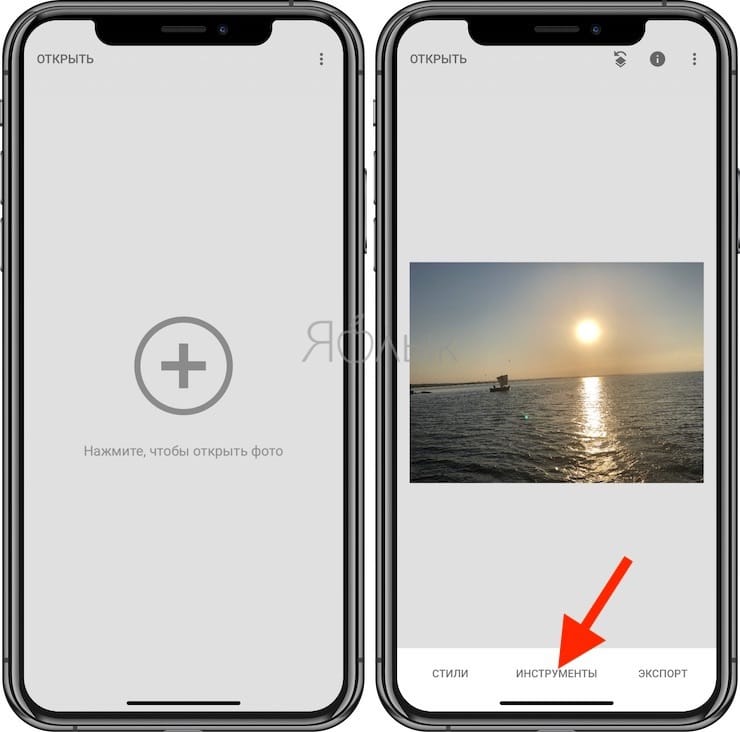 3. Select a tool Point correction…
4. Use your fingers to enlarge the green or yellow spot on the screen as much as possible.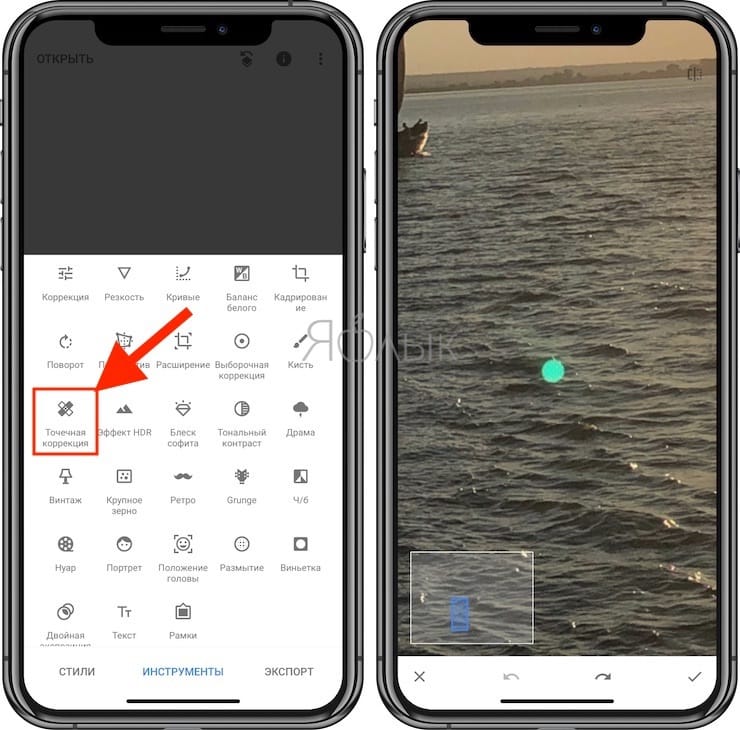 5. When the green (yellow) spot is close enough, shade it with your finger. When you take your finger off the screen, you will find that the application has magically removed the artifact. It seems that he has never been in this place.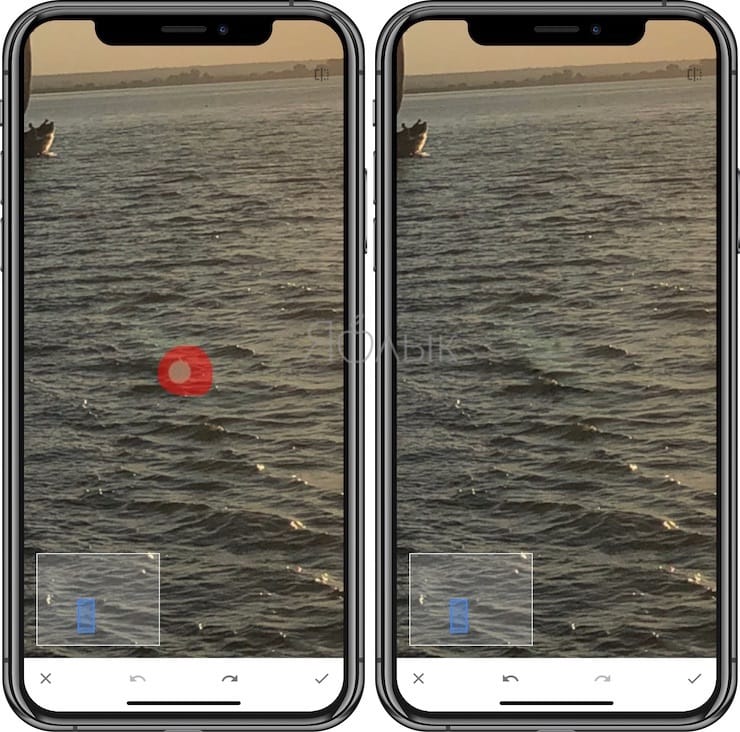 6. Click on the checkbox in the lower right corner of the screen to save the changes, and then save your photo to the "Camera Roll".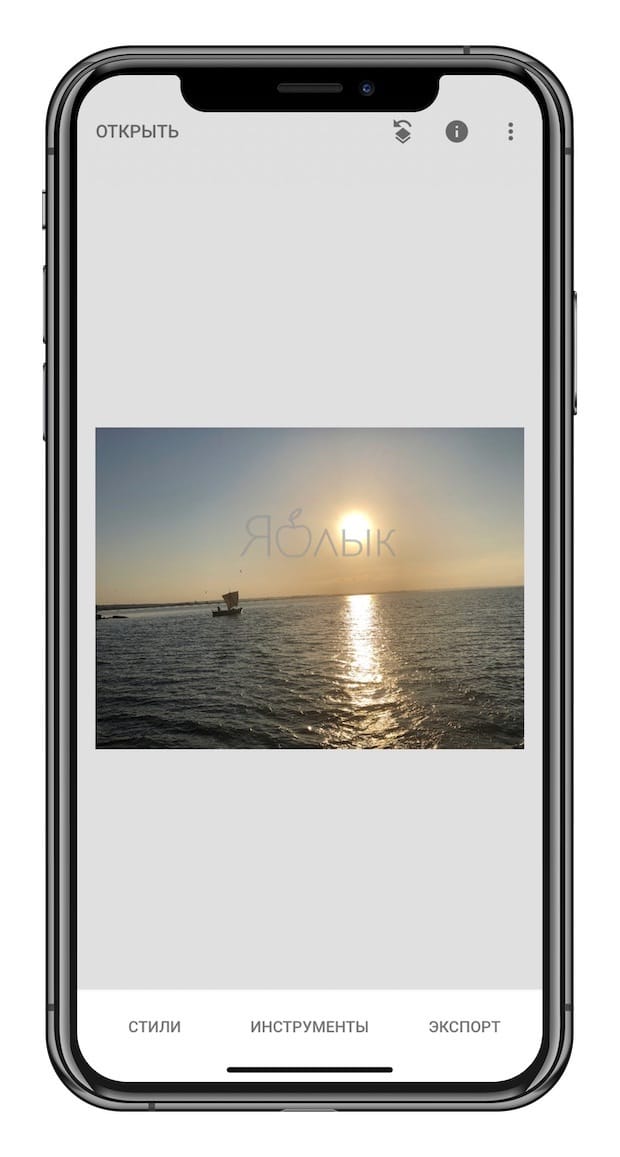 Unfortunately, we will most likely have to deal with a green or yellow spot in iPhone photos for many years, since this problem concerns the physics and nature of light. But once you know about it, all you need to do to fix the problem is to make simple changes to the way you take photos. However, you can always use apps to tweak your pictures to remove the green dot.
See also: