All iPhone models from iPhone 12 can use the faster 5GHz Wi-Fi band to improve Tethering (hotspot) performance. But if your client devices are having problems with the 5 GHz band (not all devices support it), then you can always configure your personal hotspot to use the slower 2.4 GHz Wi-Fi band. In this tutorial, we'll show you how to switch between 2.4GHz and 5GHz bands on an iPhone in Tethering.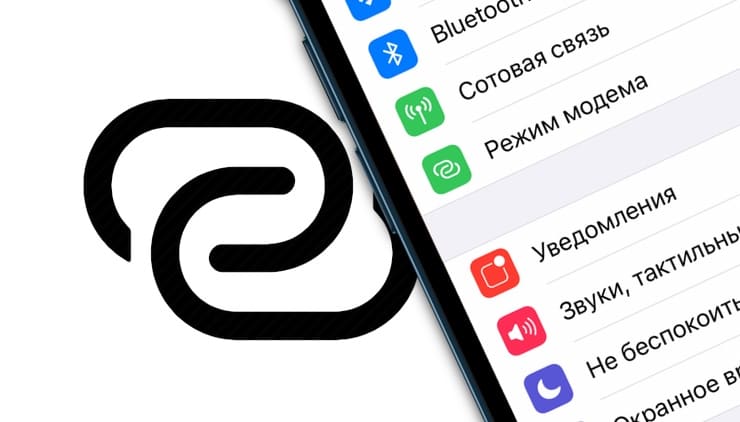 ♥ BY THEME: How to recognize text from photos on iPhone without installing third-party applications.
Your Exposed
User IP: 54.36.149.88
User City: Roubaix
User Region: HDF
User Country: France
User Country Code: FR
Latitude: 50.6916
Longitude: 3.20151
Timezone: Europe/Paris
ISP: OVH SAS
Flag:

Invalid type
Wi-Fi performance: 2.4GHz vs 5GHz
Prior to the iPhone 12 lineup, the Tethering feature was limited to the slower 2.4GHz Wi-Fi range. And even if you use a dual-band Wi-Fi router that supports both the 2.4 GHz and 5 GHz bands, your phone has always used the slower 2.4 GHz band for tethering.
The iPhone 12 models now support the high-speed 5G cellular network. When used, the speed can easily exceed the capabilities of 2.4GHz Wi-Fi. In this case, your iPhone will download data over 5G networks much faster than any clients tied to its hotspot, such as an iPad, your Mac or Windows PC, using a 2.4 GHz connection. Curiously, there is no mention of this feature on Apple's website and company documentation.
Here are the main advantages and disadvantages of both Wi-Fi bands:
2.4 GHz band: Slower data transfer, larger range, better compatibility.
5 GHz band: faster data transfer, less range, less compatibility.
Thus, forcing the iPhone to take advantage of the faster 5GHz band will improve the AP's performance, but there may be compatibility issues with some devices and routers.
iPhone 12 and later devices use the 5 GHz band by default for their hotspot functionality. If you experience interruptions or problems connecting to certain client devices, then switching your personal hotspot back to the 2.4 GHz band should fix any problems.
♥ BY THEME: How to reduce background noise in iPhone video calls (highlight voice).
How do I switch my personal hotspot between 2.4 GHz and 5 GHz?
You can switch between the 2.4 GHz and 5 GHz bands in the iPhone's tethering settings:
1. Open the Settings app on iPhone 12 or newer Apple smartphone.
2. Tap the item "Modem mode" in the main list.
3. Activate the switch "Maximum compatibility"…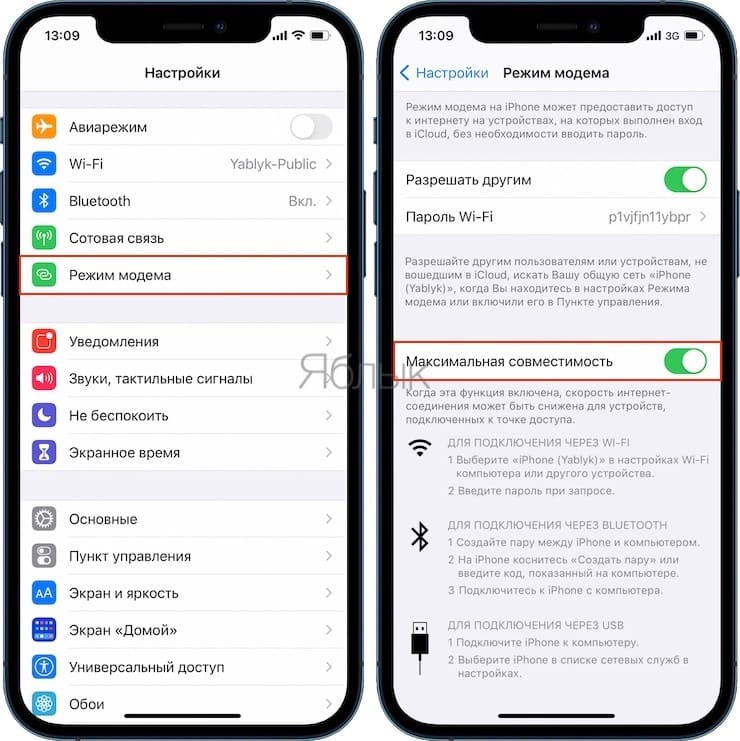 This will force your phone to use the slower but more compatible 2.4GHz band.
"Internet performance may decrease for devices connected to your access point when this switch is activated," reads the feature description.
Actually, this is how the Personal Hotspot feature worked before the iPhone 12.
Conversely, deactivating the switch back tells your Apple smartphone to switch the personal hotspot to the faster but less compatible 5GHz band.
♥ BY THEME: How to blur background during video calls on iPhone (WhatsApp, FaceTime, Instagram, Telegram, etc.).
A few tips for working with Modem Mode
Keep in mind that the performance of a personal hotspot will vary depending on factors such as signal strength, distance between the connected device and your iPhone, the type of Wi-Fi range used, the number and thickness of walls, other obstructions, and more. Interestingly, the Personal Hotspot also works through the Lightning port. This is handy if you want to connect to your Mac or Windows PC for a faster, more reliable wired connection.
You can turn on Tethering in the Settings app on your device. Keep in mind that some carriers require a separate data plan for the smartphone to work in this mode. Personal Hotspot requires Wi-Fi and Bluetooth to be turned on on your iPhone and all client devices using this feature.
See also:
[ad_2]