It often happens that when copying some information from the browser into any application on macOS, not only the source text with which we want to operate is inserted, but also the formatting style. This is wildly annoying, because you need to take additional measures to fit the data to a single view.
In this article, we will tell you how using the usual combination Command (⌘) + V receive text immediately in the standard format used in the current application.
♥ ON TOPIC: How to make the Caps Lock key really useful on macOS.
How to paste text on Mac without preserving formatting (source style)
Actually, there is a keyboard shortcut that allows you to paste text without preserving the formatting style – Command (⌘) + ⌥ Option (Alt) + Shift (⇧) + V… It is not difficult to memorize such a combination, but it is extremely inconvenient to press it on the keyboard.
If you need to frequently copy and paste text without preserving formatting, then the easiest way, of course, is to use a special application. More on that below.
♥ ON TOPIC: Birthdays on iPhone, iPad and Mac: How to add and enable reminders.
How to insert text without formatting using the PlainTextMenu utility
If you do not want to bother with system settings, then there is a simple alternative in the face of a simple utility PlainTextMenu… It automatically removes everything unnecessary: ​​colors, fonts, styles, hyperlinks, underlines, images and other elements.
Utility settings are available from the menu bar.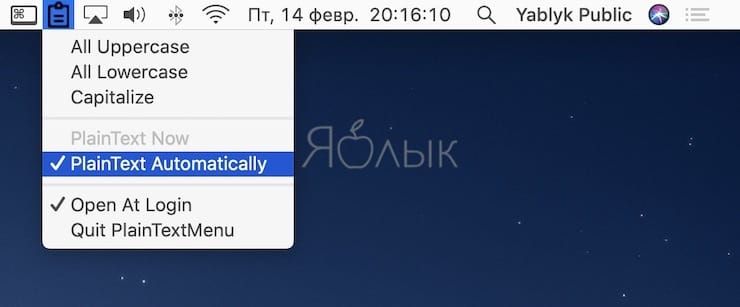 The only drawback of the utility is that it is not free (99 rubles).
Download PlainTextMenu for Mac (Mac App Store)
See also: