During a call, the iPhone screen must be off, otherwise it is very inconvenient to use the device. The always-on display will react to face and ear touches and drain the smartphone's battery. In the material below, we will talk about what the reasons for such a malfunction may be.
♥ ON TOPIC: How to check how much memory certain apps are using on iPhone and iPad.
IPhone screen stays on when making a call
In 99% of cases, the breakdown is associated with the so-called proximity sensor. During a conversation, we bring the smartphone to our very ear, thereby covering the light sensor, which immediately gives the appropriate command to the operating system and turns off the screen. Otherwise, the following most likely causes of breakdown can be identified:
Damage to the sensor or cable as a result of a fall or contact with moisture – replacement will be required, which will cost $ 20-50 depending on the iPhone model;
Poor assembly after replacing the display. In this case, hardware repair of the device will also be required;
Using opaque accessories – films or covers that interfere with the normal operation of the proximity sensor;
Software glitch that can be fixed by hard restarting the smartphone or reinstalling iOS;
Another possible reason for the screen turned on during a call is the active "speakerphone" mode (the "Speaker" button in the call menu), which is provided by the basic settings of the operating system.
♥ ON TOPIC: How to turn off Auto Correction (Correction) of Text on Mac, iPhone and iPad.
IPhone screen stays on after displaying notifications
If in the first case the breakdown is most likely related to hardware features, then this problem can almost certainly be solved using software methods.
First, you should make sure that the device auto-lock time is set in the iOS settings (Settings → Screen and brightness → Auto-lock).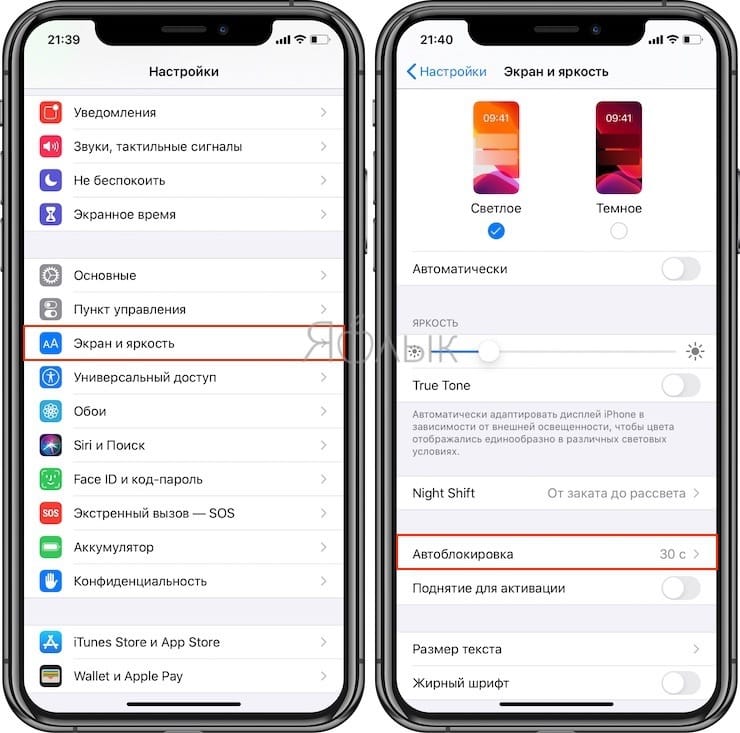 If the screen is still lit after receiving SMS or notifications, then you should try to reboot or completely reinstall iOS through recovery. Probably, problems in the system operation are also related to installed applications or jailbreak tweaks, in which case you can try to delete the last plugins downloaded to your smartphone.
See also: