There are a great variety of Chinese brands on the market. It's no secret that their main weapon is price. But it directly affects the quality. This is why some manufacturers, wanting to stand out and make long-term plans, try to make a quality product while maintaining a price that is acceptable to the buyer. One of these brands is Baseus, which has been able to establish itself in the Russian market. We offer a small overview of useful and really reliable devices from this manufacturer.
♥ BY THEME: Review of Xiaomi Amazfit Bip S Lite watch for 3,990 rubles + how it differs from Amazfit Bip S.
Smartphone stabilizer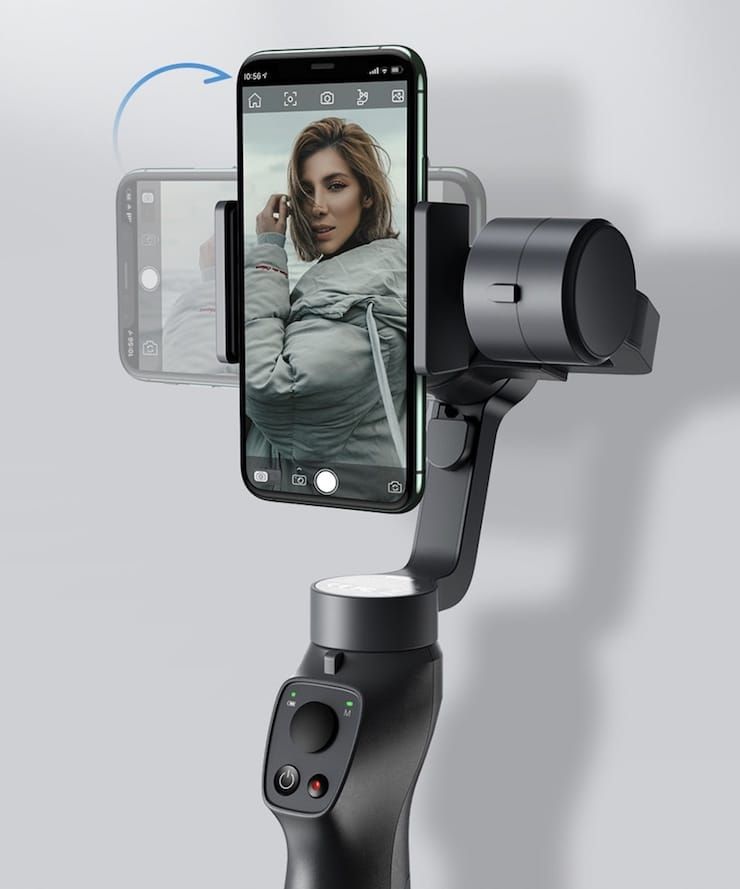 The three-axis stabilizer received a telescopic extension. The gimbal has smart functions, learning to track people's movements and recognize their faces. With the help of such a device, it will be convenient to shoot panoramas and time-lapse video. The built-in battery provides up to 12 hours of continuous operation. The stabilizer is declared compatible with devices based on both Android and iOS.
Buy Baseus stabilizer for smartphone
♥ BY THEME: Pocket Short Lightning Cables for iPhone and iPad: Top Choices in Review.
External battery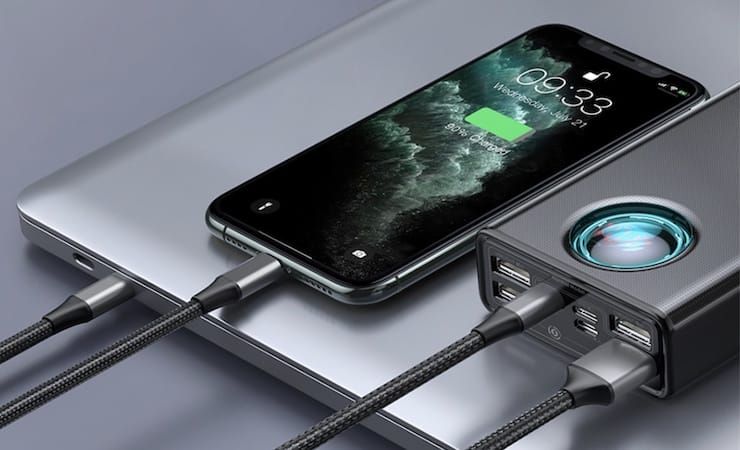 Modern devices are so actively used that they constantly need recharging. That is why external batteries are so in demand – it is not always possible to use an outlet. Baseus offers a 30,000mAh battery with a nominal capacity of 18,000mAh. This device can deliver up to 65W of power. This is enough to charge not only smartphones, but also many popular laptop models from Asus, Apple, Dell, Lenovo and others. The required power will be provided by the USB-C port. The Baseus device is compatible with all common fast charging standards: Quick Charge 3.0, Power Delivery 3.0, FCP, SCP and AFC.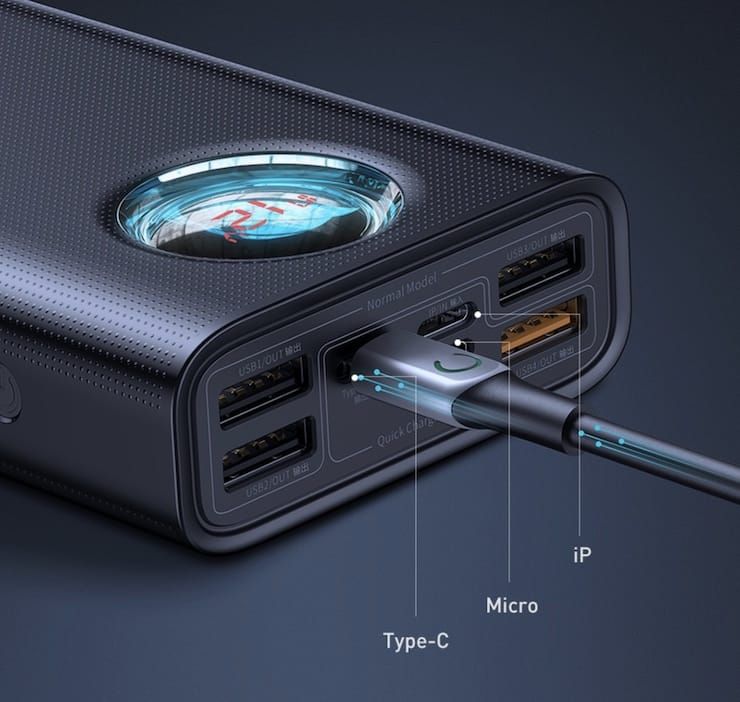 The battery has as many as four USB-A ports to power external devices. One port can deliver 30W and the others 15W. The battery itself can be charged using USB-C, microUSB, or Lightning ports. At the same time, the device also has feedback, telling on its round display in the case how much charge is left, what power and current strength. This battery weighs 550 grams, and its dimensions are 145 × 65 × 38 mm.
Buy an external battery Baseus
♥ BY THEME: 20 useful products for tourism, camping, fishing and other outdoor activities with AliExpress.
Charger with built-in battery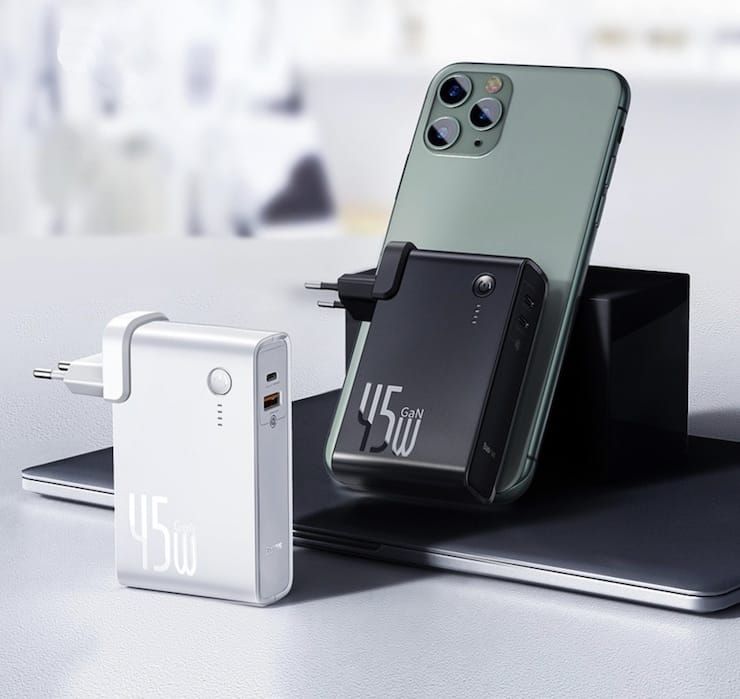 This unusual device implements a 2-in-1 approach. Baseus has created a charging adapter that doubles as a 10,000 mAh battery. The unusual device supports all major fast charging technologies on the market: QC 3.0, PD 3.0, SCP, FCP and AFC. The adapter delivers up to 45 watts of power, which allows it to charge not only smartphones and small gadgets, but even laptops.
The indicator on the case is rather laconic, but functional. It shows the level of charge remaining in the battery and signals the activation of the fast charging mode. The model is presented in two versions: with one USB-C and USB-A, with two USB-C.
Buy Baseus Charging Adapter
♥ BY THEME: Car charger for iPhone and Android gadgets: how to choose + 10 best options.
USB hub for MacBook 7-in-1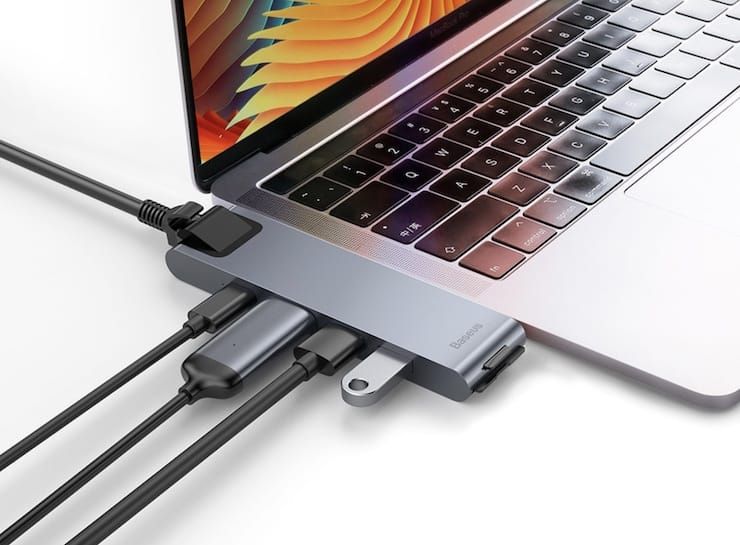 The USB hub for Apple laptops has two USB 3.0 inputs for connecting peripherals, as well as an HDMI output that supports 4K at 30Hz or Full HD at 60Hz. The USB-C port can operate in fast charging mode using the Power Delivery standard. There was a place in the hub and a card reader for reading microSD and SD cards. The device can be connected to the local network via the RJ-45 input, which provides data transfer rates up to 1 Gbps.
The hub is able to work with flash drives up to 2 TB and read data from two memory cards simultaneously.
Buy Baseus USB Hub
♥ BY THEME: Review of the fitness bracelet Xiaomi Mi Band 5: price, design, functions, where to buy.
LED lamp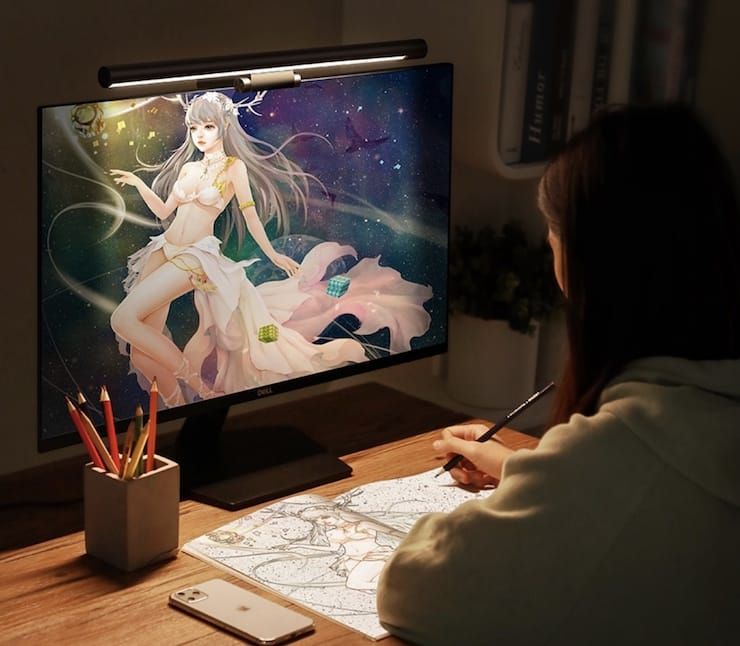 This luminaire can use a clip-like mount to power the USB port of a computer. The lamp power is enough to illuminate the keyboard and screen. At the same time, the luminaire received three operating modes for working with different light temperatures. You can smoothly adjust both the brightness of the glow and its angle.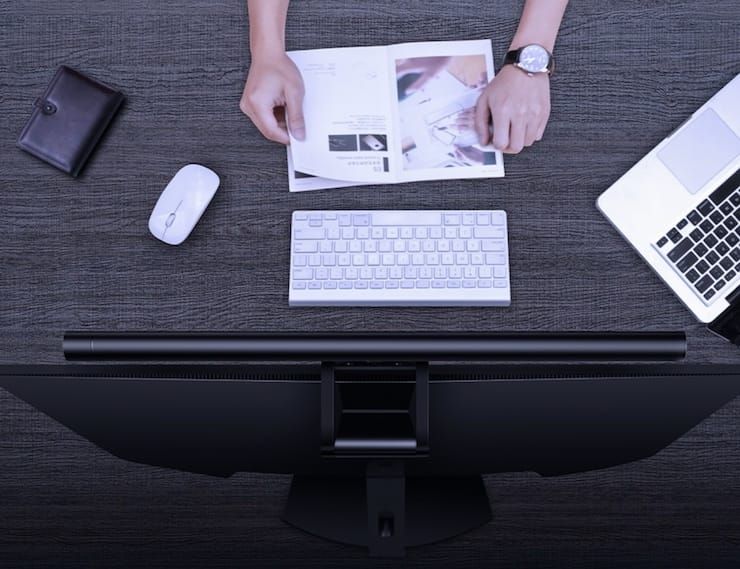 Buy LED Bulb Baseus
♥ BY THEME: Xiaomi 70mai Air Compressor Lite: quality quiet car compressor (pump).
Wireless charger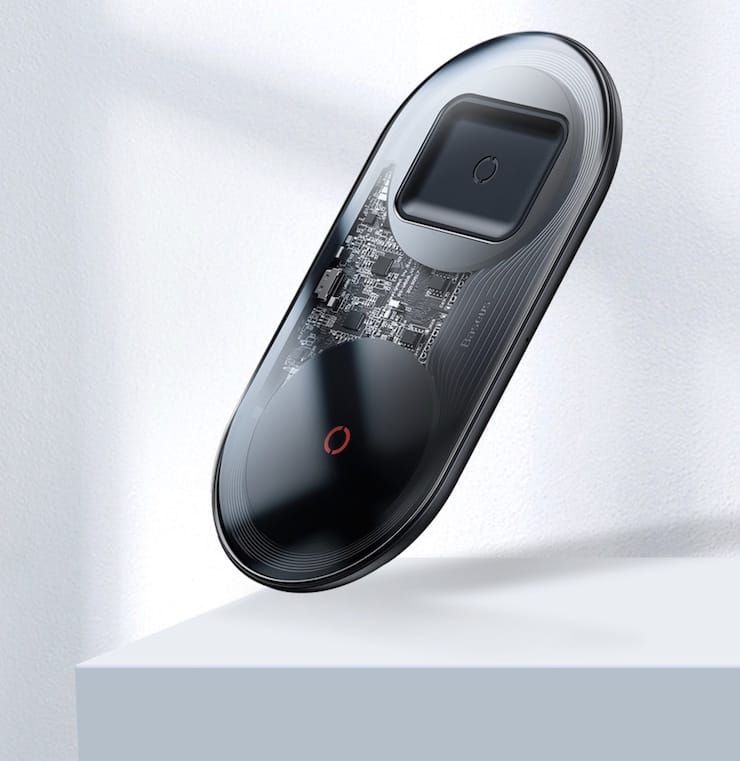 Wireless technologies are in trend today, this also applies to charging modern devices. Baseus proposes to replenish the capacity of smartphones, headphones and other gadgets in this way, and the Qi standard contributes to the acceleration of work. The device is capable of charging two "clients" at the same time, giving each 10 W of its power. In this case, the total charging power will be 20 watts. The compatibility list includes all iPhone models that support wireless charging, including the current iPhone 11. Naturally, the Baseus device will work with devices from Samsung, Huawei, LG, Xiaomi and Google.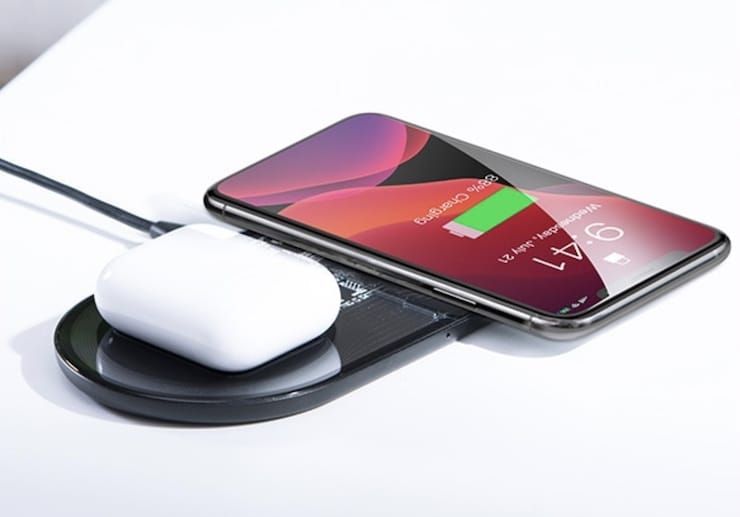 The device is housed in a plastic and aluminum alloy housing. This device is reliably protected from voltage surges, overheating, short circuits and interaction with foreign metal objects. And the connection to the power source is carried out through the USB Type-C port.
Buy Baseus Wireless Charger
♥ BY THEME: External battery (powerbank) for phone and laptop: 20 best options in 2020.
Smartphone docking station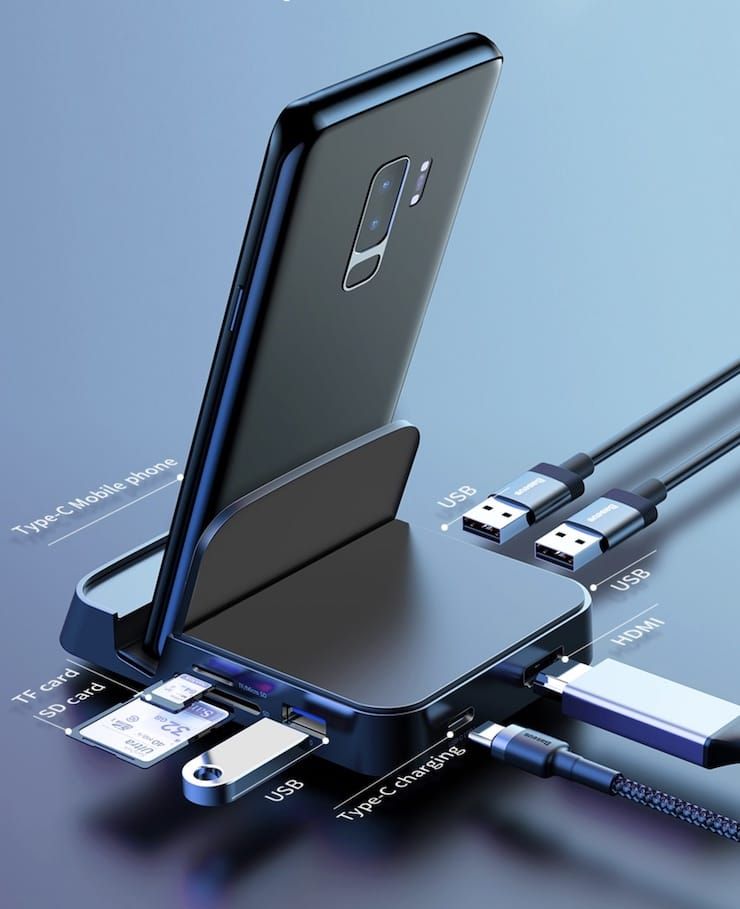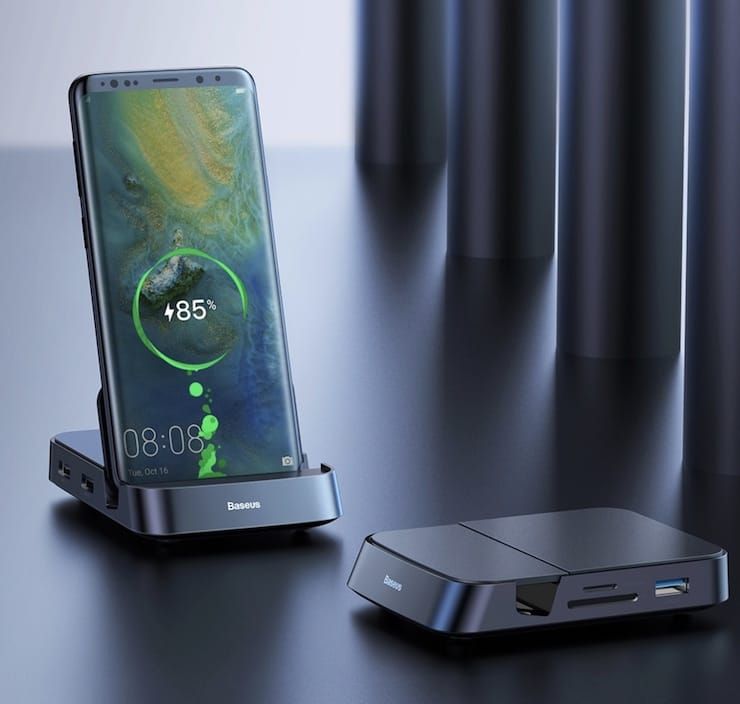 Increasingly, modern smartphones use the USB Type-C interface. It just makes it possible to use such multifunctional docking stations. In addition to normal charging, it has a card reader for SD and microSD memory cards, as well as USB 3.0, Type-C ports and even an HDMI output. With the help of such a station, it will be possible to connect a mouse, keyboard, gamepad and other peripherals to a smartphone.
Buy docking station for Baseus smartphone
♥ BY THEME: Xiaomi (Huami) Amazfit GTS Review: Cool Inexpensive Smartwatch with Apple Watch Design and Up to 46 Days of Battery Life.
Wireless headphones
Baseus' wireless earbuds are indexed W09. The device supports the modern Bluetooth 5.0 standard and has a built-in microphone. The internal battery of the earbuds provides about 4 hours of listening to music, and the device can be charged via a case with a USB-C port. This will take about an hour and a half. The case itself has a built-in battery, which is capable of providing up to 30-35 hours of battery life for the headphones. Baseus offers to choose one of four device colors: black, white, red and turquoise.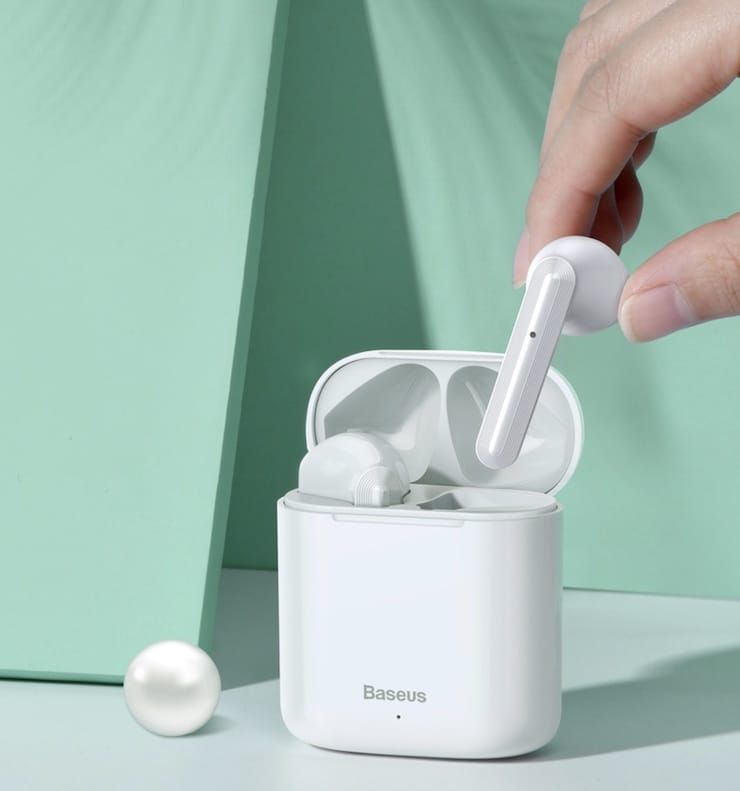 Buy Baseus Wireless Headphones
♥ BY THEME: 7 iPhone and iPad accessories that every car must have.
Car FM Modulator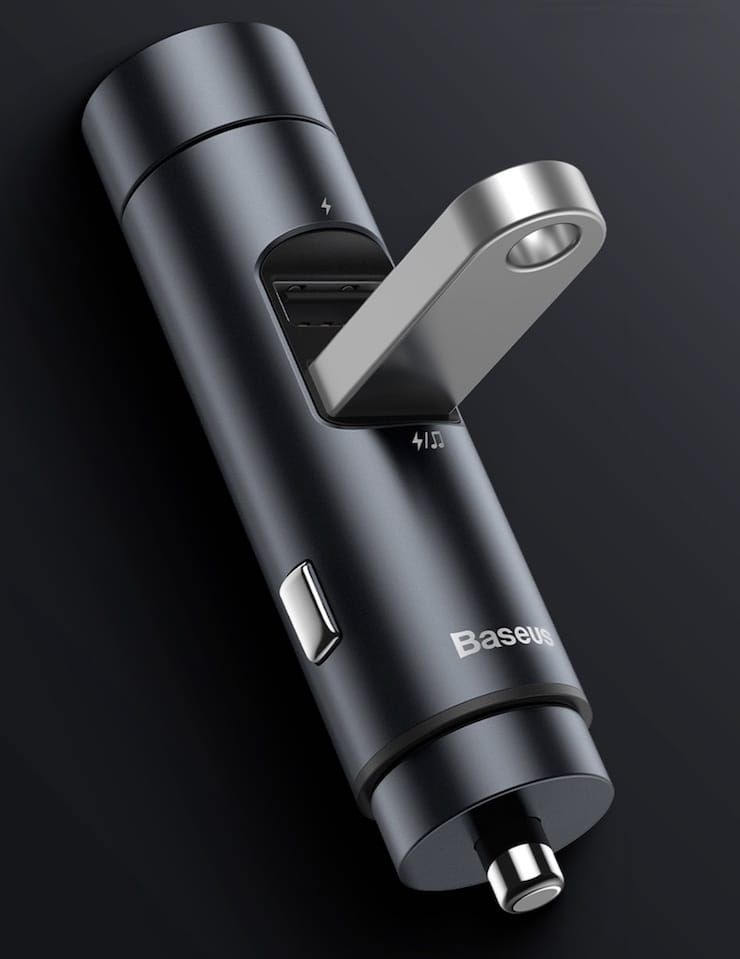 The multifunctional device has received an aluminum case with two ports. They are capable of delivering a current of 3.1 A. The adapter has received support for the modern Bluetooth 5.0 specification and can also serve as an FM transmitter for old models of car radio.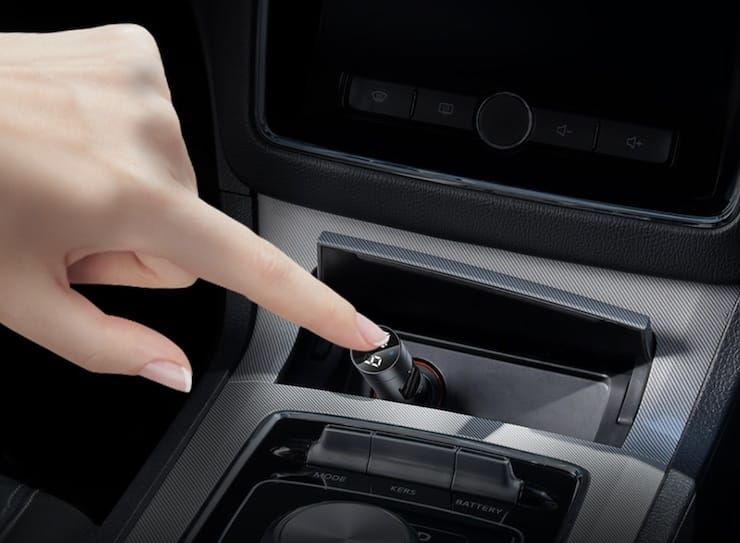 The device can play music of various formats, including FLAC, recorded on USB storage devices. In the upper part of the adapter there is a display showing the voltage of the vehicle electrical system.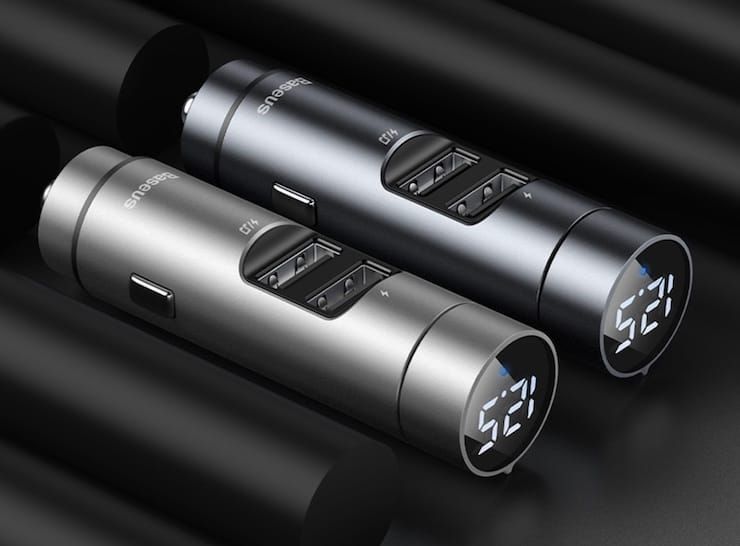 Buy Baseus Car Adapter
♥ BY THEME: Waterproof iPhone case: review of the best options from AliExpress.
HDMI hub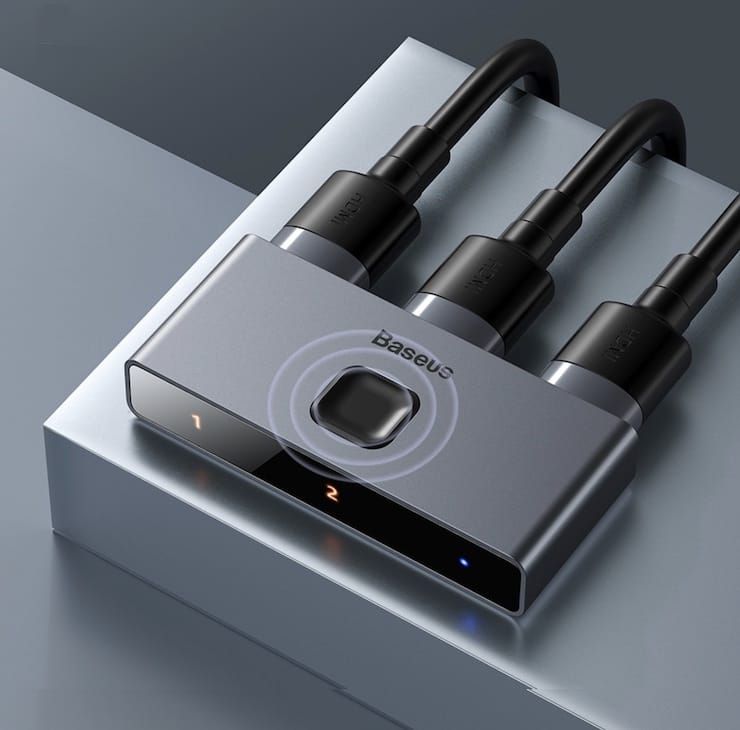 This switch can handle 4K 60Hz picture, but you need a cable to display it. The device received three HDMI 2.0 ports for video and audio transmission. On the front panel of the switch there are indicators labeled with the serial numbers of the connectors.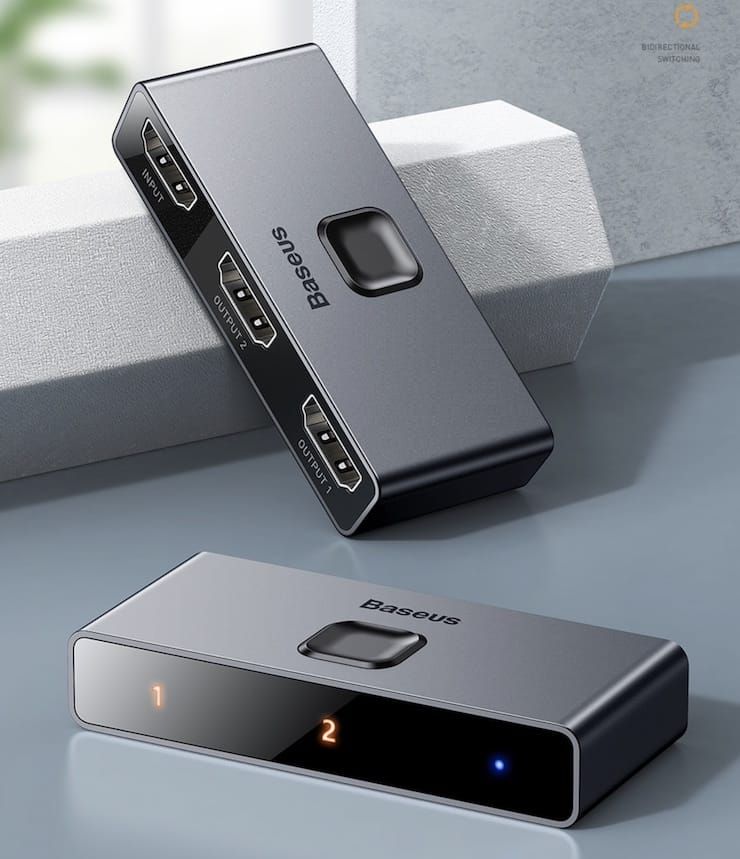 With this device, you can connect two devices to one TV or, more demanded, one signal source to two displays. The switch does not require additional power, but it is quite possible to connect an adapter for wireless broadcasting to it, provided that it is equipped with its own separate power source. Baseus offers to complement the kit with one or two meter high quality HDMI cables.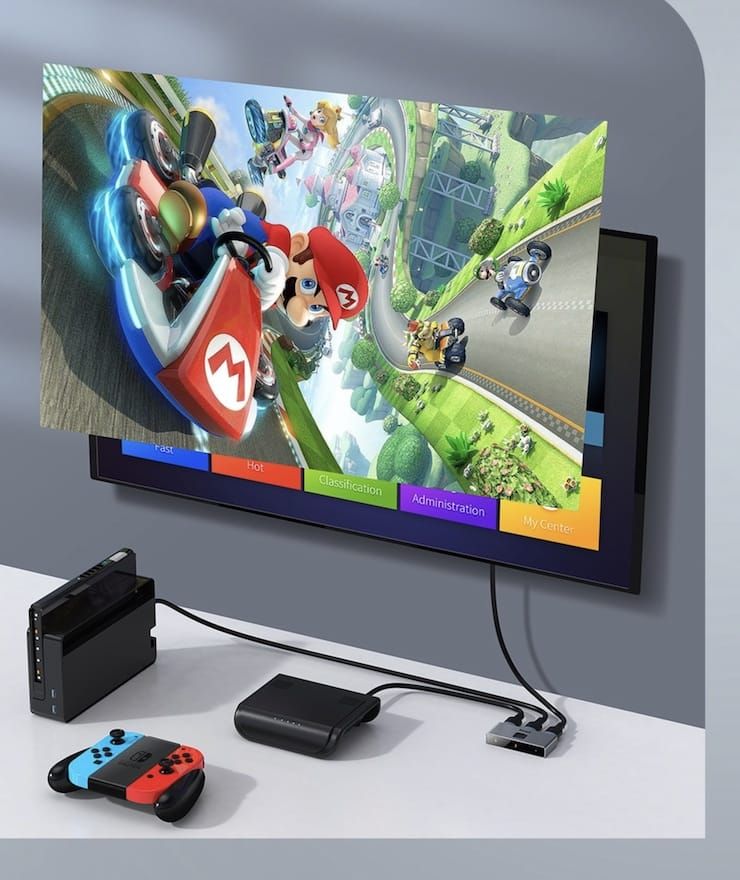 Buy Baseus HDMI Switch
See also: