The Northgard game appeared in Early Access in early 2016, and the final release took place in 2018. Nevertheless, this product remains relevant, which is facilitated, among other things, by constant updates. The harsh northern world lives, develops and offers the player new challenges. At the same time, the game has absorbed several genres at once.
Download Northgard for iPhone and iPad (App Store)
The game action has its own background. Even if it is not saturated with a deep and ramified mythology, it gives a certain foundation for understanding what is happening. Jarl Rig wants to take revenge on Jarl Hagen, the murderer of his father, who took the family heirloom and departed for the mythical lands of Northgard. The main character sets off in pursuit, but to achieve success he will have to conquer new lands. As you can see, the game offers action akin to the classic Settlers series. We will have to build and develop a colony, but not in a favorable environment, but in the harsh northern lands. And winter there is not just a season, but an ordeal. So, Northgard is a kind of city-planning simulator with RTS (real-time strategy) elements.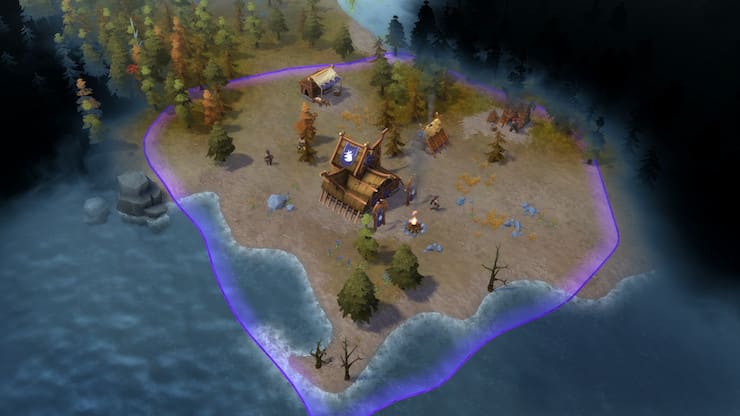 First, we have to choose our clan. The game offers a dozen options, each of which has both starting bonuses and its own relics, glory parameters. In one clan, residents eat less in winter, in another – they produce more food, some are aimed at aggression, and not at peaceful development. Such a variety of starting positions will allow you to re-launch the game, not only correcting errors, but also choosing a completely different path of development.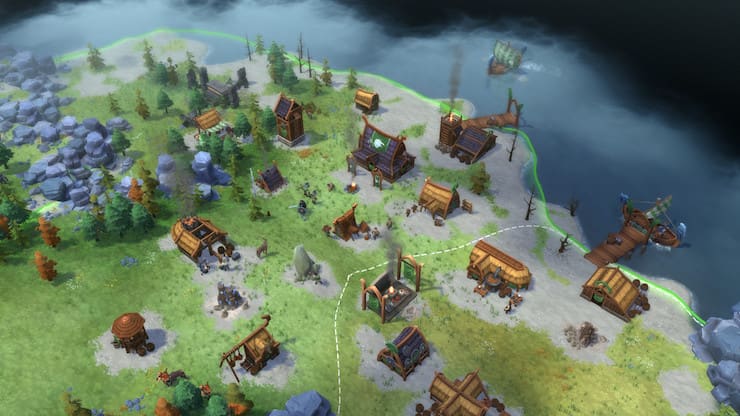 The city-planning simulator itself was somewhat simplified relative to its analogues in order to facilitate the gameplay and create new accents. So, before us stretches not particularly fertile, but not lifeless land. At the start, the player receives one region, a town hall and several villagers. And then it is necessary to colonize the surrounding lands, exploring and equipping. The resource system is simple and straightforward here. Food helps people survive, wood is needed to build houses and heat them in the harsh winter, stone and metal provide opportunities for improvements, gold is needed to maintain buildings and new purchases. There is no processing of resources with some intermediate links, it is very convenient and contributes to the understanding of the mechanics.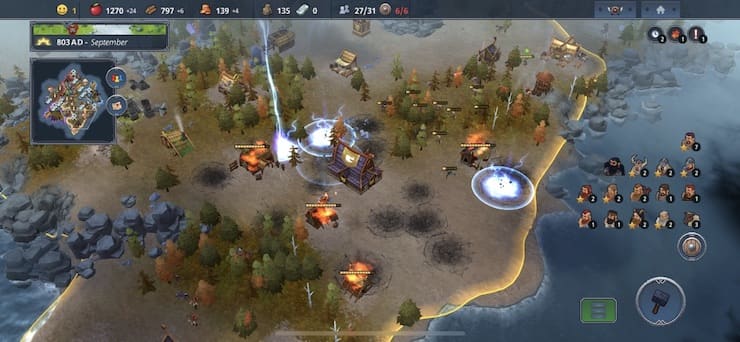 ♥ BY THEME: 100 best games for iPhone and iPad according to the version of Yablyk.
The surrounding lands are full of unique resources: forest, animals, fish, deposits of stones and iron, and here and there treasures. If you want – get them, but you can trade or capture. Perhaps the most important resource is people. It will not be difficult to make a hunter or a woodcutter out of a settler, it is enough just to send him to the desired building. Only here you can quickly face an imbalance, because you have to take into account another important resource – food. The game involves an active participation in the distribution of work, because a hungry warrior or artisan will not do for anything. An important parameter is the happiness of the clan, it allows you to speed up the appearance of new members and improve the work of others. And so that the balance between development and spending does not suddenly start to seem boring, the game has a whole scattering of unpleasant events. And if earthquakes, frosts and a volcano are difficult to predict, then the onset of winter, which stops the collection of all resources, is an expected thing. And you will have to prepare for it.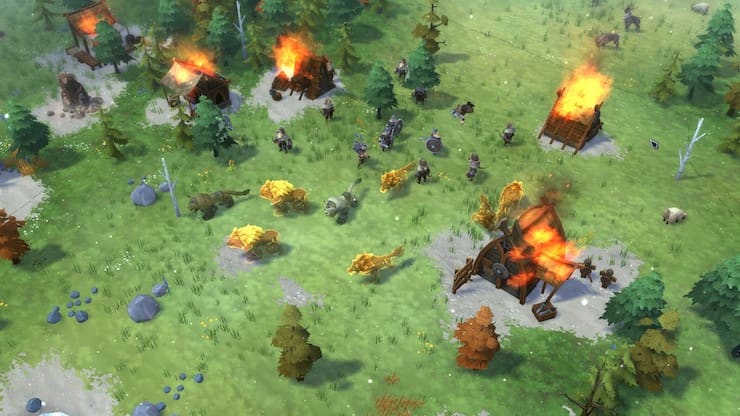 Glory is also a kind of resource – it is provided by the seizure of new territories, victory over monsters. And collecting local lore by your sailors or merchants gives you wisdom points that can be invested in the development of the technology tree. It itself is not particularly large, but it cannot be called primitive either. In addition, depending on the selected clan, unique nodes are offered. A tree has been created for military technologies – the player, getting points for defeating monsters or enemies, can choose the path of development of his army.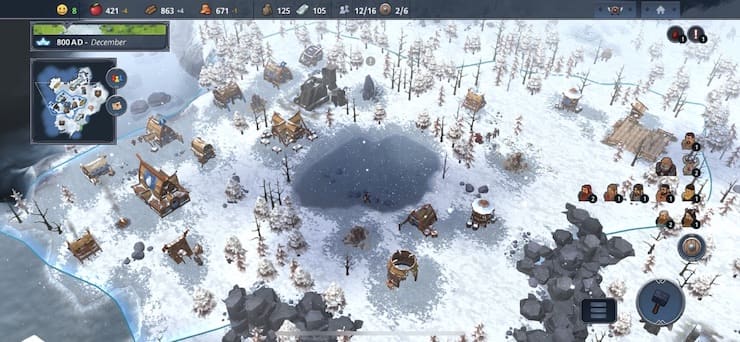 There are also many options to win: starting from the banal destruction of all enemies in the spirit of Civilization, by gaining the necessary points of fame, wisdom and trade, and by fulfilling special conditions. To get acquainted with all the mechanics, you can advise to go through the campaign, where even the clans are not at enmity with each other.
In general, the gameplay is very dynamic. Building a sustainable economy is not easy. A careless decision can lead to a whole chain of events. And the young jarl will have something to do: to look for new lands, to spend the received points wisely, to choose the buildings most required by the tribe, to coordinate the extraction of resources and their spending. There are many options for the development of the clan: here you can become a cruel conqueror, make money on trade, engage in peaceful colonization …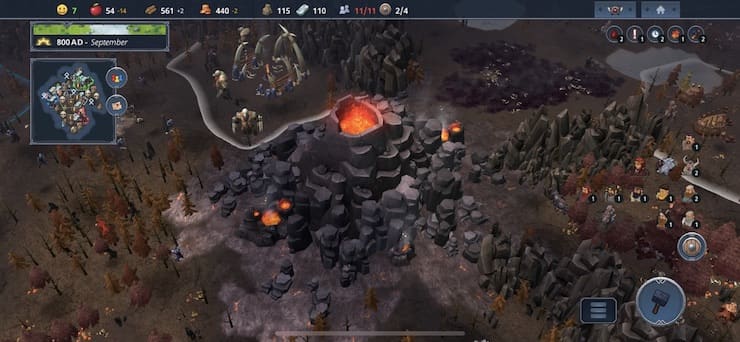 Graphics and music skillfully do not draw attention to themselves. Soft rounded lines and "cartoon animation" allow you to relax and not be distracted from the main thing – the action itself. For a cozy world, nothing else is needed.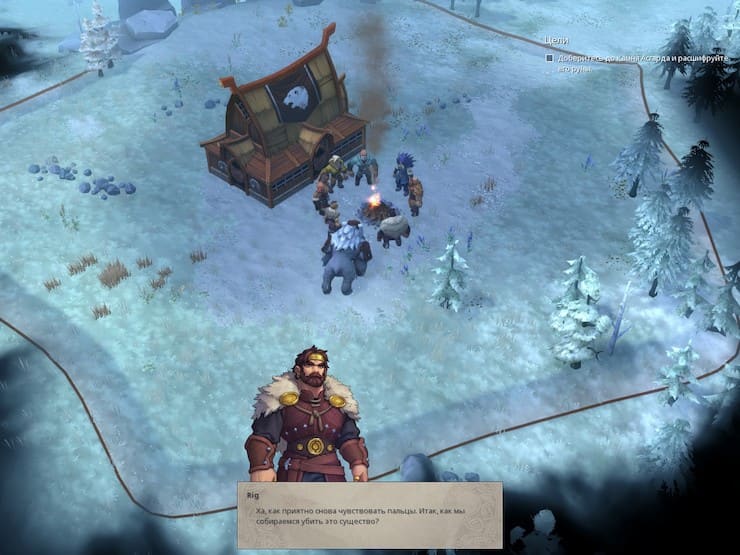 This review is not full of details and dives into the mechanics of the game. In fact, Northgard is a tightly knocked down city-building RTS. The question of her perception is solely a matter of taste. But Northgard does everything to please us. In the atmospheric world, the necessary dynamics is provided, the ultimate goal can be achieved using different methods and styles, and constant updates make you come back to the game again and again. Meticulous fans even found in it the possibility of hiring an armored bear under certain conditions! The game has its own small drawbacks – it seems that the amount of resources was limited for the sake of dynamics. At first glance, there are many of them. And even without diplomacy, it is difficult to build balanced and logical relations with neighbors. Based on a mixture of real-time strategy and city-building simulator, Northgard is worthy of us at least giving it a try. And, who knows, perhaps you will discover new talents of the ruler-jarl.
Download Northgard for iPhone and iPad (App Store)
See also: