It is difficult for fans of Apple technology to ignore Moshi accessories. Its products are able to significantly diversify the scenarios for using gadgets, make working with them more convenient and simple. This time, our attention was drawn to the iPad case. The product is called VersaCover and has an interesting foldable cover fitted with magnets.
♥ BY THEME: Moshi Flekto is an unusual Apple Watch charger with a 10-year warranty.
Why do you need a Moshi VersaCover?
The manufacturer himself calls the design of its iPad cases no less innovative. Usually, accessories of this kind provide one function – to protect the tablet case. But Moshi VersaCover is trying to implement additional features as well. The case is based on a durable shock-absorbing frame that protects the case from scratches and external damage.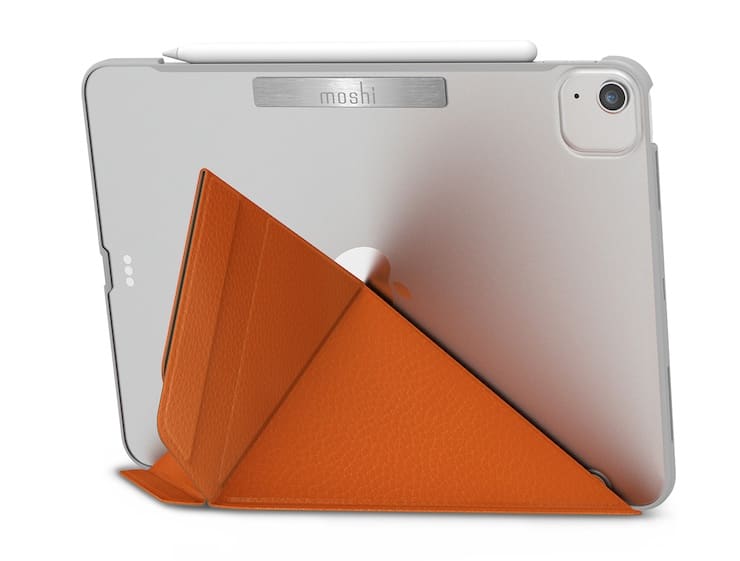 And the touchscreen is covered with a cover coated with soft microfiber. This allows the display to be completely covered, keeping it clean and protected when not in use. This bundle provides full, 360-degree device protection.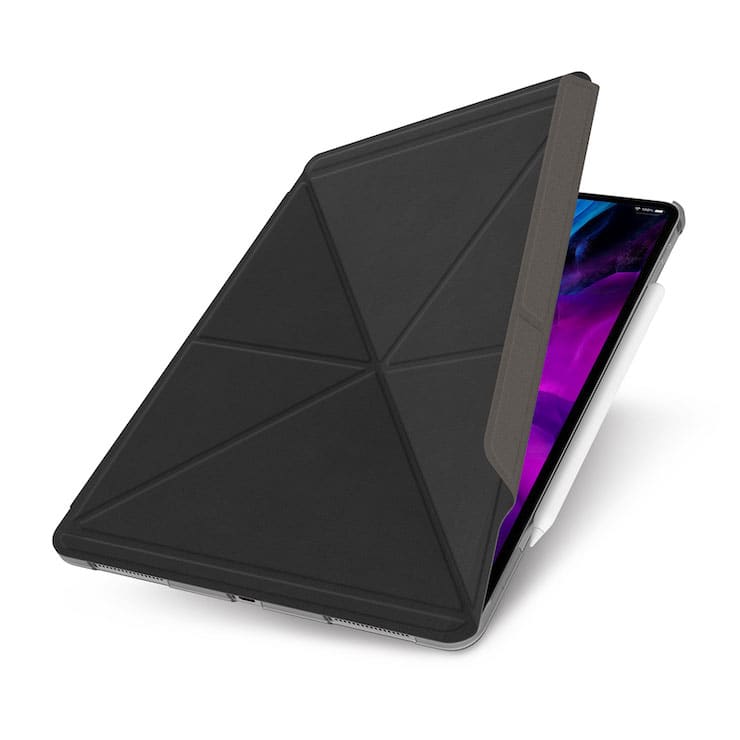 The case has corresponding cutouts to suit the model, which allows you to use buttons, cameras and Touch ID without hindrance.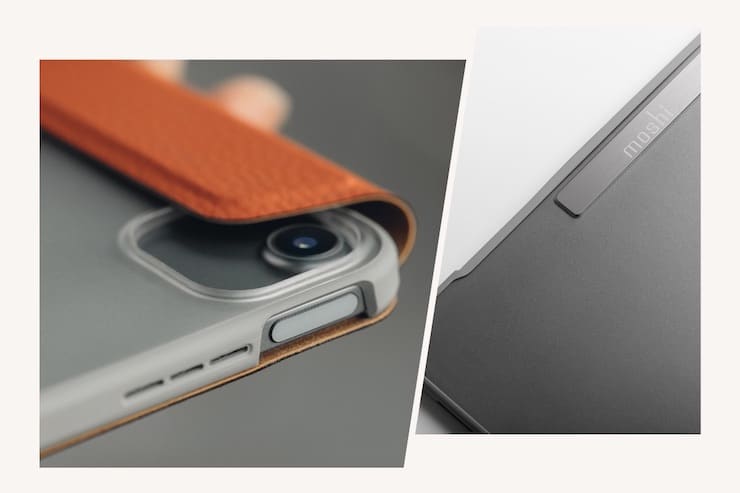 There is also a special protection for the Apple Pencil. For models with it, the cover has an additional element on the side, which, when closed, will cover the stylus. So it will be protected during its charging, being magnetized to the side of the tablet case.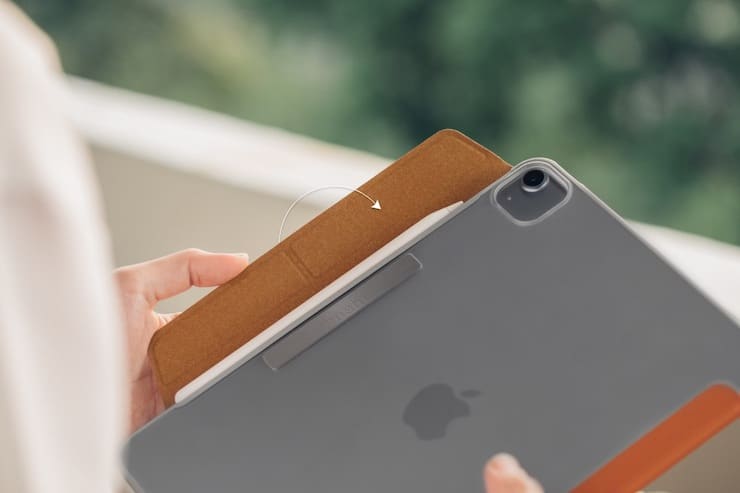 ♥ BY THEME: Moshi Sette Q: Premium Dual-Device Fast Wireless Charger.
Moshi VersaCover Design Features
The design of the case plays an important role, and this is what provides it with additional functionality. The cover has several embossed lines that allow it to be folded like origami. This solution has even received several design awards.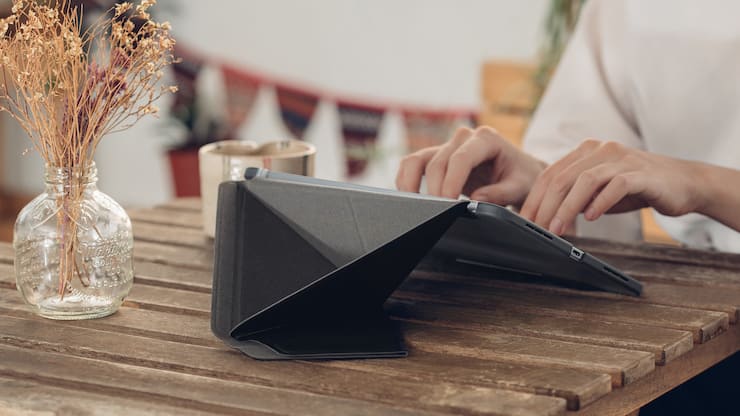 As a result, Moshi VersaCover makes it possible to place the iPad at a variety of angles and in different orientations during operation. This will allow you to forget about the uncomfortable grip of the tablet. You can relax while surfing the web, watching videos, reading. And nothing will distract from working with iPad.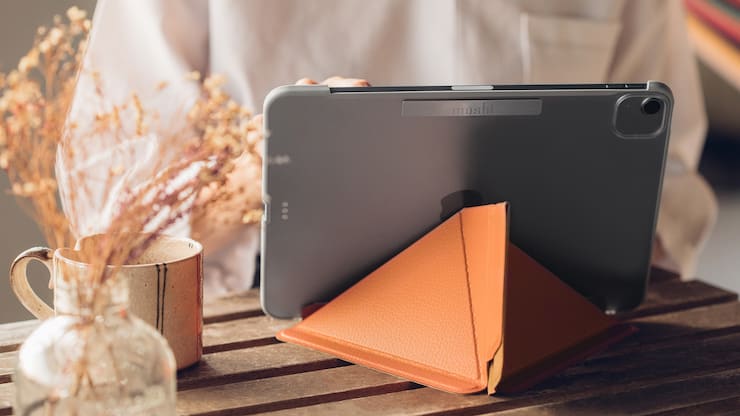 Another interesting feature of the case is its magnetic cover. Thanks to this, the accessory can be securely placed on a metal surface, even vertical. After all, it is convenient – the iPad is on the refrigerator door among the magnets. The tablet can guide you through recipes as you cook, give you hints, fill out the tables you need, or simply show you helpful online lessons.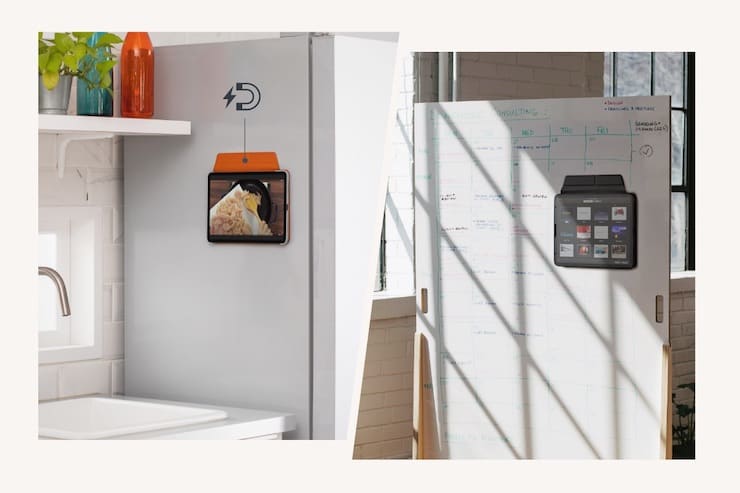 ♥ BY THEME: Moshi Symbus Mini 7-in-1 USB-C Dock Review.
Colors and compatibility
You can use this case with almost all more or less relevant iPad models of various form factors. These are iPad mini 5th generation, iPad Pro 9.7 / 10.5 / 11 / 12.9 inches, iPad 6th generation and later, iPad Air 3rd generation and later. Color variants of the cover are also offered depending on the model. If for strict and large iPad Pro it is usually black or maybe gray, then for more massive and compact products, in addition to the classics, brighter colors are offered: beige, orange, pink.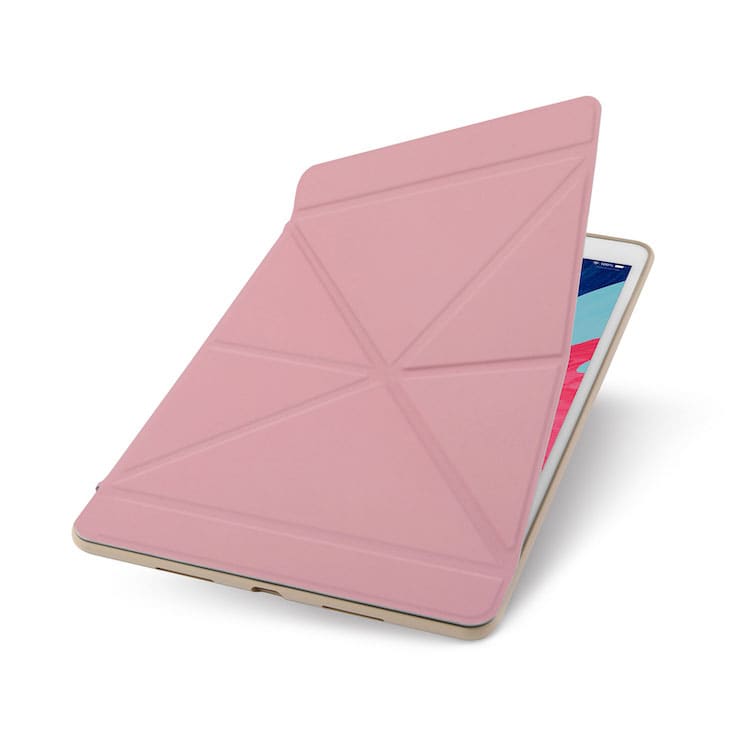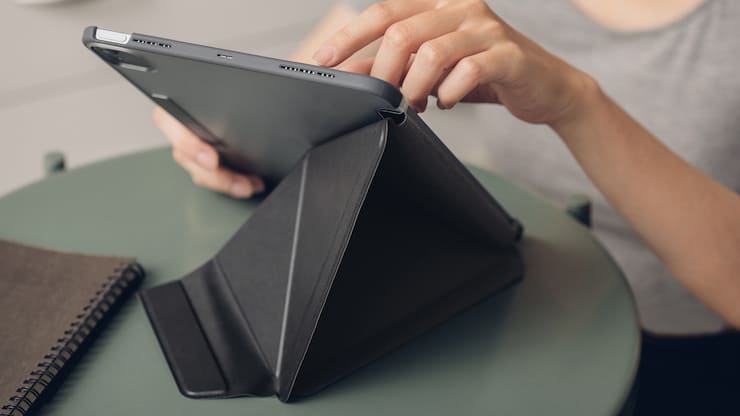 Conclusion
The Moshi company was noted for a number of successful accessories. They are distinguished by high quality and thoughtful approach to use. The VersaCover is another useful accessory for Apple users. With this cover you can not only protect your tablet, but also diversify the scenarios for its use. The 10-year global warranty on the accessory only underlines its reliability. The cover is made of high-quality materials that are pleasant to the touch, and the possibility of choosing an interesting color is encouraging, but it all depends on the iPad model.