[ad_1]

There is a 99% chance that you almost never use the top row of keys (the function F-keys on your keyboard) of your Mac. It's time to fix it!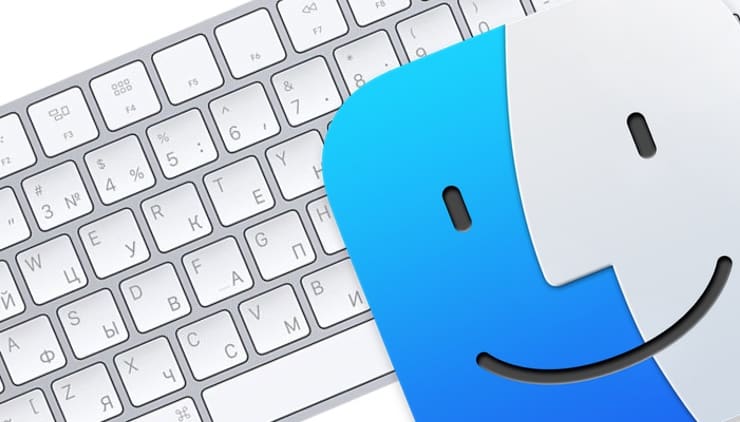 ♥ BY THEME: How to put your Mac to sleep (lock the screen) – 7 ways.
Don't be discouraged – the buttons from the top row are not very favored even by the creators of macOS. They are mainly used in very specific scenarios that most users don't need. But you can "bind" a lot of useful functions to them in a variety of programs! This is what we are going to do now.
♥ BY THEME: How to program the Caps Lock key on macOS and make it useful.
How to change the hotkey on Mac
Open up System settings → Keyboard → Keyboard shortcuts, select the desired section and click on the current shortcut.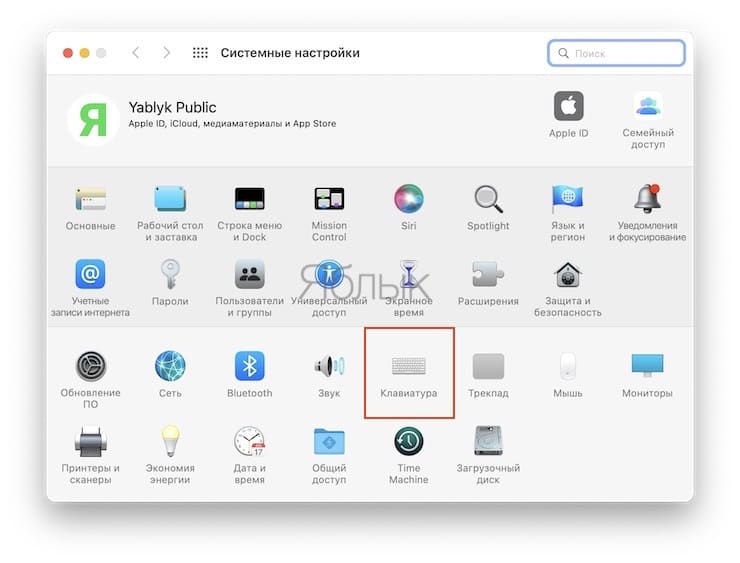 Please note that the shortcut is active only when there is a blue check mark in front of it.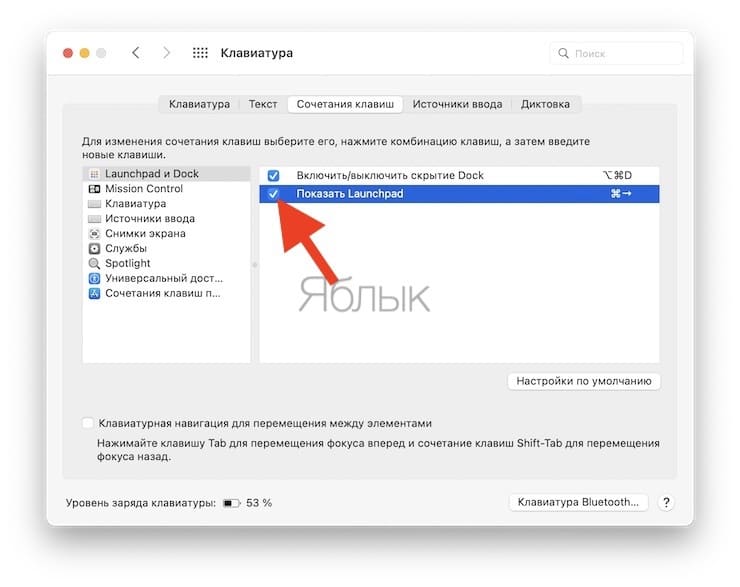 Also, you may encounter the following problem: the key or key combination you selected is already being used for another shortcut. In this case, there are two ways out: come up with another combination or disable the shortcut already used elsewhere (if you don't need it). MacOS itself will help you find the duplicated combination – it will display yellow warning triangles in the corresponding sections.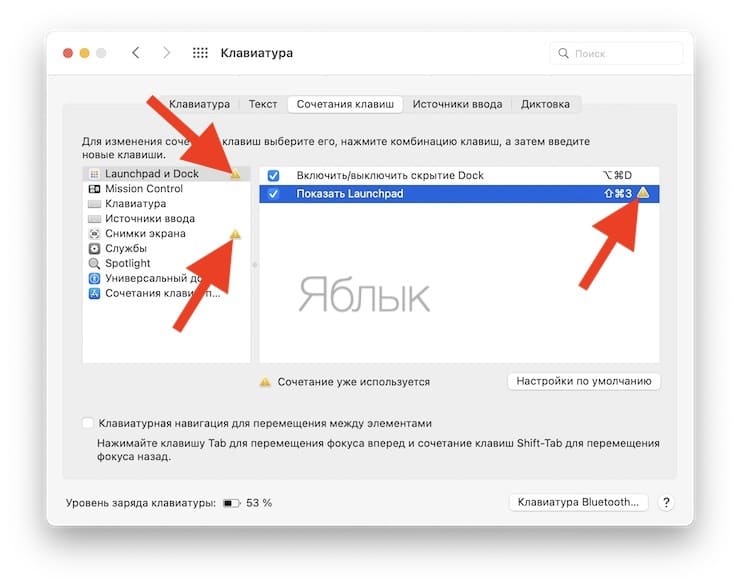 Important: By default, the function keys activate special functions that are printed on them: adjusting brightness, sound, Mission Control, etc. To use them the way you want, you need to tell macOS about your desire. To do this, go to the keyboard settings and check the box next to Use function keys F1, F2, etc. as standard… Without this operation, to activate your shortcut, you will additionally have to press Fn…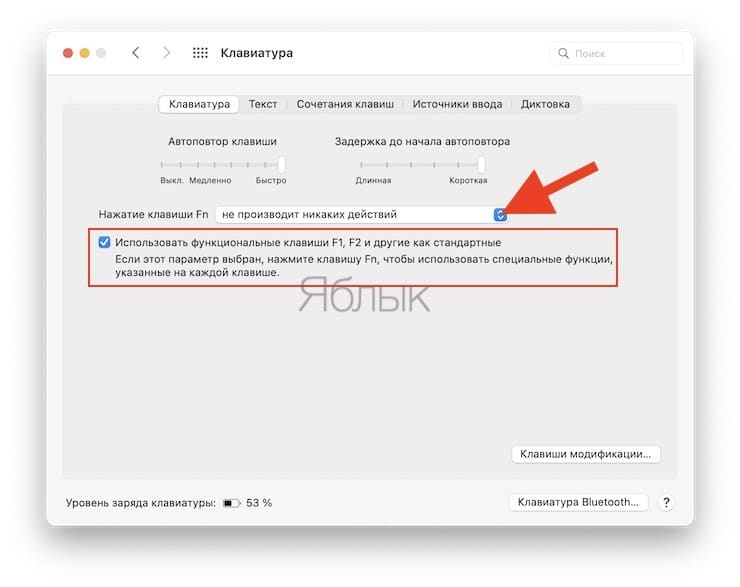 Also, to avoid confusion, the Keystroke parameter fn set to position "Does nothing"…
♥ BY THEME: 10 macOS Finder hotkeys (keyboard shortcuts) everyone should know.
How to create custom keyboard shortcuts on Mac using the Function F-key
Of course, in the section Keyboard shortcuts all the settings you need are missing – but that doesn't mean they can't be created.
For example, you want to pin tabs from Safari using a function key (say F6). To create a matching shortcut, go to System settings → Keyboard → Keyboard shortcuts → Program shortcuts (the last line in the left window). Click on the "+".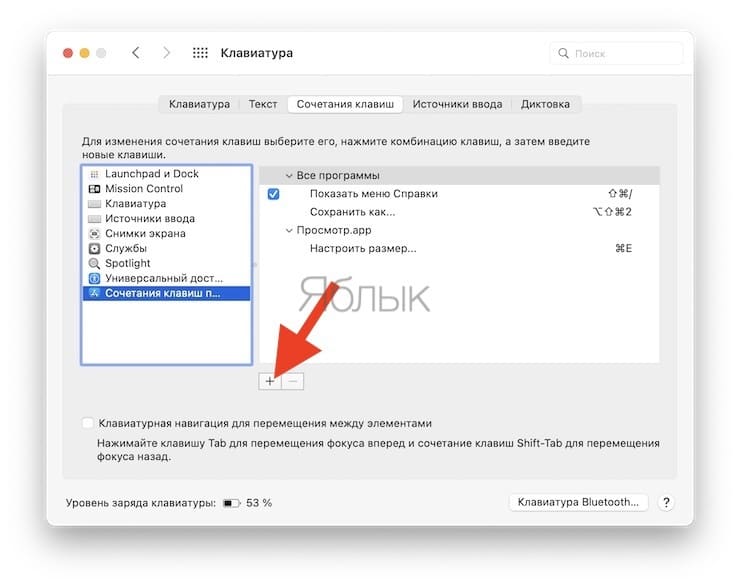 In the dialog box, select Safari, in the line Menu name write the EXACT name of the future shortcut – as it is written in the Safari settings (Window tab) (in our case, right-click on the tab, you will see Pin tab). Then click on the line Keyboard shortcut and press on the keyboard F6…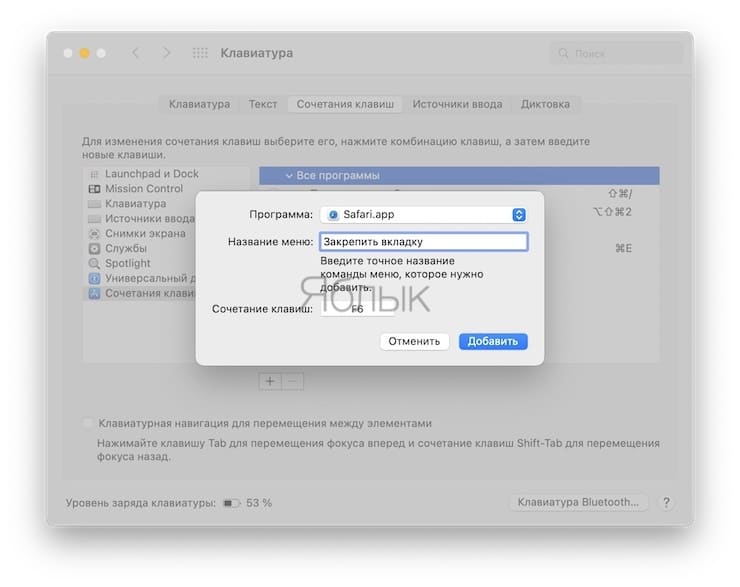 ♥ BY THEME: Keyboard shortcuts for working with text on macOS.
What you can do faster with a shortcut on the function keys
Take a screenshot
The system keyboard shortcut for this function is very inconvenient – for this you need to press three buttons at once, ⇧Shift + ⌘Cmd + 3 or ⇧Shift + ⌘Cmd + 4… Isn't it easier to replace them with a single one? You can set your screenshot shortcut in macOS here: System settings → Keyboard → Keyboard shortcuts → Screenshots…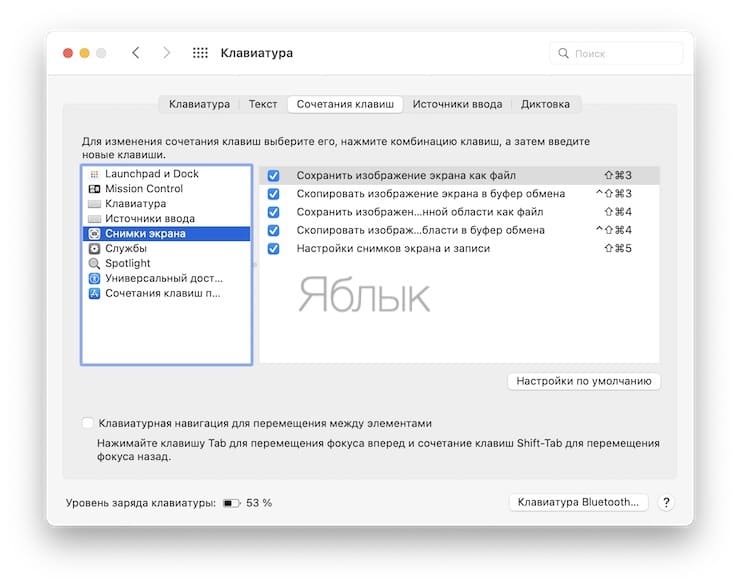 Open Notification Center
By default, this is done by clicking on the corresponding icon or by left swiping on the trackpad on the right side of the screen. If you need access more often than once a day, it makes sense to assign a shortcut key for this operation – for example, F12 (of course, provided that you are not using DashBoard).
You can set your shortcut in macOS here: System settings → Keyboard → Keyboard shortcuts → Mission control → Show Action Center…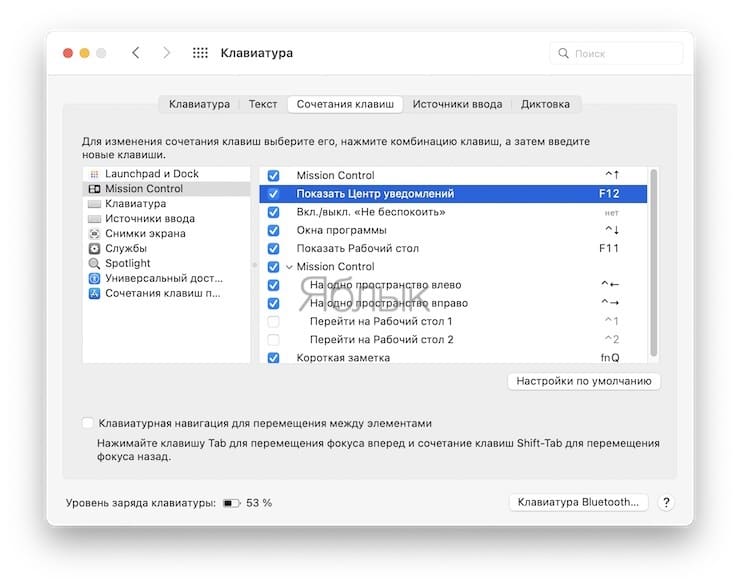 Quick access to third-party programs
If you have a favorite non-system application – notes, timer, clipboard, mail client, calendar, password manager, etc., it makes sense to get quick access to it using a shortcut key. The corresponding settings are usually found in the interface of the program itself.
Life hack: The shortcut will allow you to remove the application icon from the Mac menu bar. After all, if you are an active user of such things, then you probably already caught yourself thinking that this part of the macOS interface has already grown unacceptably for you, and it would be worth cleaning it.
Turning Do Not Disturb On or Off
One notification from the social network is enough to knock you off your work rhythm. A simple and effective way to avoid this is to turn on the mode. Do not disturb… You can set your shortcut in macOS here: System settings → Keyboard → Keyboard shortcuts → Mission control → On off. "Do not disturb"…
♥ BY THEME: How to properly set up Do Not Disturb on iPhone, iPad and Mac.
Empty trash
The default keyboard shortcut for this function is, of course, far from ideal – just three buttons, ⌘Cmd + ⇧Shift + Delete… It is much easier to define a function key for the same purpose.
♥ BY THEME: Hotkeys for deleting files to the Trash on macOS.
Change the look of Finder
The macOS Finder system shortcuts look like this: Icons (⌘Cmd + 1), List (⌘Cmd + 2), Columns (⌘Cmd + 3), Gallery (⌘Cmd + 4)… If you usually use one or two views and cannot remember the "official" abbreviations, assign only one button to them.
Safari
If the Apple branded browser is your main Internet browser, then there is an opportunity to save a lot of time, effort and nerves. For example, using your own shortcuts, you can:
Clear browser history without losing site logins and passwords.
Enable / disable reading mode.
Save page to Reading list…
Pin and unpin tabs.
You can connect these and other commands in System settings → Keyboard → Keyboard shortcuts → Keyboard shortcuts for applications → Safari…
♥ BY THEME: 10 Safari for Mac (macOS) Hotkeys Everyone Should Know
Set up Windows-familiar shortcuts
If you've recently switched to Mac from Windows, or find Windows shortcuts more convenient (I must say, sometimes it really is), just configure them! Let's recall the most common:
F1 – open the Help section;
F2 – rename a file or folder;
F5 – refresh (reload) the web page;
F11 – enter or exit full screen mode.
See also:
[ad_2]