Recently, sketches, cartoons and friendly miniatures are gaining popularity again. But artificial intelligence doesn't want to keep up with humans. Not so long ago, an online service appeared that, based on photographs of people, creates their caricatures.
The name of the service is quite eloquent – Caricaturer.
♥ BY THEME: Old Face in FaceApp is an iPhone and Android application that will age a person in a photo.
What is a caricature?
A caricature is an image that is quite different from a cartoon or animation. This drawing has several key points: exaggeration, rough sketch, Reilly abstraction, caricature of the body. The artist creates a portrait that emphasizes the features of the subject, but at the same time retains the resemblance to the original.
♥ BY THEME: How to create a scenic portrait from a photo for free.
How to work with Caricaturer?
It is very easy to use this tool, while you will not have to wait long to get sane results and you will not have to pay. The convenience of Caricaturer is that it can be used with any device with Internet access – you just need to open the desired page in the browser. And then the user is required to upload a photo for processing and wait a few minutes. Photo requirements are simple: PNG, JPG or JPEG format and size no more than 5000 × 5000 pixels. The task will continue to be processed even if you close the page and then reopen it.
Artificial intelligence using machine learning will not just create a caricature, but will generate as many as 64 variants of it, using various styles for this. The simplest of them is a black and white sketch, but portraits stylized as a cartoon are much more complicated. Artificial intelligence will impose interesting effects, and also noticeably exaggerate them to make the face seem more ridiculous.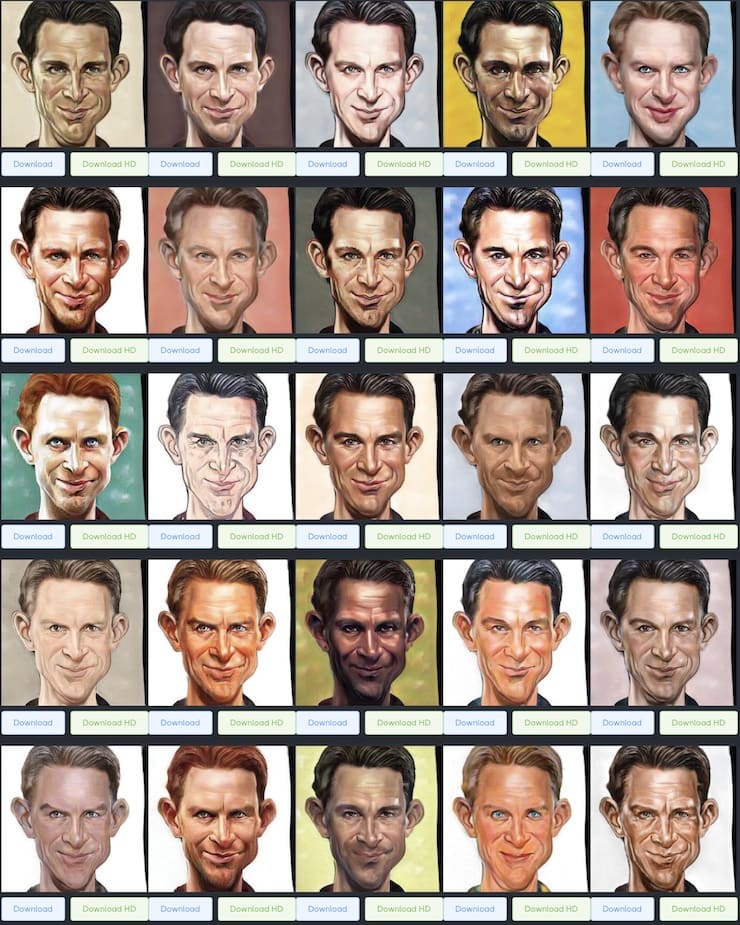 The end result can be downloaded. But if you have not passed registration on the service of cartoons, then you will be offered a picture with a resolution of only 256 by 256 pixels. It seems that this is not much, but it will be enough for an avatar. But registration will allow you to get your favorite caricature already in high quality. There are a couple of other advantages to registering. Thanks to it, you will be able to receive an e-mail notification of the completion of the process of creating cartoons, as well as download them all at once in one package. This makes a certain sense, nevertheless, the processing does not take place instantly, and it is inconvenient to download one picture at a time. It is important that the registration itself is free – you will not have to pay for using the account.
♥ BY THEME: How to turn a face in a photo into a zombie.
Caricaturer – what else?
The young project clearly plans to develop – the developers promise to speed up the process of creating cartoons and add more styles. There is no need to fear that your photos will fall into the hands of third parties – the service automatically deletes the sources 24 hours after processing. Developers treat their project with love; the site even has a blog with interesting posts both about cartoons in general and how to create them. Every day more than 3,000 people create fun drawings using the Caricaturer service. In total, more than 100 thousand orders have already been completed!
See also: