Surely, each of us has heard the concept of "low-cost" ("low-cost") in conversation or on thematic forums about travel. The very definition of "low cost" in translation from English means – low cost or budget. In this material, we will tell you how cheap air tickets can be and what nuances must be taken into account when choosing.
♥ BY TOPIC: How to Track Airplane Flight Online: 5 Best iPhone and iPad Apps.
What are low-cost airlines
Low-cost airline name an airline that offers cheap tickets for their flights. But the other side of the coin is the rejection of traditional services for passengers or the increased cost of such services. Low-cost airlines adhere to a series of standard principles to minimize costs.
Why low-cost airline tickets are much cheaper than top airlines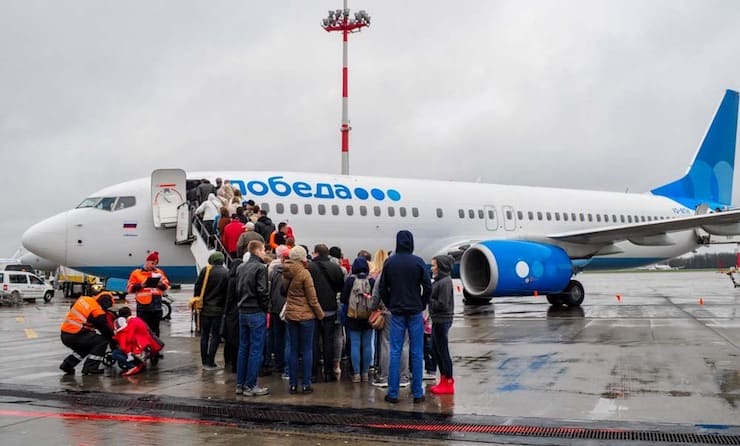 Typically, a low-cost airline uses one type of aircraft, which saves on maintenance and personnel costs. There is no need to talk about multiple passenger classes, in-flight meals or entertainment.
Any additional comfort will require a surcharge.
Low-cost airlines encourage earlier reservations – as the plane fills up, the cost of tickets increases. These companies prefer direct selling over the Internet, which saves on reseller fees. Cheap seats are also formed by increasing their number – by reducing the distance between the seats and locking the backs. Low-cost airlines make several flights a day with one plane, but at the same time they choose unloaded morning or night hours and small airports. All this also allows you to save on expenses and fees. On the other hand, low-cost airlines prefer to buy new aircraft, reselling them in a few years.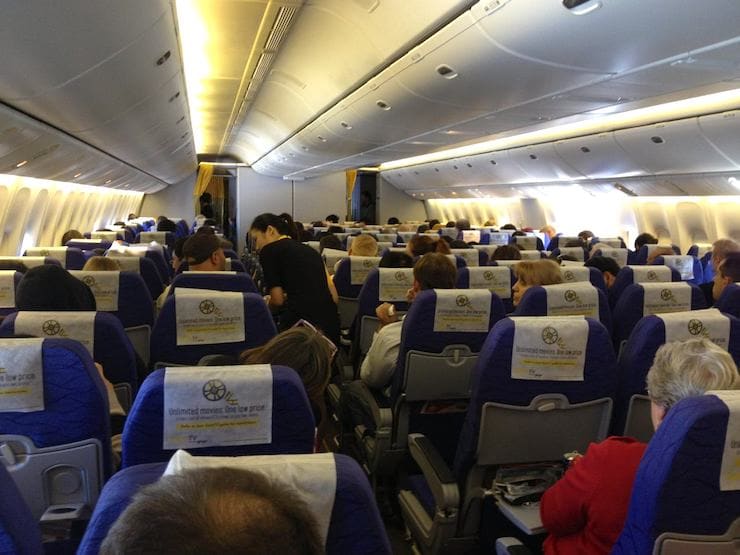 The market for short and medium haul transportation has always been highly competitive. But many users do not need most of the carrier's services – for an hour or two people are ready to endure in flight even in an uncomfortable position and with a minimum of luggage. Such wishes could not fail to attract the attention of airlines.
The first low-cost airline can be considered the American carrier Pacific Southwest Airlines, which began operating in 1949. However, Southwest Airline, founded in 1971, fully implemented the concept of cheap flights. Low-cost airlines appeared in Europe in the 1990s. This market is perfect for the concept of economical flights. Today low-cost airlines have also entered the Asian and Australian markets.
♥ BY TOPIC: 20 essential goods for leisure, tourism and travel with AliExpress.
Do international low-cost airlines work in Russia
Yes. For example, the German low-cost airline Eurowings offers flights from Moscow and St. Petersburg to Germany, Switzerland and Austria. The Latvian company Airbaltic flies in addition to Moscow and St. Petersburg also from Kazan, Sochi and Kaliningrad. Hungarian low-cost airline Wizz Air will deliver Russians to Budapest and Debrecen, and Czechs from SmartWings to Prague. Flydubai and Pegasus Airlines operate with several cities.
Pobeda became a subsidiary of Aeroflot's low-cost airline, which attracts with its prices, but also the level of service constantly raises criticism.
With the opening of a visa-free regime to Ukraine, the interest in cheap flights in Eastern Europe has grown exponentially. Ryanair and Wizz Air offerings are in constant demand. Low-cost airlines offer to fly to Europe and come back for a few tens of euros!
♥ BY TOPIC: How to download video to iPhone or iPad and watch without Internet – 5 ways.
The best low-cost airlines with direct flights from Russia (+ links to sites)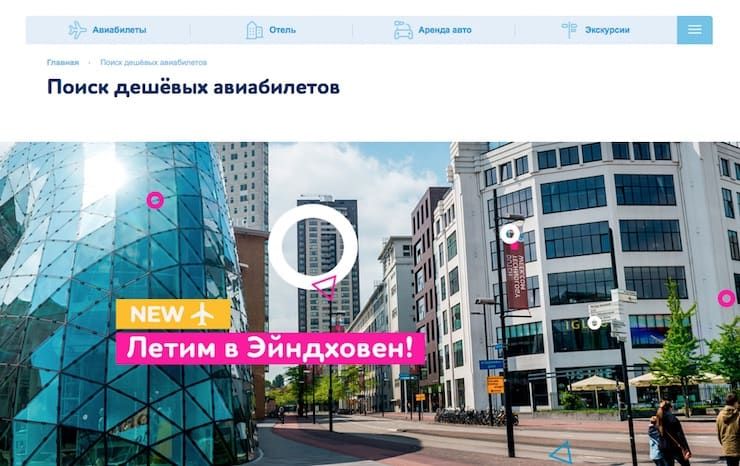 We suggest you familiarize yourself with the list of low-cost airlines operating direct flights from Russia.
Victory
Eurowings
Airbaltic
Vueling
Wizz air
Flydubai
Pegasus Airlines
SmartWings
♥ BY TOPIC: How to download a video from VK (VKontakte) to an iPhone or iPad and watch without the Internet.
Things to consider when buying a ticket for a low-cost airline
No wonder they say that the devil is in the details. Low-cost airline services are attractive for their price, but an inexperienced traveler may find that in the end his trip cost more than a regular carrier. Some of our tips will help make your flight really cheap.
Keep track of dates… Are you tied to a specific travel date? It is worth considering flight options for adjacent days. The price for them can vary significantly. And nobody canceled the promotions – you can follow them using special services on the Internet (links below). Low-cost airlines offer a minimum ticket price for the latest dates. Night flights will also always be cheaper than day flights.
Consider the possibility of ticket refunds… Our plans often change at the last moment. But low-cost airlines often do not provide an opportunity to return tickets or exchange them for another date. It is worth buying tickets, being 100% sure of departure. If in doubt, it is better to overpay for a refundable option.
Study the conditions of baggage transportation… Luggage transportation is an important source of income for low-cost airlines – here they will not miss their own. Even the rules for hand luggage are so strict that the airline may not allow a backpack to be carried into the cabin. Each company has its own size and weight standards for baggage – you should check them before the flight. It may be that space for luggage will cost more than for a passenger. But even this option will still be more profitable compared to the competition. For traveling light, low-cost airlines are the best option.
Specify the conditions of registration… Many travelers arrive relaxed at the airport, waiting for service and check-in. But low-cost airlines will try to make money on this. Some companies ask passengers to check-in online in advance by receiving coupons. This service may be chargeable at the airport.
Don't forget about overbooking… For a long time, airlines have come to the conclusion that several passengers will be late for their flight anyway. So why not sell more tickets, even if this number exceeds the actual number of seats? True, sometimes a passenger may not be lucky – he simply does not have enough seats. The airline will offer him a seat on the next flight, but this is clearly not the best solution for the client. In order not to find yourself in an uncomfortable situation, you should arrive at the airport in advance and not be at the end of the line.
Specify the airport of arrival… It is normal for low-cost airlines to choose cheaper airports for their flights. Most often, such transport hubs are located at a considerable distance from the city, which is considered the final point of the route. For example, the airport of Girona, where Ryanair takes passengers, is located 90 kilometers from the coveted Barcelona. The transfer to the city itself will take additional time. It's good if the airport turns out to be part of a small and interesting town, but it can literally be in the field and close at night. It is worth planning the route in advance from the place of arrival of the low-cost airline to the city itself.
Fill in the documents carefully… Many people consider ticketing on the Internet to be an empty formality. But small mistakes are another way for airlines to make money. Corrections in an e-ticket will cost a lot – Ryanair charges 15 euros, and Aeroflot – about 1000 rubles.
Stock up on food… The low-cost airline will not provide tasty free sandwiches in flight. The entire range of food is available for money. Better to have a snack in advance and be patient during the flight. Nobody bothers to take a couple of sandwiches with you to the salon. Otherwise, you can order food in advance on the website when you issue a ticket – it will be cheaper than directly from the guide.
♥ BY TOPIC: Google Translate for iPhone: no internet (offline), camera translation, talk mode and it's all free.
What sites to look for discounts and cheap plane tickets on the Internet (search engine for low-cost airlines)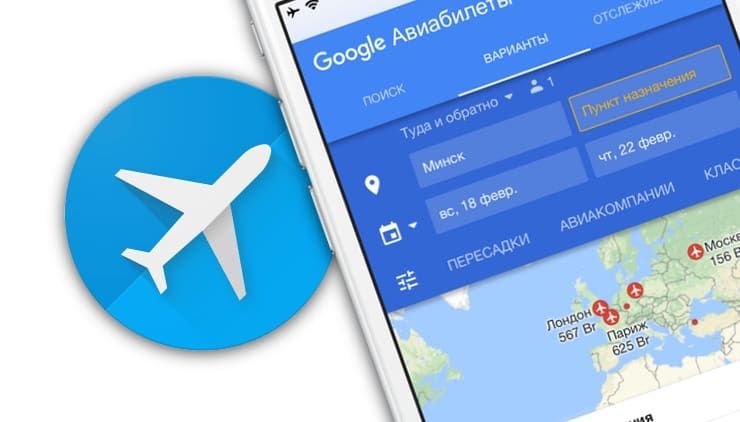 To search for low-cost plane tickets, you can use the official website of the airline (links to sites with flights from Russia are posted above, and the TOP-best low-cost airlines are below), as well as search aggregators.
The ideal option for finding cheap flights today is Google Flights, where you can get comprehensive information on available economy class flights, as well as enable price tracking. A detailed overview of the service can be found on this page.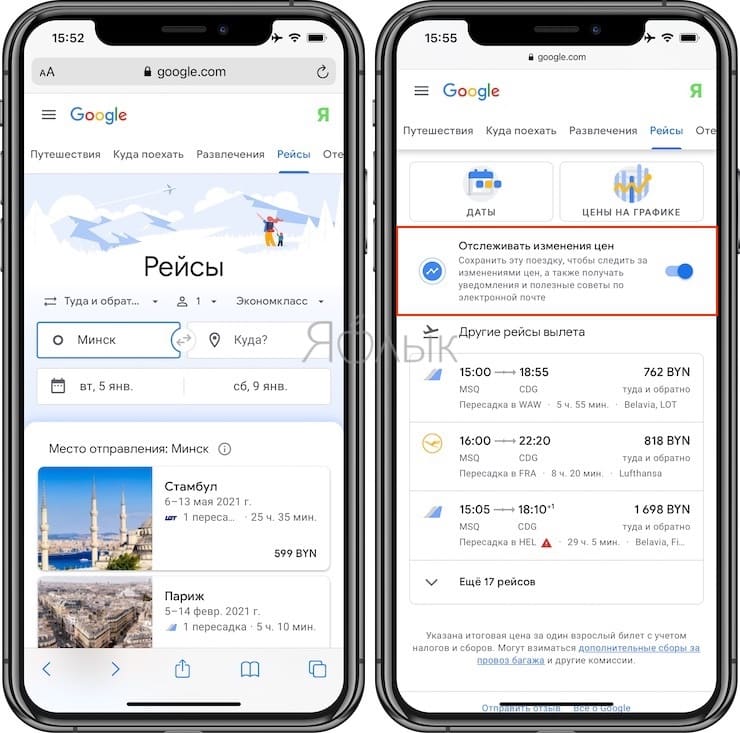 Also, it will not be superfluous to use the Tripmydream website, which offers up-to-date information on air travel discounts.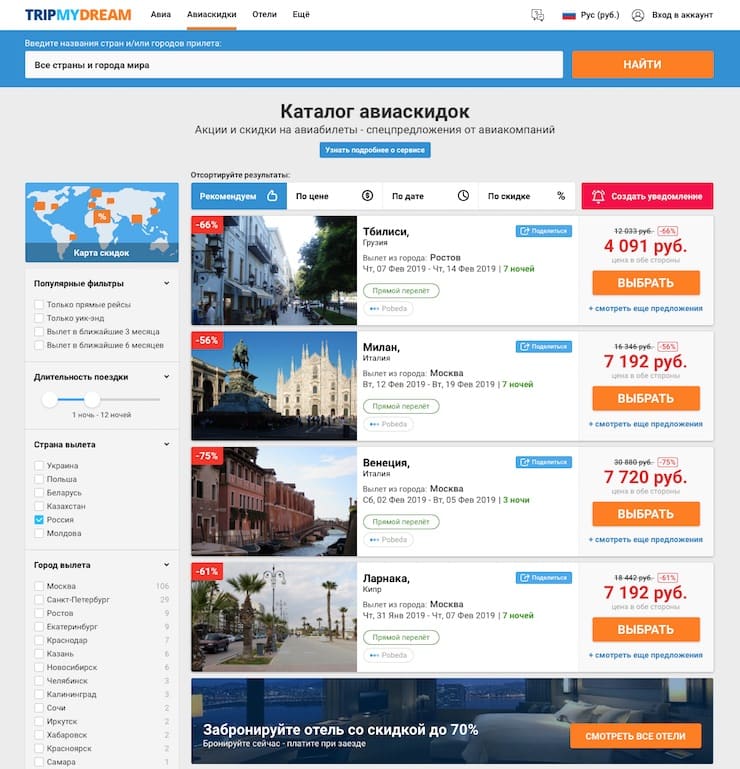 ♥ BY TOPIC: Yandex.Navigator without the Internet (offline): how to use it on iPhone and iPad.
TOP-20 of the best low-cost airlines
The ranking is based on the results of the annual World Airline Awards from the British research company Skytrax, which is considered the most prestigious in the aviation industry. Low-cost airlines are ranked based on a survey of millions of passengers from different countries. The survey methodology is highly regarded for its clarity and independence.
1. AirAsia (Malaysia)
2. Norwegian (Norway)
3. EasyJet (UK)
4. Jetstar Airways (Australia)
5. AirAsia X (Malaysia)
6. WestJet (Canada)
7. IndiGo (India)
8. Southwest Airlines (USA)
9. Eurowings (Germany)
10. Scoot (Singapore)
11. Ryanair (Ireland)
12. Jetstar Asia (Singapore)
13. Peach (Japan)
14. Jet2.com (UK)
15. Vueling Airlines (Spain)
16. PAL Express (Philippines)
17. Citilink (Indonesia)
18. Air Canada rouge (Canada)
19. West Air (China)
20. Nok Air (Thailand)
The economic model of low-cost airlines has proven its right to life and the ability to be profitable. Today, such airlines are mainly present in the medium-haul flights market, but they are gradually entering long-haul destinations. For us, passengers, the presence of low-cost airlines in the market is an opportunity to significantly save on the flight. You just need to take into account the nuances of the work of such a model and accurately calculate all the expenses, take into account the nuances.
See also: