Choosing a modern smartphone, you will surely ask about the capacity of its battery or at least the battery life. It is no coincidence that Apple describes its iPhones in terms of the implementation of certain scenarios. But users have long known that they can teach their device to last longer by setting it up correctly and disabling unnecessary features. This will allow you to avoid using a charger for as long as possible.
♥ BY TOPIC: How to add a voice alert when iPhone or iPad is charging.
In the same iPhone, GPS is a rather energy-consuming module. Fortunately, there are a lot of options in your smartphone settings that allow you to customize the optimal operation of this sensor. We invite you to familiarize yourself with the description of each toggle switch located in the menu along the way Settings → Confidentiality → Geolocation services → System services.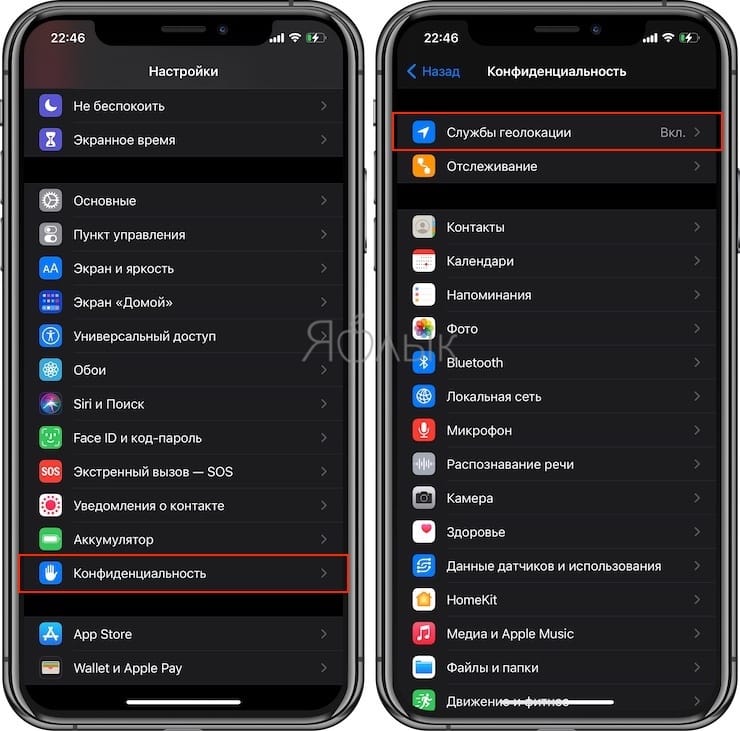 Understanding the purpose of the switches will allow you to disable some unnecessary services, thereby improving the autonomy of the device.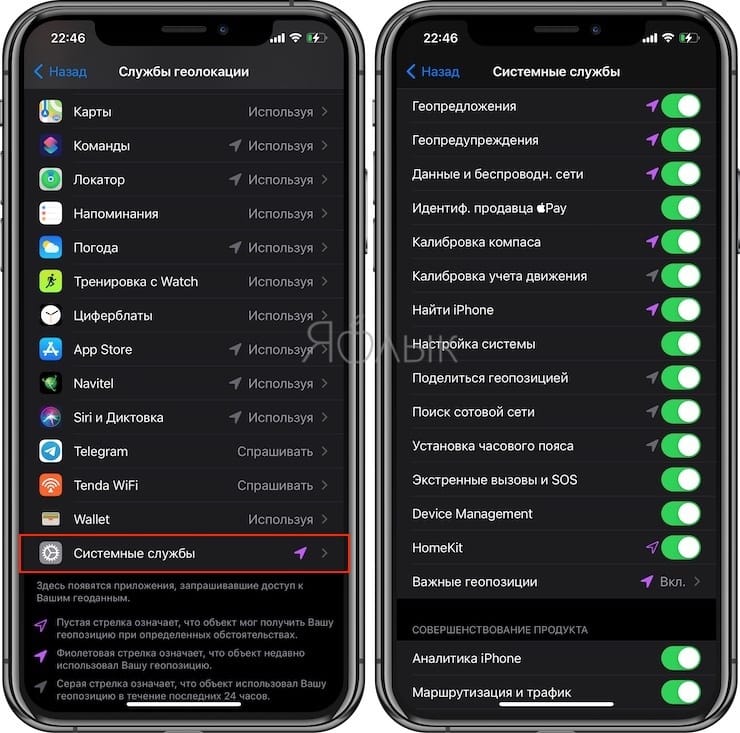 ♥ BY TOPIC: How to teach iPhone to automatically turn on Power Saving Mode.
What are the iPhone geolocation settings responsible for in iOS 14?
Geo offers – this option allows both the system and third-party services to provide the user with updated offers based on information about his location. But this service helps mainly with promotional offers. If you are tired of notifications about constant promotions from the nearest chain stores – this option should be disabled.
Geo warnings – despite the name similar to the previous paragraph, this service is much more important. It is needed to practice various scenarios linked to geolocation. For example, these can be reminders that are triggered when the desired position is found, or an automatic action associated with a specific location. Better to leave this toggle active. But if you definitely never use such functionality, this option can be turned off.
Data and wireless networks – with the help of this switch, a more accurate determination of the location of gadgets in the premises is provided, the transfer of information between them using the UWB (Ultra Wideband) protocol, which allows, without activating Wi-Fi, to find nearby devices using AirTags (so far not released Apple). Turning off this switch may affect performance for Bluetooth, Wi-Fi, and UBW.
Apple seller identification Pay – the option allows you to determine the user's location when paying for services using a contactless payment system. This option makes it possible to find and more accurately identify identified merchants who have the right to accept payments through the Apple service. In other words, turning on the toggle helps Apple learn more about the seller based on your location. But do you need it?
Calibrating the compass – this option can be left active if you frequently use navigation applications. It helps to correctly and quickly position the map depending on the user's gaze. But usually the data while driving helps with this, and the compass calibration is not required. So the option can be left active only when using a smartphone as a navigator in difficult conditions far from civilization.
Calibration of motion accounting – a function that allows you to improve the accuracy of distance, speed and calorie consumption measurements on Apple Watch (calibration instructions), as well as the built-in pedometer in iPhone. If you don't own an Apple Watch and don't use your iPhone as a pedometer, you can turn off the feature.
Find iPhone – It is "Find iPhone" that is responsible for finding a lost device, including the "Locator Network" tool, which allows you to search offline even when devices are turned off. Of course, the option must be activated.
System Setup – the option is required for the functioning of some iOS features: optimized charging, changing the theme or Night Shift, taking into account not the specified schedule, but the time of sunset or dawn. If you are sure that you do not use these functions, then the switch can be deactivated.
Share location – thanks to this option, GPS is provided to transfer data about its location to other people. If the switch is grayed out, you won't be able to send your location in chat or Latitude.
Cellular network search – thanks to this option, statistics are collected on the user's location relative to cell towers. But this is theoretically needed by Apple itself, and operators in improving coverage. In reality, the toggle switch can be turned off.
Setting the time zone – this option helps to automatically change the time on your smartphone when crossing time zones. But if you travel very rarely, then you definitely don't need this feature. But those who spend a lot of time on air travel cannot do without it.
Emergency calls and SOS – when activating the SOS mode, this option will help you more accurately determine your location.
DeviceManagement– the service provides the ability to remotely change the settings of the gadget, but this is needed exclusively for educational institutions. It is unlikely that such functionality is needed by someone with us, it can be turned off.
HomeKit – this option is needed to trigger scenarios in a smart home based on the arrival or departure of the user from there. If you do not have a smart home, or it is not based on HomeKit, or there are no scripts based on such a basis at all, then the switch can be disabled.
Important locations – this is exactly the same service that constantly monitors you and remembers all the places visited (detailed overview). It is believed that based on this information, the system will be able to issue certain recommendations.
Product improvement – a whole group of toggle switches that are responsible for Apple Product Improvement Services are gathered under this name. Are you ready to waste your smartphone battery on this? Hardly.
See also: