iOS 15 can be installed on older devices, up to the iPhone 6s. This is great news for their owners. True, for the sake of ensuring the operability of the firmware as a whole, Apple had to resort to a number of compromise solutions. They consist in the fact that some functions on old devices simply do not work.
♥ BY THEME: Tags in Notes on iPhone, iPad and macOS: how to use.
Most features require smartphones with an A12 Bionic processor or newer, including: iPhone XR, iPhone XS / XS Max, iPhone 11, iPhone 11 Pro / 11 Pro Max, iPhone SE (2nd generation), iPhone 12 / 12 mini and iPhone 12 Pro / 12 Pro Max.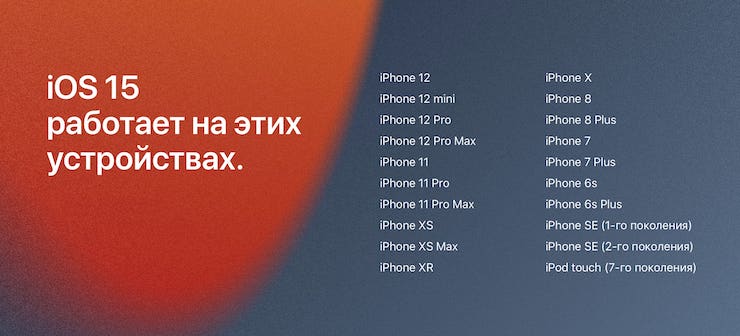 Here is a list of those functions that, unfortunately, are not available on older devices:
Spatial audio in FaceTime. Thanks to this function, a three-dimensional reality is formed, imitating the presence of a person in it.
FaceTime portrait mode. This iOS 15 feature is responsible for blurring the background behind the speaker so that nothing distracts from the conversation.
An interactive globe in the Maps application. An interactive 3D globe has appeared on Apple maps. It includes many improved details for displaying forests, oceans, deserts, mountain ranges and more.
Directions of movement in AR… Apple maps allow you to view the route to the desired point in real time. It will be highlighted with arrows.
Recognition of text in photos. Now an iOS smartphone can read text from pictures and photos and copy it. It all works right in real time. Just select the text with your finger and copy it. It is possible to search the selected text on the Internet and translate it into the desired language.
Photo data… iOS 15 can automatically scan pictures and read information about them. It will be highlighted, and some data can be searched on the Internet. You can also get technical information about the photo, for example, find out on which lens it was shot and in what format it was saved.
Updated weather animation. The proprietary application in iOS 15 will receive new animations, they will be better and simply more beautiful to display precipitation, cloudiness and the position of the sun.
Full on-device speech processing… Now in iOS 15, voice requests will be fully handled on the smartphone itself. In this case, the level of recognition will be quite comparable to the server level.
Keys in Wallet… The Wallet application allows you to add electronic keys to your car or home.
Spatial audio with dynamic head tracking… Now AirPods Max and AirPods Pro users can enjoy a whole new experience of listening to Dolby Atmos music. The position of the head will be dynamically tracked and the spatial sound will be generated accordingly. But this feature requires an iPhone 7 or newer.
Sustainability… It is unusual to see such a health metric, because it gives an idea of ​​the risks of falling. For this, data on human walking are being studied. This feature will require iPhone 8 and newer devices.
♥ BY THEME: How do I call FaceTime from Windows or Android?
Some features will generally work in iOS 15 exclusively on iPhone 12
Improved panorama… Now Apple flagships with iOS 15 installed will try to get rid of geometric distortion during panoramic shooting. Also, the camera captures objects in motion better and reduces the amount of noise.
Fast 5G… The updated firmware will allow you to connect to 5G networks faster and work with them faster. It will also be possible to prioritize 5G when Wi-Fi is available.
See also: