You certainly know that the iPhone does not remain silent when connected to a power source, wired or wireless. The user receives an audible notification of the start of charging. This signal cannot be turned off, but starting with iOS 14, you can make the device automatically pronounce the desired phrase after the start of the process.
♥ BY THEME: How to automatically change wallpaper on iPhone or iPad based on time, place, etc.
You can choose for this purpose a funny phrase from a popular movie, the text of your favorite song, or an inspiring quote that you would like to hear several times a day. Literally anything you can imagine could be what the iPhone will tell you when you plug in or unplug from a power source. And this effect works even when the iPhone is in silent mode, when you won't even hear a call from it.
Setting up this feature is as easy as creating an automation in Teams. Moreover, this method works on iPadOS, so that your iPad can also pronounce the necessary phrases when charging starts.
♥ BY THEME: How to add a voice alert when charging an iPhone or iPad.
Requirements
iOS 14 and newer: In this tutorial, we'll be using the Automation feature in Commands that was introduced in iOS 14, so it won't work on iOS 13.
Application "Commands": if you uninstalled it for any reason, then reinstall from the App Store (link).
So.
♥ BY THEME: How to teach iPhone to automatically turn on Power Saving Mode.
Create a new automation in the Teams app
Go to the tab "Automation" in the application "Teams", then press the plus sign (+) and select "Create automation for yourself" to start the process. If you do not see the plus sign (+), then just press "Create automation for yourself"…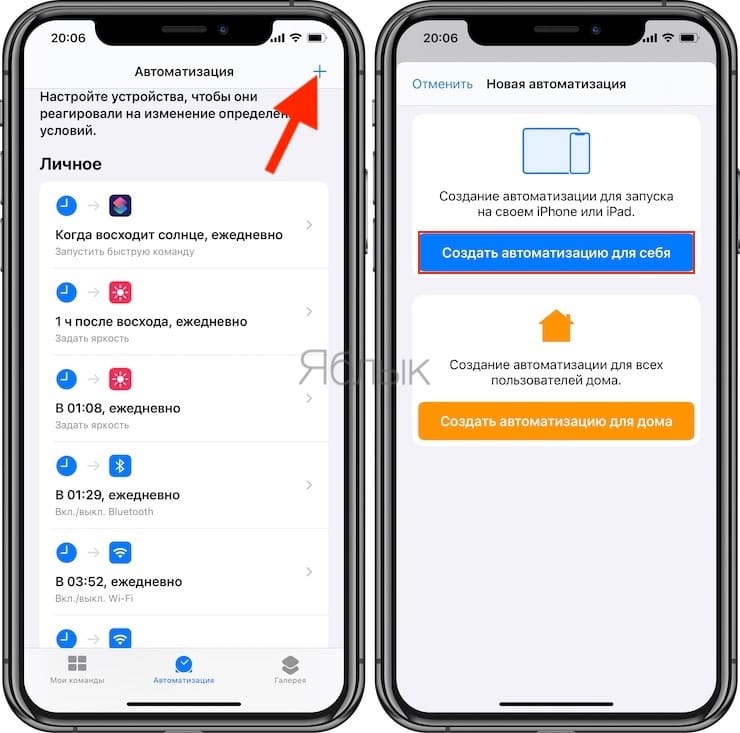 ♥ BY THEME: How to download files, documents, videos and music to iPhone and iPad from the Internet.
Select trigger "Charger"
To run this action, you need to select a trigger. It will fire every time you plug your iPhone into a power source. Scroll through the list of triggers, select "Charger"and then make sure to activate the option "Connects"…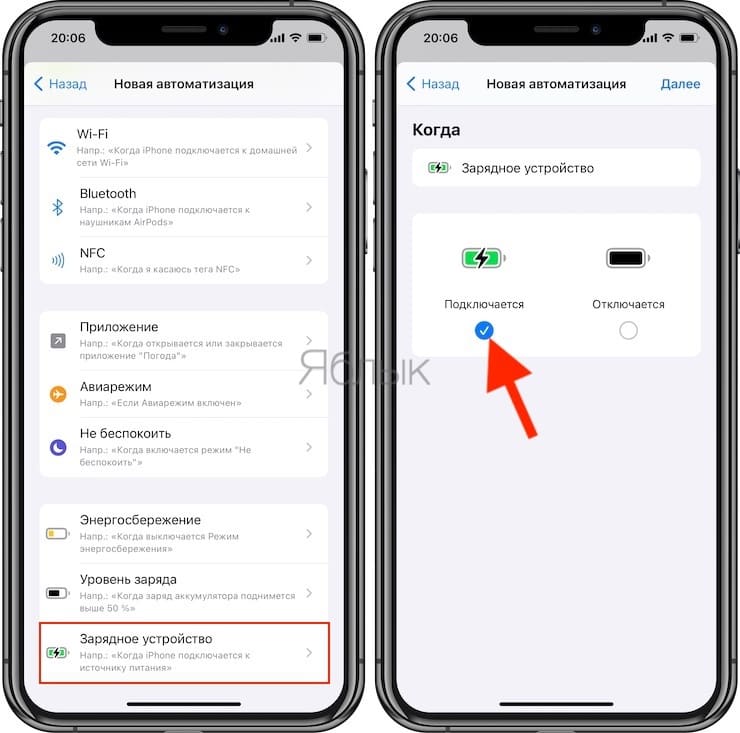 This setting will allow you to speak the phrase when charging starts. If you want the assistant to say something when the power is turned off, then select "Disconnected"… You can even customize your automation for each event. Then just press "Further", to continue.
♥ BY THEME: How to find out the GPS coordinates of a photo (where it was taken) on an iPhone.
Select the "Speak Text" action
The only thing left to do is add the created action to your automation so that the iPhone or iPad speaks the correct phrase every time the device is connected to the charger.
Click on "Add action" or enter a word "Speak" in the search bar.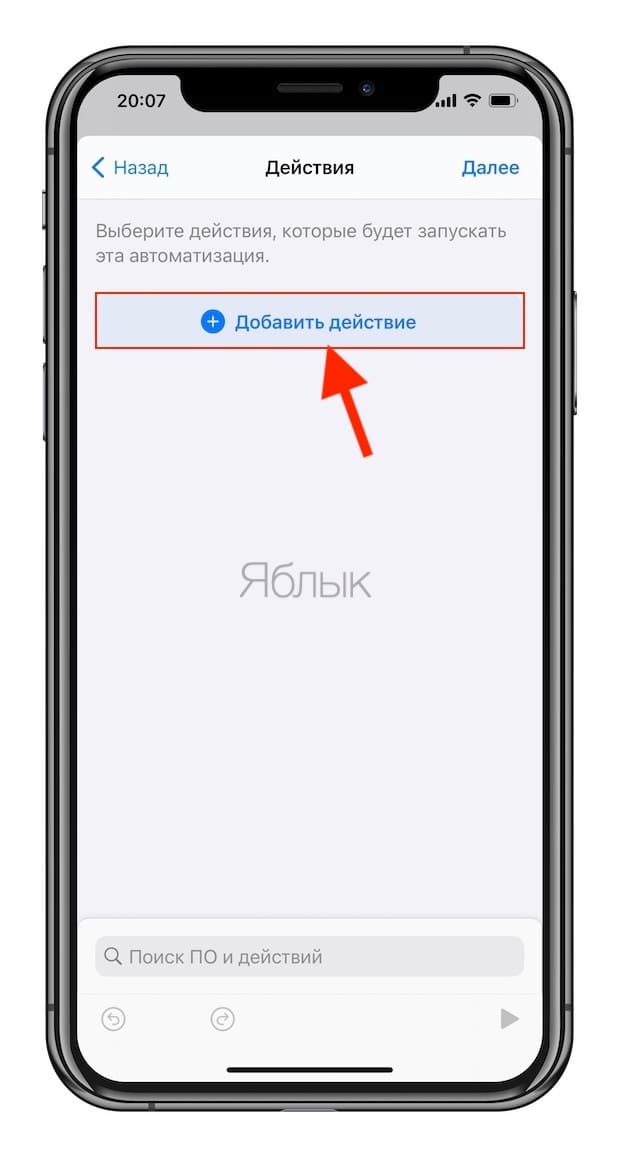 In the first case, find the item in the list of actions "Speak text" at the very top of the list.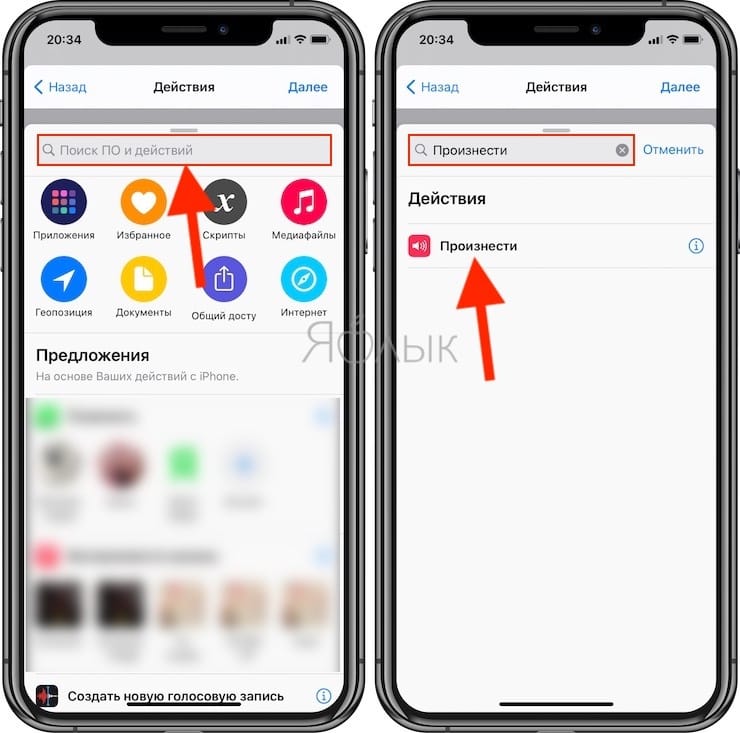 Tap it to add an action. In field "Speak text" touch the oval with the blue word "Text" and choose what you want to hear from the device. Your phrase can be as long as you like. And the use of capital letters will not affect what is said in any way. So you can write in both large and small letters. But punctuation matters. Using commas, you can form a short pause, and use a question mark to give the phrase the appropriate intonation.
If you want to adjust the voice, language, pitch or speed of the phrase, press "Show more" and adjust these parameters to your liking. Here you can press the play button to see how the phrase will sound in the end.
Set the Siri voice to Siri Female.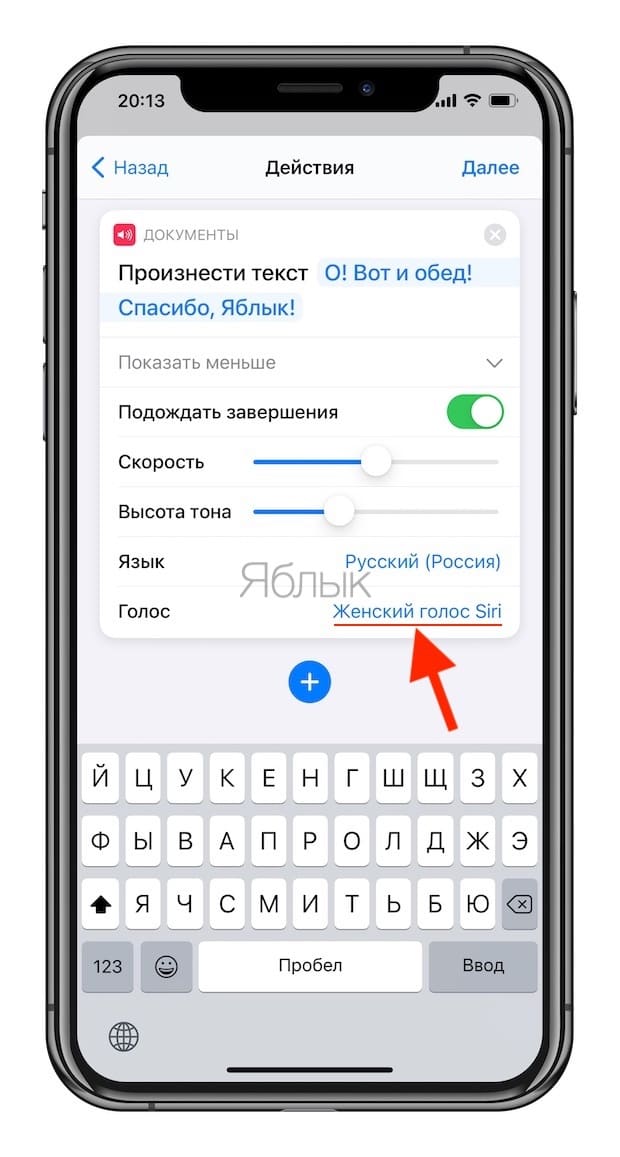 Plus, you can add more actions to this automation. It's up to you to decide. For example, you can make Siri say the phrase you want, and then immediately start playing a song or play a sound effect. As another example, you can add a Wait action to make Siri speak one, two, three, and so on. seconds after starting charging or turning off the power.
♥ BY THEME: My Photo Stream on iPhone: what it is, how to set it up, view it, turn it off, etc.
Disable the "Ask before launch" setting
After you finish configuring the action (or actions), click "Further", deactivate the slider "Ask before launch" and confirm by pressing "Not ask" in the pop-up window. Thus, the "Teams" will not ask you to start the automation every time the desired event occurs, which logically contradicts the goal of most automation. Finally press "Done"and your automation will be saved.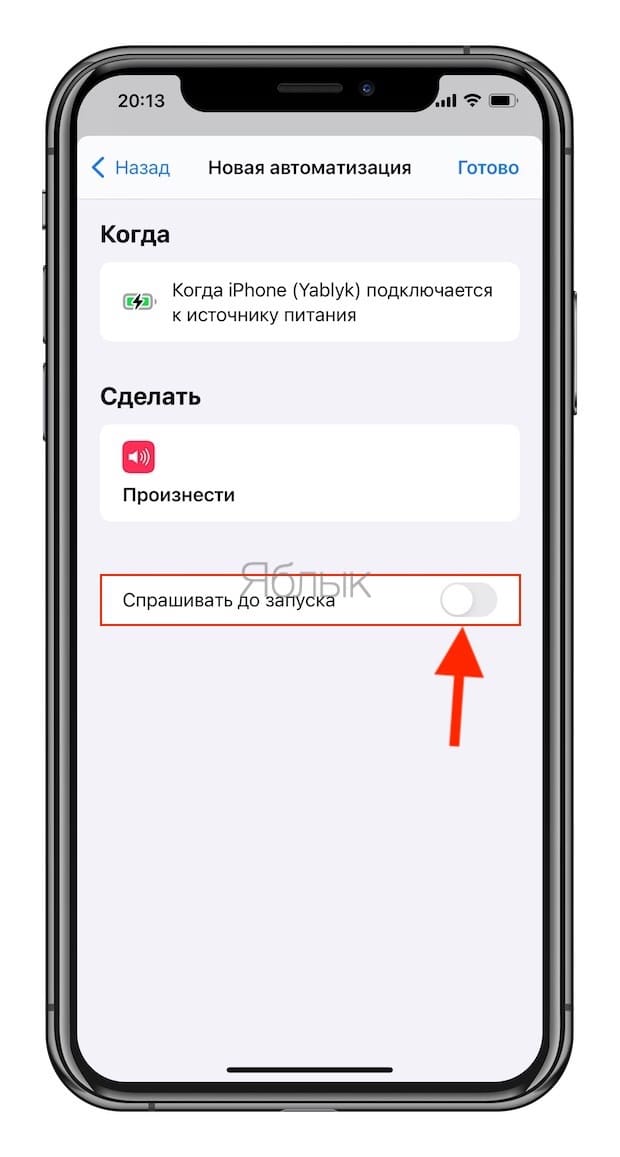 ♥ BY THEME: How to enable identifier of unknown numbers on iPhone for free.
Connect your iPhone or iPad to a power source
Whether you connect your iPhone or iPad using a cable or a wireless charger, from now on you will hear Siri's voice every time you plug into a power source A notification will appear warning you that the automation has started and then you will hear the input phrase.
♥ BY THEME: The face sings in the photo to the music: the program for iPhone and Android that does it.
Possible problems
When connected to a charger, the spoken text is almost inaudible, even if it sounds normal in the preview in automation, and you have the media and ringtone / alert volume set high, and Siri sounds normal when answering your questions. Decision… Tell Siri "Turn up the volume", then adjust the volume using the slider that appears.
When connected to a charger, the selected word or phrase sounds as if through interference, such as radio noise or other types of noise. Decision: unfortunately, it is not yet available. It seems that this bug is present in some versions of iOS 14, both beta and stable releases, as well as on some iPhone models.
See also: