If your iPhone, iPad and Mac meet the system requirements for Continuity and are connected to the same Wi-Fi network, you can easily switch your current cellular calls from one device to another.
♥ BY THEME: Is your iPhone taken when you sleep? How to check.
The question arises, why would you need to switch a phone call to a more bulky device, say, a tablet or computer? But do not forget that a larger device has a larger battery and a louder speaker.
Currently, the function of switching ongoing calls only works with regular calls over the cellular network. Calls using FaceTime and other third-party VoIP applications that use the CallKit framework to integrate with the Phone app (such as Viber and Skype) cannot be switched.
♥ BY THEME: How to turn on flash (flashlight) on calls and notifications on iPhone.
Which Devices Support iPhone to iPad and Mac Cellular Call Transfer
Before using this convenient feature, make sure your devices meet the system requirements.
Continuity (and its Handoff option) supports the following devices:
iPhone 5 or newer;
iPad Pro;
iPad (4th generation or later)
iPad Air or newer
iPad mini 2 or later
iPod touch (5th generation) or later;
MacBook (Early 2015 or newer)
MacBook Pro (2012 or newer)
MacBook Air (2012 or newer)
Mac mini (2012 or newer)
iMac (2012 or newer)
iMac Pro;
Mac Pro (2013 or newer)
♥ BY THEME: How to lower the iPhone screen to reach the top of the display with one finger.
How to route current phone call from iPhone to iPad or Mac
The devices must have Wi-Fi enabled and they must all be on the same wireless network. In addition, devices must be registered with the same iCloud account (Apple ID).
This function does not require Bluetooth to be turned on.
In the settings of the FaceTime app on Mac, activate the option Calling from iPhone…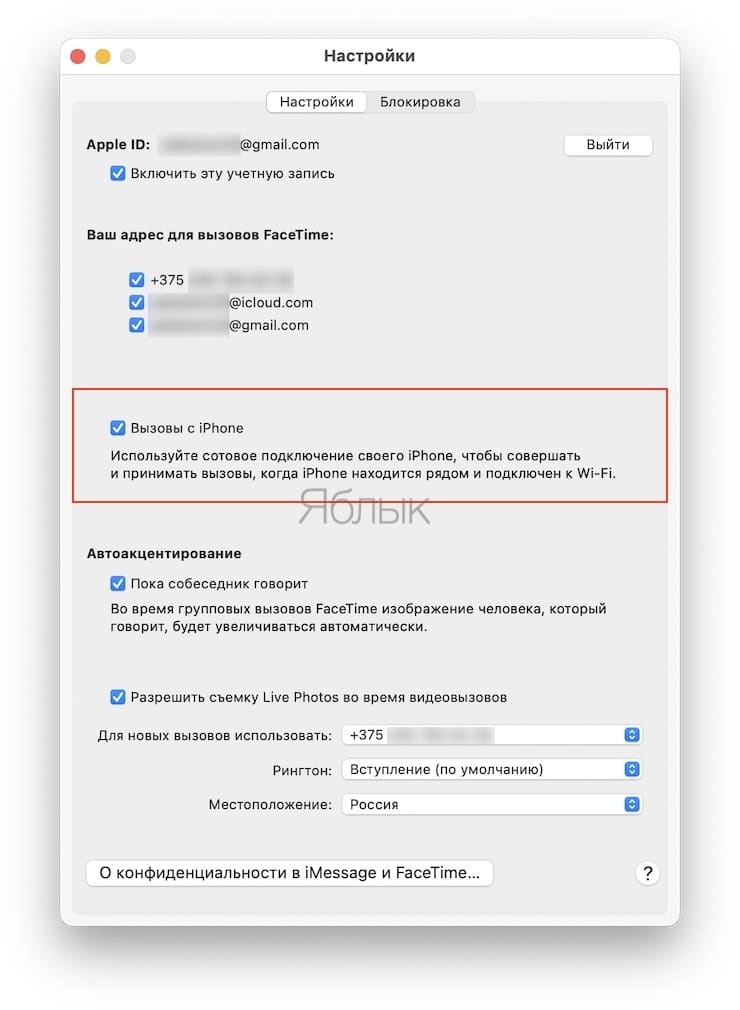 To switch calls, your iPhone and iPad must be running iOS 11.2 or later, and your Mac must be running macOS High Sierra 10.13.2 or later. With this feature you can:
Transfer cellular calls from iPhone to nearby iPad and vice versa;
Transfer cellular calls from iPhone to a nearby Mac.
With this function, you will not be able to:
Transfer FaceTime video and audio calls from one device to another;
Transfer cell calls from iPhone to Apple Watch;
Transfer cellular calls from iPhone to devices on another Wi-Fi network;
Transfer received cellular calls on Mac back to iPhone.
Important: This feature should not be confused with a feature that allows you to answer cell calls using your iPad and Mac. If you want to activate this feature, go to "Settings" → "Telephone" → "On other devices", enable the option "Allow calls" and select the iCloud device you want to answer calls from from the list.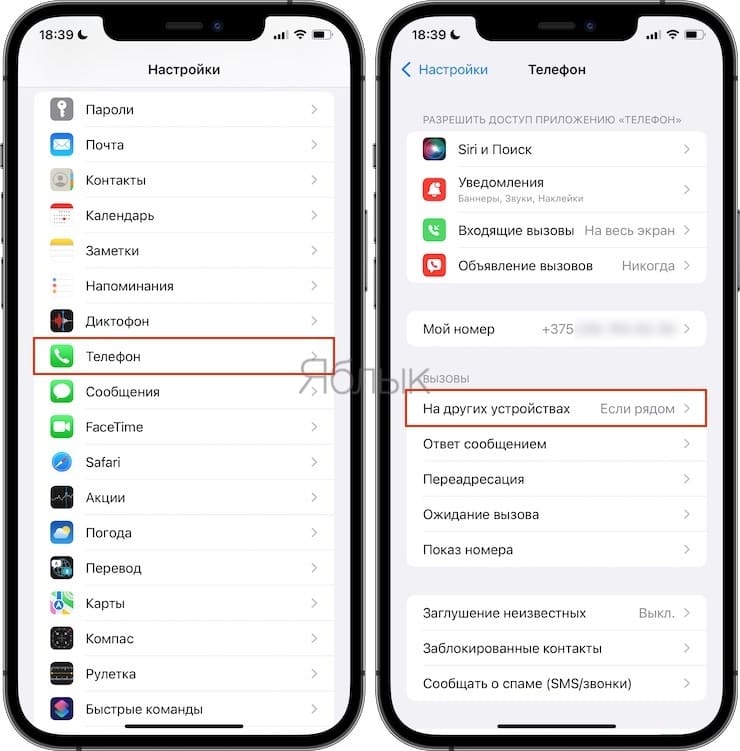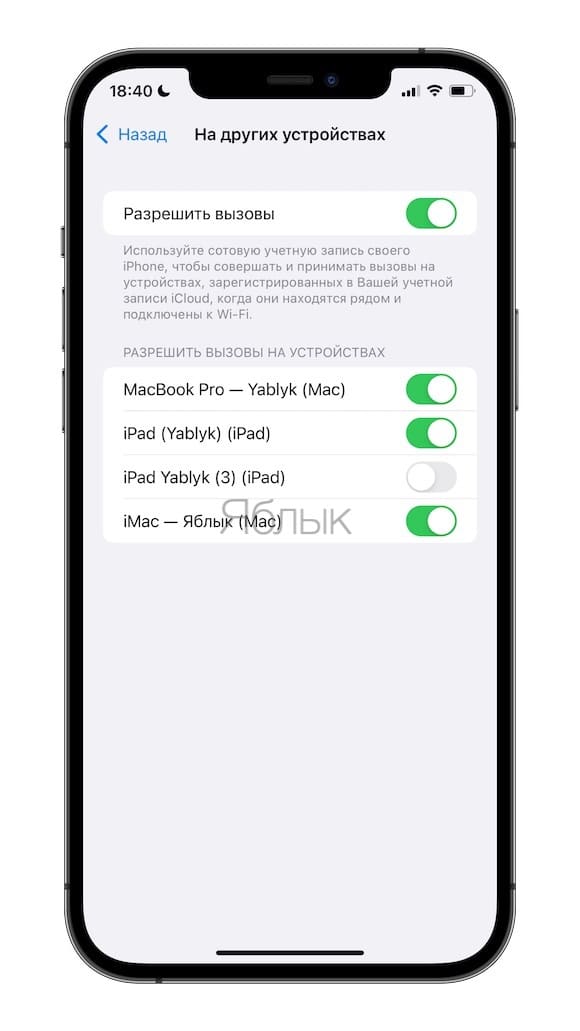 ♥ BY THEME: How to answer an iPhone call (Viber, WhatsApp, Skype) without touching your smartphone.
How to Switch Calls from iPhone to Other Devices
In order to switch the current cellular call from iPhone to iPad or Mac, you need to do the following:
1. Answer a call or call from an iPhone (the device must be running iOS 11.2 or later);
2. Press the button "Audio" on the screen;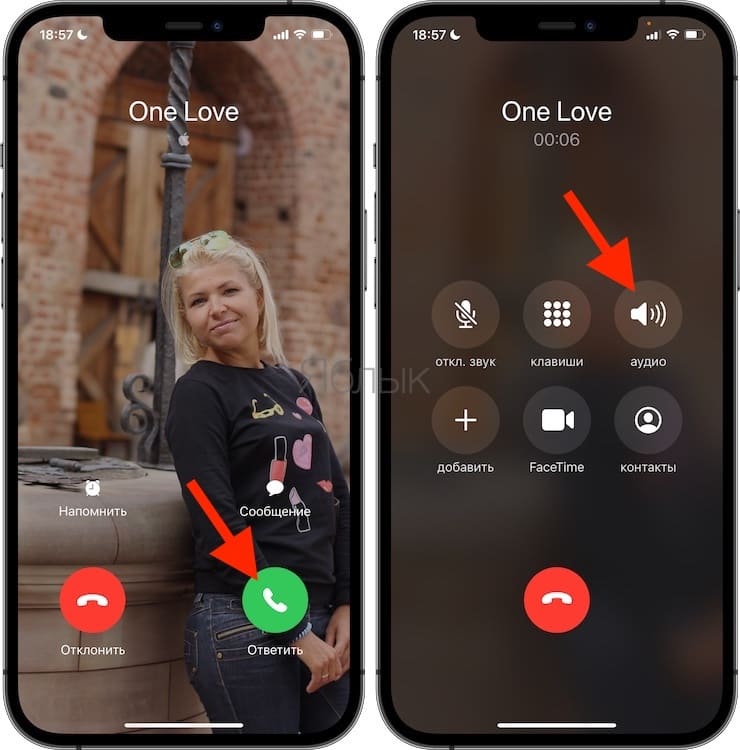 3. From the list that opens, select the iPad or Mac to which you want to transfer the current call.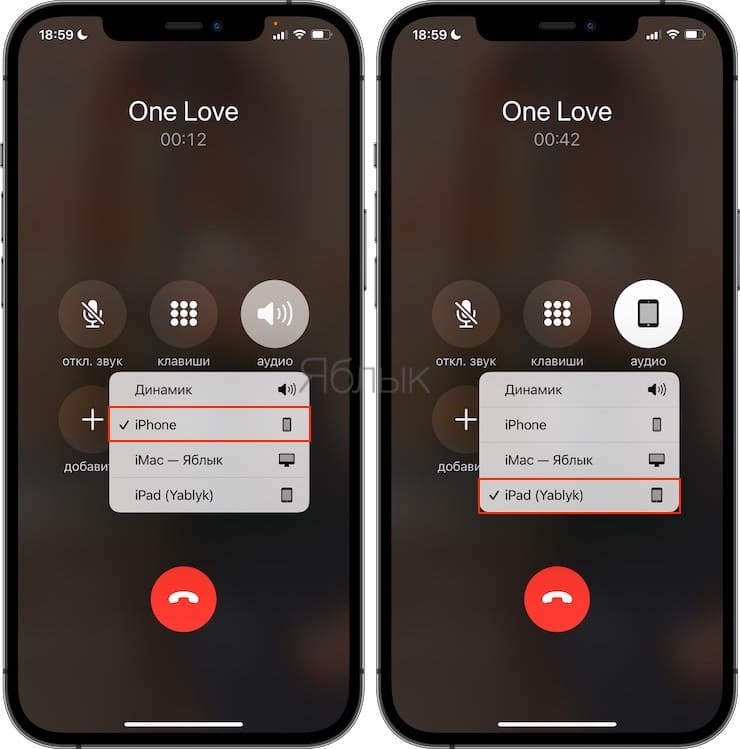 Prompt: If your iPad or Mac isn't listed, check to see if it's connected to a different Wi-Fi network (or Wi-Fi turned off altogether).
This feature is useful if, say, you answered a call from your iPhone, but the conversation dragged on, the battery began to run out, and you decided to continue the conversation on the iPad. To switch the call back to iPhone, simply select the device in the menu after pressing the button "Audio" on the screen. If you are not currently in the application "Telephone", just tap the green status bar at the top of the screen and you can go to the app "Telephone"… Remember, all devices must be turned on and on the same Wi-Fi network.
You can transfer a conversation from Mac to iPhone only if you initially answered the call from Mac. In other words, you won't be able to switch calls back and forth like you can with iPhones and iPads.
Despite the fact that the Apple Watch has always been positioned as a device that allows you to answer calls, you cannot transfer ongoing conversations to them from the iPhone.
Apple is renowned for its love of detail, and there are some nice little things in this case as well. For example, on the device where you redirected the call, an indicator will appear "From iPhone",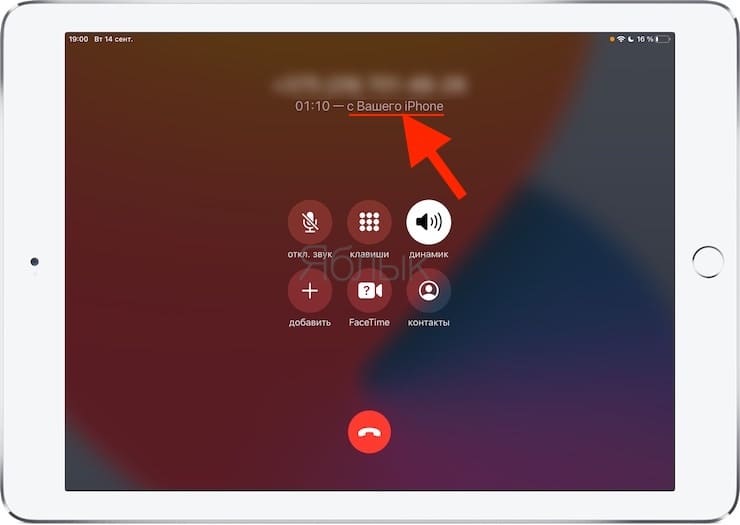 and on the iPhone itself, the button icon will change "Audio"Indicating where the call was transferred.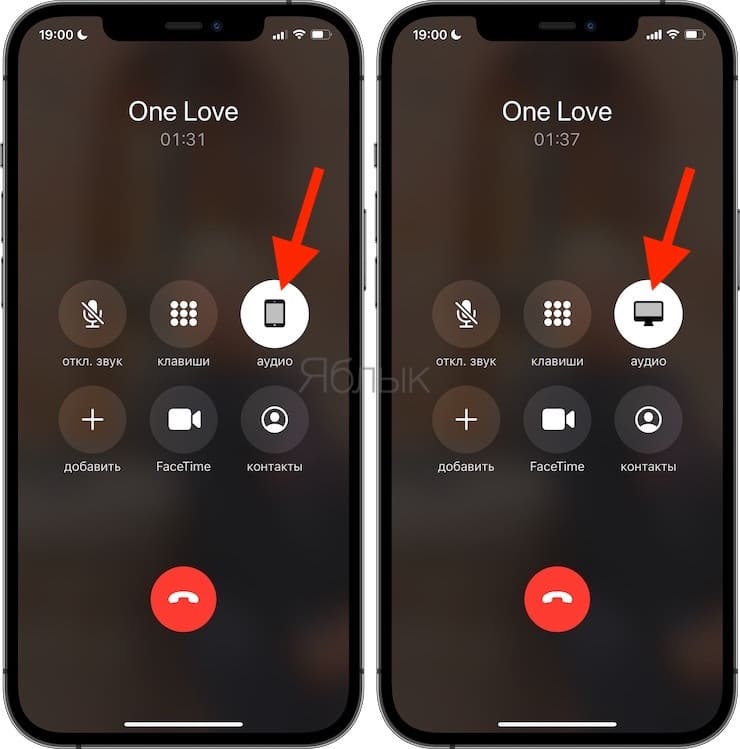 ♥ BY THEME: How to gift someone a paid game, program, or movie from an iPhone or iPad.
Why can't I switch calls from iPhone to iPad and Mac?
The following are the main reasons that can lead to
Make sure your devices are supported (the list of supported devices is at the beginning of the article);
Make sure your devices are linked to the same Apple ID in iCloud.
Enable Handoff on all devices: Settings → The main → AirPlay and Handoff;
Turn on Wi-Fi on all devices;
Turn on the option "Calls from iPhone " on Mac.
Reboot your devices.
See also: