Have you heard that you can swim with an Apple smartwatch, but still hesitate to give it a try? This guide will instill confidence in you and tell you how to do it right.
♥ BY TOPIC: Unlocking Mac with Apple Watch: How to Set Up?
What Apple Watch and bands can you swim with?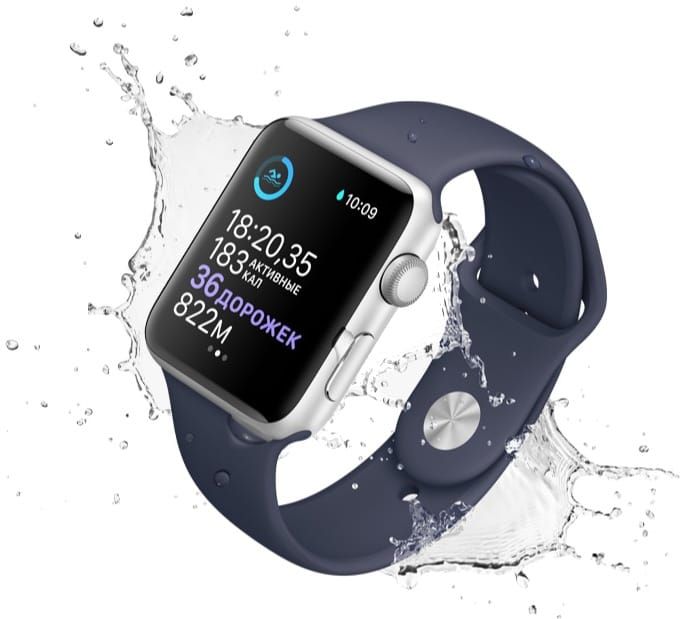 The first step is to make sure your Apple Watch is water resistant. And this is not as easy as it seems, since moisture protection should be dealt with both for the watch case and for the strap separately.
As for the watches themselves – all Watch from Series 2 and newer are protected against ingress of water (details).
If you have the very first Apple Watch, or a Series 1 model, then you can't swim with them…
And what about the straps? Perhaps the best choice for swimmers is the sporty version made from fluoroelastomer (included). As noted by Apple, it is "highly durable, durable and surprisingly soft" … and it is also waterproof and dries quickly :). Alternatively, a sports bracelet is also suitable – but it is nylon, so it will definitely take longer to dry, and it will be much more difficult to keep it clean.
All other Apple bands are made of leather or steel, so they are understandably unsuitable for swimming.
Buy Apple Watch SE…
Buy Apple Watch Series 6…
♥ BY TOPIC: Tap on iPhone Cover – Take a screenshot: How to bind actions to tap on the back of an iPhone.
Select the correct mode in the Workout app
Apple offers two different sports screens via the app Workout – Single value or a set of several (Different meanings). In the case of swimming, the latter is by far the best choice.
Why? In single mode, you can switch between indicators by rotating the Digital Crown. But if you find yourself in the water, this opportunity will be blocked, and you will find yourself "tied" to a single metric throughout the entire session.
So in the Apple Watch app on your iPhone, select Workout → View → Various values…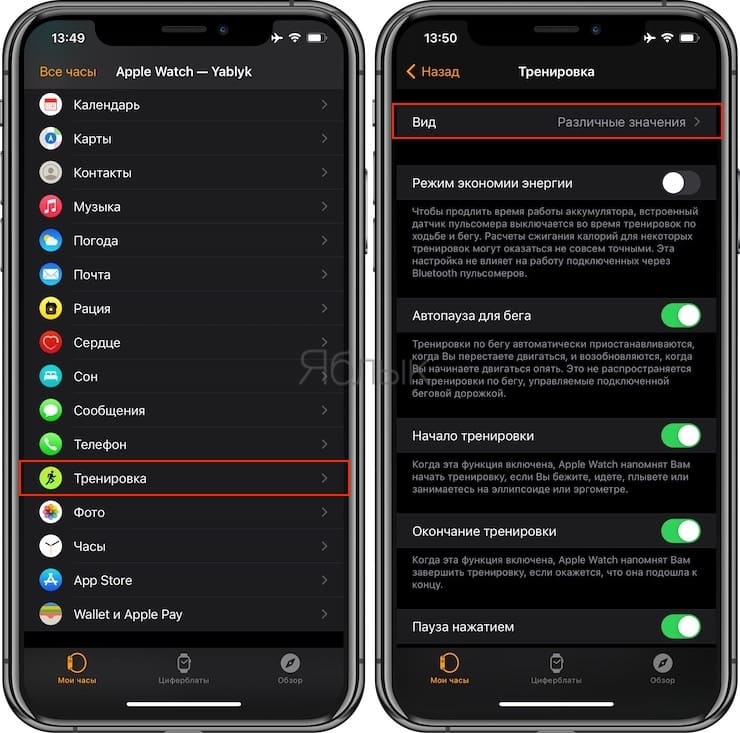 In this mode, you yourself can specify what indicators you would like to see on the screen during training. To do this, in the Apple Watch application on the iPhone, follow the path: Workout → View → Various values, select a workout Swimming in the pool (or another, if necessary).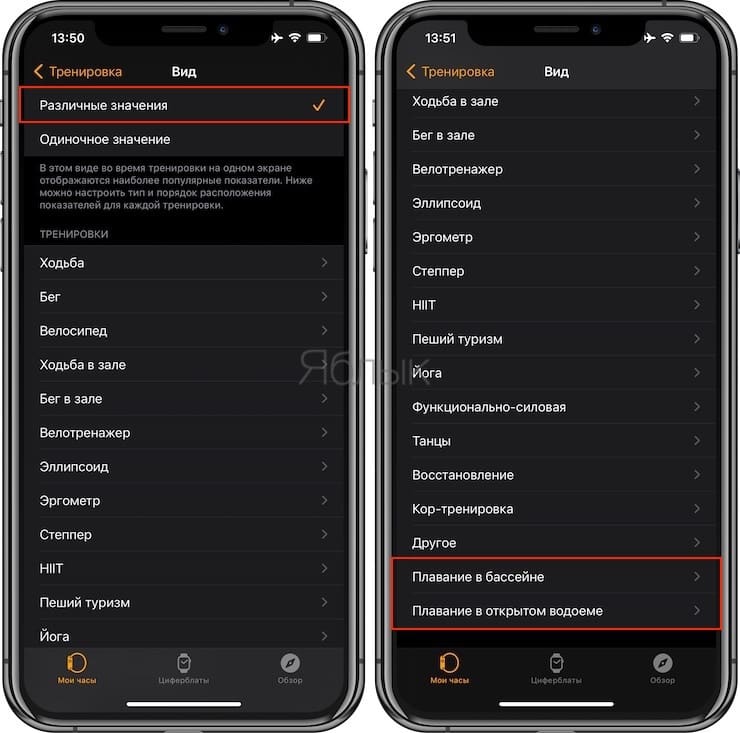 Click the button Edit in the upper right corner and add to the menu Indicators required values.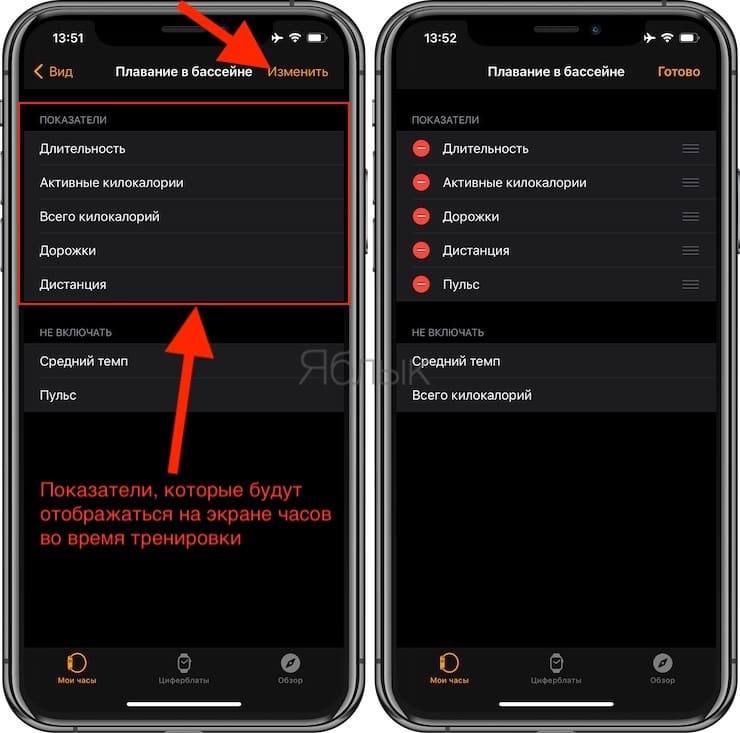 ♥ BY TOPIC: 20 iPhone Camera Functions Every Apple Smartphone Owner Should Know
Find out how long the lane is in your pool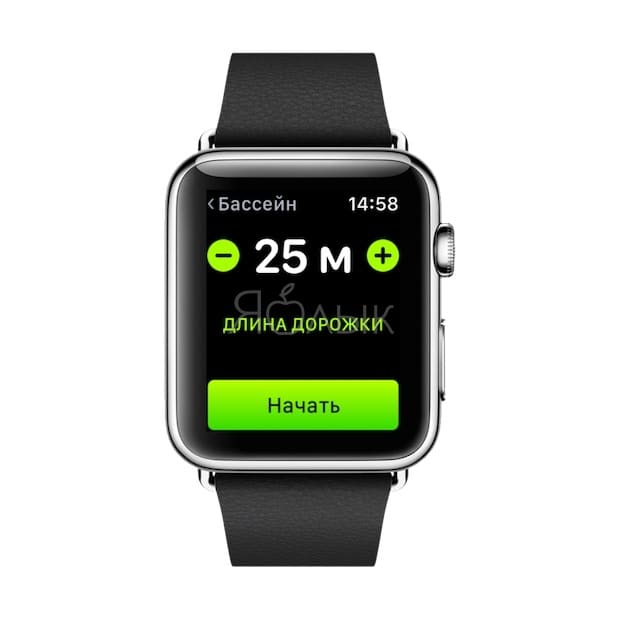 It's simple – without this knowledge, you will not be able to correctly assess your results. Why? The fact is that indoors, the Apple Watch will not be able to correctly determine your location. Instead of GPS, the watch's built-in accelerometer is used, and you will have to manually enter indicators such as the length of the distance before starting classes. An erroneous indicator was entered – the results were incorrect.
♥ BY TOPIC: How to add a voice alert when charging an iPhone or iPad.
Waterproof mode in Apple Watch
Important!
Before swimming with your Apple Watch, you must turn on "Waterproof Mode," which locks the screen during exercise to prevent accidental taps on dripping water, and at the end of your workout pushes any remaining water out of the device.
Screen lock mode turns on automatically, when starting workout Swimming in the pool or "Swimming in the open air"…
In addition, "waterproof mode" can be enabled and forced at any time without having to start a workout. For this:
1. Go to the Apple Watch splash screen home screen.
2. Swipe up from the bottom to bring up Control Center.
3. Press the drop button.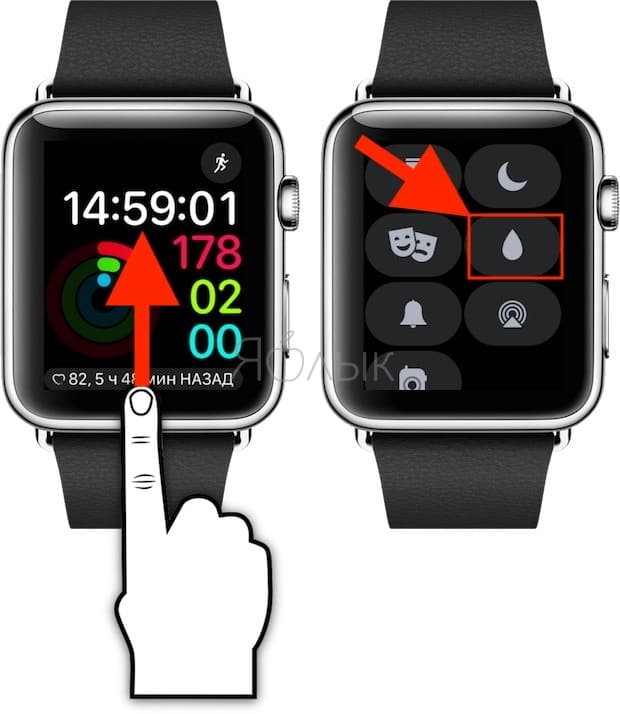 The fact that the swimming mode has been turned on will be indicated by a drop icon that appears.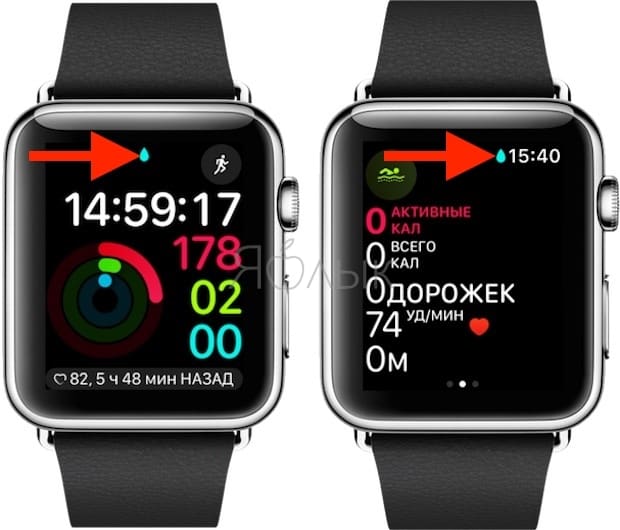 Swimming mode partially locks the watch screen (only displays the home screen or exercise screen when touched).
To exit swim mode, turn the Digital Crown several times. After that, the watch will emit a special sound and push the remaining water out of the holes.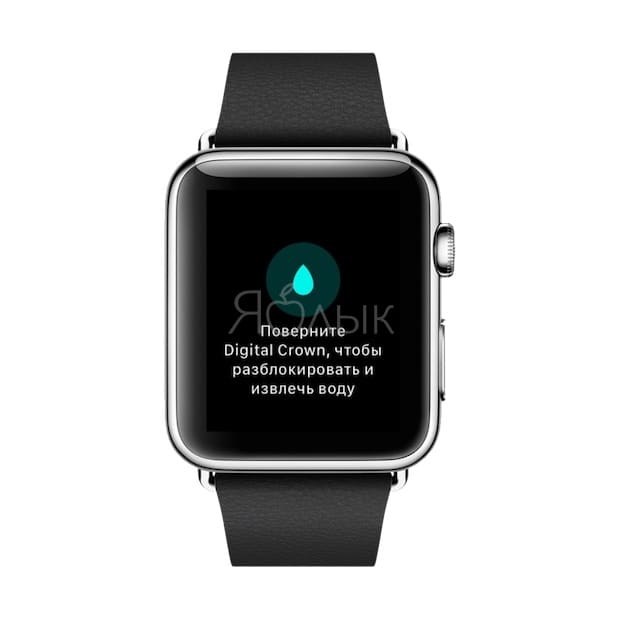 This is how it looks:
Slow Motion Water Ejection Mechanism:
https://www.youtube.com/watch?v=KgTs8ywKQsI
♥ BY TOPIC: How to find an iPhone with the help of Apple Watch if it is lost in the dark.
Set everything up before getting in the water
Why? In a very humid environment, the Apple Watch display is less responsive to touch.
When you turn on your swimming workout, the watch will "know" that you are in the water and turn off the screen (so that it is not damaged by the water). If you want to stop or restart your workout, press the Side Button and the Digital Crown at the same time. And yes – touching the screen "wakes up" the screen from sleep (but nothing more).
Strictly speaking, there is practically no need to operate the watch during training.  Watch automatically collects the statistics you need during your workout.
♥ BY TOPIC: Apple Watch Battery Dries Up Quickly: What to Do?
How to start a swimming workout on your Apple Watch
1. Open the app Workout on Apple Watch.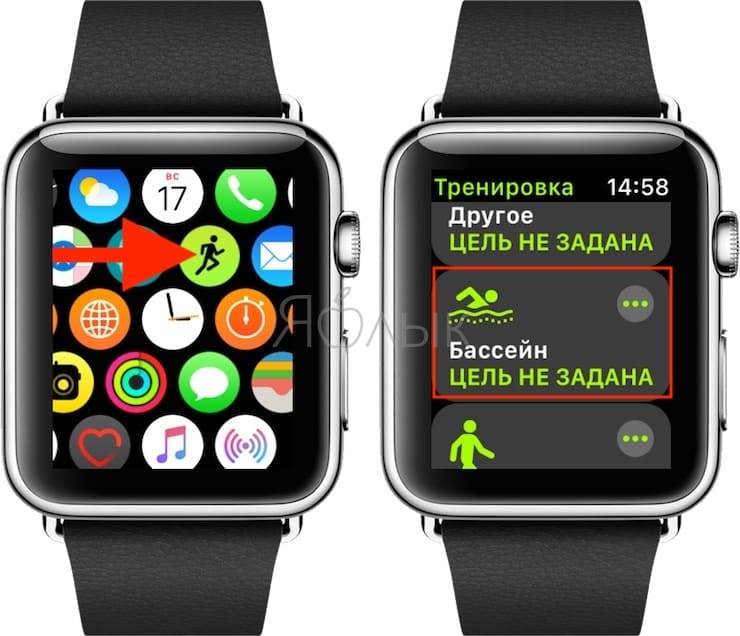 2. Select a workout Pool from the list.
3. Specify the length of the track (pool) and press To begin…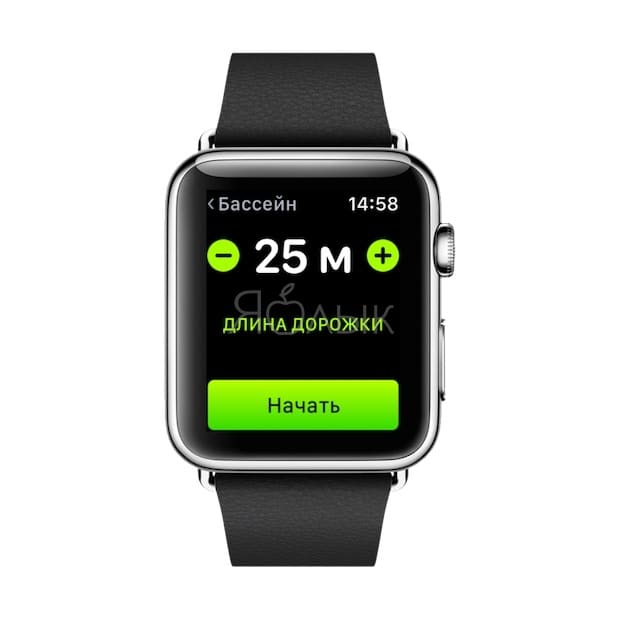 4. The workout will begin, and with it will turn on Waterproof mode, which will be indicated by the presence of a drop icon.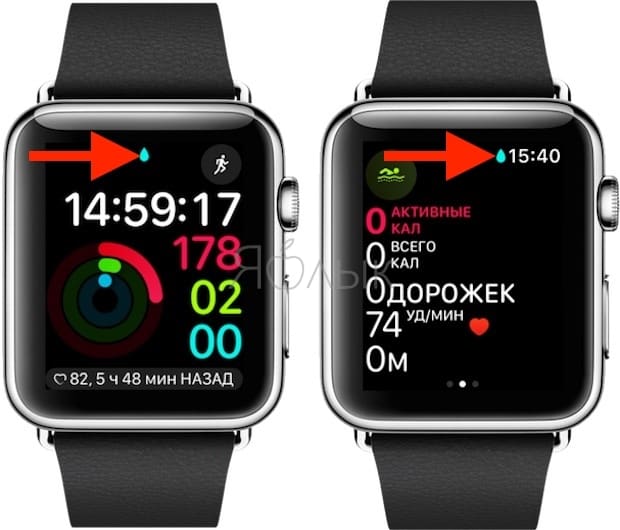 ♥ BY TOPIC: 10 things you can do while on an iPhone call
How do I stop a workout on Apple Watch?
To do this, press the side button and the Digital Crown at the same time.
♥ BY TOPIC: How to automatically change wallpaper on iPhone or iPad based on time, place, etc.
How to swim (train) in the pool for a beginner?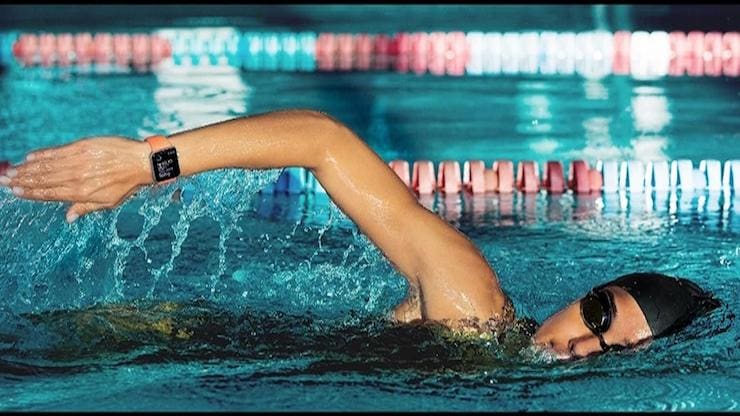 There are 4 main stages of training:
1. Warming up
Swim a few meters at a calm pace to smoothly "speed up" the heart and allow the body to get used to the water temperature. If your watch does not immediately show the pulse – it's okay, try a little later in the water, this function works a little worse. In any case, at the end of the workout, you will see detailed statistics of all monitored parameters in the application. Activity on iPhone
2. Training arms and legs
It is needed in order to develop swimming technique. For example, a leg movement exercise works like this: pick up a swim board and concentrate on working your legs properly. With arms, the opposite is true – you wrap your legs around the buoy (or the same board) and work only with your hands.
3. Main part
You are actively practicing, putting into practice the skills learned in the previous exercises. Organize the work at this stage as you like – you can swim for a while or do a certain number of heats with short breaks.
4. Roll up
Take a few leisurely swims in order to gradually return your heart to its normal rhythm.
♥ BY TOPIC: 3 types of flashlights in Apple Watch: what you need, how to turn it on and off.
Track your progress in the Fitness (Activity) app on iPhone
All information about your workouts, be it third-party applications or Apple system software, is streamed into the program Fitness (formerly called Activity) on your iPhone. You can track information only on training in the pool using a special filter. There is more than enough data for classes: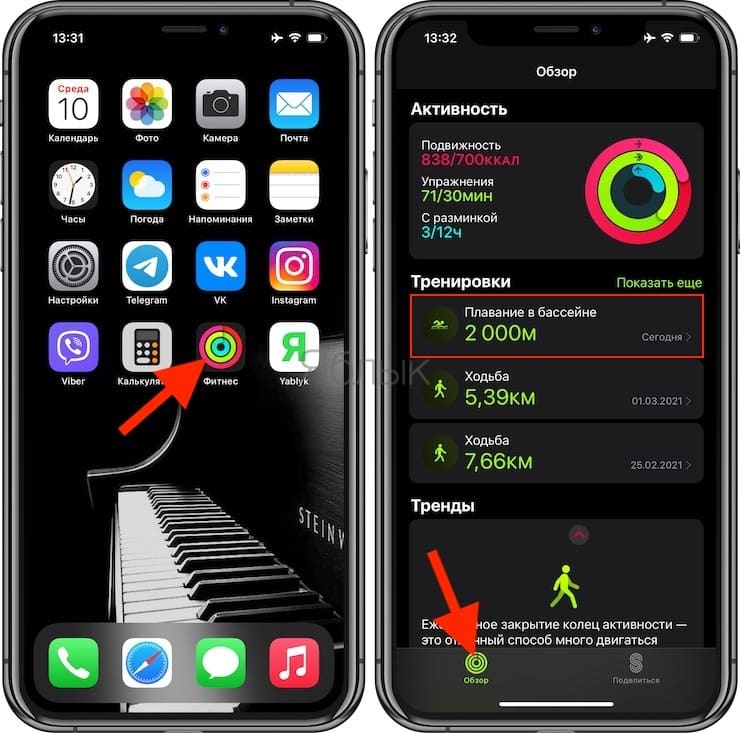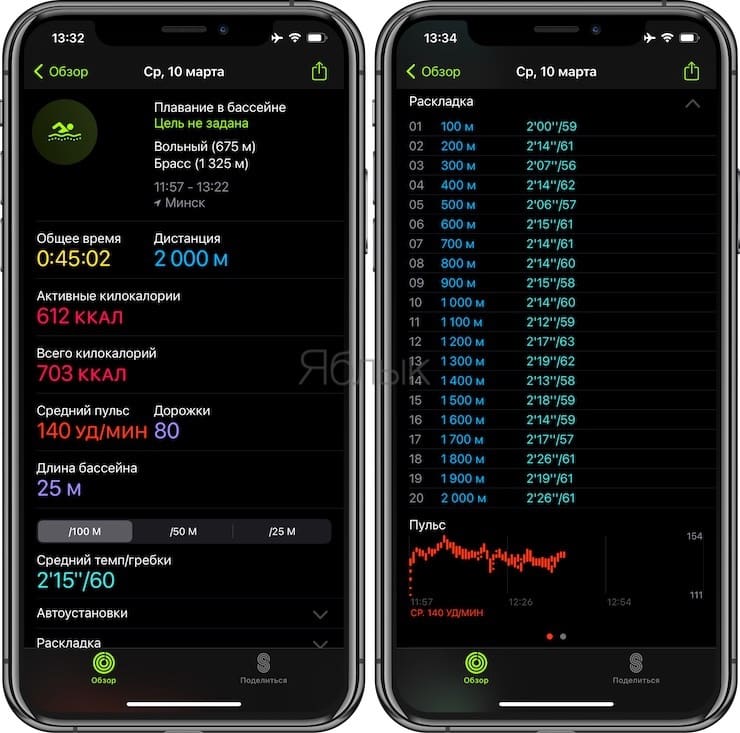 … If you have not swum for a long time, then you are probably a little shy about returning to the pool (dissatisfied with your shape, afraid you have forgotten how to swim, etc.). And completely in vain! You will see that people of all shapes and sizes are swimming, and everyone is busy exclusively with their own business.
Swimming is more rewarding than running because the water supports you as you move and does not negatively affect the knees. So what are we waiting for? Grab your Apple Watch and go! :).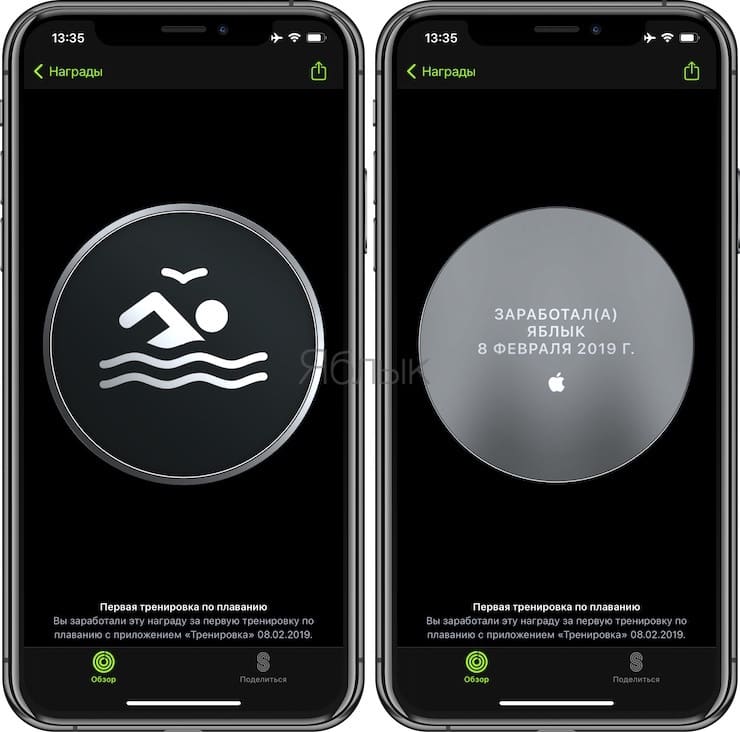 See also: