Among all the new features in iOS 15 (installation instructions), the Live Text feature seems to be the most requested. It also works on iPadOS 15 and macOS Monterey. The essence of this function is that it extracts (recognizes) words from images and then inserts them into notes, emails, etc. Users have already appreciated the capabilities of Live Text on both iPhone and iPad, finding the experience truly amazing.
♥ BY THEME: How to reduce background noise in iPhone video calls (highlight voice).
What is Live Text for?
Many people have formed the habit of not memorizing, but simply photographing the information that will be needed later. But Live Text makes this procedure even more useful. Instead of saving the entire image, you can turn the text in it into a note or reminder.
For example, while walking, you can immediately read the name of the restaurant you are interested in on the sign. And then you can search for this place on the Internet. Or, suppose the administration of the establishment wrote the Wi-Fi password on the board. You can not enter it letter by letter, but use the iPhone camera to capture text, after a couple of seconds you can insert it into the settings of your device to connect to a public network.
Students, on the other hand, can copy what is written on the board (the function even recognizes handwritten text), so that they can then paste it into their notes. This feature should be useful for people who are writing something on a whiteboard at meetings or lectures.
♥ BY THEME: On the iOS 15 home screen, you can host the same app multiple times.
What iPhones, iPads, and Macs does LiveText run on?
For the LiveText feature to work, you need relatively new hardware. The feature will require at least an A12 Bionic processor (released in 2018) in your iPhone or iPad. Plus, Live Text only works on M-Series Macs, not previous Intel-based computers.
♥ BY THEME: Do I need to remove the charger from the outlet when nothing is charging.
How to Recognize Text in Photos with Live Text in iOS 15?
The Live Text function is very easy to use. In fact, no training is required.
Let's look at an example. Let's say you find a recipe you like in a magazine. Take out your iPhone or iPad, open the built-in Camera app and act as if you were about to take a photo of text. Wait a second or two and a small icon will appear in the lower right corner. Click on it and a popup will appear with text in it.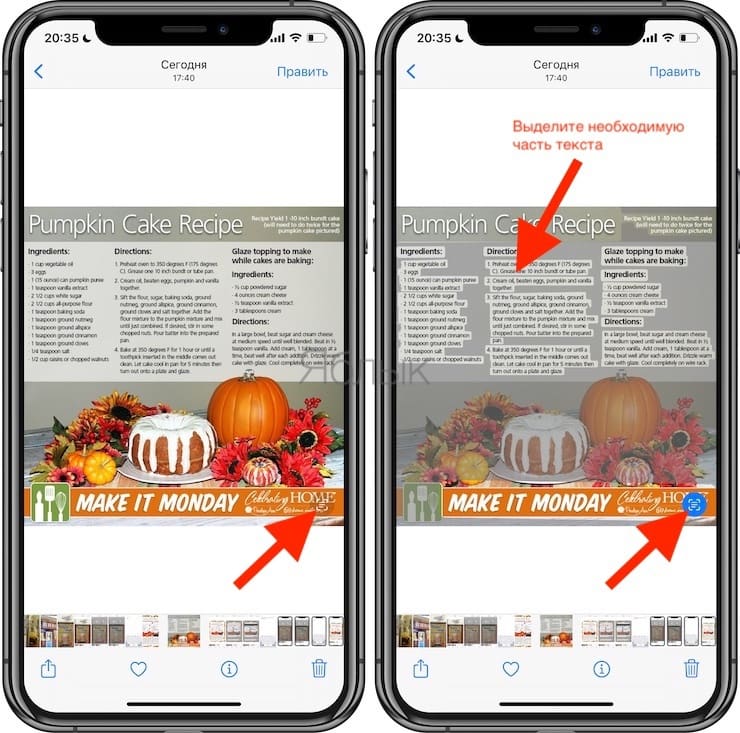 Here you can select words, sentences, etc. that you want to copy. Click share on the pop-up menu.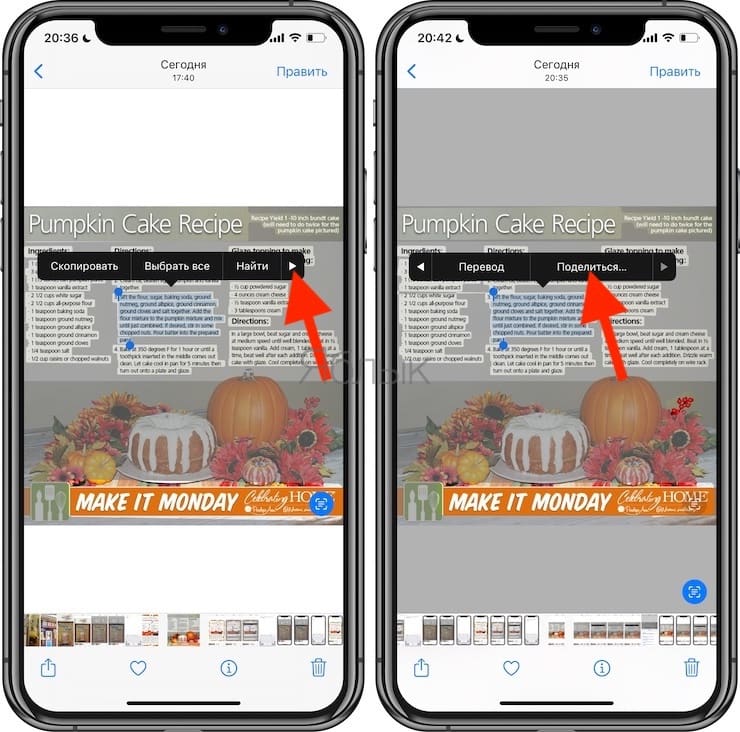 Select the application to which you would like to export the selected text.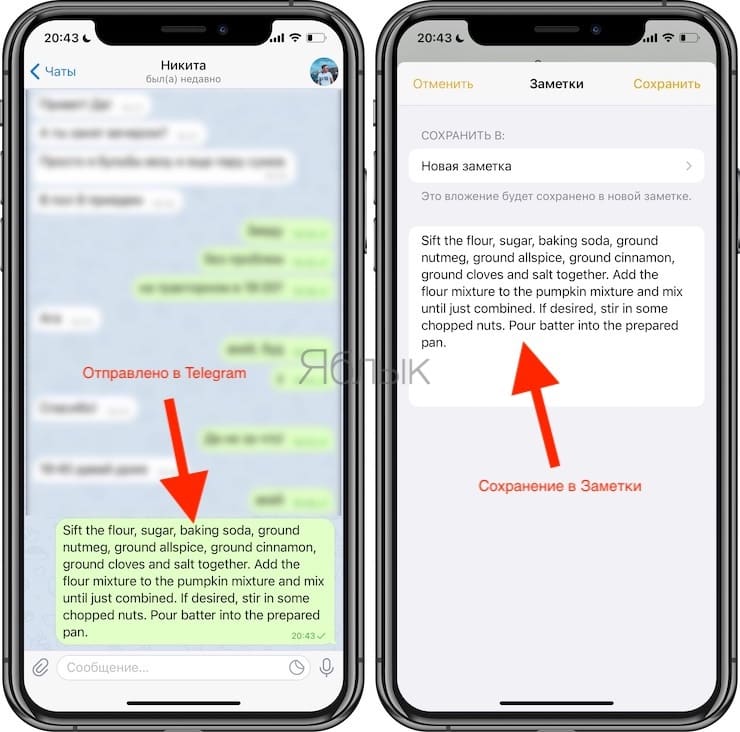 A similar process works with images in the Photos app. In this case, all the text will be immediately shown in the picture. Then you can select the parts you want. Sometimes the special icon is not displayed. In this case, press and hold the text you want to highlight. It will be selected if the characters are not too distorted.
Also Live Text can often pull words from images on web pages. During testing, this option has not yet proved to be very reliable, but you need to understand that work was carried out with the first beta versions of iOS 15 and iPadOS 15. Apple has enough time to improve Live Text before the release of the final versions of its operating systems.
But even at this early stage, Live Text works almost amazingly. When copying anything printed, the accuracy is often 100%! And even in bad conditions, it is usually possible to capture almost all of the text.
The function also works with handwriting, including words written in italics. The recognition accuracy depends on how clear the text is, but it doesn't have to be perfect.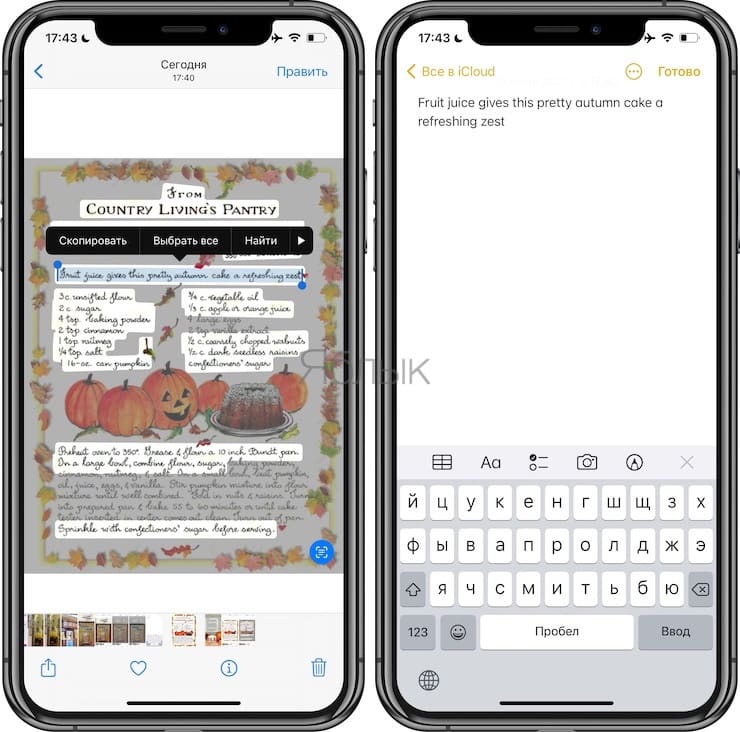 Of course, if the words are written in the famous "doctors' handwriting," then problems can arise. The function was tested on several notes and the results were 95% correct.
♥ BY THEME: How to blur background during video calls on iPhone (WhatsApp, FaceTime, Instagram, Telegram, etc.).
What languages ​​does Live Text work with?
Unfortunately, the Live Text feature currently only supports seven languages: English, Chinese (both simplified and traditional), French, Italian, German, Spanish and Portuguese. We really hope that support for the Russian language will appear in the next updates of Apple operating systems.
But even now, Russian-speaking users can use this function, for example, while traveling – Live Text can translate text into Russian and other languages.
♥ BY THEME: 20 iPhone features that can be disabled for most users
How to translate text with Live Text
Live Text is likely to come in handy for travelers because the feature is closely related to Apple's translation service. A simple use case is to take a snapshot of a menu, then open it, press and hold a phrase to select it. In the pop-up window, select the Translation item, which will allow you to translate the text into the required language (including Russian).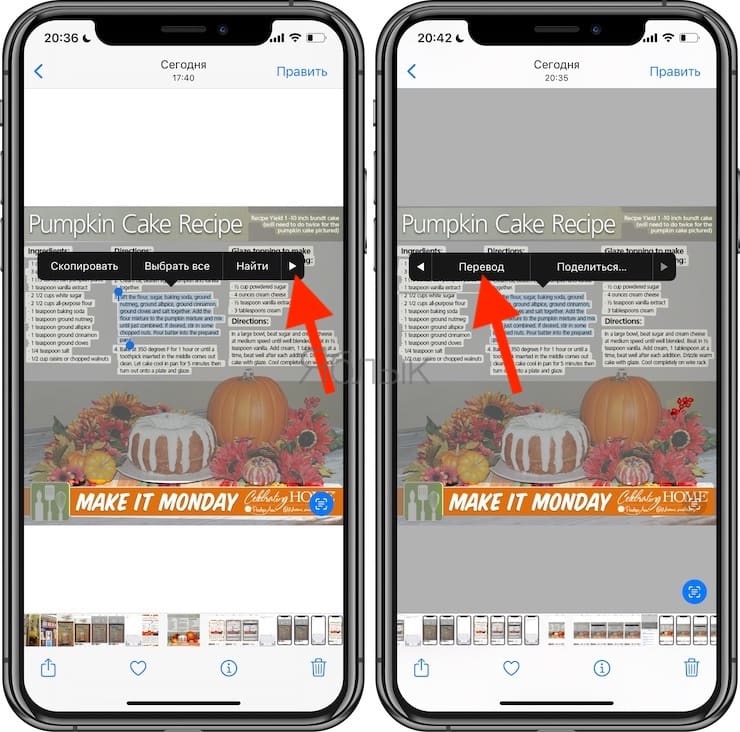 The first experience of interacting with such a bundle turns out to be interesting and quite useful. Yes, the translation is not perfect. But, being in a foreign country without knowing the local language, such a tool for forming an order will also help.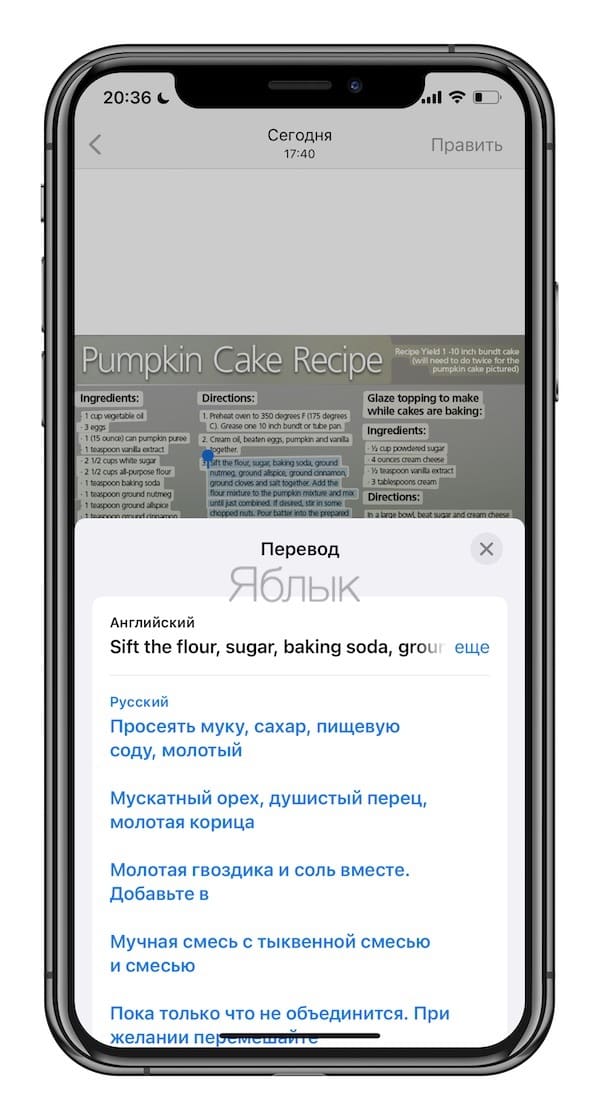 ♥ BY THEME: How to change metadata for location, dates, etc. pictured in iPhone.
LiveText is a text recognition system for everyone, everywhere
Live Text is, of course, just an OCR application. This technology has been around for several decades (a review of the best OCR applications for iOS and Android). But iOS 15, macOS Monterey, and iPadOS 15 have integrated this feature nicely. Live Text turned out to be handy and works very quickly.
And since Apple is the developer of the feature, the process is done with privacy in mind. The word recognition feature works directly on your device. The image is not uploaded to some remote server. Not only is this good from a privacy standpoint, but it also means you don't need a fast internet connection or any network connection at all.
See also: