[ad_1]

Today, the Internet is a space for study and work. Any active person visits many sites, links to which need to be kept. One solution would be to keep open tabs as bookmarks in Safari. But in practice, many users simply keep dozens or even hundreds of open tabs in the browser, which, in turn, "kill" the RAM and heat up the computer. Sound familiar? It turns out there is a very convenient way to save and restore open tabs.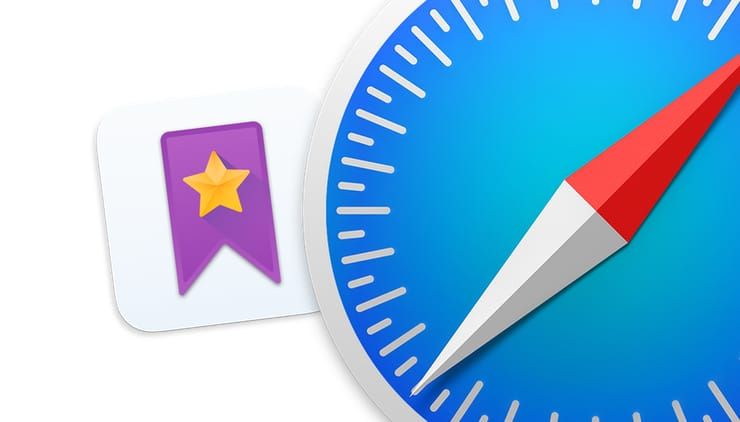 ♥ BY TOPIC: Unclutter for Mac Review: The best clipboard with file and note storage.
We will follow the tools for achieving this goal in the Mac App Store, where you can find several applications we need at once that allow us to save various web sessions (several open tabs, for example, open during the day or week) and, if necessary, restore them.
♥ BY TOPIC: How to change default folder icons to emoji emoticons in macOS.
How to quickly save all open tabs in Safari on Mac and then restore them if necessary
Expansion Tab Saver for Safari is a great addition to the standard macOS browser. With it, you can easily restore open Safari tabs in whole individual sessions of any age, as well as perform other actions with them.
So how to work with the application Tab Saver for Safari…
1. Download Tab Saver for Safari from the Mac App Store and open it.
2. Press the button Enable Tab Saver…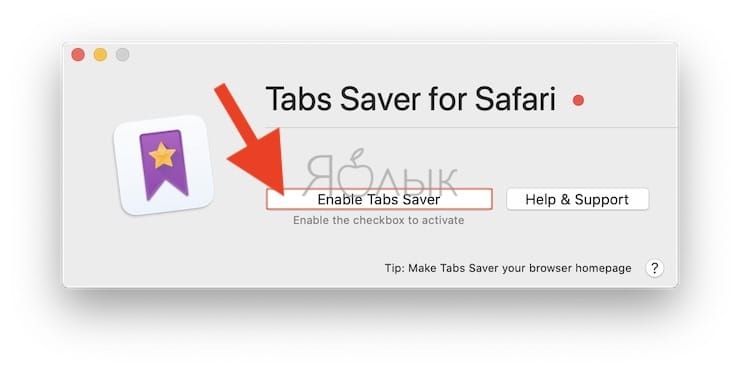 3. This action will open the section Extensions in Settings Safari browser.
4. Check the box next to Tab saver in the sidebar on the left.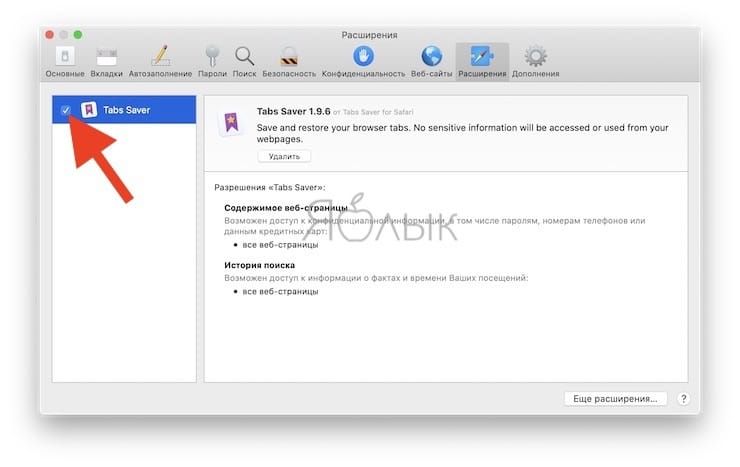 5. To launch the extension, simply click on the button that appears on the Safari toolbar.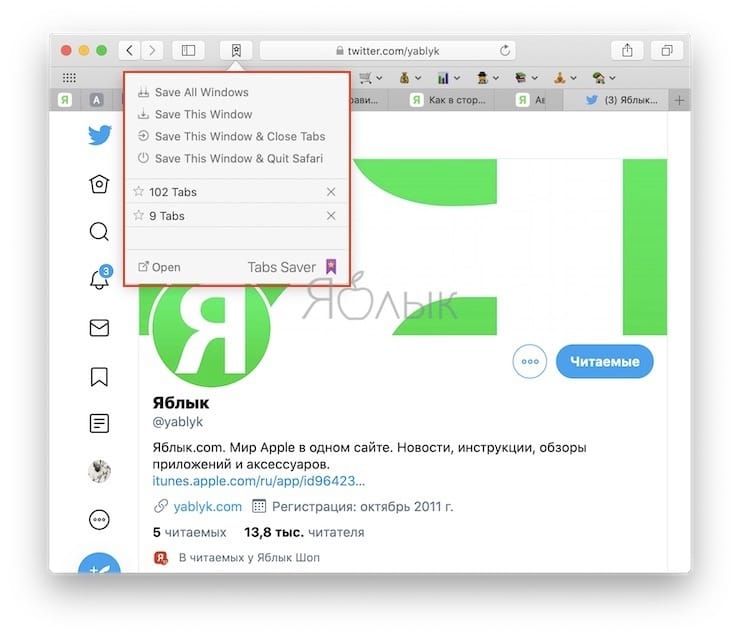 In the drop-down window, select the required action:
Save All Windows (Save all tabs in all Safari windows);
Save This Windows (Keep tabs of only active Safari window);
Save This Windows & Close Tabs (Save the tabs of only the active window and close them);
Save This Windows & Quit Safari (Keep tabs of only active window and close Safari).
Here you can also see previously saved sessions or launch a screen with detailed parameters (button Open).
After pressing the button Open, you will see all your saved sessions with a list of their tabs.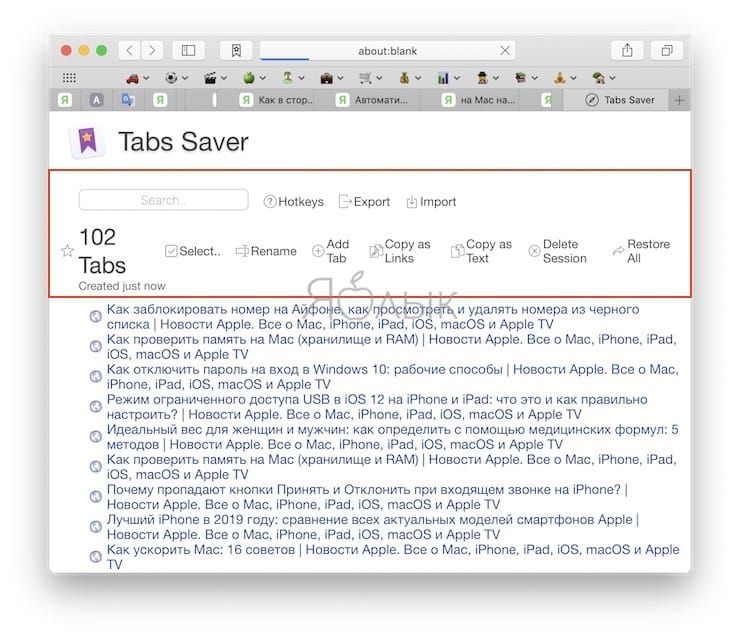 Several options are offered for each session:
Select (Select specific sites);
Rename (Rename session);
Add Tab (Add a tab to the session);
Copy as Links (Copy sites as links);
Copy as Text (Copy sites as text);
Delete Session (Delete session);
Restore all (Restore all tabs).
Any link can be clicked, opened, or removed entirely from the session. It all depends on the wishes of the user. The program provides the ability to export and import sessions. You can send the list of open tabs to yourself by e-mail, as a note or as a reminder. The program can store an unlimited number of tabs and sessions with the ability to edit. Links can be dragged and dropped directly between sessions.
♥ BY TOPIC: How to pin Safari tabs on macOS.
Why use Tab Saver for Safari
If your sessions will be placed in Tab saver, then this will allow you to save up to 90% of RAM, reduce energy consumption and computer heating, because your browser will actually work with only one tab.
Tab Saver for Safari – a very handy tool and fast proves its usefulness. The application can be purchased from the Mac App Store for 449 rubles.
♥ BY TOPIC: Hotkeys for deleting files to the Trash on macOS.
Other programs to easily save Safari tabs
If you just need to quickly save somewhere tabs or Safari session, then you can use the free Toast program, which allows you to quickly save and restore tabs.
If saving Safari tabs as bookmarks is just not enough for the work you are doing, use Tab Saver for Safari and the awesome features of this extension. What solution did you choose for such purposes and can you recommend it to other people? Let us know in the comments!
See also:
[ad_2]