Modern smartphones offer functions that were previously unthinkable in them. So, in the iPhone 12 Pro and iPhone 12 Pro Max, a very interesting feature has appeared that allows you to measure a person's height.
♥ BY TOPIC: Tap on iPhone Cover – Take a screenshot: How to bind actions to tap on the back of an iPhone.
You don't need a tape measure for this – the smartphone takes over the task. All you need is a Roulette app, a camera and a LiDAR scanner. The last module is a proprietary feature of the latest flagship Apple smartphones, but a little earlier it appeared in the iPad Pro 2020 model. This module improves the functionality of augmented reality, and the ability to measure a person's height with it is fun, but highly demanded. Moreover, you can even measure the height of a person sitting in a chair or chair.
♥ BY TOPIC: How to teach iPhone to automatically turn on Power Saving Mode.
How to measure a person's height in iOS (iPadOS)?
1. Launch the Roulette app on the iPhone.
2. Point the smartphone camera at the person so that he is completely in the frame – from the tips of his feet to the top of his head. Literally right there on top, above the hair or headdress, a line will appear indicating the measured height.
3. You can take a picture showing the height of the subject by tapping the standard shutter button to the right of the central "+" button.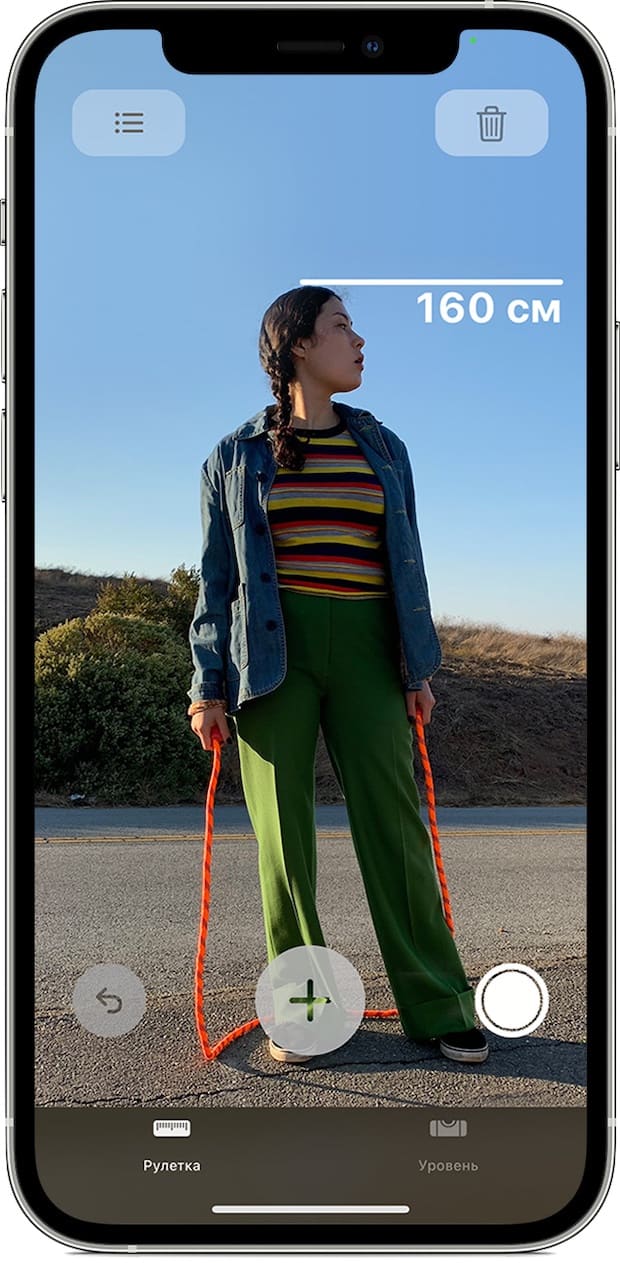 4. To save the photo, tap the photo in the lower left corner, then tap. "Done" and choose where to save the snapshot: "Save to Files" or "Save to Photo"… Now you can find a snapshot of a person with their measured height where you saved it. You can share this photo at any time.
And if you need to take a similar measurement again, then briefly turn the iPhone to the side to reset the measurements. Note that both imperial and metric units can be selected from the menu Settings → Measurements → Units of measurement…
♥ BY TOPIC: How to remotely connect to an iPhone or iPad and view its screen from a computer, Android or iOS device.
A few tips on how to measure your height correctly
Choose a location with good lighting, preferably no dark background or reflective surfaces. Make sure that the face and head of the person to be measured are not covered (mask, sunglasses, headgear, etc.).
See also: