Since we started working on the web, most of us have created a huge number of accounts in various online services. But today we hardly use even half of them. And the email address or phone number is ultimately misused. Let's try to find all the accounts associated with your email address.
♥ BY THEME: How to visually change the e-mail address in Gmail, but continue to receive letters to it: 3 ways.
This will require a review of all your accounts in general to update the data in them or deactivate them. Here are some ways to help you solve the problem and find all the accounts linked to your mailbox or phone number.
♥ BY THEME: How to schedule Gmail emails directly from iPhone and iPad.
Search for accounts associated with email (e-mail)
If you frequently log into apps and websites using a quick login button based on your email, then you most likely won't have to do a deep investigation to see the most recently created accounts.
To view profiles created with the popular option "Login with Google Account", just go to your email security settings. There you can see the list of connected applications in order to edit it or revoke access.
This section in Google can be opened by going to the control panel "My Account" by this link and there on the left by clicking on the section "Security". Scroll down to "Third-party apps with account access". It will list the apps that were signed in with your Google account. Click on the "Configure access for third-party apps", Which will make it possible to unlink programs from your account.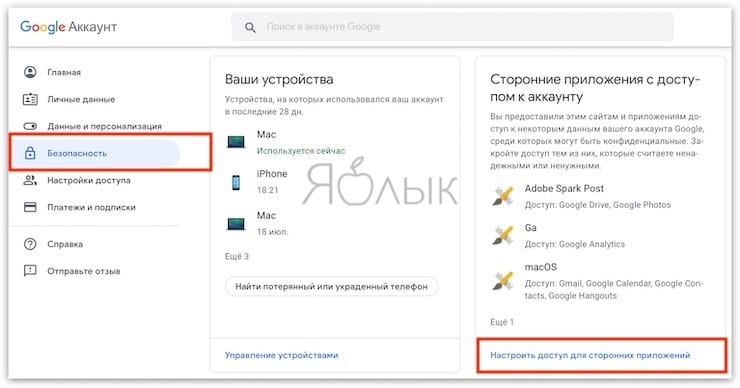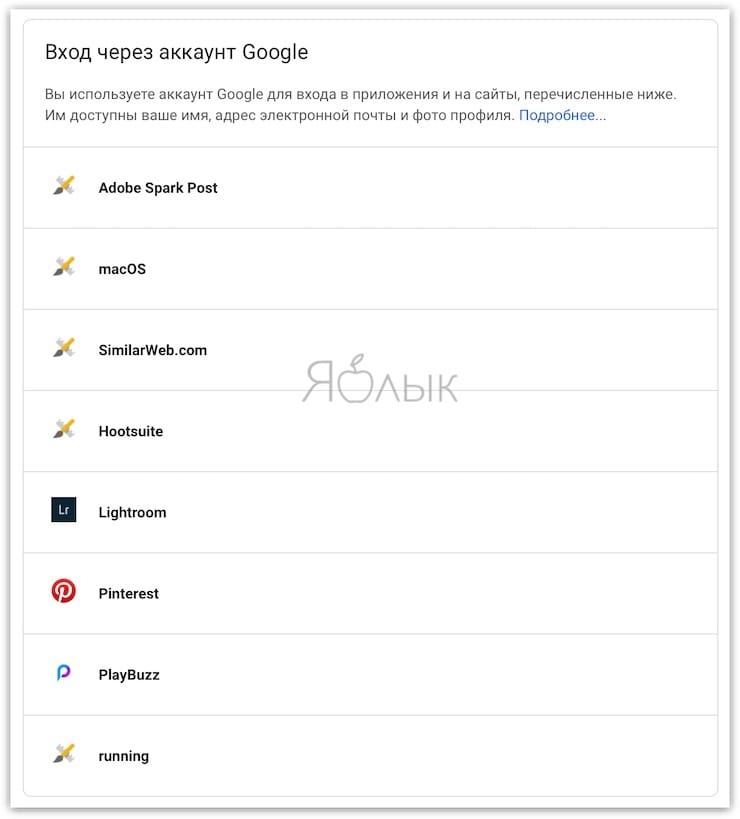 ♥ BY THEME: Disposable (temporary) e-mail inbox: the best services for creating self-deleting e-mail.
Search for registrations using social networking accounts Vkontakte, Facebook and Twitter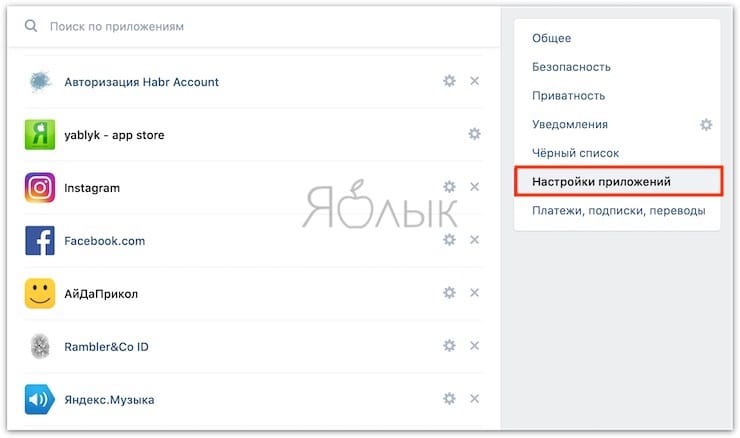 Now let's try to find those applications and sites that were logged in using social media accounts. In fact, the risks are increased when third-party services use their social media profiles. Depending on the permissions, you run the risk of transferring important confidential information to strangers in the form of a list of your friends, personal data, cell phone number, and more.
Fortunately, on platforms such as Vkontakte, it is possible to decide which services to give access to, and which to disable. So, you can keep access to an outside service, but disable it from accessing the pages you like on Facebook.
Vkontakte follow the path Settings -> Application Settings -> Connected Sites and Apps…
On Facebook go to Settings → Apps and sites.
On Twitter (web) go to More → Settings & Privacy → Apps & Sessions.
♥ BY THEME: VIP Contacts: How to set up Important Email List in Mail on iPhone, iPad and Mac.
Search in the "Inbox" for emails with verification messages
The two previous methods deal with simple authentication options. Now we will do a more thorough check. To do this, you will need to enter your e-mail and find letters confirming registration there. You will need to search for standard words in the header, because services send emails with similar templates when registering.
In addition, in Gmail, you can use search operators and keywords to filter specific topics. For example, when you enter the phrase in the search box subject: verify all letters with the word in the subject will be displayed verify… This will detect virtually all registrations and attachments associated with your email address.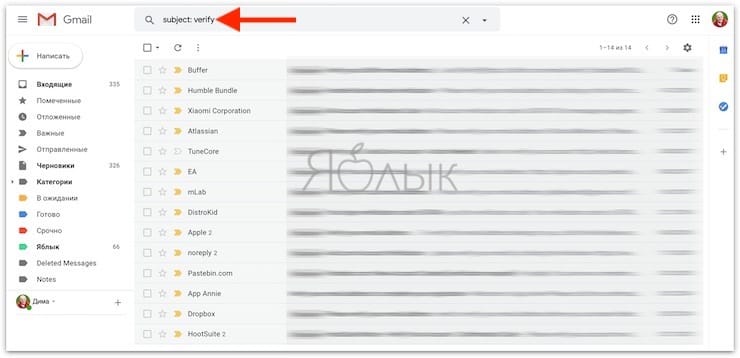 You can automate this task using an online tool like EmailExport. This site will analyze your emails with powerful filters and then organize the results in a spreadsheet. Although this service is not free, it can save you a lot of time. But even here it is worth being vigilant. The third-party service will get permission to read your Inbox, which puts you at risk of personal data leakage. EmailExport works for free with the first hundred messages, and if this number is exceeded, you will have to pay about $ 5 for each subsequent 250 messages processed.
♥ BY THEME: How to pass a Wi-Fi password to guests without naming it (QR code).
Instantly check all email related accounts
Another effective method on our list of ways to find accounts associated with your email is the Deseat online service. This utility will index your mailbox and highlight all third-party applications that were registered with this email address. Then the user is presented with a list of services for making a decision.
Deseat also adds a button "Delete"… When you click on it, an email will be sent to the selected service with a request to delete your data.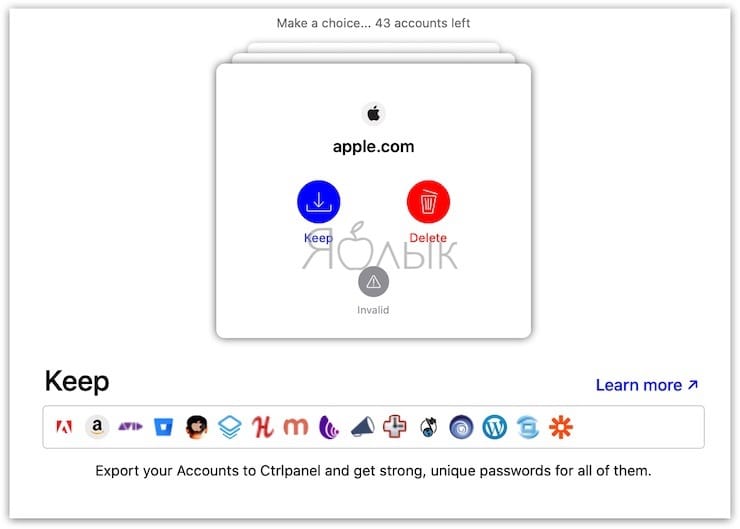 Like EmailExport, this service can also pose a threat to the security and confidentiality of information. The developers assure that they do not collect your letters, and all sorting operations are carried out locally. Deseat is currently free and supports most major email platforms.
♥ BY THEME: Is it possible to leave the iPhone connected to the charger overnight, or how to properly charge the smartphone.
Find all online accounts with username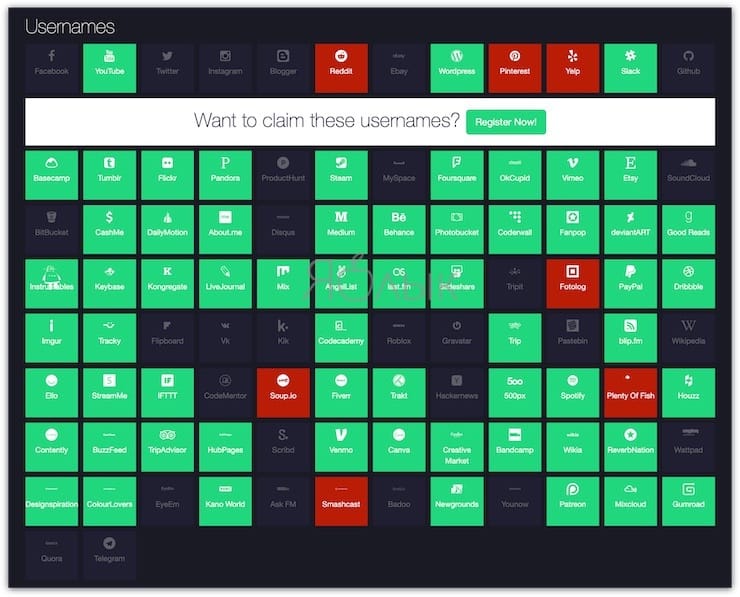 If you often enter your username when creating a new account, then the Namechk service will help to summarize the information. Dozens of platforms will be searched using the Free Domain Search and Username Validation tool. You just need to enter your most used ID in the search bar at the top of the page and Namechk will tell you where this account was used. The service can check many resources: Instagram, Vkontakte, YouTube, Facebook, Twitter and many others. And this utility is free.
♥ BY THEME: How to recognize text from photos on iPhone without installing third-party applications.
Checking saved accounts in your browser
Whenever you fill out forms on the Internet, your browser caches your data. This saves a lot of time, since you do not have to constantly enter the same word in the required field every time. This approach works with email addresses and optionally passwords as well.
This makes it possible to go into the browser settings and see a list of saved credentials, even those that you have long forgotten about. Please note that success will directly depend on how long you have been using the browser. This process can be repeated for any program of this kind that you have used in the past.
In Google Chrome, this option is present in the section Setup → Autocomplete → Passwords… You can view the entries, update and delete them if they do not need to be stored in the browser for security reasons.
In Mozilla Firefox, users need to go to Settings -> Privacy & Security -> Logins and Passwords -> Saved Logins…
♥ BY THEME: Hidden iPhone Features: 35 iOS Features You May Not Know About.
Sort online accounts with a password manager
It is unlikely to find all the online accounts that you have created over the course of a long time on the Internet. However, our proposed solutions will allow you to find most of the registrations.
Once the information is collected, it is best to transfer it to a password manager and use it regularly to easily monitor your online presence.
See also: