The new Mac Pro has become the new benchmark for a desktop computer. Those who work with graphics, it is better not to find among the famous manufacturers.
However, many brands produce servers and workstations. If you search, there is everything.
May be, not poppy one? Let's try to assemble it from components and see if it turns out to assemble an analogue cheaper.
2019 Mac Pro Features
Processor segment Xeon-w refers to the niche of high-performance workstations with one or two processors for working with graphics.
Peculiar machines: from the point of view of productivity, engineers prefer to use cluster or monoblock server systems, since almost any amount of resources can be used in work tasks.
In addition, the operating systems and professional software used by them are able to work with a pair of processors, so most suitable motherboards on the LGA3647 socket carry a couple of slots for "zions": this allows you to use independent parallel computing, not to limit the amount of memory in conjunction with cheap processor modifications. As if 2 computers in one case.
Unfortunately, macOS can only work with 1 processor. Therefore, it is very difficult to find a number of components: why use selected components if there are massive, cheap options with similar performance when using a pair of "heads".
Processor: the most common Intel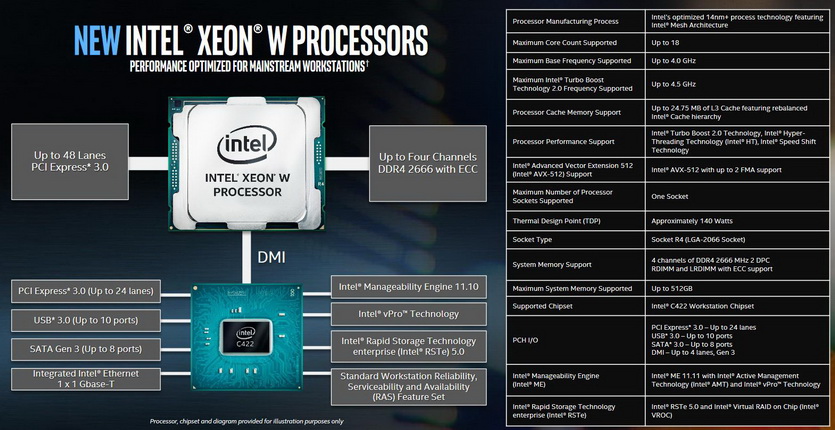 Judging by the specifications indicated on the site, the basic assembly of the new Mac Pro uses a processor Intel Xeon W-3223: 8 cores / 16 threads, frequency 3.5 GHz (Turbo Boost up to 4.0 GHz), 16.5 MB L3 cache. There are no similar processors in the current line of the company.
The official price of the processor in the Intel price list is $ 749. On Amazon, it will cost $ 870, the American retailer PCNation – for only $ 775
The processor is not for sale in Russia; deliveries are possible from Intel partners on special order.
The top-end 28-core Mac Pro processor is nothing short of Intel Xeon W-3275: 28 cores / 56 threads, 2.5 GHz (Torbo Boost up to 4.4 GHz), L3 cache 38.5 Mb. The official price is $ 4449. At PCNation, buying a beast will cost $ 4450
Thus, the difference in the cost of components in terms of rubles is 234,990 rubles. Apple's Russian site asks for almost three times as much for a 28-core configuration – 569,990 rubles.
Total:
🛒 Intel Xeon processor W-3223 (min) – 49 000 rub.
🛒 Intel Xeon processor W-3275 (max) – 284 000 rubles.
Motherboard: special order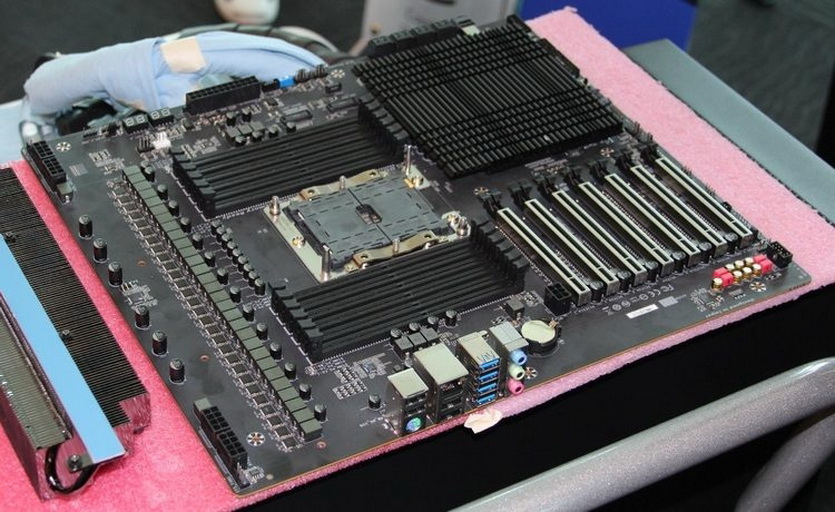 To accommodate the necessary components, Apple had to order a special board, which is impossible to find on the market. Let's try to choose a similar one with similar capabilities.
At present there are: a socket LGA3647 for the corresponding processor, 12 RAM slots, 2 PCI-E x16 slots, at least one M.2 or PCI-E x4 slot for connecting a drive.
In a first approximation, the ASUS Z11PA-U12 / 10G-2S is suitable for the processor used. It is sold in Russia for 30 and 37 thousand rubles (or here), depending on the version. The cost in the US will be $ 450.
On board the board in ATX design: 12 DDR4 RAM slots (up to 1.5Tb), 2 10 Gigabit Ethernet ports (SFP + connectors), 2 OCuLink ports for NVMe drives, up to 13 drives with SATA 6 Gb / s interface.
But Thunderbolt 3 does not offer this board, as well as others available on the market. You have to look for a separate controller.
Total:
ASUS motherboard ASUS Z11PA-U12 / 10G-2S – 37 000 rubles.
Video card: difficulties with definition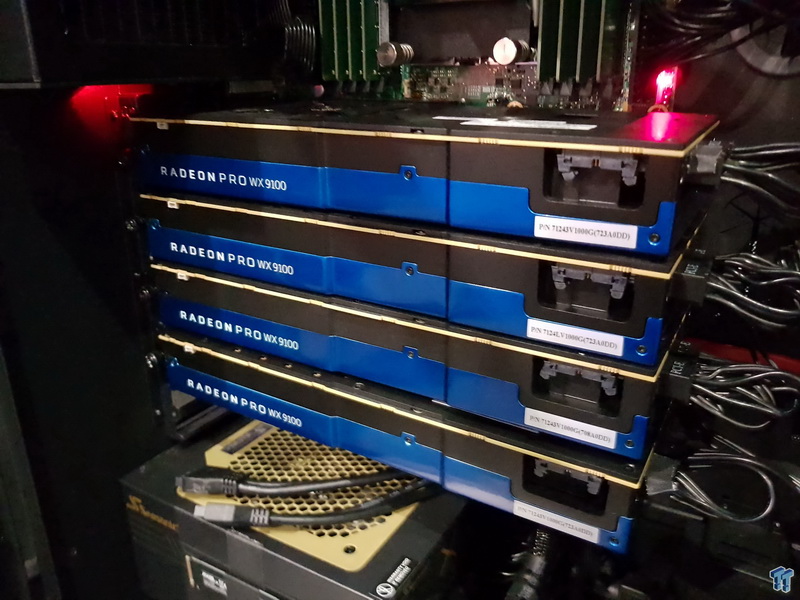 Selecting a video card to simulate the Mac Pro 2019 was the most difficult task – all the accelerators presented by AMD are modified with respect to serial options. At least according to the company. Others are completely absent from free sale.
The minimum version of Mac Pro comes with a graphics card Radeon Pro 580X with 8 GB of GDDR5 memory. "Designed specifically for Apple," not available for sale. But there is a professional card Radeon Pro WX 7100 with exactly the same characteristics.
The cost of this video card in Russia is 49 thousand rubles .. In the United States, this costs $ 550, which is quite comparable.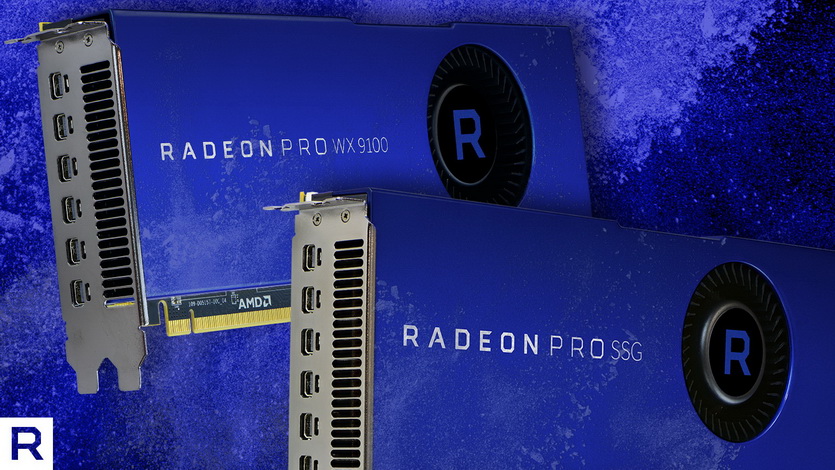 With the maximum version of the video card, everything is very complicated. There are not even adequate tests to evaluate performance. Radeon Pro Vega II Duo with 64 GB of memory. The monster assumes working only with optimized applications: 2 graphics chips with their own memory are not supported by all professional software.
A similar solution has already been released by AMD, and it has not found popularity precisely because of the "double" nature: in fact, it is Crossfire, which is practically useless in 90% of applications. By the way, the company's representatives themselves spoke about this last year, but, alas …
So, AMD currently does not have a similar Radeon Pro Vega II Duo in terms of card performance. "One-headed" Radeon Pro Vega II comes close to the Radeon Pro WX 9100 for $ 1800 with half the memory size.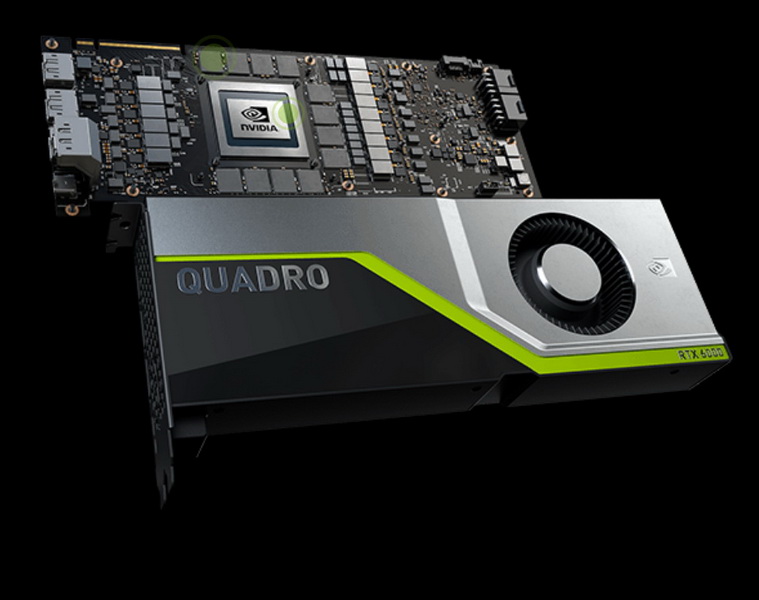 To argue with the top-end video accelerator of the maximum configuration of the Mac Pro 2019 (especially with two), only green solutions are capable of: Quadro GV100 with 32 GB of memory and unrealistic performance of the tensor cores available due to the NVidia lobby in most applications. This costs only 760 thousand rubles, respectively, the pair will cost one and a half million.
However, a direct comparison will not work – in a number of tasks the cards will demonstrate parity, and vice versa: the NVidia tensor cores are three times faster than the Radeon Pro Vega II Duo, allowing them to use the main ones in parallel. But low memory will be a problem for too large graphics tasks.
Total:
🛒 1 x Radeon Pro WX 7100 graphics card – 49,000 rubles.
🛒 2 x Quadro GV100 – 1 520 000 rub.
RAM: how to put a terabyte?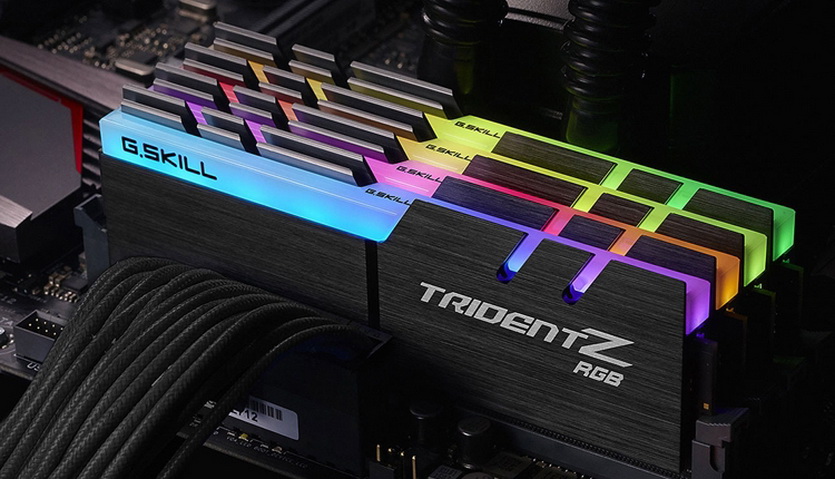 The minimum amount of RAM for the new Mac Pro 2019 is not difficult to acquire. However, 32 GB ready-made kits with 8 GB strips are offered only in the gaming version.
Strap Kingston hyperx at a speed of 4000 MHz it will cost about 6-7 thousand rubles. per bar, or 28 thousand for the whole set. A slower DDR4 3200 will cost only 10 thousand rubles. for all 32 GB.
To fill the slots of the motherboard with the maximum configuration, you have to work hard: 128 GB DDR4 strips are rarely sold in Russia. Very rarely. Fortunately, the motherboard supports work with the Registered ECC slots, which allows the use of server memory.
But even with such volumes, the bar costs completely indecent money: one bar Hinyx on the Newegg costs $ 1300, that is, twice as much as a set of smaller trims. The total memory cost will be $ 15600. Unfortunately, this is the minimum price of a new warranty memory, which was found at the time of writing.
Nevertheless, Apple's Russian site requires a double supplement for a similar amount of memory (+2 million rubles from the base model), even if customs duty is included in the calculation.
Total:
🛒 RAM DDR4 non-Registered 32 Gb (4 × 8Gb) – 28 000 rubles.
🛒 RAM DDR4 Registered ECC 1,5 Tb (12 × 128Gb) – 982 800 rubles.
Drives: have to bet better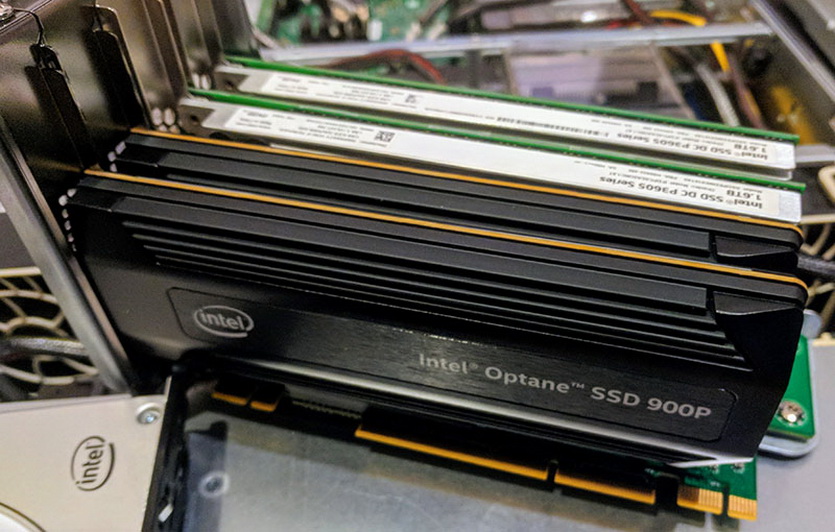 For the base drive, replacing the 256-gigabyte in Mac Pro 2019, we will take high-speed Intel 760p NVMe worth 5.5 thousand rubles. The most voluminous 8-terabat drive is more difficult to find, so choose "simple" Crucial 8TB 9200 ECO for ridiculous 191,000 rubles And even the fastest Intel Optane 900P Series (280 GB) now costs only 16 thousand rubles.
Buying this type of component in the United States will seriously reduce the price: on average, a modern fast SSD of 256-512 Gb can be bought at a sale for 3-4 thousand rubles, taking into account delivery. Intel's terabyte ultra-fast drives are there for $ 100 or so.
Total:
🛒 SSD-drive Intel 760p 256 Gb – 5 500 rub.
🛒 SSD-drive Intel Optane 900P Series 280 Gb – 14 thousand rubles.
🛒 Crucial 8TB 9200 ECO SSD-drive – 191 000 rub.
Additional fees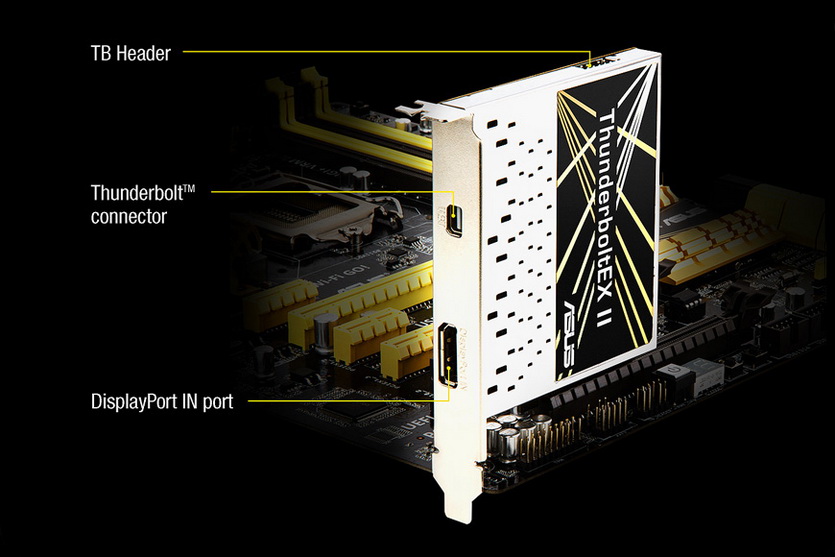 A separate issue is the Thunderbolt expansion board. The market suggests that at an adequate price you can find only an Asus controller with a single connector of this type. But u Radeon Pro Vega II even in the minimum configuration there are 4 of them!
Alas, the selected motherboard will allow you to install only 2 corresponding boards, which will occupy 2 single PCIe slots. The total cost will be 5.5 thousand rubles.
Total:
ASUS ASUS ThunderboltEX 3 controller – 5 500 rubles.
Periphery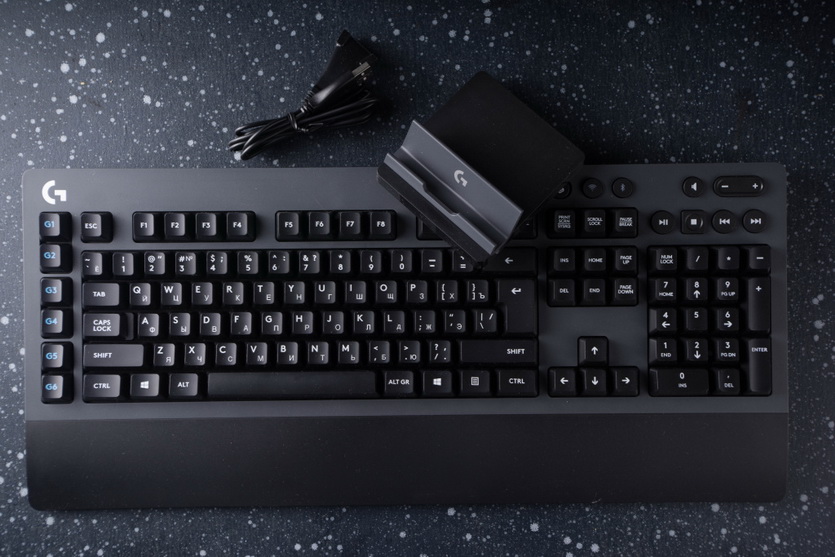 Along with a computer, Apple offers a set of peripherals. Honestly: neither the Magic Mouse nor the native keyboard evoke any warm feelings in me.
Therefore, I will count the coolest peripherals available on the Russian market. The Logitech G613 mechanical wireless keyboard doesn't look very good, but it's the best option available today.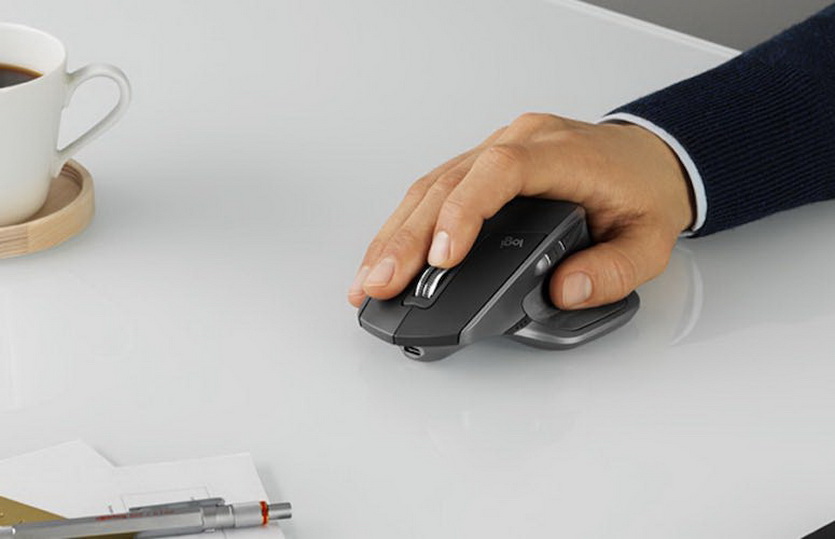 The kit will be complemented by the Logitech MX Master 2s wireless laser mouse – the most comfortable of those presented, since the new generation of this series, long since beloved by IT people, has not come to us yet and costs absolutely indecent money.
Total:
🛒 Logitech G613 wireless keyboard – 8 000 rub.
🛒 Logitech MX Master 2s wireless mouse – 6 000 rub.
Housing and everything else

To accommodate such a serious kit will require a serious body and no less serious cooling system.
🛒 Suitable as a case ZALMAN X7 for 15 thousand rubles. By the way, with a great desire, you can purchase an exact copy of the original case called Dune Pro – it will cost 12 thousand rubles.
The system will require at least 600 watts in the minimum configuration and about 950 watts in the maximum, but for the reserve it is worth taking 1200 watts with active PFC.
🛒 A similar power supply from Zalman will be released in 6 thousand rubles. A more serious option that can cope with any computer hardware, for example Thermaltake Russian Gold Baikal 1500 W, will cost 10 thousand rubles.
🛒 Classic air cooling system fits easily in 10 thousand rubles. Water for such a volumetric kit will cost 30-50 thousand rubles.
Total:
🛒 Dune Pro case – 12 000 rub.
🛒 Thermaltake Baikal power supply unit – 10 000 rub.
🛒 cooling system – 30 000 rubles.
Final price and comparison with Mac Pro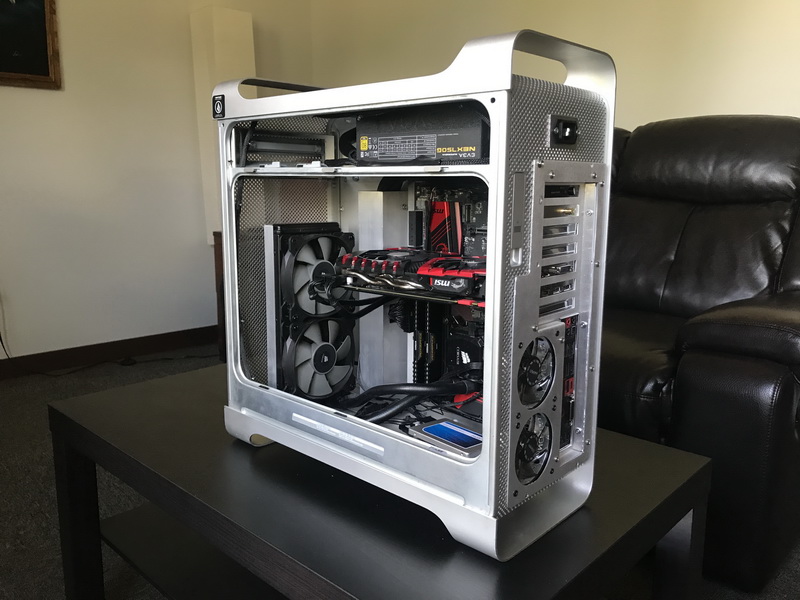 To summarize.
The total cost of the base version of the Mac Pro 2019 with an 8-core processor and Radeon Pro 580X graphics card (more precisely, the WX 7100) will amount to 247,000 rubles.
Apple's Russian site offers similar "just" performance for 450 000 rubles.
The difference between our build and the price of Mac Pro 2019: 203 thousand rubles. Twice cheaper.
Maximum equipment with some assumptions will cost 3 million rubles. If the number of Thunderbolt connectors is not critical, the savings will be a little more 1.1 million rubles.
Or 1 million, given all the possible costs associated with the delivery of a number of components from abroad.
The disadvantages of the assembly:
you can not put macOS on the maximum set (video cards are not supported)
few Thunderbolt connectors
need to collect by hand
part of the components will have to be transported from abroad.
Advantages of the assembly:
operating systems adapted to specific tasks can be installed
Nvidia graphics cards are better optimized for numerical and engineering graphics, greater productivity in professional applications and offer more tailored applications
The performance of a number of components is higher than in the original Mac Pro 2019
P.S. How to save money on buying a workstation?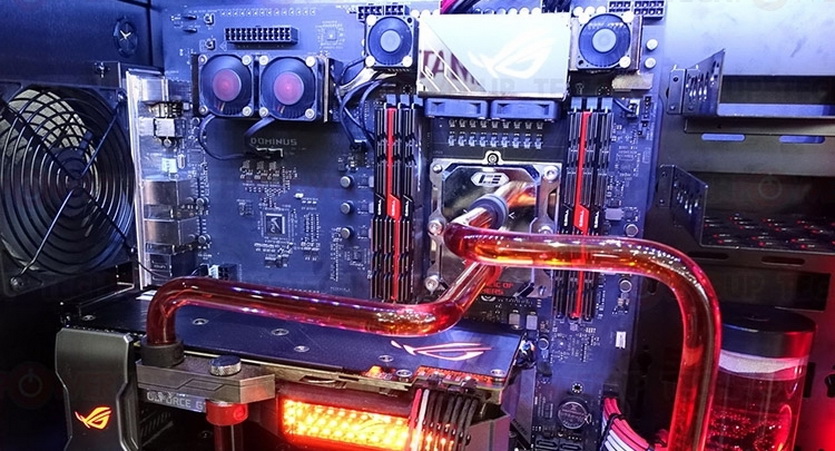 Unfortunately, this difference speaks of Apple pricingproviding unique (to increase prices above all) solutions, even when they are not very justified. The fact is that all other suppliers of ready-made engineering stations, on the contrary, offer more affordable solutions compared to the general market, since they are purchased in bulk.
The supply of ready-made "boxes" also reduces sales costs. Therefore, if we translate the prices of HP, Dell and Lenovo workstations into the cost of disparate components, the benefit will be about 15% for each position.
Buying a refurbished solution will reduce the price of a relatively new PC by another 10-20%. So the purchase is finished Linux / Windows-based station may be cheaper than described by 20-30%.
However, most of these offers cannot be used to install macOS (however, like the assembly presented in the text).
Everyone decides for himself what and what to work on. After all, tasks are determined, not the supplier of a solution convenient for its implementation.