When Apple released iOS 7 in 2013, simplicity, flatness and thin lines became the main design trend for mobile operating systems in the years to come. Not all users agree with the latter, for example, those who do not have perfect vision.
♥ BY TOPIC: How to add a voice alert when charging an iPhone or iPad.
So, if the 10th row of the Sivtsev table looks to you like a few blurry black spots instead of the usual Cyrillic characters, then it makes sense to slightly change the standard appearance of the iOS interface to suit your needs, namely, add the property to the system font "Bold" ("fatty"). These actions will also not be superfluous if you pass on your old iPhone inherited to your parents.
In this tutorial, we will not touch on the font size of the iPhone (this issue is discussed in detail here), but only change its format.
♥ BY TOPIC: How to teach iPhone to automatically turn on Power Saving Mode.
How to install bold font on iPhone
1. Open the app Settings in iOS;
2. Go to the section "Screen and brightness";
3. Set the switch "Bold font" into an active position.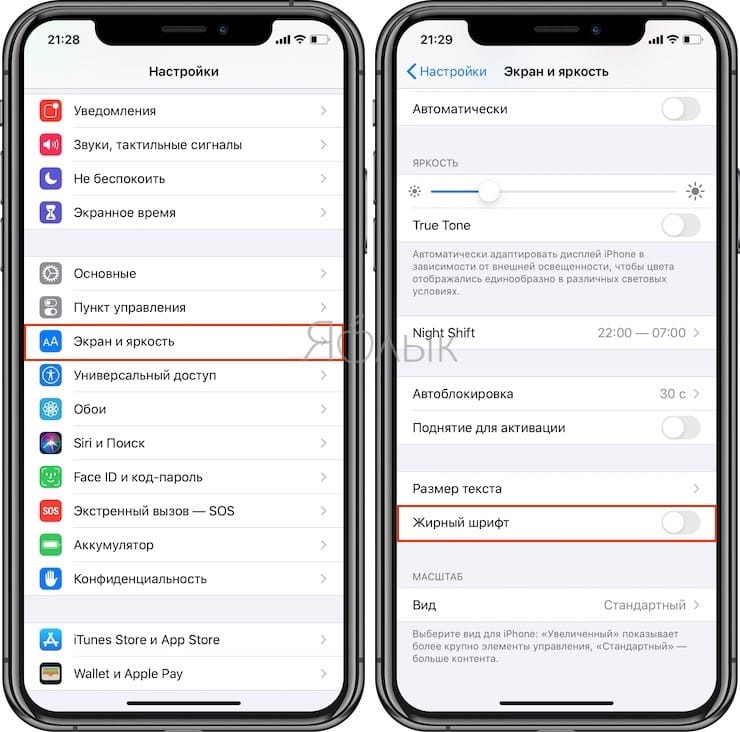 After the iPhone restarts, the iOS interface font will change and it will be easier for people with low vision to see it.
See also: