At the end of 2020, Apple managed to please its fans with another major announcement. For a long time, there were rumors that the company would sooner or later introduce the first full-size noise canceling headphones. Finally, they were presented.
♥ BY TOPIC: Which Smartphone Has the Best Camera in 2020 – Top 15.
AirPods Max colors
AirPods Max are available in five colors: silver, blue, gray, green, and pink.
♥ BY TOPIC: iPhone new, demo or refurbished (ref, CPO, like new) – how to check by model number.
AirPods Max design
The manufacturer claims that the headphones received a non-standard design for acoustic solutions. From the ear cushions to the headband, AirPods Max has been engineered to fit perfectly to your head, no matter your shape. This approach helps to achieve high-quality and rich sound. The sound itself comes from 40mm drivers that deliver rich and deep bass, accurate midrange and clear highs. Thus, the ability to hear every note is achieved, which will delight audiophiles.
Traditionally, Apple has paid a lot of attention to the design of its device – it should be cool, both in terms of features and appearance. The upper part of the headband is made of breathable mesh fabric. It allows you to evenly distribute the weight of the headphones so that they do not press on your head at only one point. The arms themselves are made of durable stainless steel, but covered with soft material. Thus, the headband is strong, flexible and comfortable.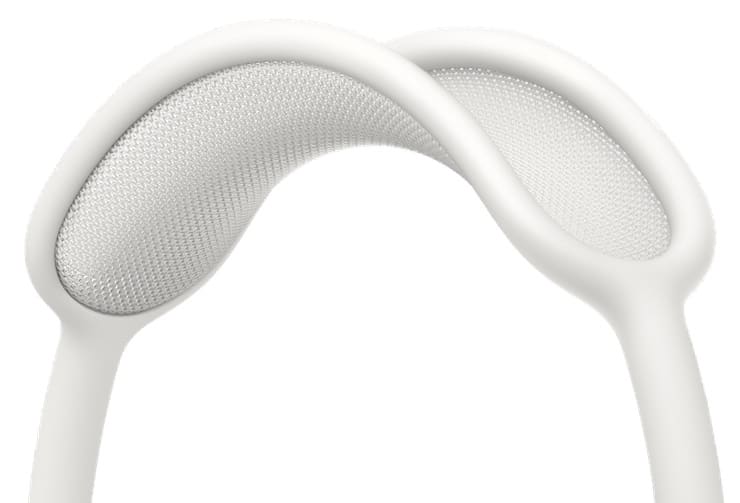 The telescopic arms can be pulled out smoothly and securely locked in a user-selected position. Thus, you can achieve the most comfortable positioning of the headphones on the head and their firm fit to the ears.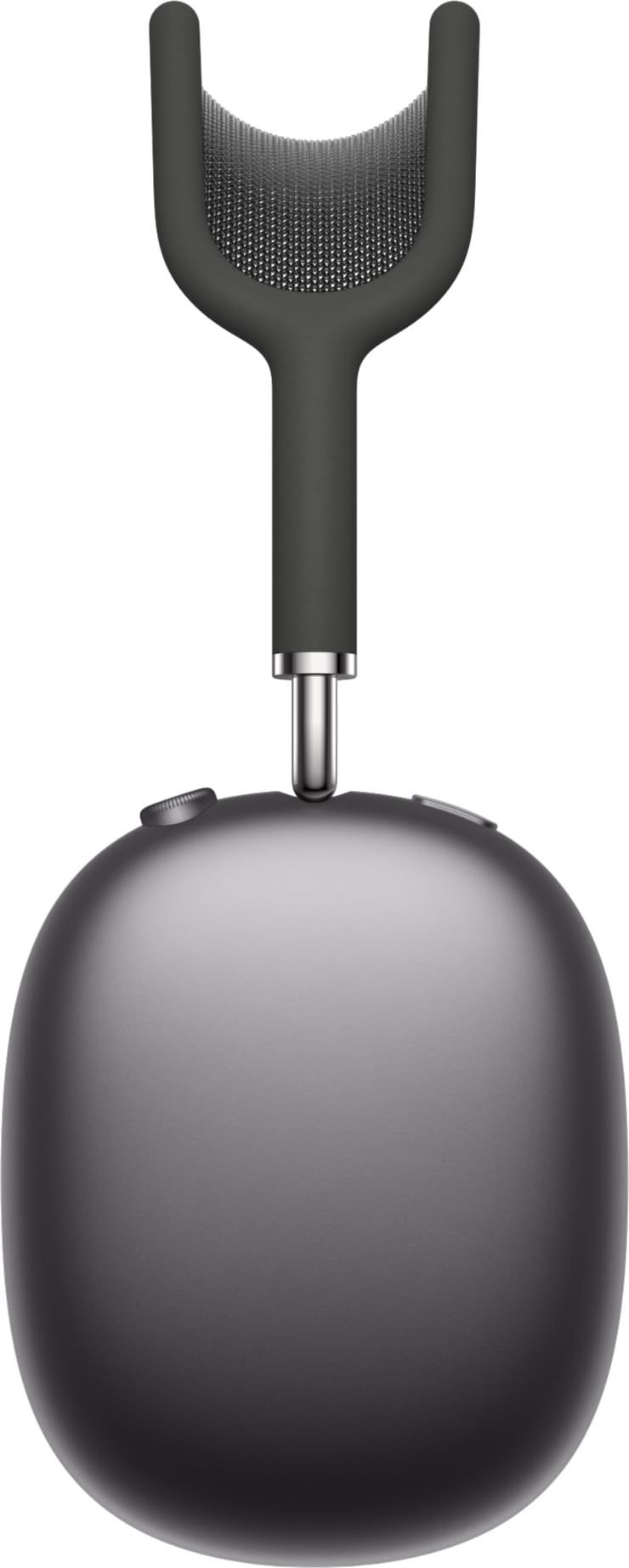 The ear cups themselves are made of anodized aluminum. They received a unique mechanism that allows them to rotate independently of each other and thereby correctly distribute the pressure. The inside of the ear cushions is covered with a soft mesh fabric. This foam has a memory effect and covers the entire ear, providing the required sound insulation.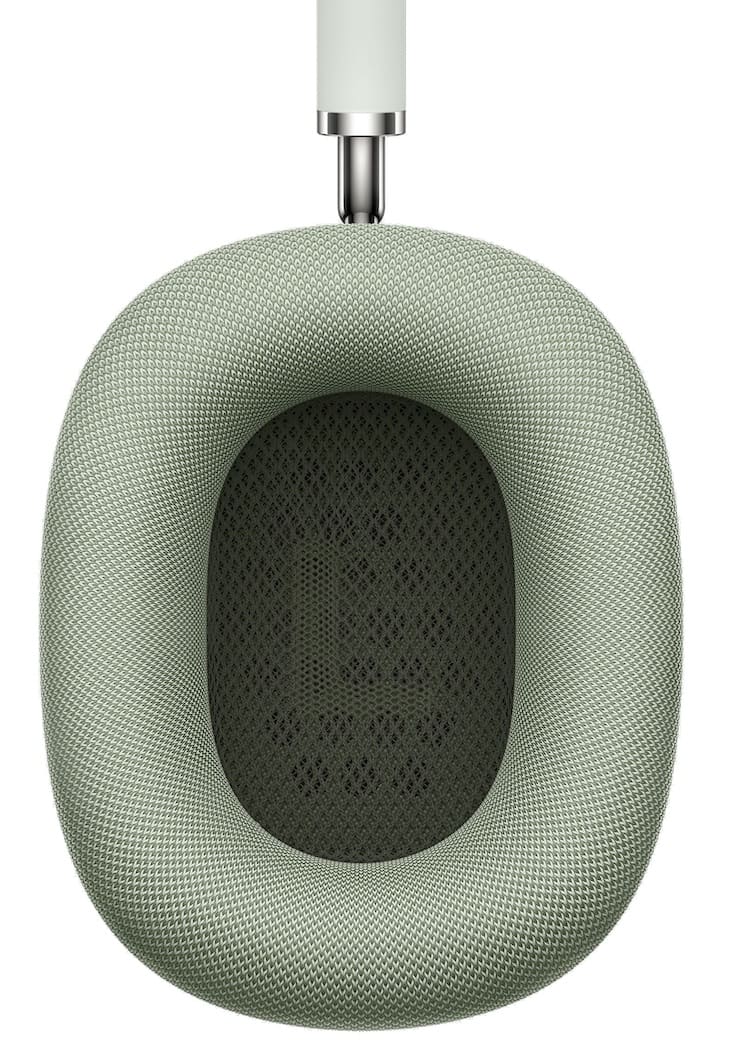 It is interesting that the ear pads themselves are also removable and attached with magnets – their replacement will not cause difficulties. A replaceable pair costs 7 490 rubles.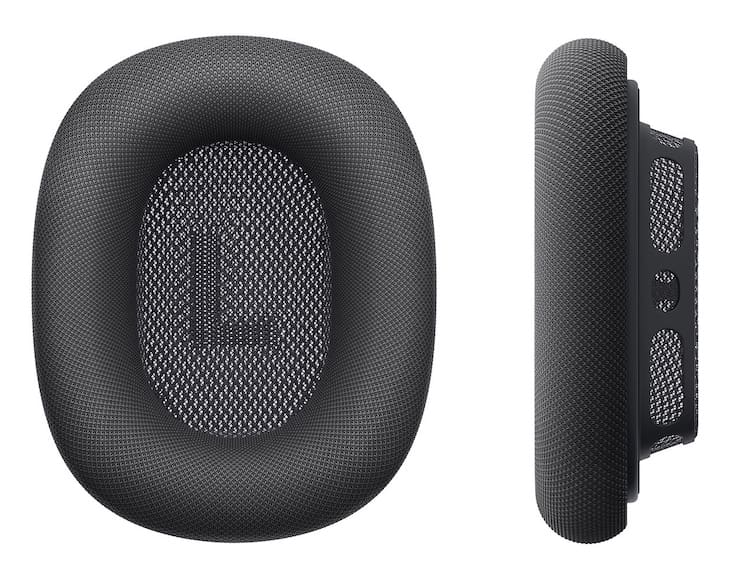 Inside the headphones there are drivers with two ring neodymium magnets, the principle of operation of which is similar to that implemented in professional floor-standing speakers. This design minimizes harmonic distortion. Even at high volume, the device will produce clear sound. Each earbud has a powerful 10-core Apple H1 chip. It helps to process audio and cut out external noise by adjusting the sound to the position of the headphones and their fit. This is how the adaptive equalizer is implemented. AirPods Max can deliver spatial audio based on dynamic head tracking.
♥ BY TOPIC: How to display photos or videos from iPhone or iPad to TV – 4 ways.
Charging and autonomy AirPods Max
AirPods Max headphones will be able to work autonomously for up to 20 hours, but they are charged not through the universal USB-C, but through the proprietary Lightning connector. A quick five-minute recharge will already allow the headphones to work for an hour and a half.
In addition, Apple offers to purchase an additional 1.2-meter Lightning cable – 3.5 mm for a wired connection of the device for 3,590 rubles. In this case, it must be noted that the headphones must be charged.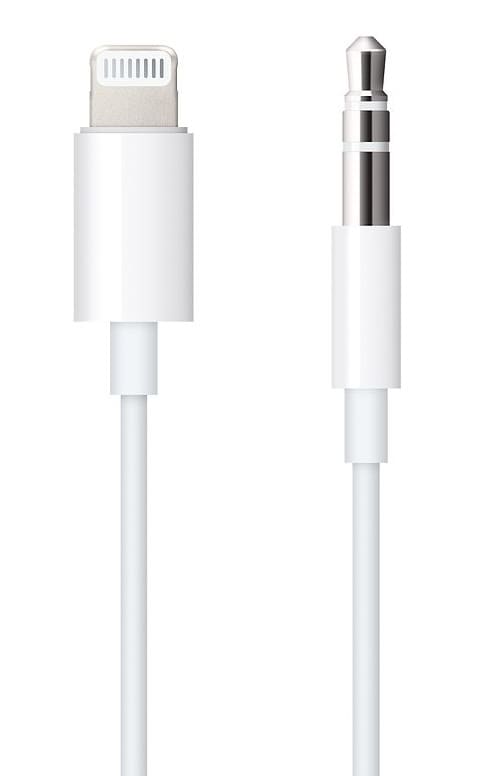 ♥ BY TOPIC: IPhone geolocation settings: what do they affect and which can be turned off to save battery power?
How to control AirPods Max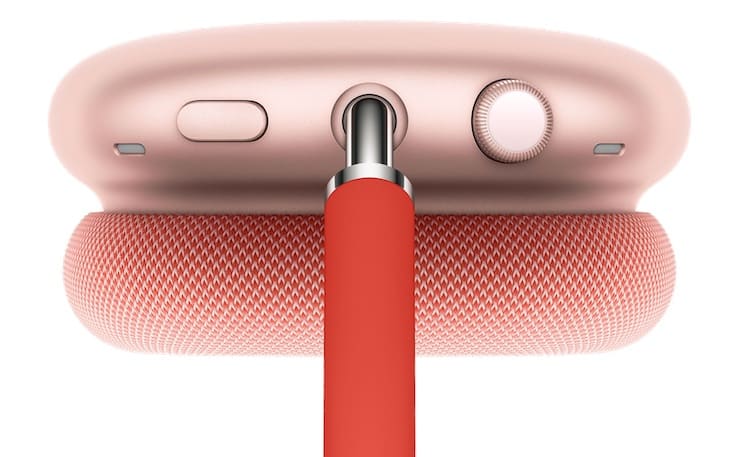 In addition, with AirPods Max, you can see the features familiar to the line: adaptive equalizer, transparency mode, spatial sound and sound sharing. But there is also an element from the Apple Watch in the headphones – the Digital Crown. It is located on the right earpiece.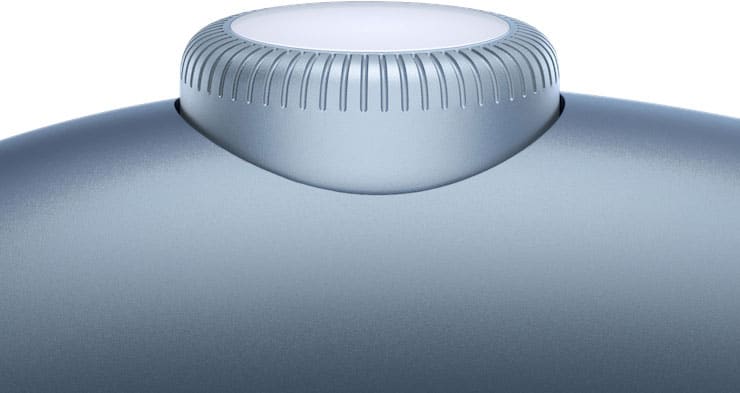 Thanks to the wheel, you can precisely control the volume by increasing or decreasing it, pause and start playback (single press), skip tracks (two clicks – next track, three clicks – return to the previous one) answer or end phone calls (single press) and call Siri (long press). There is a separate button next to the Digital Crown to switch between transparency and noise reduction modes. Transparent mode allows you to hear surrounding sounds and communicate with people around you.
As soon as you remove the AirPods Max from your head, playback stops. And when you place the device back, the sound resumes. A set of sensors is responsible for this: an accelerometer, a position sensor, a case detection sensor and a gyroscope. Apple has developed a Smart Case specifically for this device. When placed in it, the headphones do not turn off, but go into a low power mode.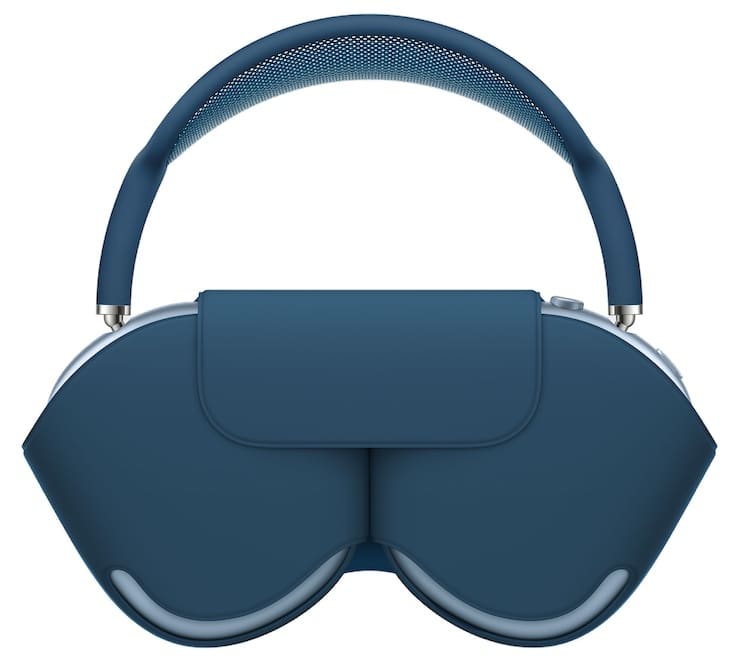 Expect other manufacturers to create a hard case for AirPods Max in the future.
Noise cancellation in AirPods Max is a highly requested feature. Apple, like other leading audio manufacturers, is trying to remove external sounds. This is aided by six outward-facing microphones, with a couple more inward.
Location of the noise canceling button in AirPods Max: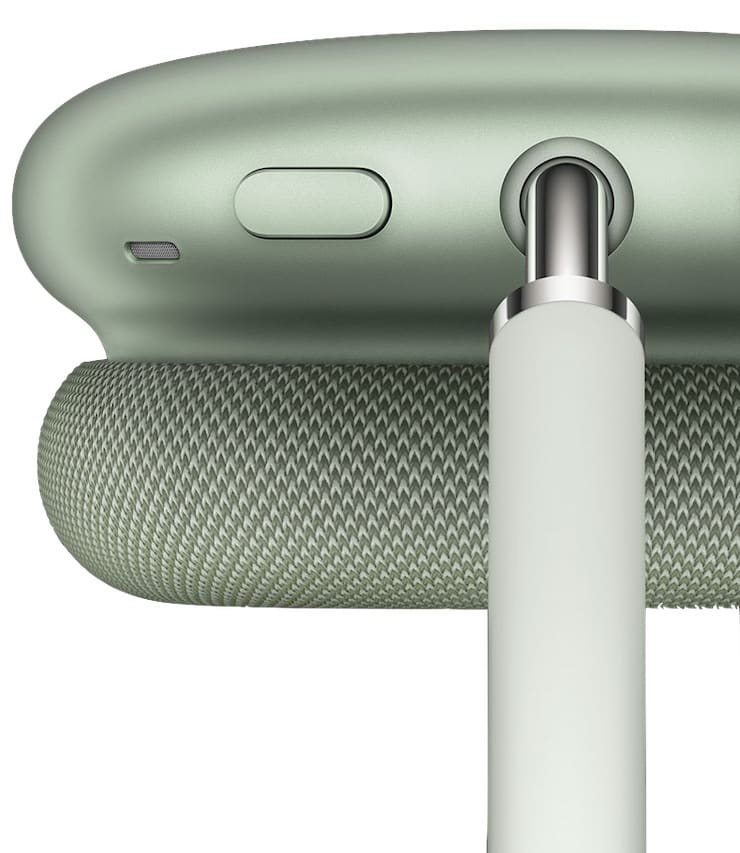 They capture the sounds we hear, helping to form the required sound map and not be distracted. Apple claims the AirPods Max handles audio calls well even in windy conditions with directional microphones. The ninth microphone is responsible for voice and command recognition for Siri.
♥ BY TOPIC: Which iPhone holds the battery better? Comparison of battery life of all current iPhones in 2020.
AirPods Max price
For Apple, entering the premium audio market is a bold move. Competitors like Sony, AKG, Bose, Sennheiser are traditionally strong and have years of experience and a long list of successful products. And the price of Apple headphones surpasses most of its counterparts, perhaps the impulse of the AirPods and AirPods Pro, which dominate their segment, will play a role.
In official retail, the device will cost 62,990 rubles. It is difficult to say whether Apple will be able to achieve the sound quality corresponding to the price, especially since it is still offered to work with the AAC codec. But the market considers LDAC to be a much better solution. AirPods Max wireless connectivity is provided by Bluetooth 5.0.
The manufacturer is probably counting on a synergy effect, because AirPods Max, like AirPods and some Beats products, can switch between iPhone, iPad and Mac depending on which device is currently in use. The earbuds are compatible with Apple devices starting with the first generation iPhone SE, 7th generation iPod, iPad mini 4, all Apple Watch, Apple TV 4K and Mac released after 2012.
♥ BY TOPIC: 20 iPhone features that can be disabled for most users
AirPods Max Package Contents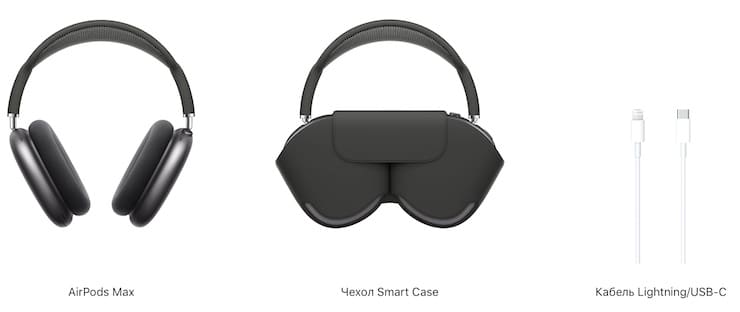 AirPods Max Headphones
Smart Case
Lightning to USB-C cable
Documentation
♥ BY TOPIC: How to make and install a ringtone (ringtone) on any iPhone without a computer right on the device?
Everything you need to know about AirPods Max?
How do I turn off AirPods Max? Physical buttons Inclusions or Shutdown AirPods Max earbuds don't have. The button on one of the headphones is responsible for enabling switching from active noise cancellation to Transparent mode or vice versa. In order to preserve the maximum power of the headphones when they are not in use, they must be placed in the Smart Case. In the case, the power consumption of the headphones is reduced to a minimum.
How to change ear pads on AirPods Max? The ear cushions are magnetically attached. To remove, simply grasp the edge of the ear cushion and pull with a little force.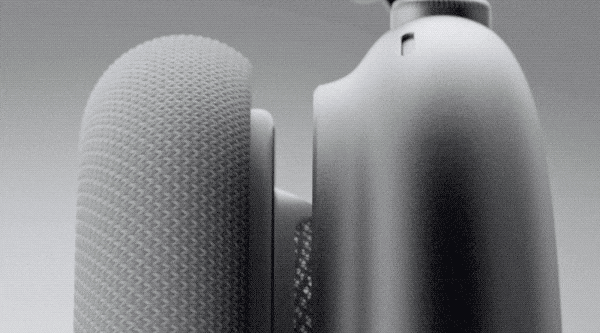 Are the AirPods Max waterproof? No! Unlike the AirPods Pro, the AirPods Max are not sweat and water resistant. This means that you should definitely avoid getting them wet in the rain.
Will AirPods Max work with Android? The earbuds will work with Android devices, however, with some restrictions. Don't expect support for spatial audio or Siri, for example.
Does AirPods Max support gestures (touch) like regular AirPods? No. Headphones are controlled using the Digital Crown:
Turn to adjust the volume;
Press once to start or pause playback or answer a call;
Press twice to skip to the next track;
Press three times to return to the previous track;
Press and hold to summon Siri;
Squelch control button.
In addition, the squelch control button switches from active squelch to Transparent mode or vice versa.
Does AirPods Max support wireless charging? No. Charging is done using the Lightning to USB-C cable only.
Can AirPods Max be used as wired headphones? Yes AirPods Max optionally supports 3.5mm audio cable (Lightning to 3.5mm). However, the headphones will not work passively, i.e. without charge.
In the meantime, there is no need to know about it. "
See also: