Today instant messengers have become the main communication tool for millions of people. But the more information passes through such channels, the more requirements for its confidentiality. It is this factor that sometimes comes to the fore. For some, protecting their data is much more important than a variety of emoticons and themes. At the end of 2020, the once unpopular messenger Signal made the whole world talk about itself. What is the secret of this application and why did it become famous?
♥ BY TOPIC: Who has the most followers on Instagram – 40 most popular accounts.
What is Signal?
This name hides a messenger that carefully encrypts the messages it sends. Popular and common counterparts: Skype, Viber, WhatsApp, iMessage and Telegram have a disadvantage – privacy issues.
An important feature of Signal is its non-involvement with large corporations. The service is being developed by a non-profit foundation with the same name, and it exists through donations. The very ideology of this messenger is that there is simply no need for it to collect data about its users and impose ads on them.
Signal implements forced E2E encryption, from the beginning of the chain to its end. This reliably protects information – even the service owners themselves do not have access to user messages. For example, in Telegram, which is considered to be quite secure, similar encryption can only be enabled in confidential chats and upon request.
Signal developers do not hide anything – the application source code is open. The client and server code is posted on GitHub.
♥ BY TOPIC: How to send and receive self-deleting messages in Telegram (text, photo or video).
What's the secret behind Signal's popularity?
Before 2021 began, WhatsApp posted an update to its privacy policy. After reading it, you can find a lot of interesting things. It turned out that now the messenger will transfer the data of its users to Facebook, its parent company. Moreover, it is possible that this was practiced behind the scenes before, just this time the corporation decided to legalize this phenomenon.
It turned out that WhatsApp plans to transfer data such as phone numbers of users and all their contacts from address books, names of people in profiles and their photos, statuses and even the time of their last appearance on the Internet, as well as data from application logs, location, information about purchases and other minor things. All this information will be used by Facebook for its own purposes, as well as provided to subsidiaries and partners.
This news caused a storm of dissatisfaction among users, WhatsApp decided to "soften" the pill and promised to postpone the introduction of new rules. At the same time, representatives of the company still assure that the privacy of user data is the cornerstone of the messenger. True, the news proves otherwise. Unsurprisingly, many users have opted to use alternatives.
Messenger Signal is not such a "dark horse". It has been developed since 2013, but earlier it was actively used by those who seek to make their correspondence as protected as possible: journalists, human rights defenders, activists. But with the growing discontent, WhatsApp and ordinary people turned their attention to an independent and at the same time providing the necessary privacy service. In just a week, the number of Signal users has grown by 8.8 million. True, Telegram has downloaded 11 million users over the same period.
The popularity of Signal was added by positive reviews about the messenger from such prominent public figures as Elon Musk and Twitter creator Jack Dorsey. And Edward Snowden, who knows a lot about information security, has been using Signal since 2015 in order to hide from surveillance by the special services. Signal is a great alternative for WhatsApp users who don't want to share their data with unknown sources.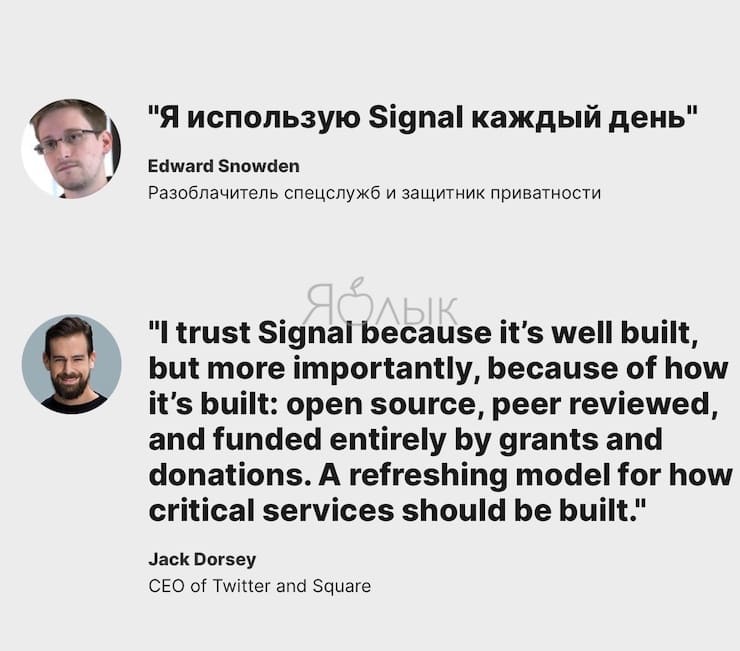 ♥ BY TOPIC: How to turn off autosave Photos and Videos in Viber, WhatsApp and Telegram on iPhone.
Signal Features
Signal's basic features are standard for any modern messenger. Here's what he can do:
receive and transmit messages;
make voice and video calls, including group calls, up to 8 participants;
send voice messages, photos, videos, emojis and stickers;
share your location with interlocutors;
organize group chats with up to 1000 participants.
♥ BY TOPIC: How to set a password (Touch ID, Face ID) on WhatsApp.
How does Signal keep users safe and private?
The main concept of the messenger is the initial encryption of all correspondence, including in group chats, as well as transmitted pictures, voice and video calls. This information is available only to the participants in the conversation. At the same time, the Signal servers themselves do not participate in encryption – it is based on the E2EE principle, that is, end-to-end encryption from device to device. This prevents Signal developers, for all their desire, to access user messages and then pass the information on to someone else. To implement the messenger, a special encryption protocol was created with the uncomplicated name Signal Protocol.
But in other messengers, the same Telegram, E2EE, if present, is only as an additional option. Signal uses encryption by default everywhere, the only exceptions are SMS messages sent to unregistered subscribers. A good bonus is the ability to send photos and videos to contacts that disappear a few seconds after viewing, as well as blurring faces on the transferred images.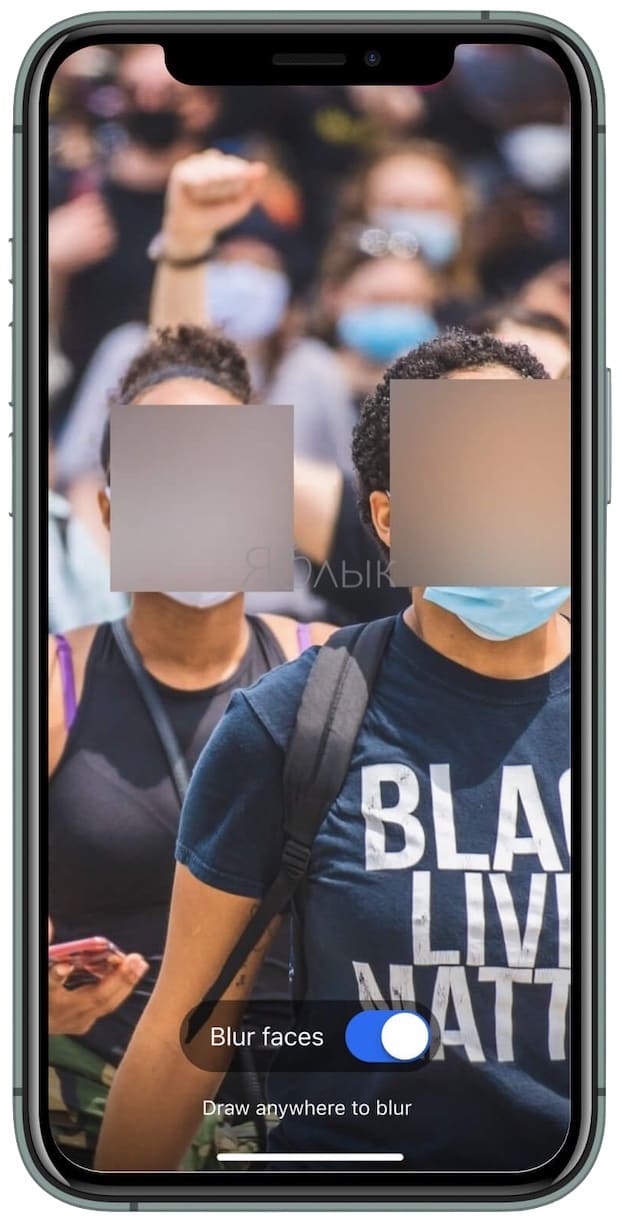 An important feature of Signal is the verification of contacts, so that you are convinced of the correspondence with the person you really need. The opportunity is realized with the help of security codes that can be verified by phone or by checking a QR code in person. If you change the working device, even with the SIM card saved, a new code will be generated.
♥ BY TOPIC: How to block a contact in WhatsApp on iPhone and Android.
Why is Signal better than Telegram?
When choosing an alternative to WhatsApp, Signal and Telegram are most often called. The second product has domestic roots, the messenger is famous for its privacy and security. Nevertheless, in this segment, Telegram, in direct comparison, is inferior to a lesser known competitor. End-to-end E2E encryption is also in the "cart", but it can only be activated for a secret chat with two interlocutors in it. And in ordinary correspondence, and even more so in group, there is simply no such possibility – the server is engaged in encryption. And if someday the owners of Telegram want to know what you are texting about, then he has such an opportunity. But in Signal, E2E encryption is forced, it is also applied to group chats.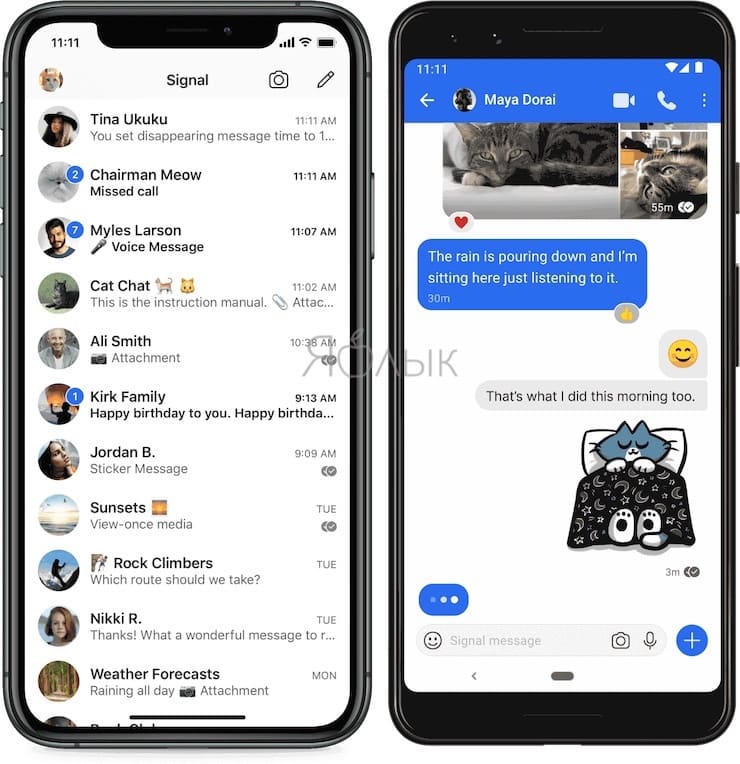 All user correspondence is stored on Telegram servers, this was done for the clear purpose of subsequent synchronization on all new devices. And it's easier to find the messages you want. But whether it is safe is a big question. In Signal, a different principle is chosen – the correspondence is stored only on the user's device and is not sent anywhere. Moreover, the service does not even store your contact lists on its servers.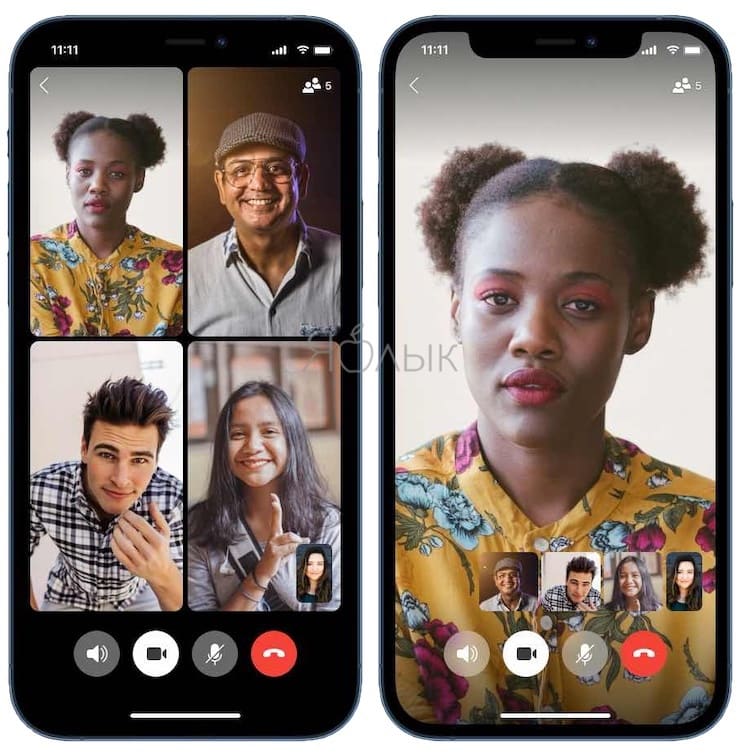 It is very easy to make sure that the stated is true – the Signal source code is completely open, both for clients and for servers. You can find this information on GitHub. Telegram applications are also open source, but how the server software works is a mystery. You can only hope that your information is in good hands and is not passed on to outsiders. And many information security experts argue that the Signal encryption protocol is generally more reliable than that used in Telegram MTProto, although the developers of the "cart" themselves may not agree with this. But there is a history of hacking Telegram by hackers who got access to a secret chat even bypassing E2E encryption.
♥ BY TOPIC: How to answer an iPhone call (Viber, WhatsApp, Skype) without touching your smartphone.
Why is Telegram better than Signal?
And if Signal focuses on confidentiality, then in practicality and convenience it is inferior to a more eminent competitor. For example, in a Telegram group chat there can be up to 200 thousand people, while in Signal the number is limited to 1000. While Signal can transfer files up to 100 MB, Telegram allows you to exchange files up to 2 GB.
All Telegram correspondence is stored in the cloud. Yes, it is unsafe, but you can work with the service even without an installed client, right from the browser. The original concept of Signal was to store conversations on user devices, so the web version of the messenger does not exist and it will never appear. Telegram is known for its bots, which can be easily programmed for the desired actions. But in Signal they are not and, most likely, will hardly appear. For such robots to work, developers must gain access to user correspondence. Signal will definitely not accept such violations of its strict security principles. And you will not find any similarity of Telegram channels in Signal either.
The most obvious difference is the friendlier Telegram interface, with the ability to use background pictures, numerous stickers. Signal developers see this and promise to improve the visual part of the shell, adding animated pictures, backgrounds, new profile fields.
♥ BY TOPIC: Blue Check Mark on Instagram: How to Get Verified Instagram Account Status.
What you need to know when registering with Signal?
Registration in this messenger will require entering your personal phone number. Still, it was not possible to achieve complete anonymity. As in Telegram, here the phone number is the user ID. But this information will allow you to check the list of contacts and show which of your friends also uses Signal.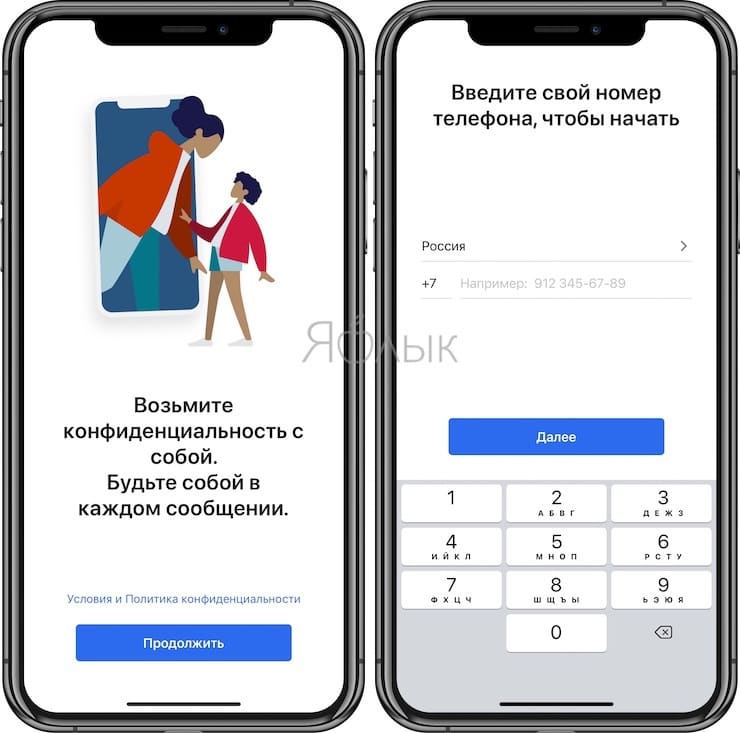 Someone may not like that in order to receive a message through Signal, you will have to show your interlocutor your phone number.
When installed, Signal will offer you to use it as the default application for sending SMS and MMS. Initially, they were transmitted in encrypted form. The recipient party was personally given the key, which made it possible to read the messages. An outside observer, the same mobile operator, saw only an incomprehensible set of characters instead of text. But now this function does not work. After all, even with this implementation, the operator receives information about who with whom and how often they correspond. And to implement this idea, a child application Silence was created in Signal. It just provides SMS and MMS encryption.
♥ BY TOPIC: Hidden WhatsApp, or how to hide the visiting time by turning on the "Invisible" mode.
How to work with Signal?
The messenger can be installed on a smartphone or tablet running Android or iOS. There are also clients for personal computers, both for Windows and for macOS with Linux (in DEB format). During registration, you just need to indicate your phone number. The service is completely free.
Download Signal for iPhone, iPad, Android, macOS, Windows and Linux
After completing the usual messenger installation and registration procedures, you will be prompted to create a PIN code to encrypt messages. This code does not need to be entered constantly, but with its help it will be possible to restore data, including contacts, if the application is reinstalled. If you forget your PIN, you will lose access to information, Signal will not help you.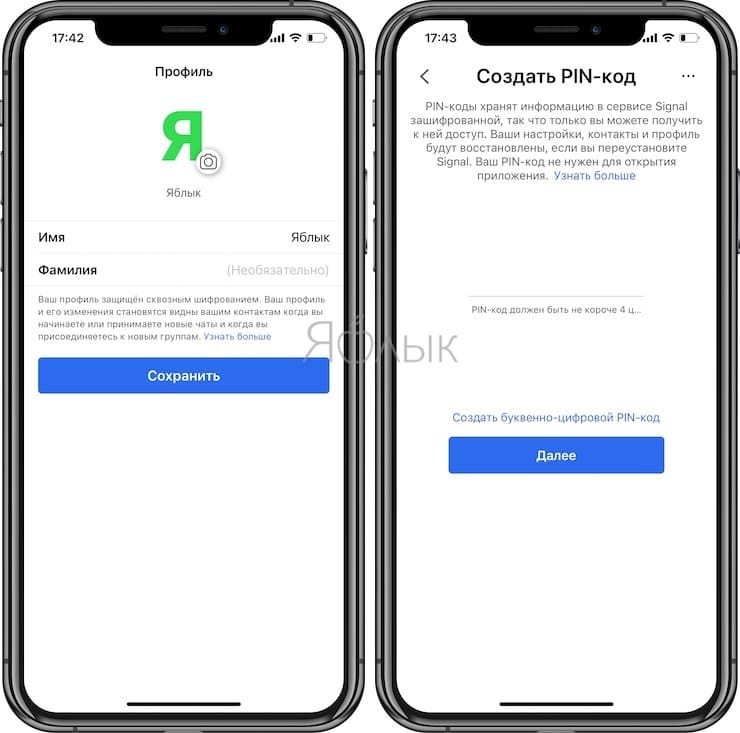 It will not work when registering on another device, just install the messenger on your computer and enter your phone number there. You need a phone with Signal already installed. The camera will need to read the QR code generated by the new device. In total, the messenger can be simultaneously installed on five devices associated with one phone number. This limitation is directly in line with the safety rules. Also, you will not be able to use one account simultaneously on two mobile devices.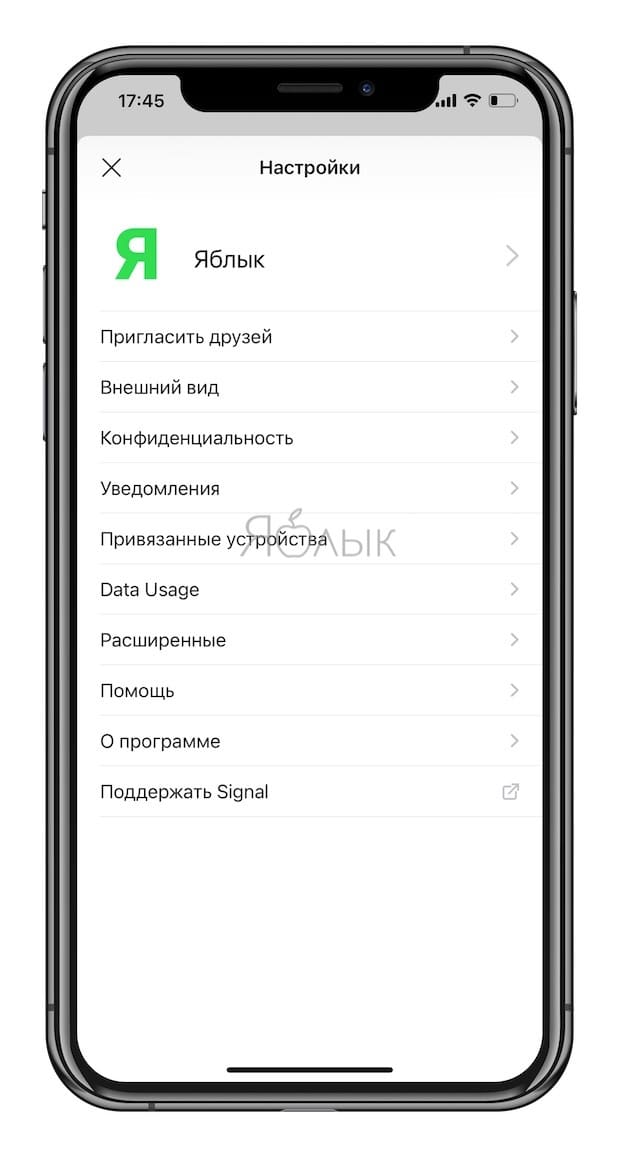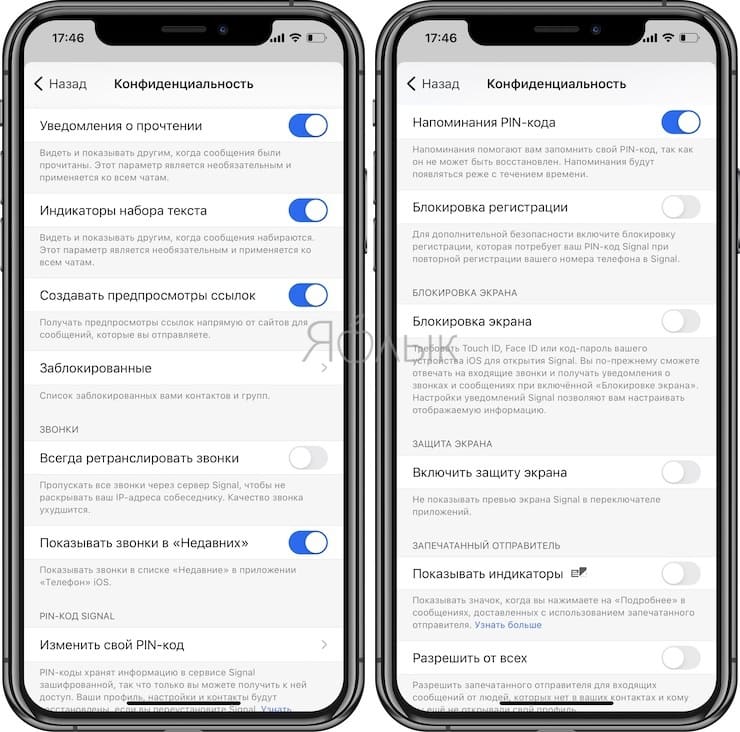 During the initial setup, Signal will scan your phone book, showing which of your acquaintances also uses this messenger. But you can refuse this procedure if you do not want to give the application access to contacts. But later in Signal you will have to enter the numbers of the interlocutors manually – this is the price for the confidentiality of the telephone directory.
After Signal is installed, you can use this messenger in the same way as other similar products.
See also: