A year ago he came to Shanghai and stayed there until August. I observed many oddities and, to some extent, learned to live anew: mastered WeChat, selected applications for expenses and figured out how to accidentally eat beef ears in China and what else is strange there to eat.
Now talking about urban infrastructure.
The influence of dense population and China's access to large territories are immediately noticeable. Add to them a sharp economic growth and get technology-driven cities.
I made a list of useful and inconvenient things that greatly change the culture of behavior in China. I noticed those that we need to adopt more quickly.
Huge cities build up as much as possible
Photos of residential buildings from the subway car that goes above them
On the way from Pudong Airport, Shanghai will impress with its vast Asian freeways. Just like in the scene with Uma Thurman on a motorcycle from Kill Bill.
On the first day I noticed that gigantism and geometricity became the main principles of urban planning. The roads are wide, the houses are high, and the blocks are built with giant rectangles.
After returning to Moscow, I realized that the informality of our territories has a charm and a sense of freedom, but with it there is also a big lag in the development of infrastructure.
Metro prices depend on distance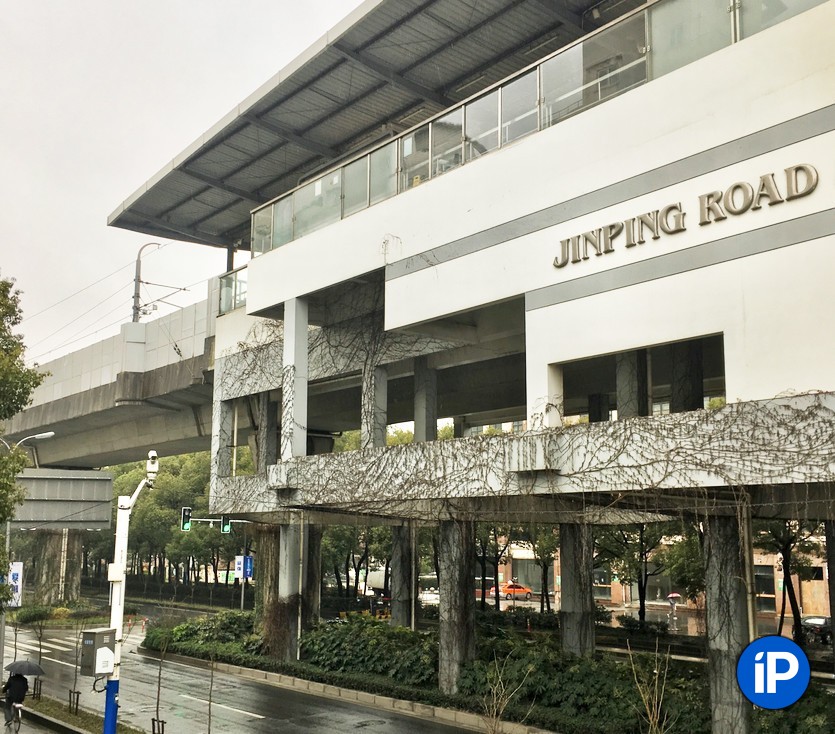 The usual metro station is very far from the center
There are a minimum of three options for paying for travel: token, travel card, and Apple Pay.
One-time issue through the terminals, where passengers choose the starting and ending stations, and then pay in accordance with the length of the journey.
The same system applies to permanent cards: you won't be able to buy the number of trips because the metro is so large that you had to introduce zoning for the duration of the trip.
In Moscow, a distance-based payment system is also planned to be introduced along with the expansion of the WDC. But it is likely to be different from Shanghai.
Most of all I liked the work of Apple Pay. The trick is that one there is a transport card in iPhones at the system level. It is enough to bring the phone to the terminal and he will automatically offer to issue it using a Chinese mobile number.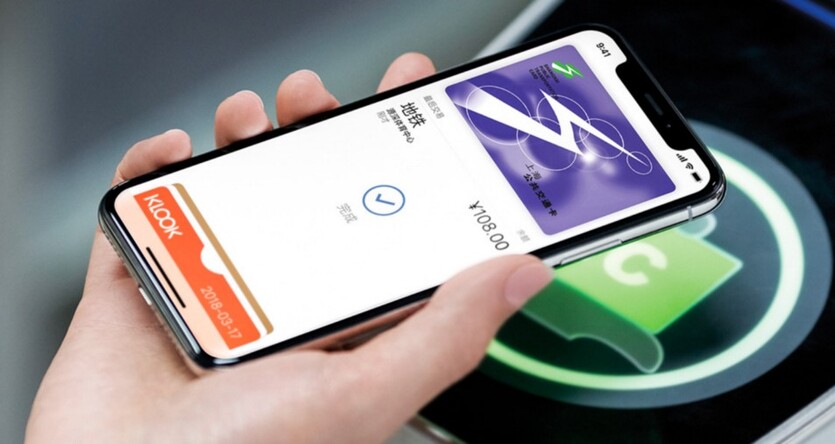 At the entrance to any station, your bags will be checked. In front of the turnstiles there are police officers who keep the fence tape ready and with respect, but they will persistently ask you to rent all your backpacks and suitcases.
In Moscow, this only happens on land lines and upon return it was even strange to go without checking.
Compositions worse than ours and not at all comfortable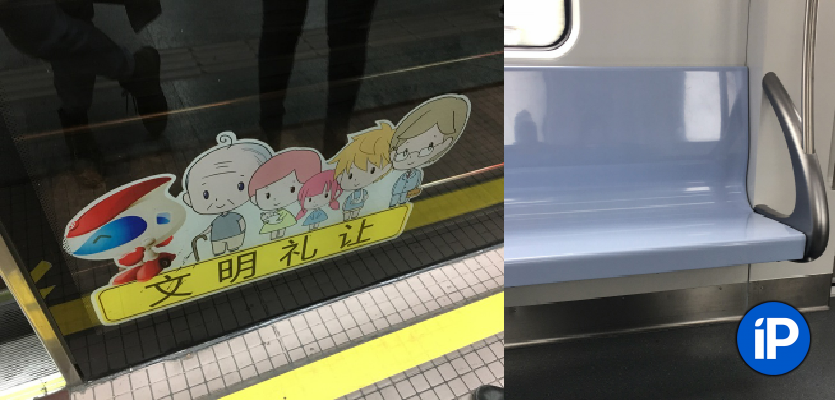 The stickers remind passengers to give way even at the entrance, but of course no one listens to them.
Instead of soft seats are cold plastic benches. In winter, it's even unpleasant, because the wagons are either on the ground or under it, because they do not have time to heat up.
Older people and pregnant women are giving up a lot more reluctantly than in Russia. It's unpleasant to watch how people flew into the car every time in panic, if only to quickly take their place. But these are features of a dense population, nothing can be done.
It's always known what time the train will arrive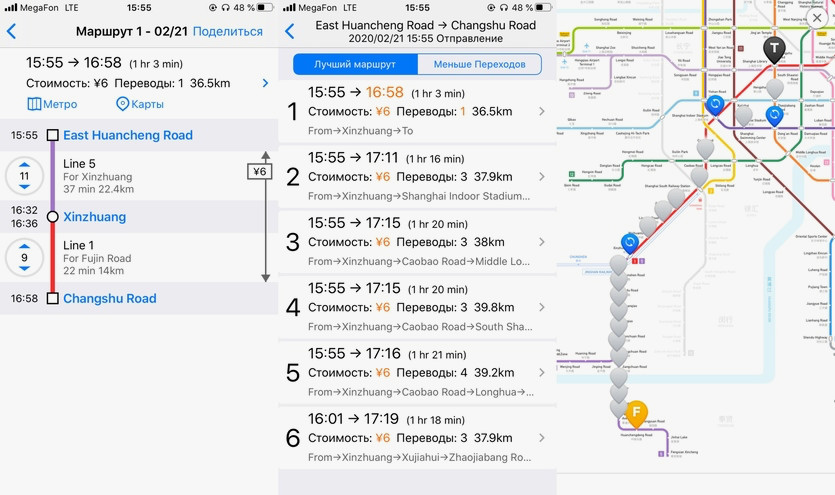 The metro app called MetroMan has almost all the major cities. It supports the Russian language and up to a minute shows when the composition arrives.
There is also an overlay of stations on the city map and always pop-up ads when you open the application. The second applies to all Chinese programs and is very annoying.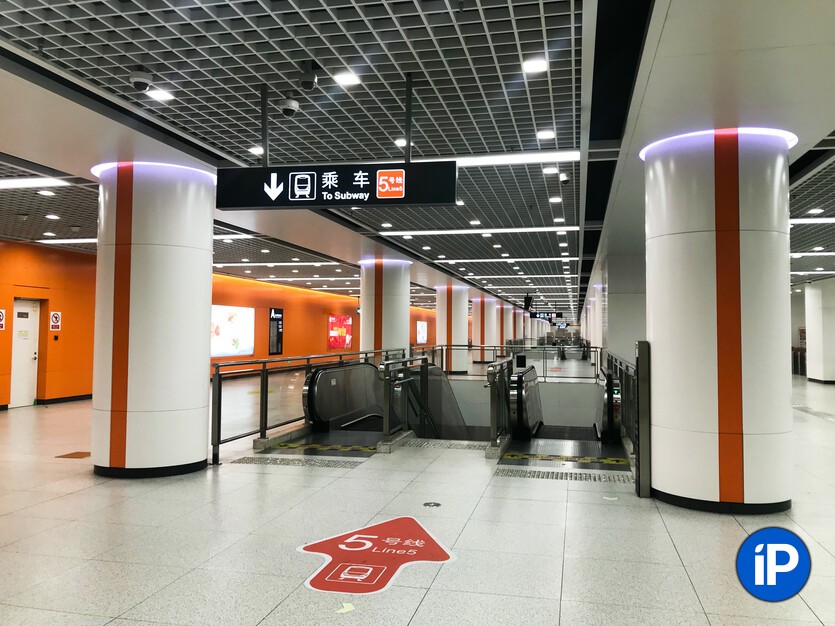 Orange Branch – Orange Corridor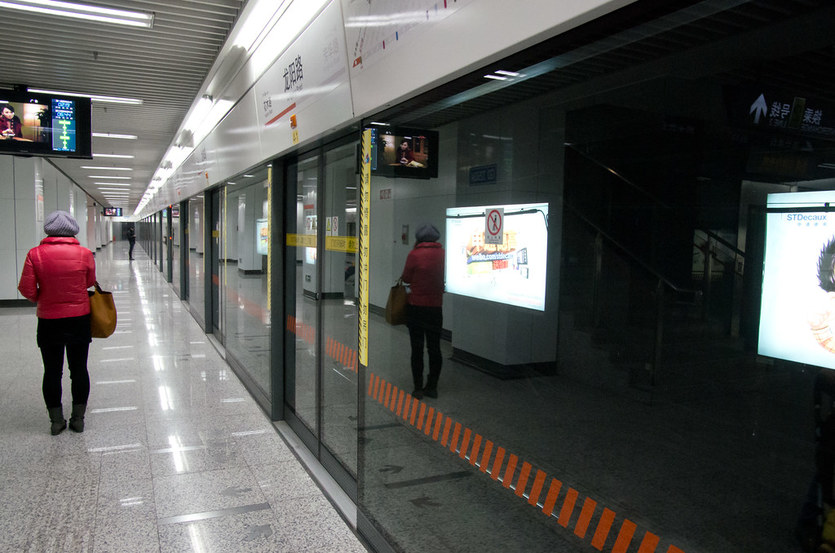 I noticed from the amenities that navigation is easy to read in transitions, sometimes even entire corridors are decorated in the color of a branch. Escalators lead to the middle of the station, so it's more convenient to hop onto the train. And still in front of the tracks are dampers that prevent them from falling onto the rails. They open together with doors, and any gaps are compensated by wider gate gates. At the same time, you always know where to enter.
The man in the car is the most important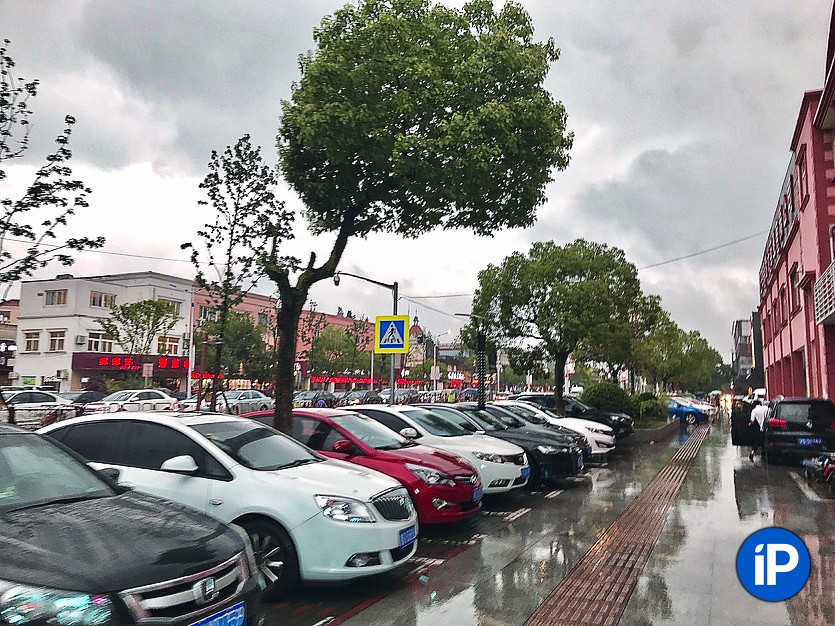 Pedestrians are not taken seriously on the roads. At the crossings, drivers know that they must pass, but do not do so voluntarily. To pass safely, it will only help to stare at the windshield.
Even on the sidewalks you cannot relax. They are huge, but not in order to walk quietly. Honking, being on the pedestrian part, is normal, because it was made wide specifically for cars.
But the traffic lights are convenient and long: they warn of a color change in 10 seconds and count down instead of a warning blink. Another question is that on the way of pedestrians there are often several wide roads, the green light of which they wait a long time.
Mopeds and bicycles use everything
Chinese roads are designed so that almost everywhere there is a place for two-wheeled transport. The solution reduces the load on traffic, but at points of attraction like shopping centers there is a problem of parking bikes.
Renting bicycles is shared among several companies. The most common in Shanghai is Hellobike. Perhaps in all of China, because even in Nanjing (300 km from Shanghai), the subscription allowed them to ride their bicycles.
One more space The plus is that you can take and leave the bike anywhere. The application has a free transport card, activation passes through a QR code, and to lock it is enough to close the lock on the rear wheel.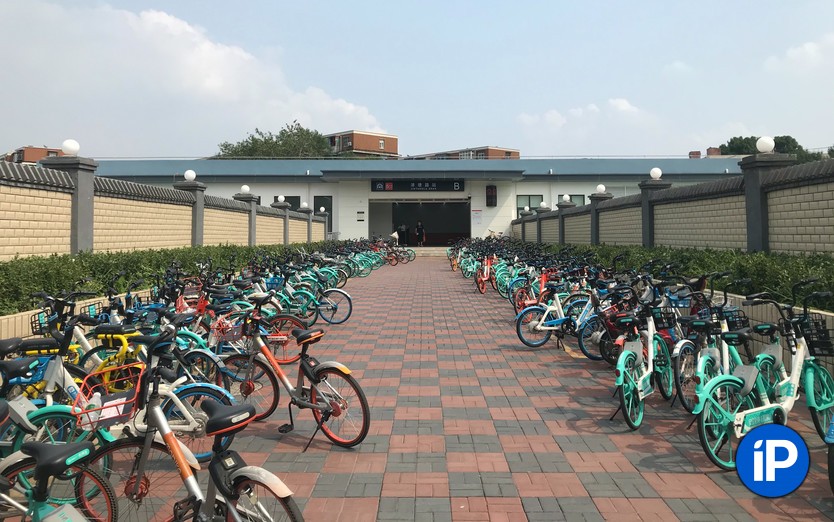 The limit of one trip at 4 hours does not bother. When the ride is delayed, the bike is simply blocked and activated again. The issue price is 170 rubles (18 yuan) per month.
In Moscow a few years ago, a Velobike rental network appeared. With the Chinese company, the abyss is too wide: bicycles have their own stations, it is mandatory to check in every 30-60 minutes, and the bicycles themselves are unbearable. I understand, however, that another system in our realities is unlikely due to careless attitude and required investments.
Buses and taxis are the most comfortable, there are almost no trams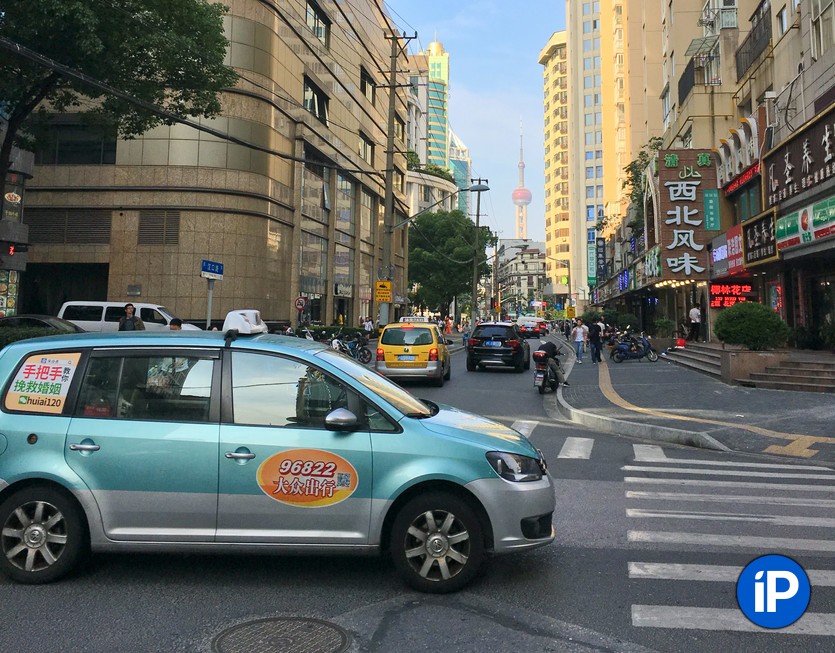 The schedule of ground transportation is visible in the routes that show the usual maps of the city. As in the application from Yandex, only in Chinese you can immediately see all the options like "cycling" and "walking". By the way, the latter always shows 3-5 minutes longer than the time actually spent. Perhaps due to the fact that the Chinese walk slower, or maybe just with a margin. But it is convenient.
Taxis are used through the DiDi company, in which Apple invested $ 1 billion in 2016. The ordering system and prices are similar to Uber, but at airports drivers are odd.
Once I waited an hour in line because of the "high load", but no one came. As a result, I agreed with the "bomb" for the same money that the service offered. I did not understand why he did not accept my order through DiDi. Perhaps I did not want to pay a percentage.
For trams, alternatives without rails are being developed. Basically, their network is poorly developed.
Shopping centers are built in mini-blocks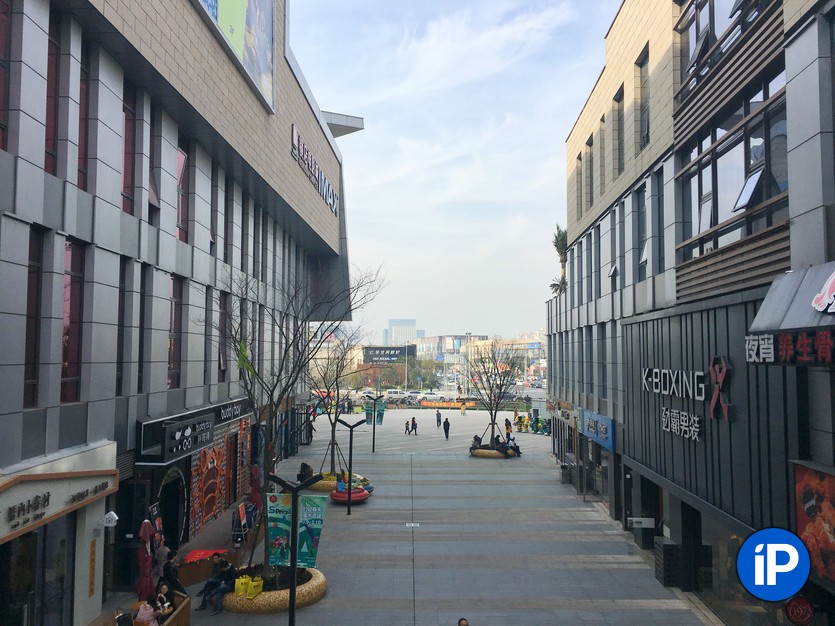 There will be shops both left and right as part of the same shopping area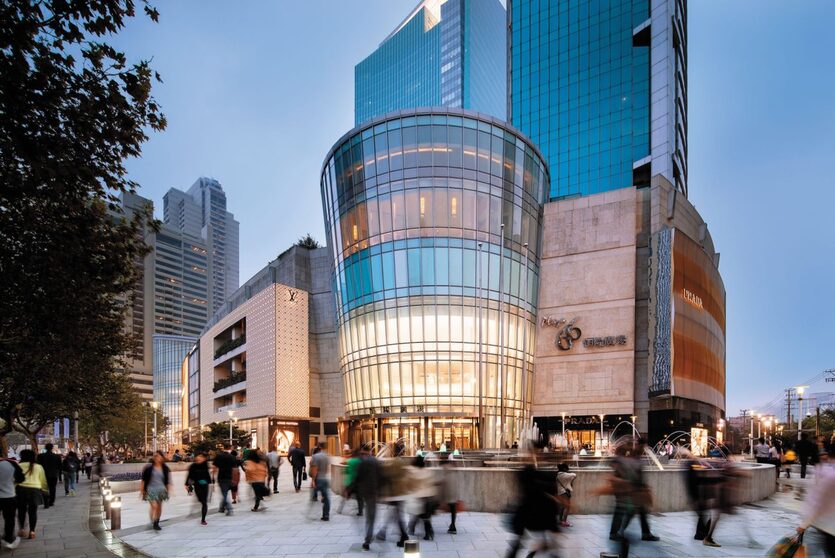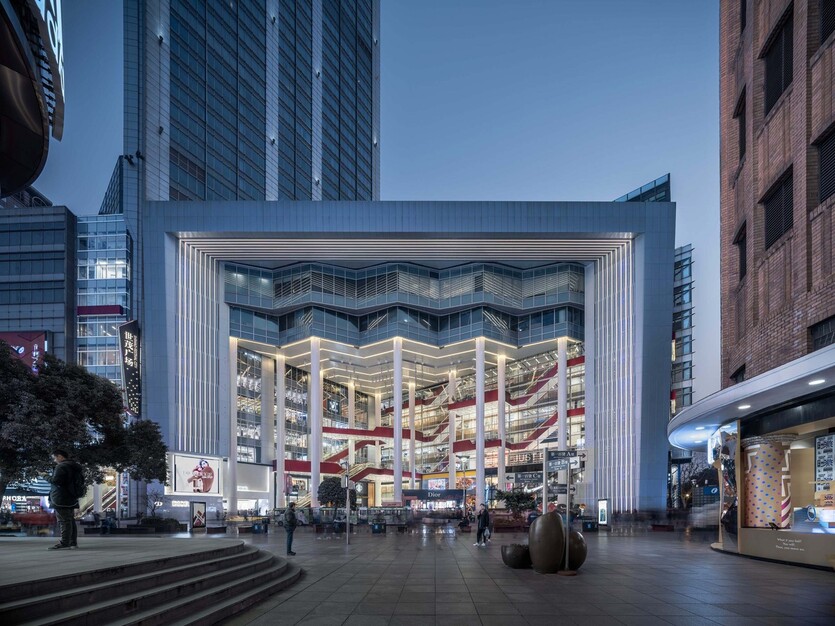 I did not experience problems with getting to the desired point with the shops. For many places it is not necessary to call a taxi: a bicycle will be enough. But inside these malls a maze awaits.
In China, capitalism is fully developed, and therefore it should be beautiful not only inside, but also outside. Our shopping centers for the most part look like boxes, units stand out. Moscow Metropolis can still be compared with the example above.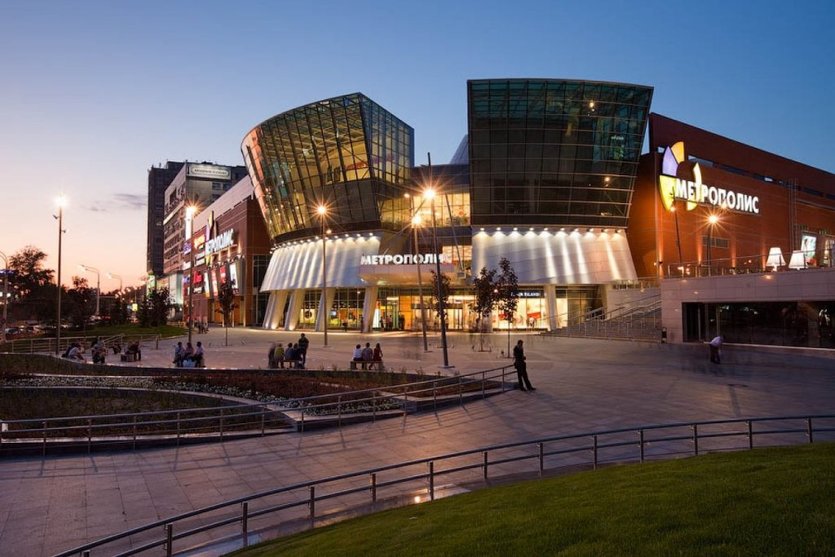 Imagine that you came to Podolsk, and there the emphasis on infrastructure is the same as in the center. Not the WDC, but the real metro, re: Store with Samsung at every turn, there are skyscrapers. And shopping centers are no less beautiful.
One of these consisted of a complex of several buildings where you can easily get lost. Imax, Starbucks, the Xiaomi brand store and dozens of restaurants with premium fitness clubs.
If the territory is within the city, it will be deeply urbanized. No matter how far you go from downtown.
People live in cardboard houses.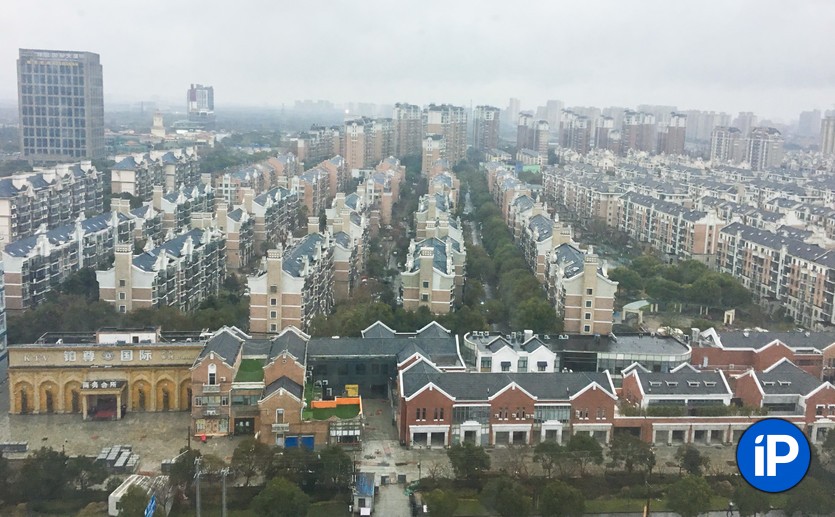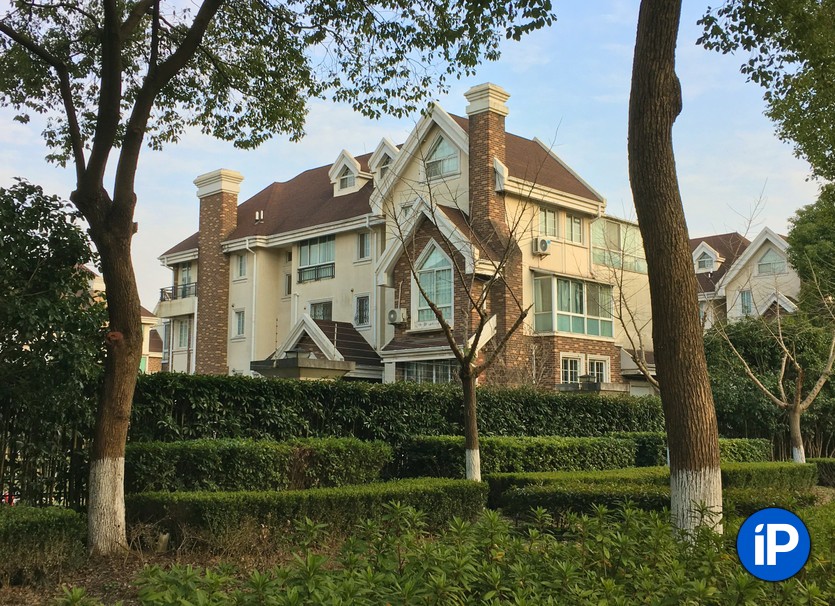 This estate is actually shared by several owners, and it is located in the same fenced area as the rest of China's housing
Housing is almost everywhere divided into complexes: a situation where houses are standing on their own is rare. In the big picture, this increases safety, but creates difficulties if you want to cut the path.
There was a case with me when a guard with wild aggression attacked me, although the passage looked like an ordinary alley.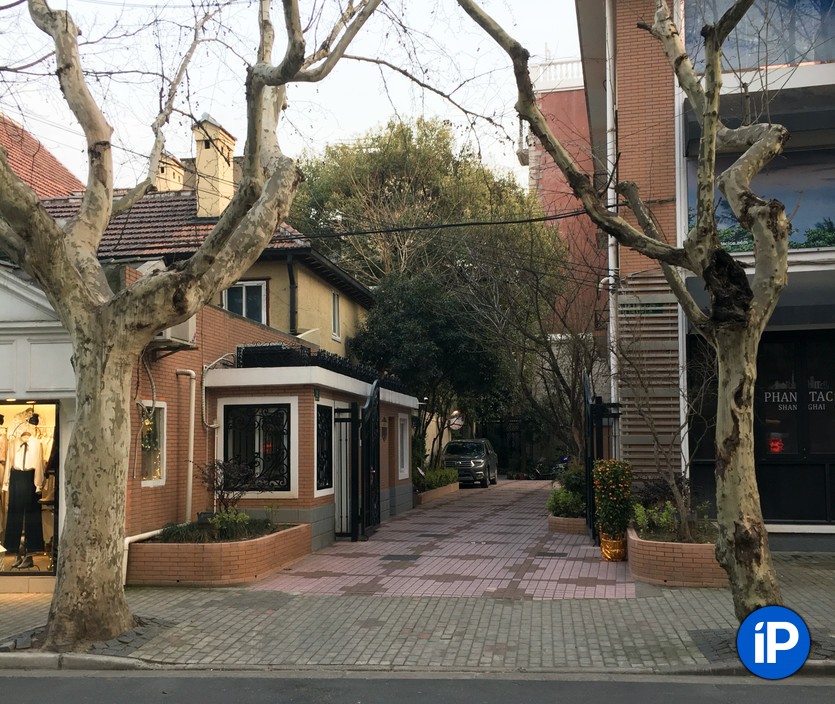 From here I will be screamed out in two minutes
There is another acute problem of such boundaries. A friend said that because of the coronavirus, it is forbidden to leave residential complexes more than three times a week. It is forbidden, they do not give a choice.
But the territory both inside and outside is carefully monitored. Landscaping specifically in Shanghai and Nanjing has been pumped, the eye always clings to well-groomed alleys or lush flower beds.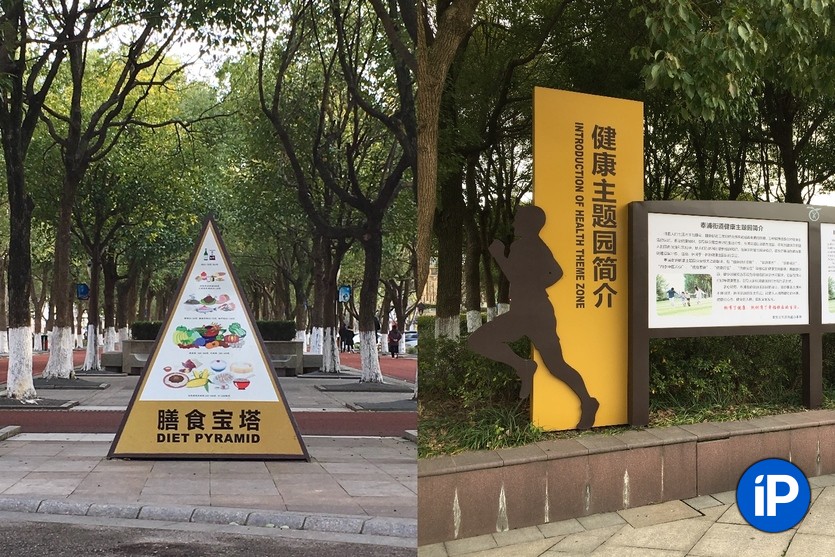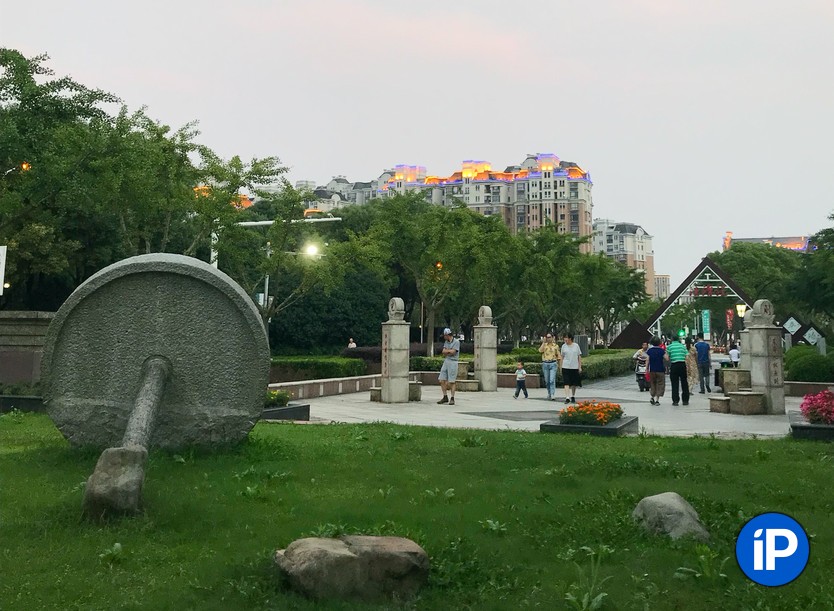 Walking parks are decorated with massive patriotic statues
Family playgrounds for lovers of healthy lifestyle are also well-groomed: there has never been a problem with a horizontal bar or treadmill. I just didn't like that everything around was too sleek. There was a feeling that you were living in some kind of puppet town.
The condition of the houses returned to reality. At first glance, they are beautifully designed and well made. On the second and further it begins to seem that the buildings are as if from paper.
The walls are thin, so you can hear all the neighbors. In low houses with up to ten floors there will definitely be giant cockroaches that will come out of the most unexpected pipes. And from high humidity in Shanghai, many surfaces are quickly stratified.
Apartments are not very different from ours, but noticed a couple of differences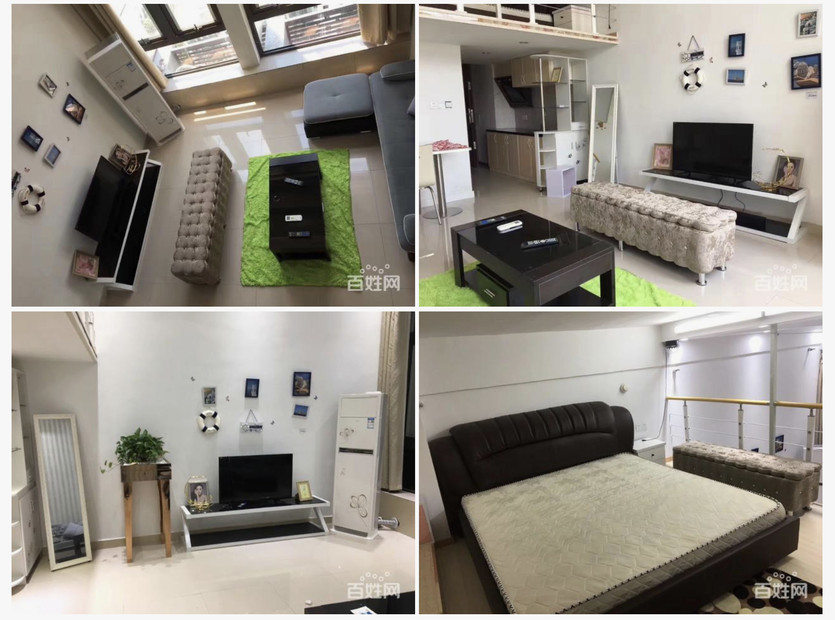 Such apartments with giant ceilings can be rented for 23 thousand rubles. per month and have access to fitness, shopping center and metro under the same roof
In order not to suffer at all in the winter, heat lamps are built into the shower. And some doors work via Bluetooth through the app. This is especially common in apartments where people rent rooms. Everyone owns his own room, in which there are beautiful blocks, and not embedded as incomprehensible as locks.
There is only one problem: one cannot even go to the kitchen without a telephone. If the door slams due to a draft, you will have to contact the landlord through the neighbors. It's lucky if, in principle, someone will be at home.
Layouts are different. There are cozy two-story studios in high-rise buildings with underground access to the metro, though with a microscopic kitchen. Many western-style apartments with a common living room and a couple of bedrooms. With a high level of urbanization and well-groomed area, only 25 thousand rubles could remove both options.
It's impossibly cold in houses in winter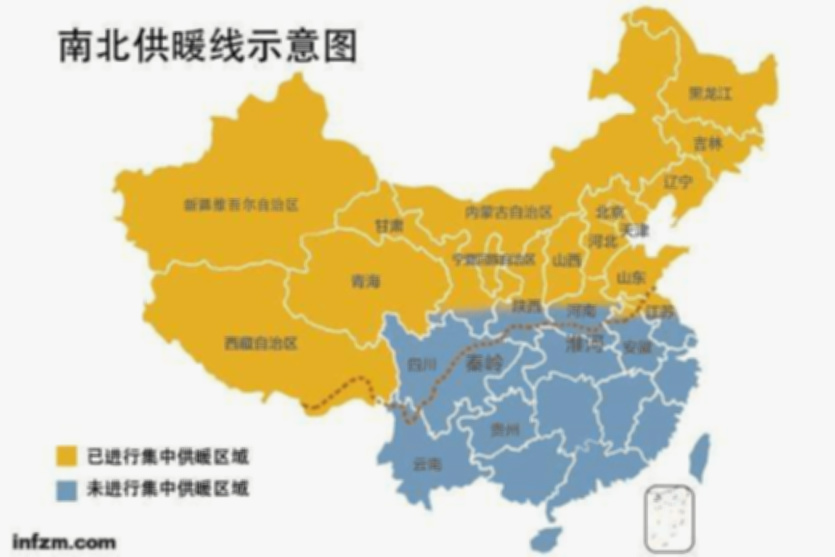 Map of apartment heating in China
There is no central heating in the South. Save resources, in my opinion, unjustifiably. Winters in Shanghai reach -3–0 ° C, and if these temperatures are easily tolerated on the street, they are unbearable for a home.
You have to endlessly boil water and bask in an air conditioner that hardly helps, with high-energy heaters and electric blankets. I did not want to save at all on creating at least a little human temperature conditions.
The morning shower was basically flour: the temperature outside the booth is unbearable, and there is little boiling water in the boilers. For the same reason, the bathrooms in the apartments are almost not installed. Even warming in water does not work out.
There are really as many cameras on the streets as they write about it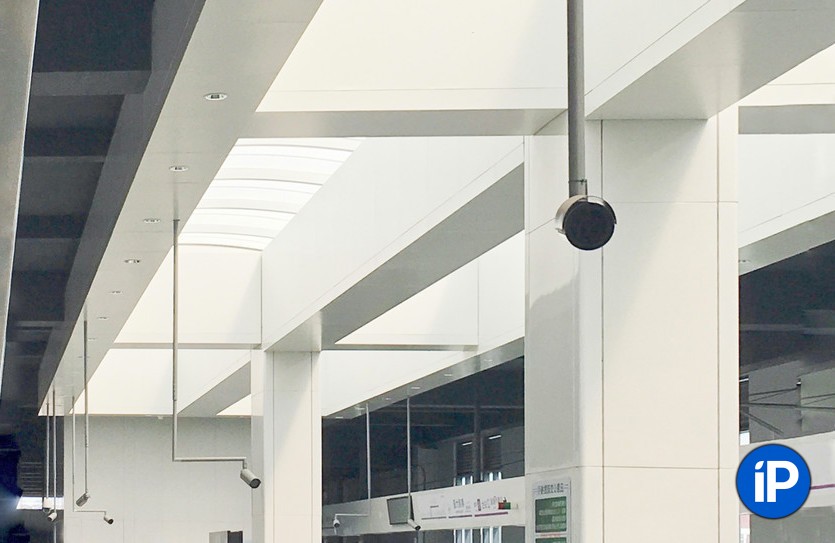 They are above roads, on building facades, streetlights, parking lots and just walls. In the metro, the situation is generally comical: there is such a dense fence hanging along the paths from the ceiling that on turnstiles, like in Moscow, cameras for faces are simply not needed.
The police are also at every turn, wherever you are. If something happens, she will jump out of the most unexpected places and, if she considers it important, will check your identity by face.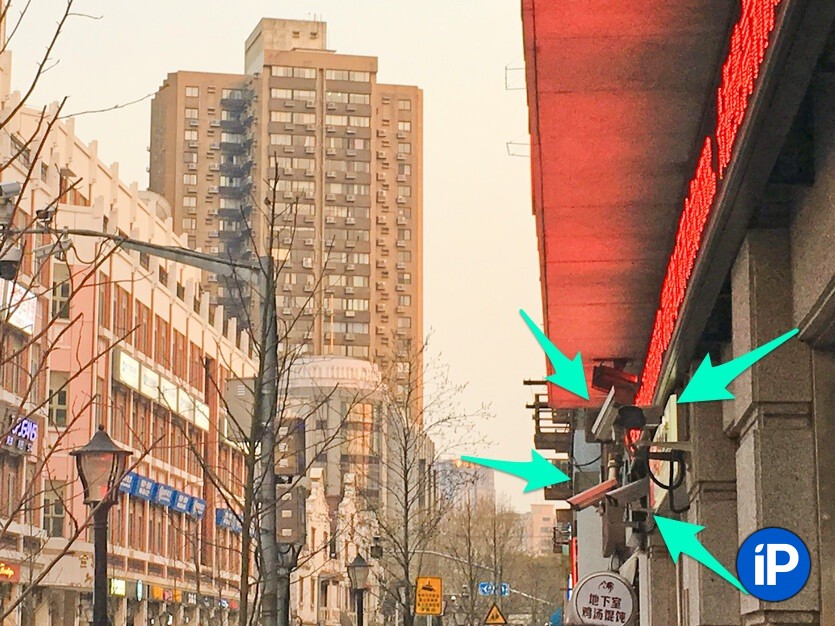 And this is still a weak set of cameras for one corner of a busy street
It works like this. The policeman takes a photo under normal conditions, uploads it to the database, which has already been added biometric data after arrival. He waits a few minutes and then asks if this is your passport data. Most likely, the system will not be mistaken.
I had an interesting case when I parked a bicycle five centimeters outside the area supposed for bikes. Ahead, a man in shape sharply formed and began to point to it with hard movements. I had to drag this unfortunate distance, and he stood and waited for him to finish.
I don't know if this is good or bad. I am only sure that no one would have paid attention to this.
I always felt safe in China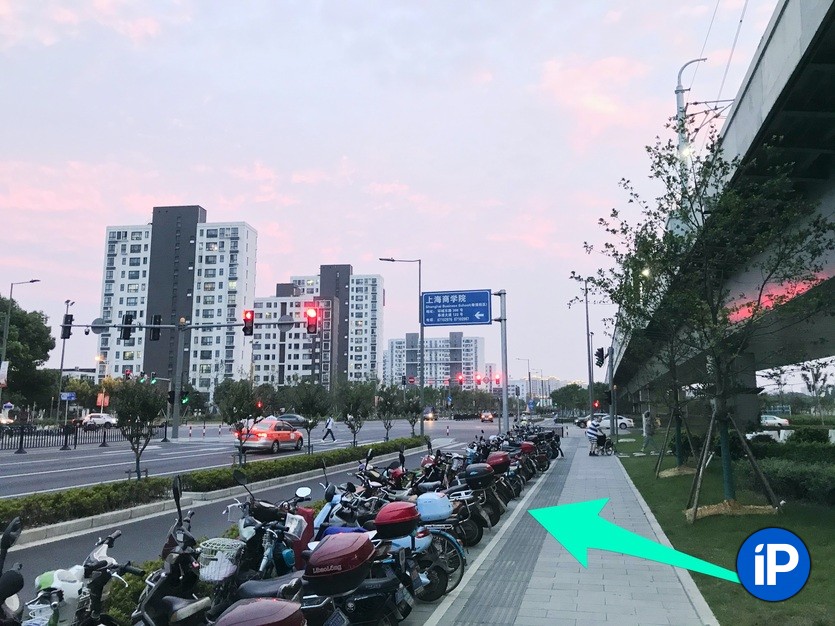 For this line, I did not put a bicycle. At least not fined
I was sure that nothing would happen to me at night on a walk, during the day the biggest danger was cars, and in large crowds everything would be calm. Even a drunkard walked by and did not worry, because the cameras are literally on every corner.
And you have to pay for this confidence. Sometimes it will be necessary to implicitly fulfill the requirements of those who created these comfortable conditions.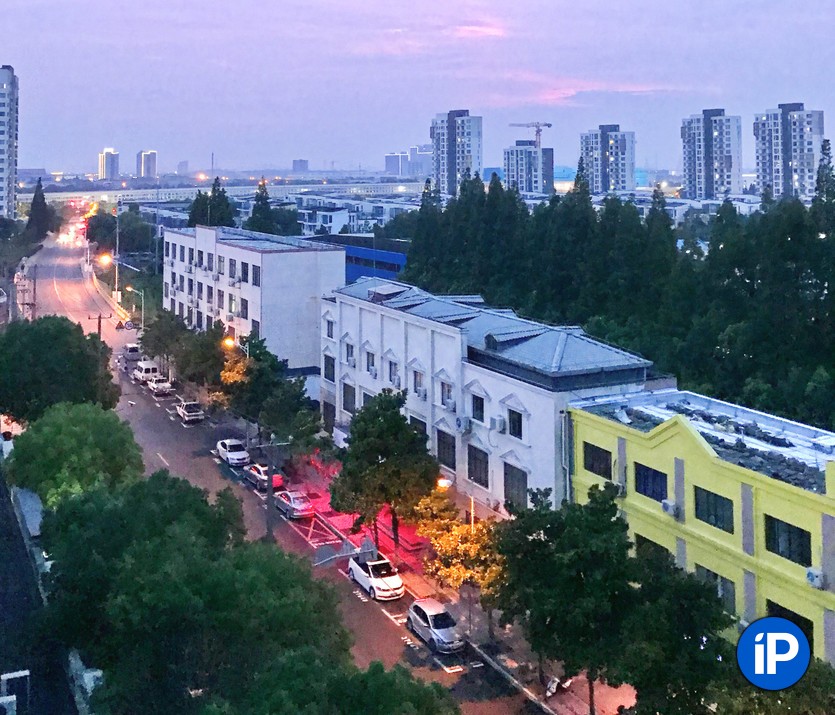 The explosive growth of the Chinese economy over the past 30 years has brought the country total urbanization. And over the past ten, we have not started with contempt, but with curiosity or even fear, to ask, "Is this done in China?"
It will be great to see how really useful technologies and solutions like the exact metro schedule in the application or "non-stop" bicycles will come to us.
Not all the same, pumping up surveillance, in the end.
🤓 Want more? Subscribe to our TelegramOur Telegram.
… and don't forget to read our Facebook and Twitter
🍒


To bookmarks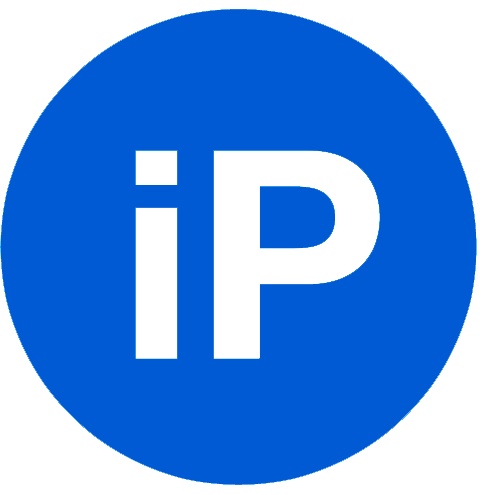 iPhones.ru
Passport data for the photo, the key to the house in the smartphone and no central heating.


Before

←


Kickstarter released a stupid Apple Watch strap with an AirPods mount