Introduced in November 2020, the M1-based MacBook Air could be the next popular portable workstation for Mac users. But how much better is this solution than the previous one, based on an Intel processor?
♥ BY TOPIC: How to customize Control Center in macOS…
The MacBook Air has become a great option for those looking to buy an Apple laptop in a slim and portable design. It should also be added that this is the most affordable laptop of the company from all those presented in the range.
With the release of a new model based on its own M1 processor and Apple's gradual abandonment of Intel processors in favor of Apple Silicon, an attractive option has emerged. He is quite capable of winning potential MacBook buyers to his side.
To do this, the new MacBook Air must not only have attractive physical characteristics, but also provide sufficient performance to meet their needs.
♥ BY TOPIC: How to turn off the startup sound (welcome sound) on Mac: 2 ways.
MacBook Air (2020, Intel) and MacBook Air (2020, M1) appearance
Appearance has always been a hallmark of the MacBook Air, and the design of the laptop makes it quite thin in terms of size. Although the device has an unremarkable 1.61 cm at its thickest point, the Intel-based version tapers to 0.41 cm at its thinnest point, making the physical dimensions of the laptop much more compact. In terms of laptop footprint, it is 30.41 cm wide and 21.24 cm high when closed.
Externally, both models are completely identical, including dimensions and colors (silver, space gray and gold).

The only significant external difference is the changed arrangement of some function keys on the version with the M1 processor, namely:
Old keys Launchpad no longer, its place is taken by a new key, Spotlight (F4).
New key Dictation replaces the previous dimmer key (F5).
New key "Do not disturb" replaces the previous key to increase the brightness (F6).
On the key fn added language switching functionality.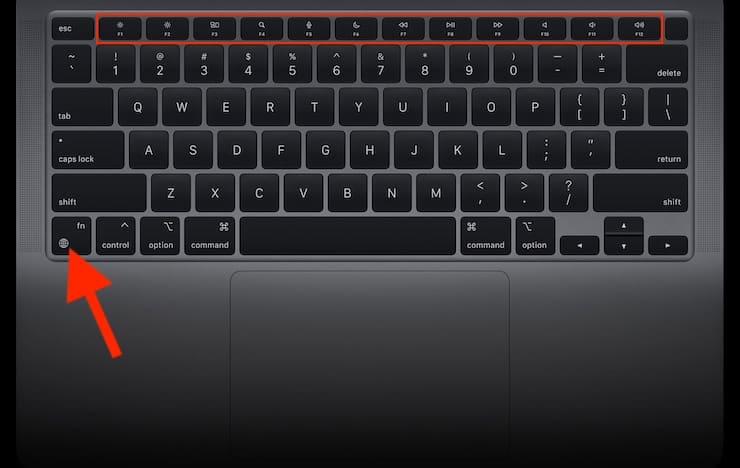 ♥ BY TOPIC: How to type dollar $, ruble ₽, euro €, etc. on Mac
MacBook Air (2020, Intel) and MacBook Air (2020, M1) display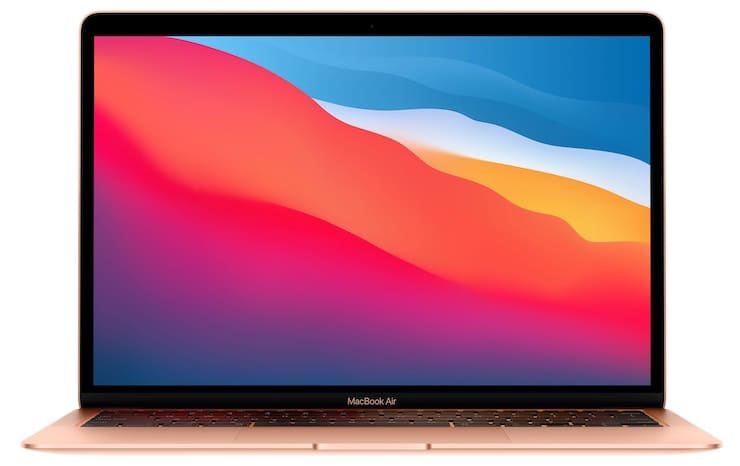 In short, the displays of the two laptops are also completely identical.
The MacBook Air Display with Intel is a long-standing 13.3-inch LED IPS display with a 2560-by-1600 resolution. This provides a density of 227 ppi.
Unsurprisingly, the M1 has the same display size, resolution and pixel density. The brightness has not changed either: the Intel and M1 variants are capable of delivering up to 400 nits.
Both versions also include support for Wide Color (P3) and True Tone, Apple's system to automatically adjust the display's color temperature to match changes in ambient light.
♥ BY TOPIC: How to open closed tabs in Safari on Mac (macOS): 4 ways.
Processor MacBook Air (2020, Intel) and MacBook Air (2020, M1)
The processor is the biggest change in the MacBook Air (2020, M1).
Apple offers three different options for its 2020 Intel-powered MacBook Air lineup.
The base model received a Core i3-1000NG4This is a 1.1GHz dual-core processor with Turbo Boost up to 3.2GHz and 4MB L3 cache.
Mid-range variant – Core i5-1030NG7, already a quad-core processor with a frequency of 1.1 GHz with Turbo Boost up to 3.5 GHz and 6MB of L3 cache.
Top Core i7-1060NG7 – Quad-core processor @ 1.2 GHz base frequency with 3.8 GHz Turbo Boost and 8 MB L3 cache. All processors belong to the 10th generation Ice Lake family that is relevant to Intel.
In turn, the M1 chip in the new MacBook Air is a proprietary design by Apple, which has drawn on its experience in creating A-series chips for the iPhone and iPad. It is a system-on-a-chip and uses a 5nm process instead of 10nm technology used by Intel. At the same time, Apple was able to place 16 billion transistors in the chip (more about the M1 processor).
The chip uses eight cores, consisting of four energy efficient cores and four high performance ones. They can be used in various combinations to provide sufficient performance for the user while conserving battery life. The four high-performance cores are believed to be as fast on their own as Intel's dual-core chip. But the M1 can even use all eight cores simultaneously if needed.
The use of a unified memory architecture helps further improve performance, and there is also an integrated Neural Engine. Its 16-core engine performs up to 11 trillion operations per second, which helps solve machine learning problems.
In the Geekbench CPU test, the Core i3 scored 873 points in the single-core test and 1589 points in the multi-core version. The Core i5 scored 1073 points in single-core and 2888 points in multi-core, while the Core i7 scored 1134 and 3055 points, respectively.
By comparison, the MacBook Air 2020 with an M1 processor scores 1,689 and 7295 points for single-core and multi-core tests, respectively. This demonstrates that the M1 is well ahead of the Intel chips used in the MacBook Air lineup.
Geekbench Single Core Test:

Geekbench multi-core test:

♥ BY TOPIC: What is the battery life of a MacBook and how to find out the number of recharge cycles.
MacBook Air (2020, Intel) and MacBook Air (2020, M1) graphics
Apple uses integrated graphics in the MacBook Air with Intel, with all models getting Intel Iris Plus. It is a graphics solution that integrates into the Intel main processor of the computer.
For the MacBook Air with the M1, Apple has created its own GPU design as part of the SoC. The solution is partially based on previously developed and used for displaying graphics in the iPhone and iPad lines. Based on Apple's explanations, the GPU is the "most advanced GPU" the company has ever created, and is said to deliver twice the performance of a PC chip's integrated graphics.
The MacBook Air with the M1 chip is available in either 7 or 8 GPU options. According to Apple, the new graphics are up to 5x faster than the previous generation.
The Intel-based MacBook Air supports an external display with a resolution of 6016 by 3384 dots @ 60 Hz or up to two external 4K displays with a resolution of 4096 by 2304 pixels. For the M1, the capability has been reduced to a single 6K 60Hz display, without mentioning the two lower resolution displays. But it is quite possible that such support remained.
♥ BY TOPIC: How to change default folder icons to emoji emoticons in macOS.
Storage and memory for MacBook Air (2020, Intel) and MacBook Air (2020, M1)
In short, the storage and RAM options for the two laptops are also completely identical.
Apple offers an Intel-based MacBook Air with 8GB of LPDDR4X at 3733MHz, but you can opt for the 16GB version when you purchase.
But the situation is similar with the M1 version of the laptop, in which the base 8 GB of "pooled memory" can be expanded to 16 GB.
The base SSD on Intel MacBook Air starts in 256GB or 512GB depending on initial configuration, but 1TB and 2TB options are available as optional extras.
Depending on which option you choose, the MacBook Air with M1 has 256GB or 512GB SSD storage with similar expansion options up to 2TB.
♥ BY TOPIC: How to type period and comma on Mac keyboard (macOS) – 3 ways.
MacBook Air (2020, Intel) and MacBook Air (2020, M1) ports and communications
The Intel-powered MacBook Air has a pair of Thunderbolt 3 ports on one side of the chassis that you can use to connect external devices. The ports can also be used to charge the laptop, although connecting it to the charger via a powered dock will help better manage Thunderbolt 3 ports.
The situation has not changed for the MacBook Air on the M1, which also has two Thunderbolt ports on the side, but they are listed as USB 4 with Thunderbolt 3 support. The ports offer the same USB 3.1 Gen 2 and Thunderbolt 3 support as the versions on the Intel model, but there is more reserve for the future.

On the opposite side of both models is a 3.5mm headphone jack.
For wireless networking, the Intel version supports 802.11ac Wi-Fi and Bluetooth 5.0. It is also possible to work on a wired network using an adapter connected to the Thunderbolt 3 port.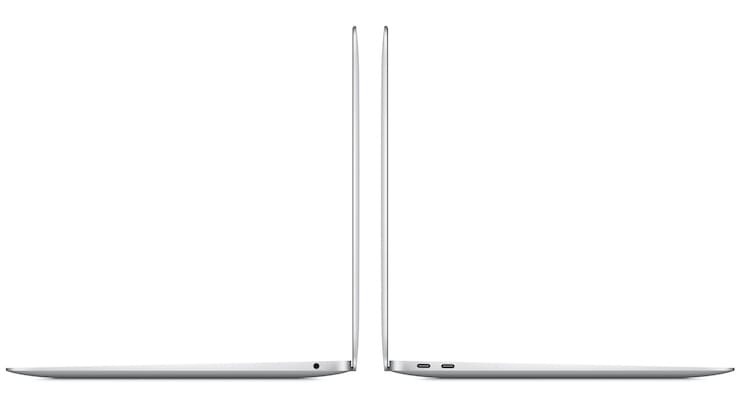 On the M1, Wi-Fi has been upgraded to Wi-Fi 6, also known as 802.11ax and one generation newer than 802.11ac. There is also support for Bluetooth 5.0.
♥ BY TOPIC: Ringtone (melody) on iPhone: how to make and install using a computer.
MacBook Air (2020, Intel) and MacBook Air (2020, M1) battery and autonomy
The Intel MacBook Air has a 49.9 watt-hour built-in lithium-polymer battery that claims to provide up to 11 hours of wireless internet access or up to 12 hours of movie playback in the Apple TV app on a single charge. The laptop can last up to 30 days in standby mode, and it also comes with a 30-watt USB-C power adapter for recharging, although it can also be used with docking stations and adapters with implemented power delivery functions.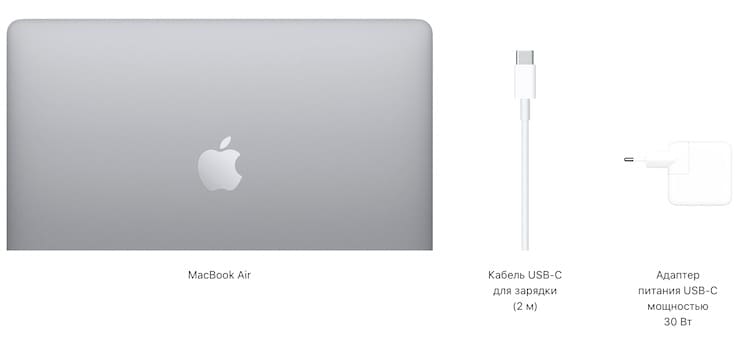 MacBook Air with M1 has a battery of the same capacity in the specification, and a 30-watt USB-C power adapter is included in the kits of both devices, but the energy efficiency of the M1 chip gives the device significant advantages… Battery life has been increased to 15 hours when surfing the Internet and 18 hours when watching movies.
For users, this increased battery life means the new MacBook Air will last much longer than the previous generation, regardless of workload.
♥ BY TOPIC: Useful Siri commands for Mac (macOS) in Russian.
Other characteristics
Apple has included a 720p FaceTime HD camera above the display in both versions of the MacBook Air. There is Touch ID, which can help with biometric authentication.
Both versions of the MacBook Air have a pair of stereo speakers with surround sound and support for Dolby Atmos playback. For sound recording, notebooks have a three-beam microphone system.
Apple retained the Magic Keyboard for the M1 version (but changed the location of some of the function keys) complete with an ambient light sensor, backlight system and scissor mechanism. The Force Touch trackpad is also unchanged.
And for those who appreciate absolute silence, the lack of a fan in the MacBook Air based on the Apple Silicon M1 chip will be a pleasant surprise. But here, of course, there are some nuances. Silence and lack of unnecessary power consumption due to the failure of the fan can affect the operation of the laptop under load. Performance will decrease as the unit heats up, unlike fan cooled models. We're talking about the Mac Mini or the new 13-inch MacBook Pro.
♥ BY TOPIC: Find My Friends and Find Mac on macOS: how to use it.
Windows and 3rd party application support
It should also be noted that at the moment MacBook Air with M1 chip lacks the ability to install Windows through the BootCamp utility (as well as Parallels, etc.). Apple says Windows support for the M1-based MacBook Air is entirely up to Microsoft. This issue is likely to be resolved in the first half of 2021.
In addition, there are software compatibility issues. Many third-party apps will not run on the new MacBook Air – they need to add support for the M1 chip.
♥ BY TOPIC: How to set up an autoresponder for mail in Mail on Mac.
MacBook Air (2020, Intel) and MacBook Air (2020, M1) pricing
Following the release of the MacBook Air (2020, M1), the Intel-based MacBook Air was discontinued on Apple's official website, but it can still be found on its official reseller networks.
MacBook Air: (10th generation dual-core Core i3 with a clock speed of 1.1 GHz, 256 GB SSD, 8 GB RAM) – 85,000 rubles;
MacBook Air: (quad-core Core i5 10th generation with a clock speed of 1.1 GHz, 512 GB SSD, 8 GB RAM) – 113,000 rubles;
MacBook Air: (10th generation quad-core Core i7 @ 1.2 GHz) – from 130,000 rubles.
As for the M1 variant, Apple offers two configurations, with the option to expand the SSD up to 2TB and the RAM up to 16GB.
MacBook Air: (8-core M1, 7-core graphics, 256 GB SSD, 8 GB RAM) – 100,000 rubles;
MacBook Air: (8-core M1, 8-core graphics, 512 GB SSD, 8 GB RAM) – 125,000 rubles.
♥ BY TOPIC: Hidden files on Mac: 3 ways to hide files and folders on macOS from strangers.
Powerful device in a small and thin body
As you can see from the brief specification, the first Apple models with the M1 received only a modified processor, but not a rethinking of the design. As a result, the user will receive a product visually and physically similar to the previous version, all changes are hidden inside.
Keeping the same shape and size of the laptop, Apple was able to significantly increase battery life only by improving the energy efficiency of the new chip, and not by using a larger battery.
Overall, the MacBook Air with M1 is a very compelling product with performance and graphics improvements as well as significantly increased battery life. And all this is served in a familiar case, which will not make users get used to the new laptop design.
See also: